How to Record an Omegle Video Chat on Windows and Mac without Lag
Different from Skype and common online video chatting programs, Omegle aims to let users chat anonymously. It sounds quite fun if you want to have games of truth or dare or other similar activities. You can have video calls or text messages with strangers online randomly. Consequently, you may not meet that person for a second time. Sadly, Omegle does not allow users to record any videos or messages too.
What if you want to keep good memories with Omegle? Actually, you can record an Omegle video chat with third-party screen recorder software. As a result, you can record anything you want with editing filters. Later, you can share this video to YouTube or download it for personal usages. Whatever, this article talks about how to record Omegle video chat calls effortlessly. Just read and follow.
1. How to Record Omegle Video Calls and Take Screenshots without Lag
Yes, it is FoneLab Screen Recorder that allows you to catch all details on Omegle video calls and text messages. You can record screen videos, capture system and microphone audios and take screenshots freely. In a word, FoneLab Screen Recorder can help you record all Omegle activities.
There is no technology background required. All you need to do is trigger its screen record feature. Later, you can record any video or audio clip in high quality. Be aware that Windows 10/8.1/8/7/Vista/XP and OS X 10.6 or above versions are supported. Now, let's read together to see what FoneLab Screen Recorder can do for recording Omegle screen videos.
1. Key Features of FoneLab Screen Recorder
Record Omegle video calls with system and microphone audios simultaneously or separately.
Choose the recording or capture area without restrictions.
Export the Omegle video/audio recording file or screenshot to any output format.
Add texts, arrows, lines and other drawing tools graphics while recording an Omegle video chat.
Set hotkeys to start, stop, open or close the webcam or other functions easily.
Offer a clean, safe and easy-to-use user interface.
2. Steps to Record an Omegle Video Chat with Audio
Step 1Launch FoneLab Screen Recorder
Free download and install FoneLab Screen Recorder on your Windows or Mac computer. Launch the Omegle screen recorder after the installation. To record an Omegle video call, you need to choose "Video Recorder" on the main interface.

Step 2Record an Omegle video call
Set the full screen or customized screen size. Well, you can draw the screen area with your mouse directly too. Turn on the System Sound option. If you want to record an Omegle video chat with your voice, you can trigger the Microphone option to the On state too. Move the Volume bar below.
Later, you can click the REC icon to start recording your Omegle video chat. Whenever you want to take an Omegle screenshot, you set the screenshot area and add preferred labels freely. What's more, you can apply basic editing and drawing tools during Omegle screen recording as well.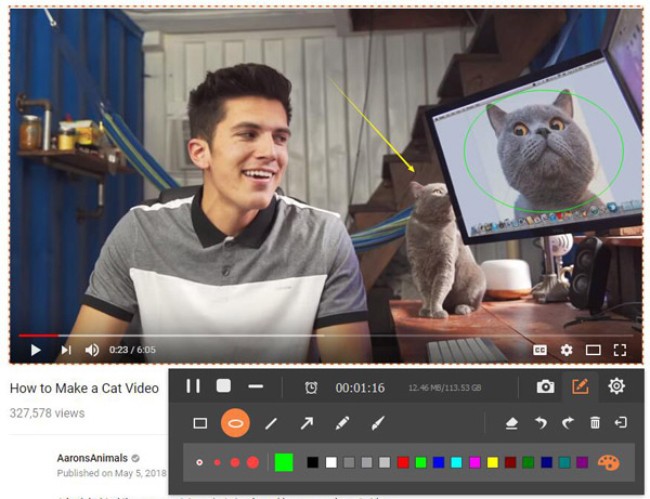 Step 3Save or share your Omegle recording file
You can pause, resume and stop recording the Omegle video chat without time limitations. When the process finishes, a preview window pops up. Thus, you can preview the Omegle recording file directly. If everything goes well, you can choose the Save icon on the lower right corner of the Preview window. Set the destination folder. Then click Next to export your Omegle recording video. In addition, you can share Omegle video file to YouTube and other sites by one click.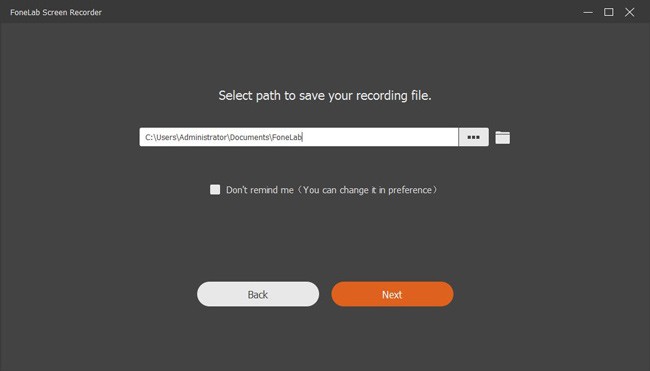 Note: The default output video format is MP4. You can change the format and other preferences in the More section before recording. Therefore, you can adjust the screenshot format from PNG to other formats too.
2. How to Record Omegle Video Chats with QuickTime Player
As a Mac user, you can use QuickTime to record Omegle video calls for free. Of course, you cannot get much screen recording and editing filters from QuickTime.
Step 1Launch QuickTime
Open Finder. Run QuickTime Player in the Applications folder. Click the File icon on the top menu bar. Choose New Screen Recording from its drop-down menu.
Step 2Prepare for Omegle video chat recording
Set the input audio source. To be more specific, you need to turn on Built-in Microphone or Internal Microphone based on your need. Moreover, you can manage the Omegle video call recording preferences in advance.
Step 3Record an Omegle video chat on Mac
Open the Omegle chat window as usual. Then you can click the Record icon to start recording Omegle. After the 3-second countdown, QuickTime will record your Omegle video chat automatically. Click the Stop icon when you want to finish the process.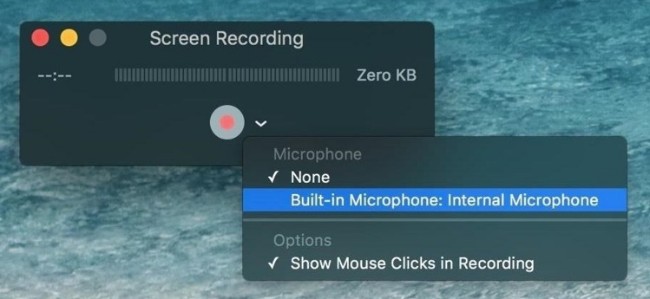 3. FoneLab Screen Recorder VS QuickTime, Which One is the Best Tool for Omegle Screen Recording
From above paragraphs, it is easy to get the result that FoneLab Screen Recorder does a better job than QuickTime Player. For instance, you can pause and resume screen recording by one click. Thus, there is no need to cut a long video for several clips.
Furthermore, QuickTime offers the basic screen capture features only. It is true that you can record Omegle calls on Mac for free. But you cannot manage the output video settings and other preferences freely. Well, FoneLab Screen Recorder can be the "pro" version of QuickTime Player.
All in all, you can learn how to record an Omegle video chat step by step here. If you still have questions about Omegle video call recording, just feel free to contact us. Of course, you can share your experience with Omegle in the comments below.