Recover PC Data Now
Recover the lost/deleted data from computer, hard drive, flash drive, memory card, digital camera and more.
[Solution] Samsung External Hard Drive Data Recovery
I put some files on my Samsung external hard drive. Other days, a little bit problem happened to the hard drive so I tried to transfer all data from the hard drive to my computer. At this point, I found all data disappeared. How can I recover lost data from the Samsung external hard drive?
Samsung external hard drive is a source of good data storage device, which supports storage of all types of files. You are guaranteed with high speed data transferring rate and hence the information can be shared in no time. Samsung hard drive can be used on all operating systems like Windows, Mac, UNIX, LINUX and so on.
Memory card data loss can happen to anyone due to various reasons such as accidental deletion, formatting, virus infection, or sudden system shutdown in the process of data transmission.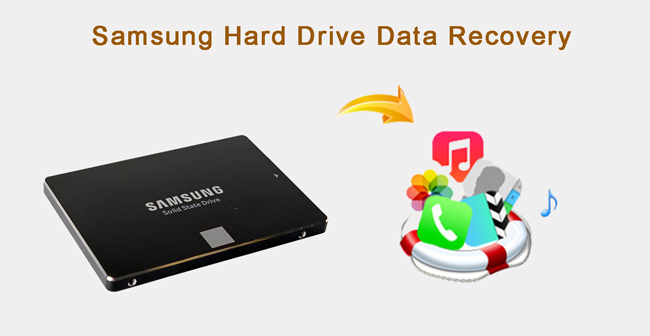 Because of the convenience of Samsung external hard drives, most of us like to store important data on it. However, data loss may happen when you are transferring data from Samsung external hard drive to another one or when some system issues occur.
How many people know how to restore files from Samsung external hard drives and how many would simply panic, not knowing what to do?
The goal of this article is to explain common Samsung hard drive issues and solutions.
1. Diagnosing Common Types of Hard Drive Failure
Hard drive failures can be categorized into two broad categories: Logical Failures and Physical Failures.
Physical Failures
Firstly, take a look at the drive itself. Is it damaged in any way? Are the pins bent or broken?
Next, see if the hard drive makes some sounds when it's trying to spin the platters. Clicking sounds are often an indication of a serious hard drive damage. The head may be stuck on a platter, scratching it violently as the disk controller attempts to move it. A scratched platter usually means an irreversible data loss.
Make sure that the drive is in good enough condition to actually use before you try anything in the first place that may damage it even further.
If the drive is too physically damaged to attempt recovery and you really need the data off of it, then it's time to call in the professionals.
If everything looks good and the computer's BIOS is able to recognize the hard drive, we can proceed.
Software Failures
Okay, so the hard drive suffers from a logical failure.
Software data loss is most commonly caused by badly written software applications, virus affection, or unfortunate user errors.
The one thing that most cases of software data loss have in common is recoverability. There are many capable tools that you can use to recover Samsung external hard drives after a software data loss without any expert knowledge.
In the following, we recommend our favorite tool for recovering Samsung external hard drives.
2. Samsung Data Recovery from Hard Drive
FoneLab Data Retriever is a powerful and safe software, which is designed to recover almost all deleted or lost data by scanning the hard drive. Whatever the cause of data loss, you stand a chance of retrieving them with the help of FoneLab.
Main Features:
Recover Emails, image, document, audio, video, and more data.
Recover data from memory card, computer, flash drive, digital camera, hard drive, and other removable drives.
Apply to all situations, such as virus attack, unexpectedly crashes, non- responding, formation, deletion and more.
Preview any data type with the detailed information.
Highly compatible with Windows and Mac.
Wizard-like, easy-to-use interface.
A free trial period is initially available.
Step 1Run this software
Firstly, you should download, install and launch this data recovery software on your PC or Mac. And then connect the Samsung external hard drive to the computer.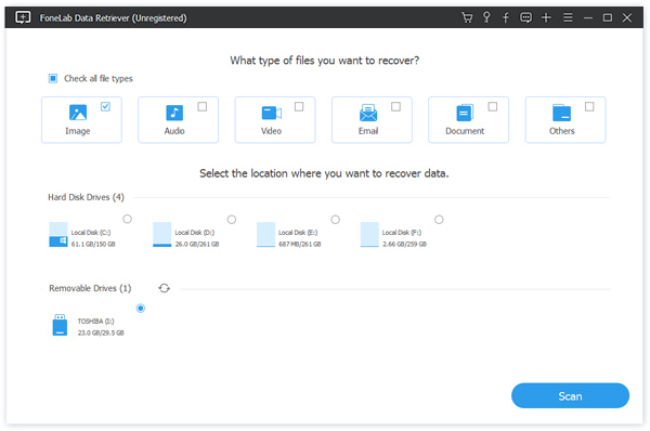 Step 2Scan data
On the main interface, choose the data types you want to recover and location where you lost the data (here you should choose the Samsung external under the Removable Drives). Then click Scan button to start a quick scan on the chose disk drive.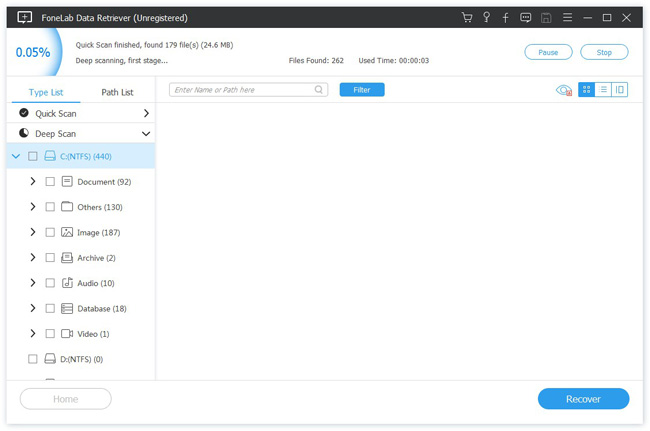 Step 3Choose data
After finishing the scan process, all data types will be listed in the left sidebar. Click the file type from the left panel to find your deeded file. You can also use Filter feature to quickly locate the files.
Tip: If you don't find your missing data, you can click Deep Scan in the top right corner to try again. It will take more time to complete the whole deep scanning process, but it will offer you more results.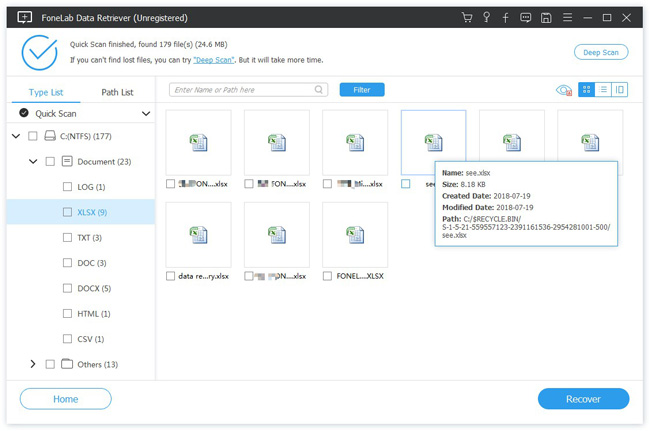 Step 4Recover data
Mark the items you want to retrieve and click the Recover button to save the selected items to your computer.
This reliable data recovery will guarantee the data safe. When you retrieve lost database, it won't store any of these data to its server. So don't hesitate to download it to your computer and have a try.