Recover PC Data Now
Recover the lost/deleted data from computer, hard drive, flash drive, memory card, digital camera and more.
Data Retriever to Recover Lost Files from Samsung Hard Drive

Updated by
Valyn Hua
/ Oct 26, 2022 09:30
Technology in this generation is everything. The majority of the tools use electricity to function. Companies are establishing new brands of devices and gadgets. Most of the appliances now are also in inline with modernization. One of them is Samsung. This brand came from the Korean words 'sam' and 'sung.'. Sam means three, while Sung means stars. If you will combine them, it means 'Three Stars' or 'Tristar.' It produces many good-quality mobile phones, laptops, televisions, home electronics, and more.
This article will focus on Samsung external hard drive data recovery. This article will help Samsung users a lot. It will give some of the reasons and causes why the data is missing on their hard drive. Another good thing about this is that it will show you the software that can help you.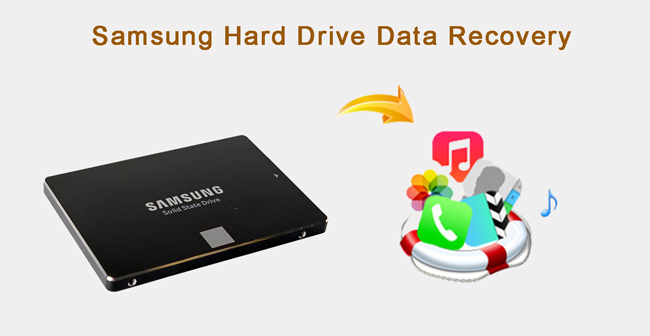 Part 1. Why Samsung Hard Drive Data Loss
Losing the data from your hard drive is very alarming. Images, videos, and audios are some examples. All the documents and files you saved on your hard drive are missing. There are some reasons for data loss. It can be both accidental or intentional. Most of the time, Human Error is the main reason for losing your data. It happens when you are looking for some files on your computer. Sometimes, when you are deleting a folder but click the wrong one. After that, you accidentally click something then it vanishes. Aside from Human Error, here are more reasons for losing your files.
Natural disasters
Earthquakes, tornados, typhoons, and volcanic eruptions are some natural disasters. They are the most common incidents people experience that can cause them to lose their data. For instance, there are tendencies when your laptop or hard drive accidentally gets wet with water because of a typhoon or other. Another is when debris falls into your laptop, computer, or hard drive because of the earthquake.
Computer Viruses
Significant causes of computer viruses can destroy your computer and hard drive. Examples include the First Viruses, Software Viruses, Macroviruses, Script-based Viruses, and Trojan Software. Although viruses can not beat the whole hard drive, they will corrupt most of your files. It will be better to scan your device to prevent these viruses.
Hardware Theft
It is the illegal taking of someone's computer hardware. These are stolen to be sold. This is one of the major crimes in cities. In this case, no doubt that your files or documents will be lost. Be careful with your things.
To avoid losing your files, you have to back up the data. In this case, you will not need to panic because you have a backup in other hard disk drives. It is better that you are preferred in case something happens. Most importantly, if they are essential documents.
Part 2. How to Recover Data From Samsung External Hard Drive with FoneLab Data Retriever
Using troubleshooting guides may be difficult this time. But do not worry about this problem. There is an alternative way that will help you a lot to recover data from computer or hard drive. Are you looking for the best data retriever? FoneLab Data Retriever is the one you are waiting for to recover your lost data. This tool will help you in easy and fast ways. It supports many devices, including Samsung. Aside from that, it also supports HP, TOSHIBA, Sony, and more. Another good thing about this, it can recover files that viruses attack. In addition, Mac users can use this tool. They have to switch to the Mac version. Scroll down below to learn the basic steps of Samsung hard drive data recovery using FoneLab Data Retriever.
Step 1Click the Download button of the software. Wait for the downloading process to finish. After that, do the WinRar setup, install the software then launch the software on your computer.
Note: If you are using Mac, click the Switch to Mac button for your device to be compatible. You do not have to be curious because they are almost the same steps as windows.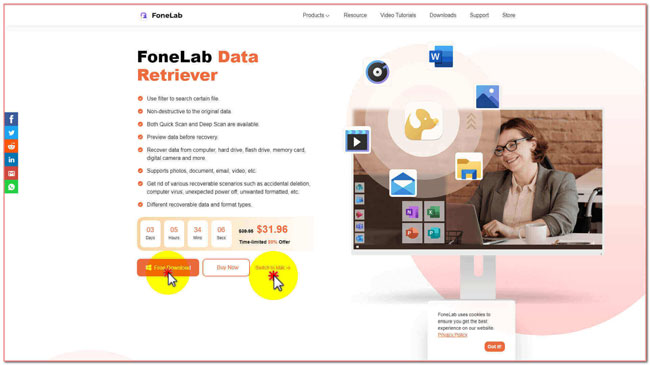 Step 2This part will show your data files' different data types and locations. On the main interface, click the file you want to recover. Do not forget to connect the hard drive to the computer. After that, tick the name of your Samsung Hard Disk Drive under the Removable Drives. Then tick the Scan button to scan the files.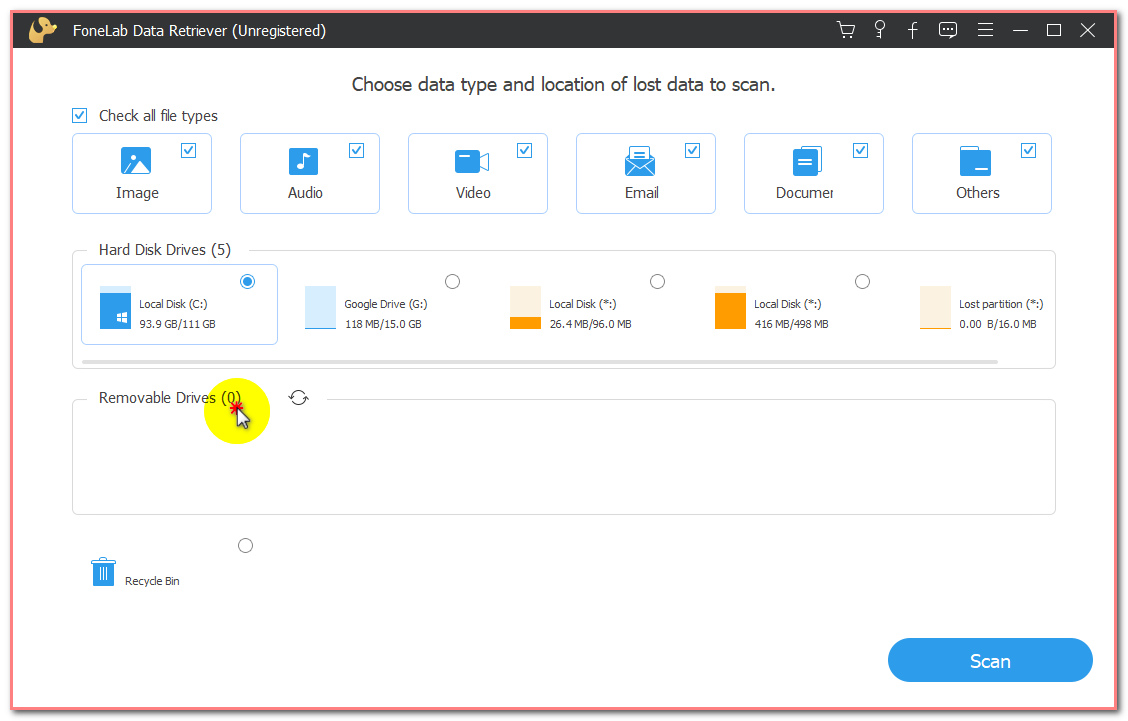 Step 3You will see the results after selecting your data type and location. They are on the left side part of the main interface. Choose the documents and files you want to recover.
Note: Click the Deep Scan button to get better and more results. It will cost more minutes, but it is worth the wait. Next, you can tick the Filter button to filter the files based on their dates and times. Filtering is better because you can easily access the documents.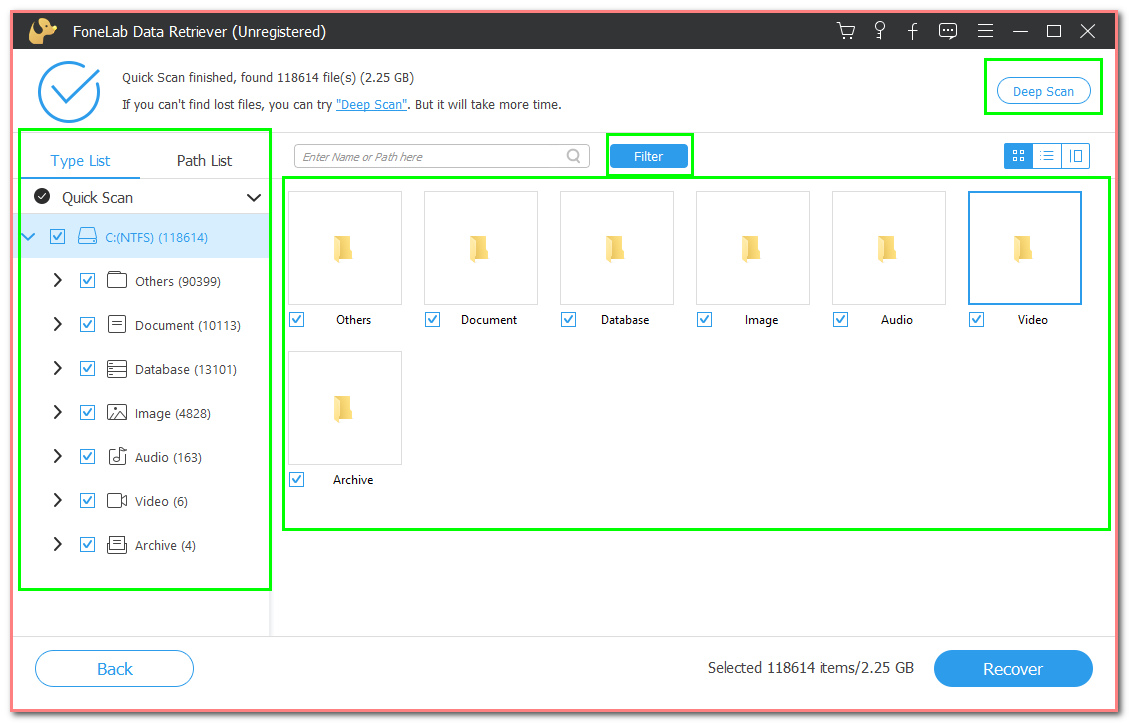 Step 4Lastly, click the Recover button on the lower-right part of the main interface. The recovery process will bring back the lost files on your hard drive.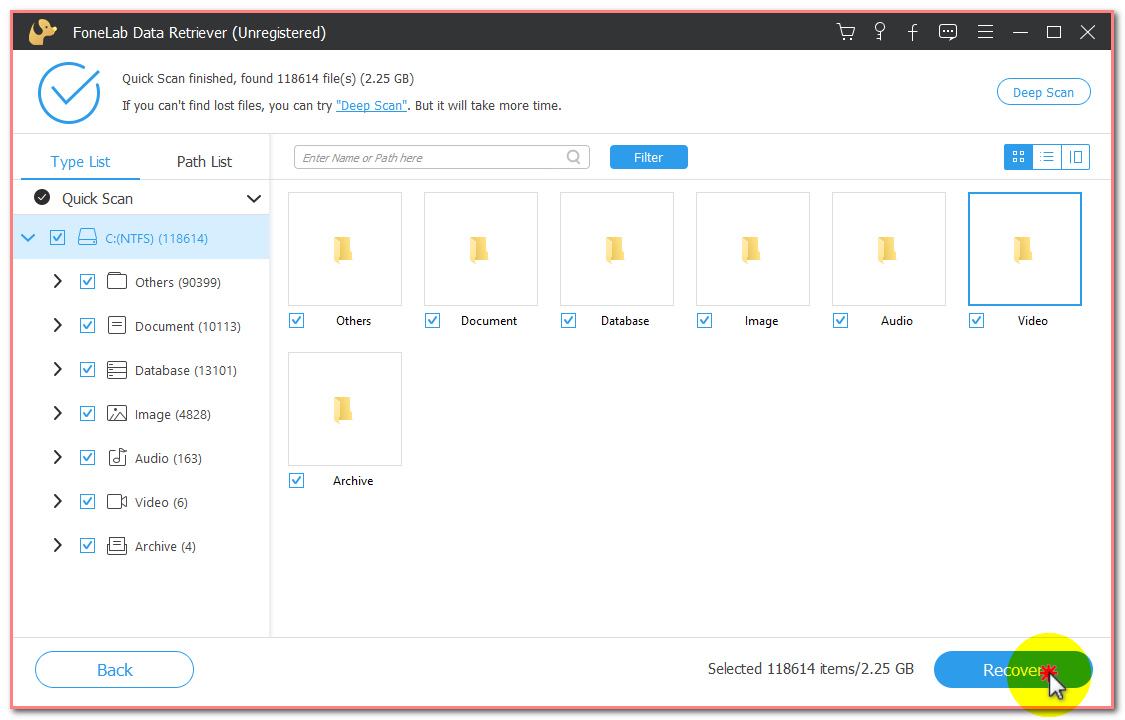 FoneLab Data Retriever
FoneLab Data Retriever - recover the lost/deleted data from computer, hard drive, flash drive, memory card, digital camera and more.
Recover photos, videos, documents and more data with ease.
Preview data before recovery.
Part 3. FAQs about Samsung External Hard Drive Data Recovery
Are Samsung hard drives any good?
Yes, of course. Samsung has one product that offers faster transfer. It is way quicker than the regular hard drive that you see. It is Samsung's T3 solid-state drive. It is suitable for tablets, smartphones, and Windows devices.
Are external hard drives slower than internal hard drives?
Actually, yes, they are slower than the internal hard drives. The reason is that internal hard drives are near the motherboard and CPU. They are faster when transferring data. On the other hand, external hard disk drives are slower because they are prone to damage.
What is the most efficient hard drive recovery software?
All we know, there are countless numbers and good data retriever software. If you are looking for efficient software that is safe to use, consider FoneLab Data Retriever. This software cares about your safety and also your files and documents. Lastly, it is available on both Mac and Windows.

FoneLab Data Retriever
FoneLab Data Retriever - recover the lost/deleted data from computer, hard drive, flash drive, memory card, digital camera and more.
Recover photos, videos, documents and more data with ease.
Preview data before recovery.
Samsung produces many modernized products. Most commonly, cell phones and laptops. Most of the time, we can not predict what will happen to the appliances. Losing your files and data on your hard drive is one of its examples. These kinds of incidents are unintentional. As was mentioned, these products are part of modernization. You need another solution that is also related to technology. If you want to use software to recover your data, FoneLab Data Retriever is an effective tool that can help you. It does not destroy the original data and also has unique features. An example is deep data scanning to get more results. Download the software if you want to know more about it.