Recover PC Data Now
Recover the lost/deleted data from computer, hard drive, flash drive, memory card, digital camera and more.
How to Recover Deleted Emails from Yahoo on PC/Mac
I'd like to know if I can retrieve all deleted Yahoo emails from a Windows XP computer or a Mac Os X computer by any chance. Are there certain programs for this? I don't want the computers damaged or altered in any way. Any help would be highly appreciated."
In this modern and advanced age, connectivity has become the most important part of life, and email is one of the most effective ways to communicate. In this way, the Yahoo's emailing technology has proved very popular and comfortable for those who get engaged in the search of best connectivity platform.
Sometimes it happens that we delete our yahoo emails and contacts, and after a while the deleted emails seem important and we need them back.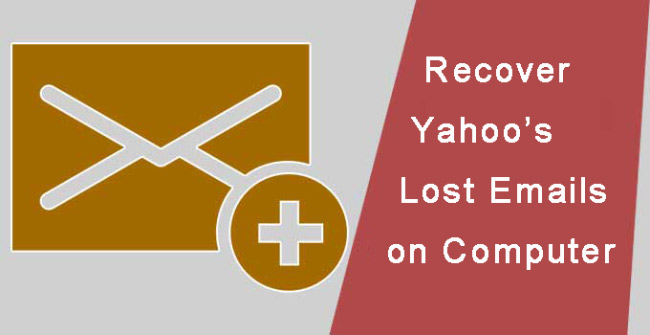 It is nerve-racking to lose important emails or accidentally delete emails that you still need. Good news is Yahoo provides ways to retrieve deleted emails. Actually, whenever you delete a message, it is automatically thrown to the Trash folder in case you need it again in the future.
What if the Trash folder is empty? No worries, you can still recover deleted emails using the Restore feature.
Now, let's take a look at how to recover lost emails.
1. How to Recover Email from Yahoo's Trash Folder
Yahoo Mail regularly deletes the contents of the Trash folder. This isn't a setting that can be changed. The Trash folder, however, will be emptied at a frequency you set.
By Applying below steps, you can recover deleted emails from Trash:
Step 1Log in to your Yahoo! Mail account.
Step 2Navigate to the Trash folder at the left portion of the screen, and then check if the deleted message is there.
Step 3If you do not want to browse through several deleted emails, use the Search option at the upper portion of the window. Type the email address of the sender or other keywords related to the email message and click on Search.
Step 4Choose messages you want to keep and select the Move option in the Yahoo! mail toolbar.
Step 5Select Inbox or any other existing folder into which you want to move the message. It will then be immediately transferred to your chosen folder.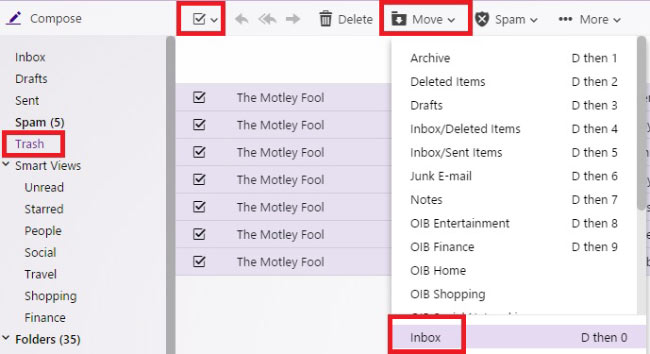 2. How to Recover Permanently Deleted Emails from Yahoo
If your trash folder is empty or your deleted emails are no longer available, you can use the Yahoo! Mail Restore feature to recover emails that have been deleted in the past 24 hours.
Apply following steps and recover your deleted emails in Yahoo email:
Step 1Click on the Help button at the top of the screen and then select Help once again from the options that appear.
Step 2Select Emailing: The Basics from the list of Help Topics.
Step 3Click on Deleting and Recovering Mails, and then choose Restore Lost or Deleted Emails.
Step 4Read the instructions on how to recover emails that were deleted within the last 24 hours. Complete the required form and hit Submit. You will be prompted once emails are restored.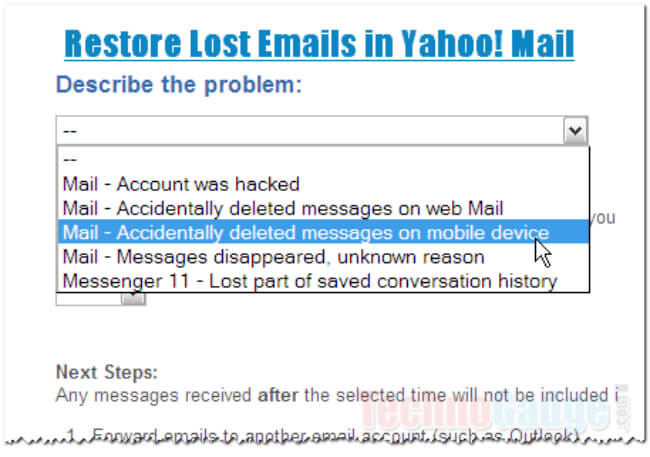 3. How to Recover Yahoo Emails and Attachments with FoneLab
What about the emails that have been permanently deleted for more than 24 hours?
For most Yahoo accounts, these messages purged from the Trash folder are still not beyond recovery. Then the only solution is resorting to an email recovery tool.
FoneLab Data Retriever is an advanced and safe data recovery software, which is designed to recover almost all deleted or lost data including emails by scanning the computer. It can help retrieve all types of email files such as MSG, MBOX, EML, etc. as well as the attachments.
Let's see how it works.
Step 1Run This Software
Firstly, download and install this software on your computer with above links. Both Windows version and Mac version are available. Then launch it.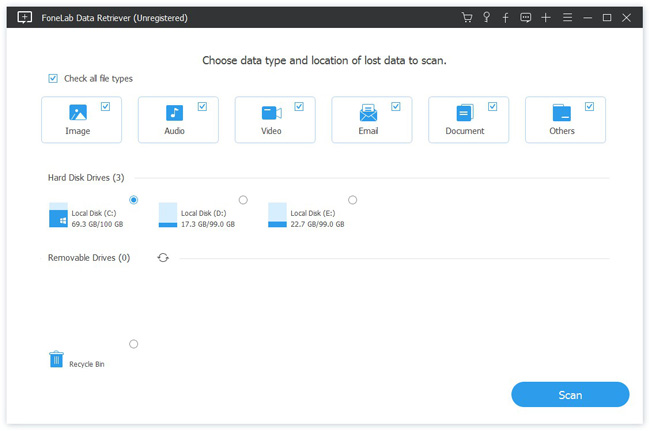 Step 2Scan email and attachments
Choose Email (If you want to recover the attachments, you should also tick the attachment data types) at the data type section and location where you lost emails.
Step 3Choose data
Once the scanning process is done, all emails will be displayed in the window. Look for the items you want to recover. You can also use Filter feature to quickly locate your needed emails.
If you don't find your missing data, you should click Deep Scan at the top of the window to try again.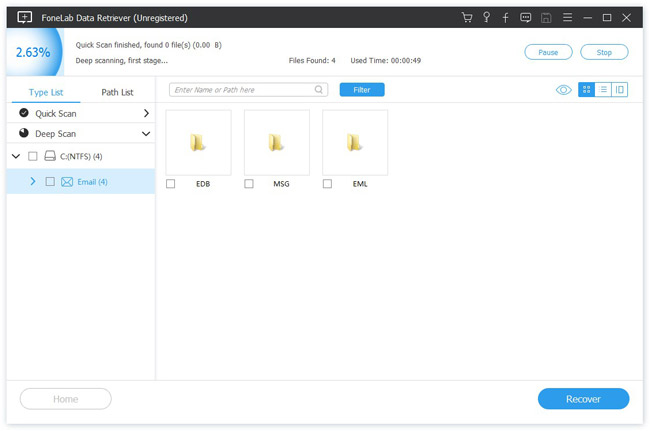 Step 4Recover emails
Mark the desired items and click the Recover button to extract the Yahoo email and other data to your computer.
This software is able to recover deleted emails from computer, hard drive, flash drive, digital camera, and more. And it can be an ISO recovery on Windows.
In addition to emails, it can also recover documents, recover TXT files on Windows, recover word documents, videos, images and other data.
Now, free download it on your computer and get a 30-day free trial!