Recover PC Data Now
Recover the lost/deleted data from computer, hard drive, flash drive, memory card, digital camera and more.
SD Card Video Recovery – How to Recover Deleted Videos from Memory Card

Updated by
Valyn Hua
/ March 16, 2021 09:30
Yesterday, I accidentally formatted my SD card with important videos on it. Then I took it out of my DSLR and tucked it away. Last night I scoured the web for data recovery programs and services. I don't know which software to use, anyone suggests me a proper method or video recovery tool to restore my video files from SD card?
Have you ever experienced a similar situation -- accidentally formatted your SD card with important videos in it?
Is it possible to recover lost video files from SD card? This is the first question an SD card user will ask after accidentally deleting videos.
Of course, you can recover videos from SD card! Because the videos which you deleted are not gone for good. Deleted videos are still on your SD card, but are invisible since its index information is erased from the SD card's file system.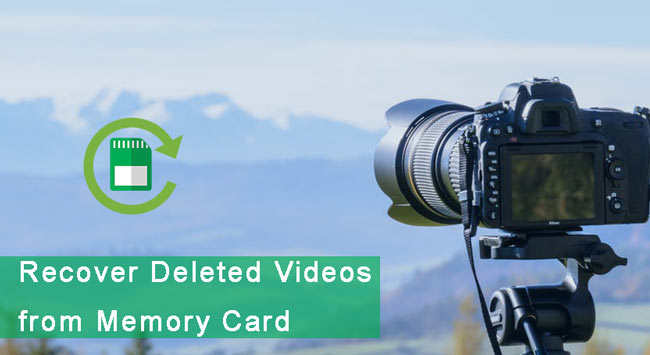 In this article, I will show you how you can recover videos from memory card and will give you some information on what can be recovered and under what circumstances.
1. Types of Memory Card Data Loss
Deleted videos (Chance of Recovery: High): if you delete videos from the card either on the camera, PC or Mac by simple hitting the deletion key, the chances of recovering all data are very high, as long as more data were not written on the disk. Deleting files just marks certain area as free for writing. The actual files are not erased from the disk.
Formatted card (Chance of Recovery: High): if you happened to format the memory card for whatever reason, either in-camera or on your computer. Chances of recovering all data are very high, as long as the card was not used after the last format.
Data failure (Chance of Recovery: Moderate to Low): Your camera may give an error, indicating that the data could not be written to the card. The chances of data recovery are moderate to low, depending on how serious the damage that the bad sector causes is. Some unreadable cards can also be recovered, again, depending on the damage.
Physical damage (Chance of Recovery: Low to None): if your memory card has suffered from physical damage and is unreadable, the chances of recovery are very low.
Now, let's get right to talk about how you can recover your deleted videos from SD card.
2. How to Recover Video from SD Card with FoneLab
In fact, it's not easy to recover videos on memory card. You have to rely on a professional memory card recovery software. With so many choices on the market, which one should you choose?
FoneLab Data Retriever is a powerful and safe software that can recover almost all deleted or lost data including videos by scanning the memory card. It is able to retrieve data lost for various reasons such as memory card logical failure, human error, and more.
Below is a step-by-step guide.

FoneLab Data Retriever
FoneLab Data Retriever - recover the lost/deleted data from computer, hard drive, flash drive, memory card, digital camera and more.
Recover photos, videos, documents and more data with ease.
Preview data before recovery.
Step 1Run This Software
Firstly, you should download, install and launch this data recovery software on your PC or Mac. And then insert the memory card into the computer with a card reader.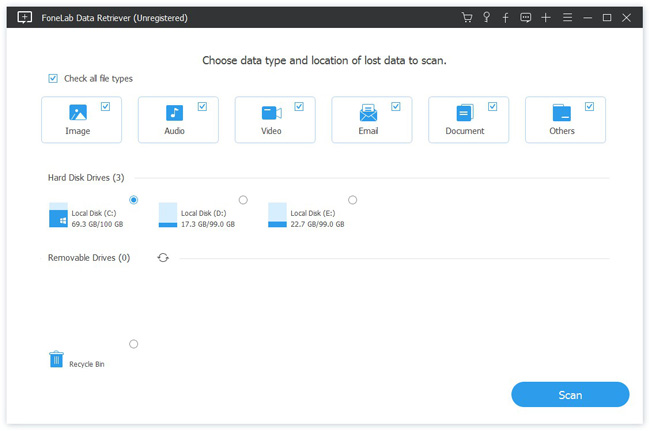 Step 2Scan data
On the main interface, choose Video at the file types section and your memory card under the Removable Drives. Then click Scan button to start the quick scanning on the memory card.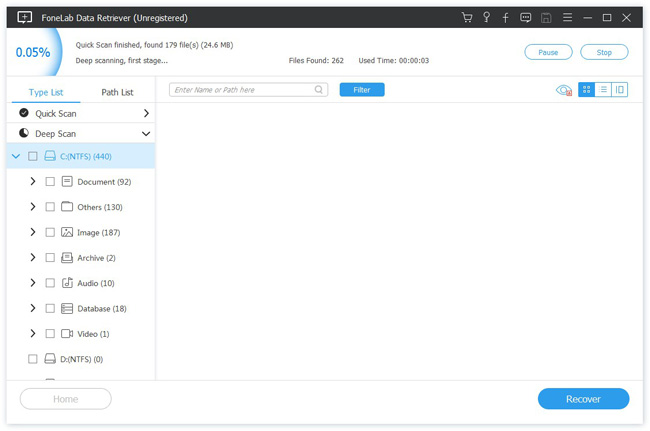 Step 3Choose video
After finishing the scan process, all videos in any kinds of formats will be displayed in the window. Look through these videos and find your needed one. You can also use Filter feature to quickly locate your video.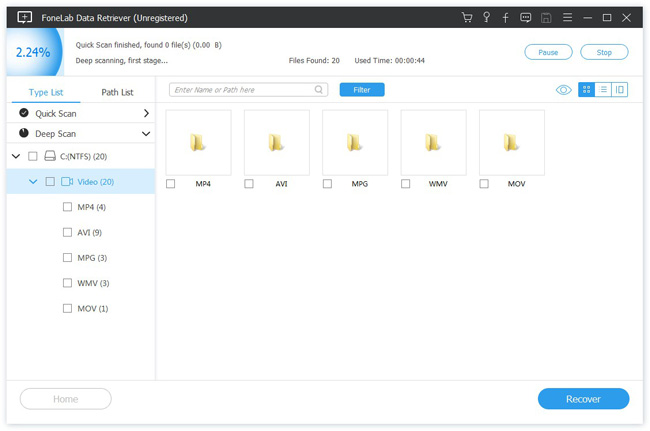 Step 4Recover data
Checkmark the items you want to recover and then click the Recover button. The selected items will be saved to your computer.
Tip: If you don't find your missing videos, you can choose Deep Scan to try again. It will take more time to complete the scanning process, but it will offer you more results.
More than that,
This software can help you recover deleted video from computer, hard drive, pen drive, etc. In addition to video, it is able to retrieve deleted images, emails, documents, audios, and more data from memory card.
3. Extended Reading - Tips to Prevent Data Loss
There is never a guarantee that your SD card today will always perform flawlessly. Here, I will share a few tips on what you can do to prevent data loss.
Invest in reliable memory cards: avoid buying cheap memory cards from unknown manufacturers. Get the professional series instead of regular ones. If the price is an issue, buy the older slower version.
Backup your memory cards: if you are shooting an important event, invest in a portable card reader or a portable hard drive that can back up your memory cards quickly on the job. You can hook them up to your laptop and backup the files to your laptop's hard drive, or you can backup all videos with a single button if you have a portable hard drive.
Dual memory slots: if your camera is equipped with two memory slots, put two identical cards and use them in backup mode, especially if your video shoot is important.
Format cards in camera after each use: obviously, only after you have made several backups of your data. Do not format your memory card on your computer and do it on your camera instead. I've seen cases where the files could not be written to the card by the camera, just because the card was formatted elsewhere.