How to Recover Permanently Deleted Emails from Gmail on Computer
"I deleted all my 12,000 inbox emails from Gmail into Trash and then erased them as well. This was not what I intended. I have searched high and low to check if there are any ways of recovering my 10 years of emails but could not find any. Does anybody know of a way to recover all my 10 years worth of emails deleted from Trash?"
Like the case above, most users have the similar experience of deleting important emails from Gmail by accident.
You might have deliberately deleted plenty of emails in an attempt to free up space or declutter, only to find that you included something you shouldn't have deleted, or that seemingly innocuous message was actually incredibly important.

Whatever the cause, there's nothing quite as nerve-racking as accidentally deleting an important email.
The good news is there are a number of ways to recover those emails that you thought were gone for good.
1. How to Recover Gmail Emails from Trash
If you have simply hit the delete button on an email, chances are the deleted item will be sat waiting for you inside your trash folder.
Click on the Trash folder to access your deleted messages.
Click on the search bar at the top and type in the keywords contained in the email.
Tick the emails that you want to recover and click on the Folder icon to move it back to your box.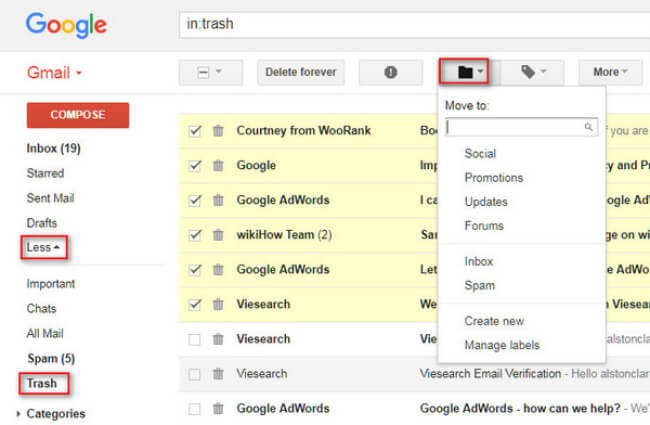 The Trash folder will retain deleted emails for up to 30 days before it permanently deletes them.
You might ask: how to recover deleted emails from Gmail after 30 days?
Read on to find the answer.
2. How to Retrieve Permanently Deleted Emails from Gmail Server
If you have accidentally deleted a folder or email and it is not located in your Trash folder, your email host may have a copy of your emails. We have found this type of information can be tricky to get back but there is a way.
Open your Gmail.
Click the drop-down arrow on the left of your search box at the top of the screen.
It will then ask you several questions such as: to or from, subject, keywords or date within.
Click on the blue search button on the bottom left of the search box and all of your deleted emails will be revealed.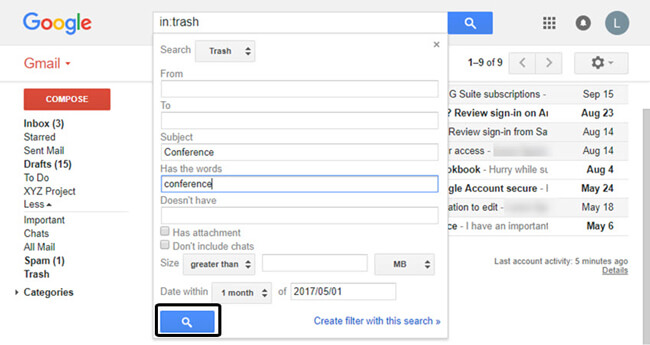 3. How to Recover Permanently Deleted Emails from Gmail Support Team
If your emails are completely deleted from the server, Gmail is unable to restore them for you.
No worries, you still have chances to restore your lost emails.
You can send a request to the Gmail Support Team to ask it to recover your deleted emails.
To submit an enquiry, you need to go to the Gmail's missing email web page

.
Fill out the form with the necessary details such as the email address and a short description of the problem.
After this is all filled out, click on the Submit button.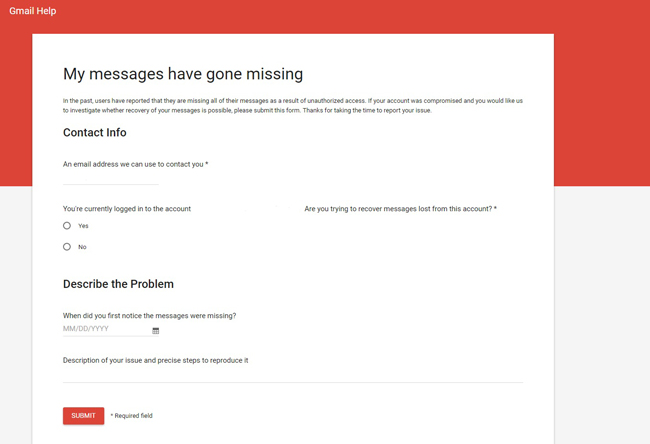 However, you should not get your hopes up as there is a very good chance that the messages have well and truly disappeared into the ether. This service is geared more towards messages that have gone missing as the result of a Gmail account being compromised.
4. How to Recover Deleted Email in Gmail with FoneLab
For most Gmail accounts, these messages purged from the Deleted Items folder are still not beyond recovery. Then the only solution is to resort to a data recovery tool.
The good news is that you can recover email data without having to retrieve the email account.
FoneLab Data Retriever is a powerful and safe data recovery software, which is designed to recover almost all deleted or lost data including emails by scanning the computer. It can help retrieve all types of email files including MSG, MBOX, and EML as well as the attachments.
Let's see how it works.
Run This Software
Firstly, download and install this software on your computer with above links. Both Windows version and Mac Version are available. Then launch it.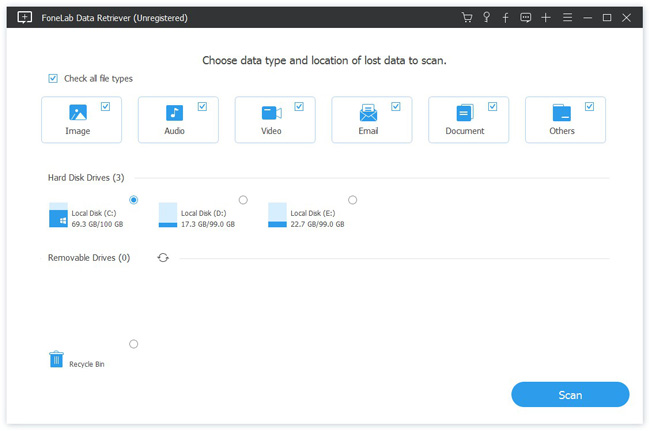 Scan email and attachments
Choose Email (If you want to recover the attachments, you should also tick the attachment data types) at the data type section and location where you lost emails.
Choose data
Once the scanning process is finished, all emails will be displayed in the window. Look for the items you want to recover. You can also use Filter feature to quickly locate your needed emails.
If you don't find your missing data, you can click Deep Scan to try again.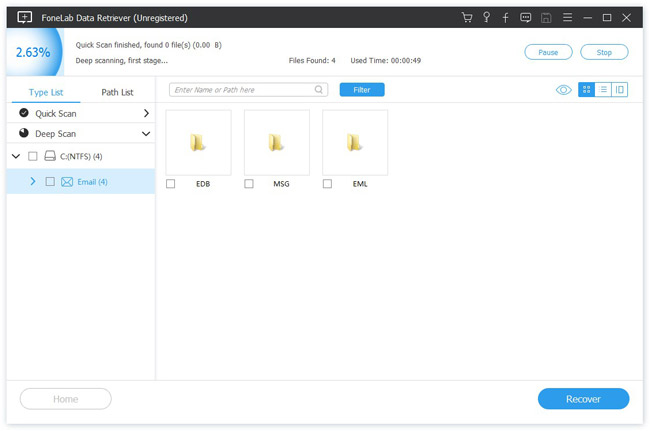 Recover emails
Mark the items and click the Recover button to extract the email data to your computer.
In addition to recovering emails from computer, this software can also recover documents, images and other data from hard drive, flash drive, digital camera, and more.
Now, free download it on your computer and have a try!
Related Articles:

Leave your comment and join our discussion