3 Ways to Recover Deleted Word Document in Windows/Mac
"Recently I have been digging for old Word files and I have found that some of them are corrupted and some of them are lost. How this happened is a mystery to me. Can you recover deleted word documents? I would appreciate any help in recovering them, either using procedures I am yet unfamiliar with or using specific software. Free would be preferable, but if best-in-class is pay and I need it, I'll buy it. Thanks for your opinions."
Data loss can happen to everyone and the loss of Word document is most annoying. Whether you're a student or an office worker, you need to use Word documents, which can be a paper or a project reporter or something more important. Most of us can't afford to unexpected lose a Word document since it is always used to record important and miscellaneous information.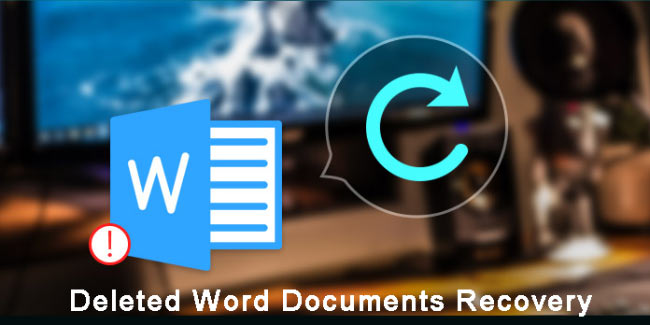 The Word document may get deleted undesignedly after you cleared plenty of files in an attempt to free up space or after you formatted your hard drive in order to update the system.
Here, I collected some ways on how to recover deleted Word documents.
Method 1: Recover a deleted word document from backup file (.wbk)
To locate this option, do the following.
Start a Microsoft word document.
Go to the Microsoft Office button and then click Word Options at the bottom.
In the Navigation Pane, click Advanced.
Scroll down to find the Save section and tick the Always Create Backup Copy option.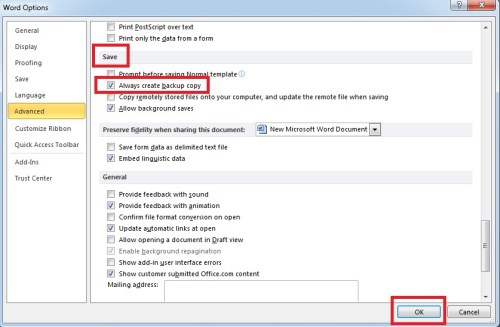 After that, every new Word document that you create will have a copy associated with it. All backup of Word documents have the names that start with Backup of and end with the .wbk file name extension.
To find these copies and restore Word documents, follow these steps.
Locate the folder in which you last saved the deleted Word documents.
Search for files that have the .wbk file name extension.
Change the extension name from .wbk to .doc or .docx.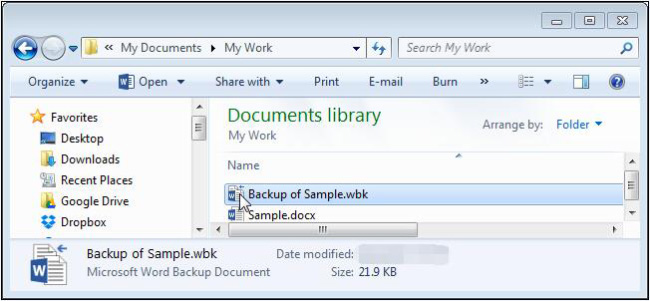 Alternatively, you can directly go to Start menu on your computer and type the name of the missing Word document or Backup of or .WBK in the Search Box.
2. Recover Deleted Word Files from Temporary Files
No copies of your deleted Word document? Searching for the temporary files is your second option. When you are working on a Word document, a temporary file is also created that contains the same data.
Temporary files have TMP extension with them, follow the steps to recover deleted Word documents.
Click Start at the left bottom corner of your computer screen.
In the Search for Files or Folders named box, type .tmp.
On the Show Only Toolbar, click Other.
Search for files that match the dates and times that you last edited the document.
If you find the destination document, drag the file to the desktop.
Change the extension name from .tmp to .doc or .docx.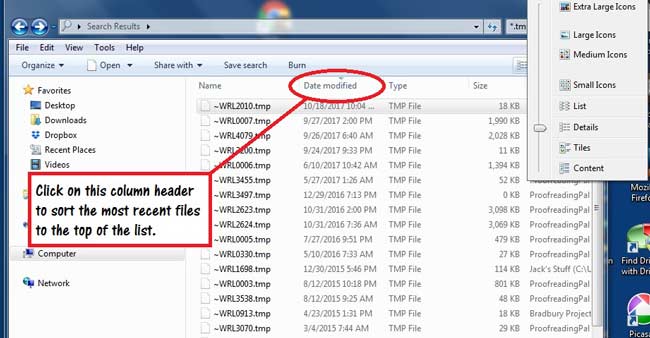 3. Recover deleted Microsoft Word Document with FoneLab
If you still do not find the document you are looking for, using a powerful data recovery software will be your ultimate option.
FoneLab Data Retriever has the ability to recover almost all deleted or lost Word documents by scanning the storage device in which the documents lost.
It is able to restore Word documents lost for manual deletion, system crash, non-responding, corruption, overwritten, etc.
Let's see how to use it.
Run this software
Download, install and launch this data recovery software on your PC or Mac with the above links. If you want to restore from an external storage device, connect it to the computer.
On the main menu, choose the data you want to recover, here you should choose Document. Then select the hard drive in which you may find the lost documents.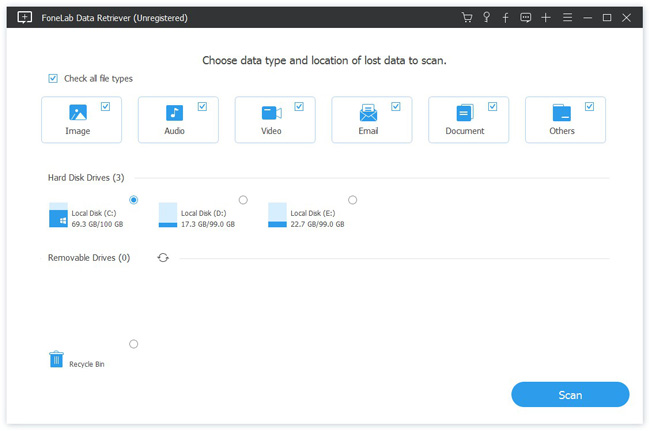 Scan Data
Clicking Scan button will start a quick scan on the selected disk drive. After finishing the scan process, all types of documents will be displayed in the window.
On this page, you can click Deep Scan to get more scanning results. Deep Scan will take more time to complete the whole scanning process, but it will offer you all possibility.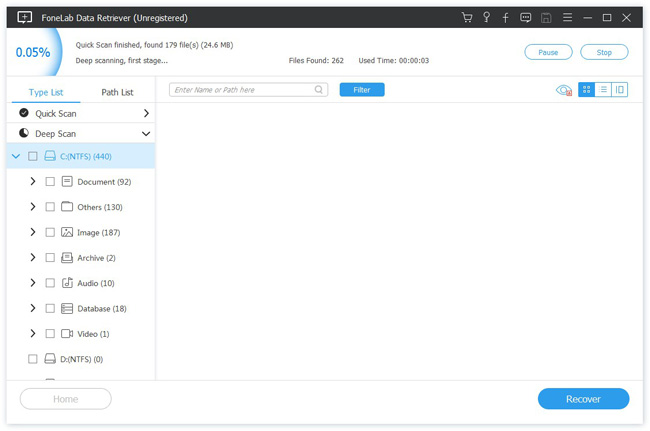 Recover Data
Look for your needed Word documents. You can also use Filter feature to quickly locate the required files.
Mark the items and click Recover. The selected Word documents will be saved to your computer.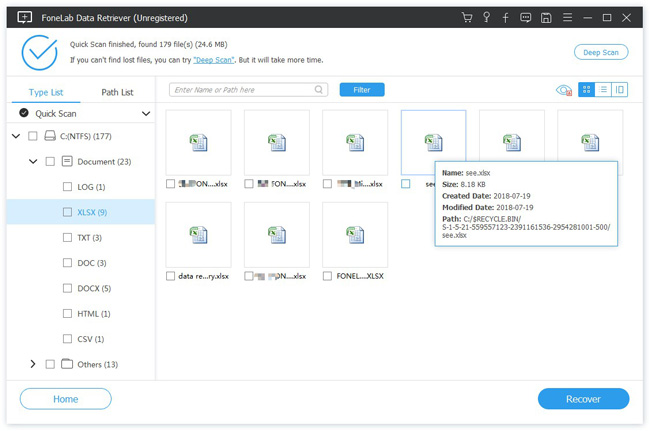 Without any technical requirements, you can retrieve the deleted Word document. All you need to do is click a few times.
In addition to Word document recovery, this software can also recover TXT document, emails, images, excel files, and other types of data.
Moreover,
This software can recover data from computer, flash drive, memory card, digital camera, removable drive, and more storage media.
Download this software on your computer and be ready to timely save your data from the Reaper in case the data loss suddenly happen to you.
Related Articles:

Leave your comment and join our discussion