Recover PC Data Now
Recover the lost/deleted data from computer, hard drive, flash drive, memory card, digital camera and more.
DATA RECOVERY FOR WINDOWS: The Comprehensive Guide
In the Information Age, as everybody knows, computers are essential in just about every profession -- business, law, science, education, media, etc.
Most of us are getting relied on computer to obtain information and store important data such as media file, documents, emails, images, etc.
With the importance of Windows data, we almost can't afford to lose any of them. However, data loss likely happen to everyone.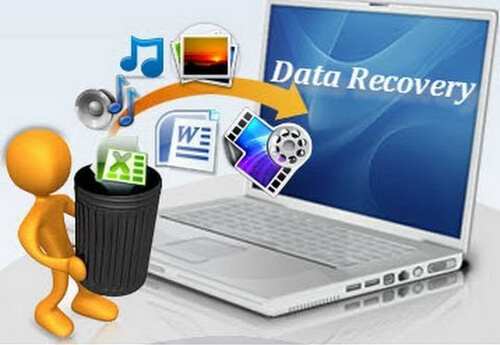 There are many situations where you may lose data in Windows, some of them are listed below:
Accidental deletion
Sudden system shutdown during transferring files
Deletion of files essential to system functions
Operating System Corruption
Unintentional Formatting
Virus or malware infection
System damage
...
There's nothing quite as nerve-racking as accidentally deleting important Windows data, but there is no need to panic.
Actually, deleted data is not completely erased from the Window and is still kept in its server. when a file is deleted, only a bit of information that points to the location of the file and when the file is accessed, the program is unable to locate it. That is to say, you stand a chance to recover data from Windows.
1. Recover Deleted Files in Windows through Temporary Files
A temporary file is created to hold information temporarily while a file is being created. Generally, after the program has been closed, the temporary file should be deleted. However, if Windows is quitted in an irregular way, the files are not closed or deleted.
Temporary files are used to help recover lost data if the program or computer is abnormally halted.
Temporary file names end with the .tmp extension. To find these files and recover your original files, please follow the steps.
Step 1In the Start Searchbox, type.tmp.
Step 2On the Show onlytoolbar, click Other.
Step 3Scroll through the files and search for files that match the last few dates and times that you edited the document.
Step 4If you find the files that you're looking for, drag the file to the desktop.
Step 5Change the extension .tmp to the extension of your original file.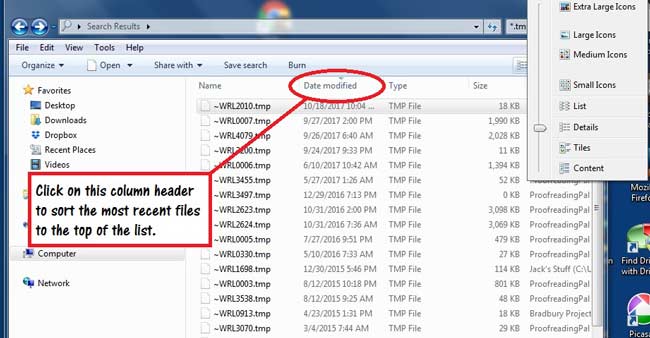 2. Recover Files in Windows from Previous Versions
Windows comes with an automatic file and folder backup feature called Previous Versions that many PC users don't seem to know about. As long as System Protection is enabled, Windows has an automatic file and folder backup built in. These keep track of any changes that have occurred for files and folders.
This may not work for restoring some media files like videos or audios. But if you want to restore text files, it will help.
The only catch is that you have to remember the name of the file you deleted and what folder it was in.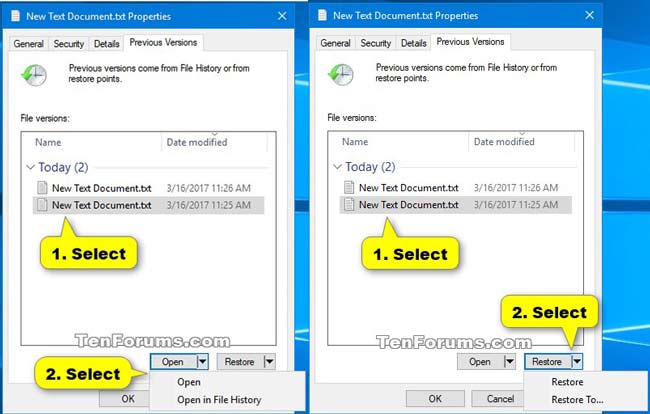 To restore deleted files from previous versions, do the following.
Step 1Create a dummy file with the same name and extension as the lost file and place it in the original folder where the lost file resided. The contents of the file are irrelevant.
Step 2Right-click the file and select Restore Previous Version. A list of available previous versions of the file will appear.
Step 3Choose previous versions and then click Open to view it to make sure it's the version you want.
Step 4Select the copy you want to restore, and then click Restore.
3. Recover Windows Files from Backup
In Windows, there is a utility to back up your system and data without having to resort to third-party solutions.
Windows backup contains everything stored on your computer, including the full settings, applications, and all your files. If you have created backups, you can easily restore the lost ZIP files.
To restore deleted files from backup, do the following.
Step 1Go to Start menu on your computer.
Step 2In the Search for files or folders named box, type backup.
Step 3Choose Backup and Restore from the resulting list.
Step 4Click Restore My Files.
Step 5In the Restore Backup dialog box, look through the content of the backup and locate the files or folders you intend to restore. You can use Search, Browse for File, or Browse for Folders functions to look for your needed files.
Step 6Choose the location where you want the files restored and then follow the steps in the wizard.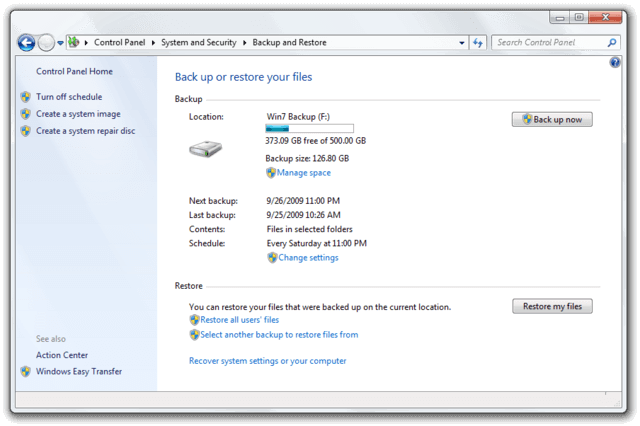 4. Recover Windows Data with FoneLab
As you can see, each of the above methods have its limitations.
If you still don't find a solution suitable for you, then you need a data recovery tool.
FoneLab Data Retriever is a powerful and safe data recovery software. It is designed to retrieve almost all deleted or lost files by scanning your computer.
No matter what caused the loss of data, you can recover them with the help of FoneLab.
Step 1Run This Software
Download and install this data recovery software on your computer. Both PC and Mac versions are available. Then launch this program.
If you want to recover data from other electronic data storage devices such as memory card, flash drive, etc., you need to connect them to the computer.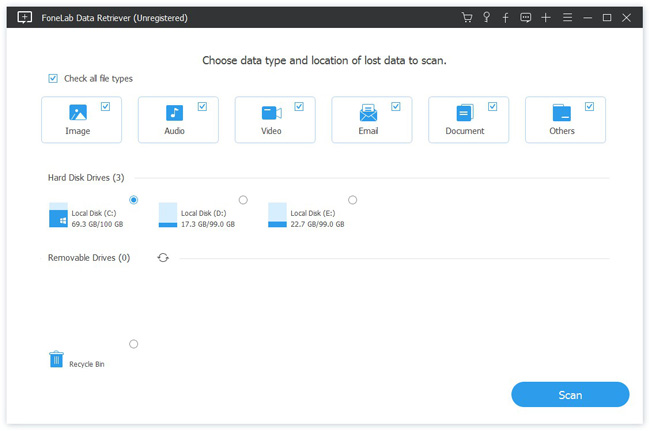 Step 2Scan Data
On the main interface, choose the data types you want to recover and hard disk in which you lost the data. Then click Scan button to start the quick scan on the selected disk drive.
If the quick scan can't bring your desired results, you can click Deep Scan to try again. Deep Scan takes more time to complete the whole process, but it brings more results.
Step 3Recover Data
Look through the files displayed in the window and look for the items you intend to recover. You can also use Filter feature to quickly locate your needed files.
Check the box alongside the items you want to retrieve, and then click the Recover button to save the selected files to your computer.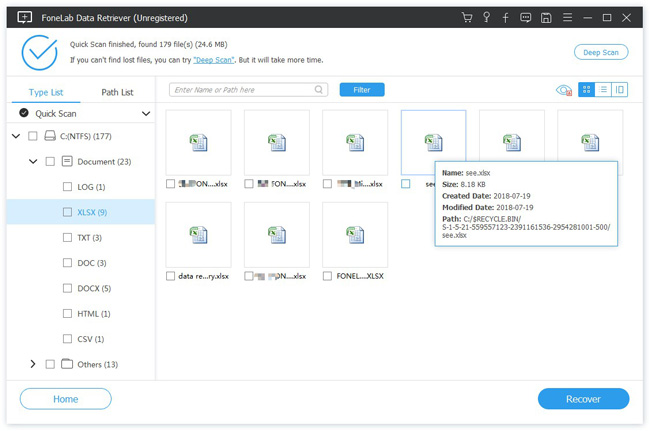 Why Choose FoneLab Data Retriever?
Because it:
Can recover Emails, image, document, audio, video, and more data.
Can recover data from memory card, computer, flash drive, digital camera, hard drive, and other removable drives.
Rescues data from various disasters, such as virus attack, unexpectedly crashes, non-responding, formation, deletion and more.
Allows users to preview any data type with the detailed information.
Highly compatible with Windows and Mac.
Guarantees the data safe -- when you retrieve lost database, it won't store any of these data to its server
Has Wizard-like, easy-to-use interface.
Offers a 30-day free trial period.
Anyway,
You can use the software to see if your data are still recoverable before paying for it.
Do not hesitate to download FoneLab Data Retriever on your computer and have a try!