Get Data Recovery Now
Recover the lost/deleted data from computer, hard drive, flash drive, memory card, digital camera and more.
Recover Replace Files on Mac Using Hassle-free Methods
Is it possible to recover overwritten Word documents on Mac? How about other files like photos, videos, audio, and more? Can I bring them back after an accidental replacement?
Have you ever experienced copying a file to a folder but accidentally replacing it? Many people experience that trouble, especially when they ignore the on-screen instructions that appear every time you make a significant move on Mac. This also happens when you want to move a file immediately, so you keep clicking OK to finish as quickly as possible. Hence, you sometimes end up deleting an important file by replacing it with another. Now, instead of completing a task, another trouble follows right away.
With this in mind, you probably want to figure out if it is possible to recover a file you replaced on Mac. The good news is you have come to the right place. If you want to find the answer to that question, kindly continue reading below as we discuss this topic further. Moreover, we are going to provide you with solutions to resolve the problem you are having at the moment. Frequently asked questions will also follow to help you be enlightened about some of the questions that may be stuck in your mind.

Part 1. Can You Recover Replaced File on Mac
The simplest answer to that is, yes, you can recover replaced files on Mac. Overwriting files occurs when a file you are moving or copying has an identical name on the folder you are trying to put it into. When you encounter such a scenario, make sure to rename the file before proceeding. Or else it will replace the original file in the folder, which will cause it to disappear. Hence, no matter how much you need to hurry, don't ever ignore the instructions, as they may lead to data loss.
But don't worry because there are still ways to bring them back. If you have already made a mistake in overwriting a file, this article will help you resolve the problem. Various tools and methods can be found online, and we picked the most effective ones to include in this post. Find out below what these methods are, and be guided by the processes that follow to retrieve your valuable files on Mac.
Part 2. How to Recover Replaced File on Mac with FoneLab Mac Data Retriever
First on the list is the FoneLab Mac Data Retriever. This tool earned the top spot for excellency in its specialized work, which is Mac data recovery. Whatever it is you are trying to recover, this tool will bring it back without damaging your file. It safeguards its original form, so you don't need to worry about the quality of your data. Expect your replaced file to be exactly the same as it was before accidentally losing them.
Pay attention to the instructions below to recover overwritten Word documents and other files with FoneLab Mac Data Retriever:
Step 1Explore the official website of FoneLab Mac Data Retriever to find the Free Download tab. Click it to save a copy of the software file on your Mac. The Switch to Windows option is only around the corner if you use Windows. Later on, transfer the software to the Applications folder and run it on your Mac computer.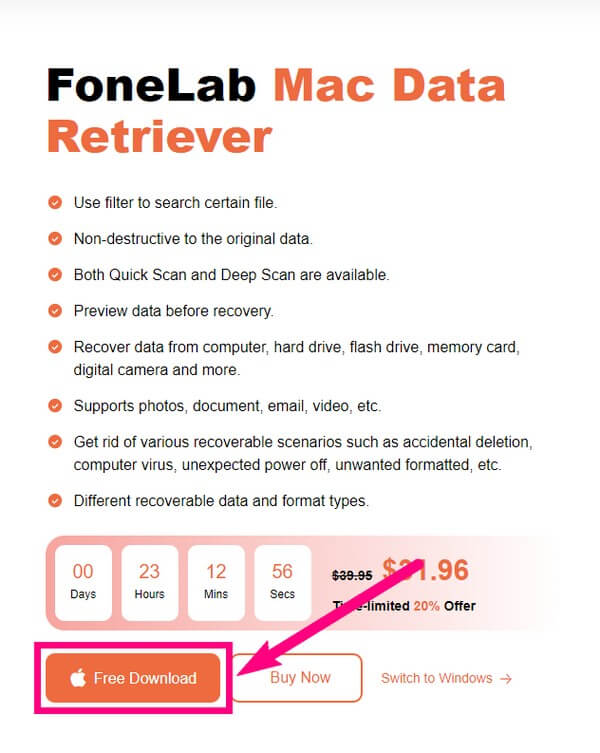 Step 2The program's main interface will be displayed in a second, and you will see its key features. In the meantime, select Mac Data Recovery.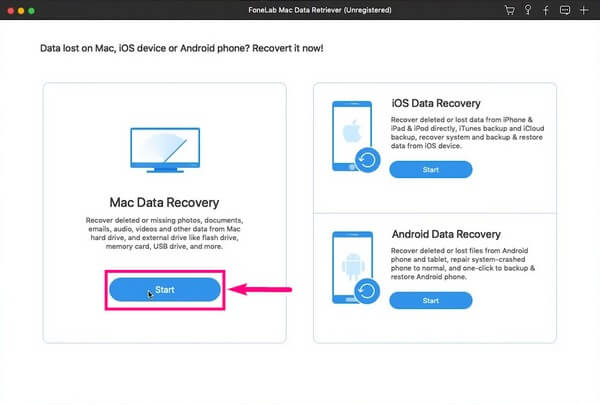 Step 3The following screen or interface contains the data types the program supports. But if the type of data you are looking for is not particularly on the list, tick the Others checkbox. It would still include your notes in the scanning process. Then select the last location of the file from the hard disk drives before clicking Scan.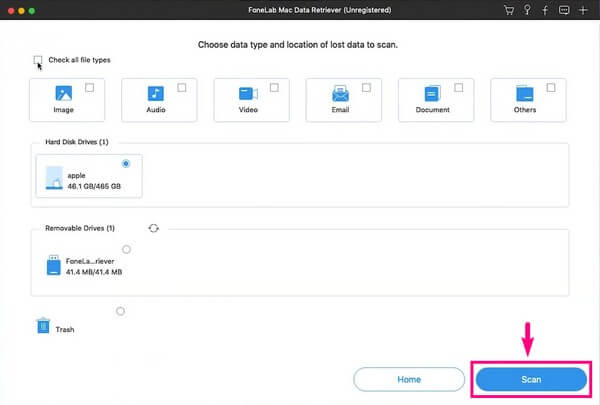 Step 4Explore the folders you see on the interface. You may also use the program's functions, like the filter, search bar, and more, to find your files easily. After selecting the file, you accidentally replaced, hit the Recover tab. The FoneLab Data Retriever will take a few seconds to retrieve your lost or deleted notes.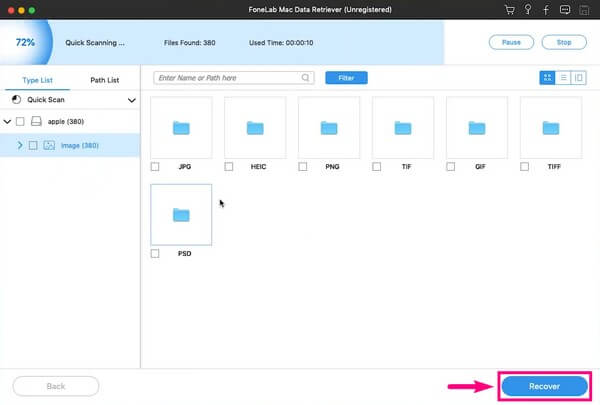 Part 3. How to Recover Replaced File on Mac with Time Machine
Time Machine backup lets you restore an overwritten file by using older versions. As the name suggests, it enables you to return the file to its original spot before you accidentally replace it. Unfortunately, you can only recover files using this method if you have already created a backup using a Time Machine Drive.
Pay attention to the instructions below to acquire an understanding of how to recover a replaced Word document and other files on Mac with Time Machine:
Step 1Attach the Time Machine Drive with a USB cable to your Mac. Its icon will then appear on the Menu Bar. Click it to launch the backup.
Step 2Once launched, choose the date where the replaced file is contained. Then restore it to bring the file back to its original place.
Part 4. How to Recover Replaced File on Mac with iCloud
If your files on Mac are synced with your iCloud account, you can also use it to recover the file you replaced. iCloud lets you access the files on your devices using Apple ID. However, you can only restore them within 30 days. The files automatically disappear after that. Proceed to the other methods in this article if that's the case.
Pay attention to the instructions below to recover overwritten Word documents and other files with iCloud:
Step 1Go to the website of iCloud and sign in to your account. Click the Settings option.
Step 2
Select
Restore Files
below the
Advanced
section.
Step 3Tick the checkboxes of the overwritten files you want to recover. Lastly, click Restore Files to restore the files on your Mac.
Part 5. FAQs about Replace File on Mac Recovery
All the methods mentioned in this article are tested and proven. If you are looking for more reliable solutions, go to the FoneLab Mac Data Retriever website and resolve your troubles.