2 Most Possible Ways to Recover Replaced or Overwritten Files on Mac
Here are common cases that you accidentally replaced files on Mac. For instance, when you copy new files or folders with the same names, you may click Yes to replace original files or folders. Moreover, it is also possible that you rename a file that has a conflicting name with another file. If you continue using the same name, Mac will replace the original file with the new saved one.
Compared with traditional Mac data recovery scenarios, it is slightly difficult to recover replaced files on Mac. During this time, you can use Time Machine backup or Mac file recovery software to recover replaced or overwritten files on Mac. Just read and check.
If you want to recover a file that is not replaced but not saved, you can refer to recover unsaved Word document on Mac.

1. Can You Recover a Replaced File on Mac
When you delete files on Mac, the related storage space will be marked as available. But the deleted Mac files still exist in the original place unless you save new items to replace or overwrite them. To some degree, the replaced files are gone. Fortunately, there are still two possible ways that can recover replaced files on Mac. Thus, you can rescue replaced Mac data as much as possible.
2. How to Delete Safari Bookmark on Mac
If you have backed up the replaced files with Time Machine and other backup tools before, you can recover overwritten files on Mac with the previous versions. Otherwise, you can use Mac file recovery software to find and recover not replaced files effortlessly.
Method 1: Recover Overwritten Files with Time Machine Backup
Connect the Time Machine drive to Mac with a lighting USB cable.
Click the Time Machine icon on the Mac Status menu to enter Time Machine.
Browse the Time Machine timeline. Find the date that you create a backup with replaced Mac files contained.
Check if the previous version of replaced files or folders are backed up by Time Machine.
Click Restore to recover permanently replaced files on Mac.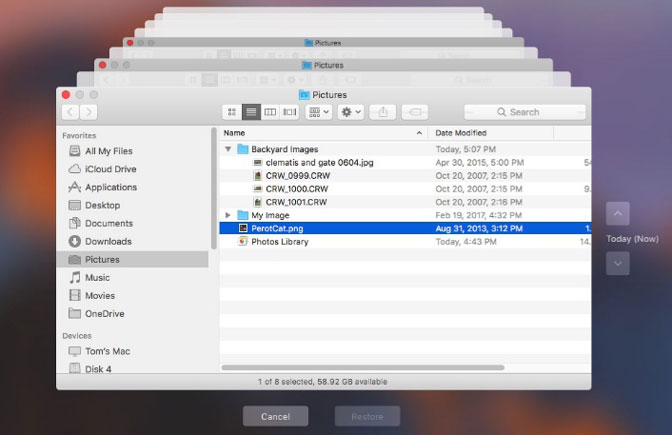 Method 2: Recover Replaced Files with Mac File Recovery Software
What makes FoneLab Data Retriever the best professional file recovery software? If you have emptied a storage device and replaced old data with new files, you can run Data Retriever to recover replaced files from the empty space in a short time. In other words, you can get all recoverable files due to deletion, formatting, corruption and other data loss issues.
If you want to recover replaced files on Mac without Time Machine, Data Retriever is your best alternative tool. It can help you find files that have not been replaced on Mac completely and thoroughly.
Recover photos, videos, music files, documents, emails and other files on Mac selectively.
Recover replaced files from Mac (emptied Trash Bin included), hard drive, memory card, flash drive and more.
Find and rescue Mac data before data overwritten via Quick Scan and Deep Scan modes.
Search for your replaced files and preview the detailed information.
Launch Mac file recovery software after installation. Click Start under Macn Data Recovery to recover partial files from the empty space that has not been replaced yet.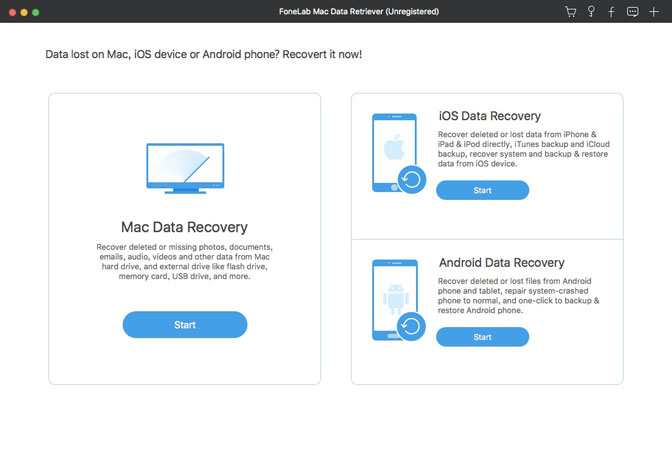 Select the file type and hard disk drive based on your needs. For instance, if you want to recover replaced Word documents on Mac, you can mark before Document and Mac internal HDD/SSD.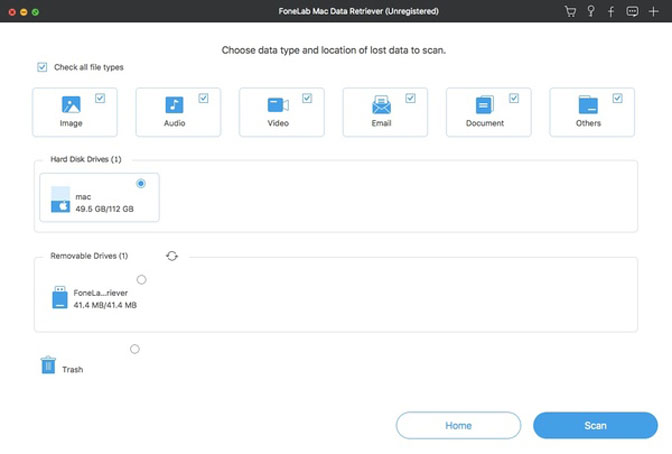 Click Scan to scan for not replaced files. Sooner, you can see all currently existing and deleted files on Mac.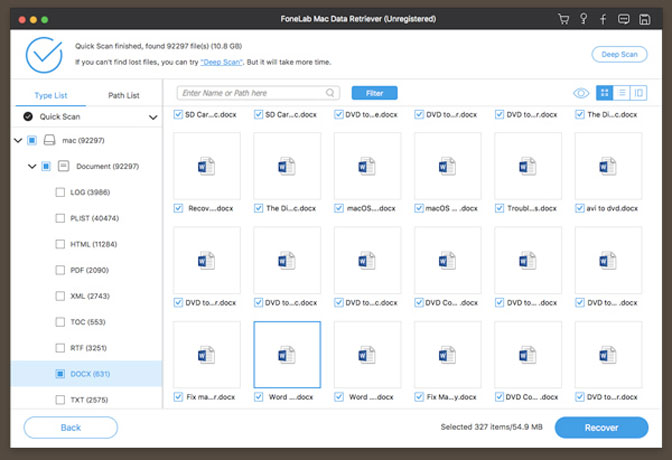 Browse, select and preview your replaced file. At last, click Recover to recover replaced files to a safe place on Mac.
To increase the success rate of replaced file recovery on Mac, here are tips for recovering replaced files on Mac. Well, you can get a higher possible rate to recover a replaced file on Mac.
Stop saving new files to the data loss hard disk drive to prevent data overwritten.
Do not save the recovered files to the same drive that you lost data before.
When you use Mac file recovery software, you can limit the scanning result by file type and location. Thus, you can get the scanning result quickly.
If you want to recover a replaced Word document on Mac, you had better turn to Time Machine backup for help. At present, the file recovery software cannot recover files that have been replaced on Mac.
If you accidentally copied and replaced files on Mac, you can use above possible ways to find and recover previous file versions.
There is no 100% guarantee that you can recover all replaced or overwritten files on Mac. But you can recover replaced files on Mac partially to minimize losses as soon as possible.
If you have a problem with hidden files, you can refer to this article: Recover Mac hidden files.
Related Articles:

Leave your comment and join our discussion