Recover iOS Data Now
Recover your data from iPhone to computer easily.
How to Recover Deleted Files from iPhone? Over 99% Success Rate for Data Recovery

Updated by
Valyn Hua
/ January 05, 2021 09:25
There is no doubt that iPhone is such a popular device among common people all over the world because of its powerful features, fluent running and pretty looking. Everybody likes to use their phone to store the important information such as memorable photos and videos, favorite music, contacts or some working files.
But it is likely to lose data in iPhone for some complex reasons. Such situation is disheartening for users, who may wonder what happened to the iPhone.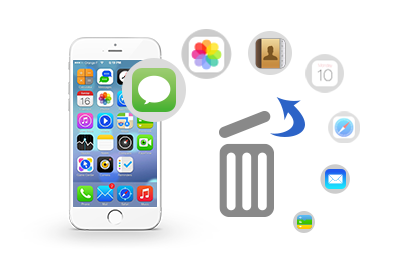 In the following, we will discuss the reasons and the solutions of iPhone files loss.
1. Main Reasons behind The Situation of Data Lost from iPhone
The listed below reasons will make you in an unknown trouble. In such situation, you may feel that it is necessary to have a backup of all the data stored in your iPhone.
Sudden shutdown of the device
Deletion of the files by accident
Any physical damage to the iPhone
Forgetting password of iPhone
Restoration of the factory settings
Upgrade of the iPhone system
Software errors in the device
Infection from malicious code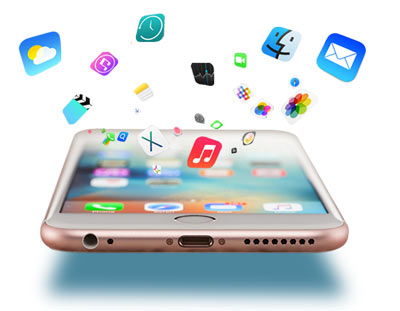 For safety, actually, it is a good option to back up iPhone device with iCloud or iTunes. But recovering files from iCloud or iTunes is such a nuisance.
Firstly, if you want to recover the lost data with iCloud or iTunes, you have to issue a full restoration, because iTunes and iCloud don't provide users with any option of recovering files selectively.
Secondly, the existing files will be replaced by the backup you have chosen. It's also a headache that the existing data are equally important for you.
2. 3 Modes to Recover files from iPhone
Here, I'd like to introduce FoneLab iOS Data Recovery tool, which is the best program to recover deleted files from iPhone, to you.
The Main Feature of The Software:
Issues quick restoration of various files from a backup while keeping existing ones intact.
Issues quick restoration of various files from the all iOS device directly while keeping existing ones intact.
Restores data selectively from a backup when the iPhone device doesn't work properly.
Enables you to restore only the selected files.
Simple using steps allow a novice to catch on quickly.
Compatible with Mac as well as Windows OS.
Previews content before performing recovery.
Allows to try out the program before buying.
As you see, this is a powerful software, which can work on different types of data whether you have backed up your device or not.

FoneLab for iOS
With FoneLab for iOS, you will recover the lost/deleted iPhone data including photos, contacts, videos, files, WhatsApp, Kik, Snapchat, WeChat and more data from your iCloud or iTunes backup or device.
Recover photos, videos, contacts, WhatsApp, and more data with ease.
Preview data before recovery.
iPhone, iPad and iPod touch are available.
Let me detail the process of performing this program.
There are 3 recovery modes to restore data with FoneLab:
First of all, you need to download and install the software on the computer which has the latest version of iTunes.
Then, choose a mode and follow the steps.
Mode 1. How to Recover files from iPhone without backup
Step 1After the installation is complete, the program starts automatically.
Step 2In the interface, choose iPhone Data Recovery >Recover from iOS Device.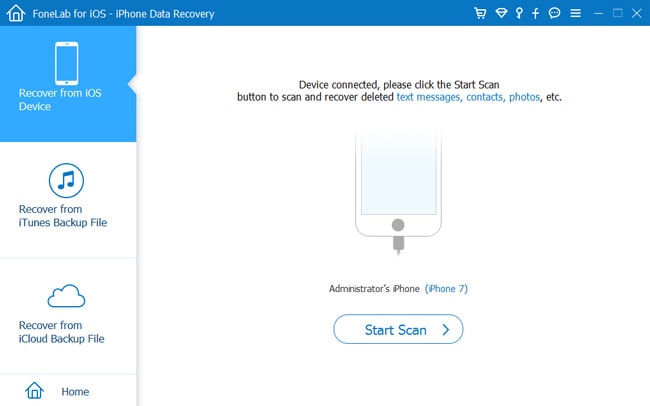 Step 3Connect your iPhone to the computer via USB cable.
Step 4Click the Start Scan button and wait for the scan to finish.
Step 5The software will list the different types of files.
Step 6Choose one from the list on the left side of the page to preview.
Step 7Click Recover. Don't disconnect your iPhone until the recovery finished.
Mode 2. How to Recover Files from iTunes Backup
Step 1Open the software on the computer which you used to back up your iPhone.
Step 2In the interface, choose iPhone Data Recovery > Recover from iTunes backup files.
Step 3You will see the list of backup history, choose the most relevant one to scan.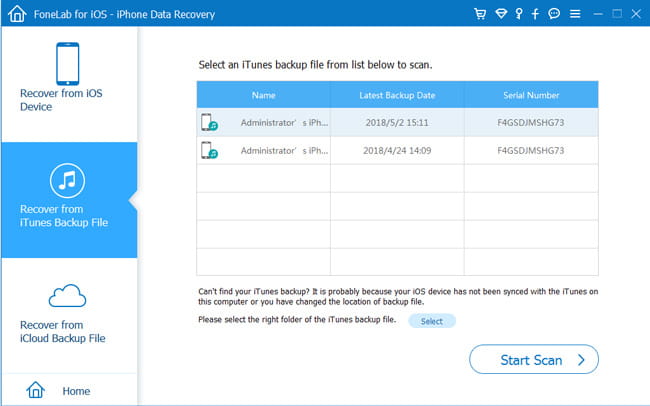 Step 4Look at the file list on the left of the page.
Step 5Click one to preview the content.
Step 6Mark the files you need to recover.
Step 7Wait for the process to complete.
Mode 3. How to recover files from iCloud backup
You can also choose to retrieve documents from iCloud backup.
Step 1Double-click the FoneLab icon on your computer to start the program.
Step 2Choose iPhone Data Recovery > Recover from iCloud backup files.
Step 3In the interface, enter your iCloud account and password. Turned off the iPhone Two-Factor Authentication if is open.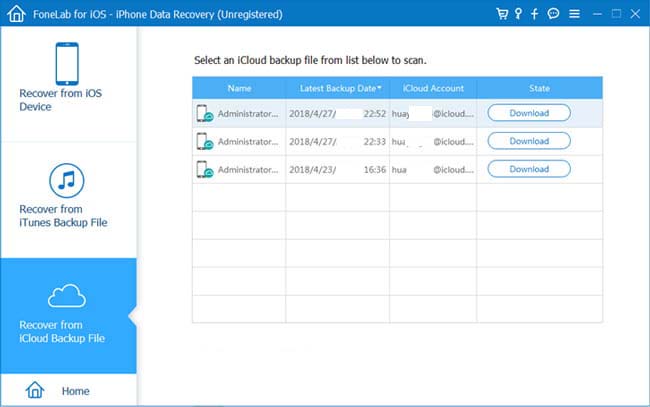 Step 4Pick one from the list of backup history to scan.
Step 5Preview the content after finishing scan.
Step 6Choose files you want to recover.
How easy it will be to recover lost files with FoneLab. It can recover safari bookmarks, extract data from iCloud , view icloud backup photos , save whatsapp audio, recover deleted imessages from iPhone with just a few clicks as well as other data, such as contacts, text messages, message attachments, notes, reminders, videos, and so on.
Besides, this software also helps you recover deleted files on iPad or other iOS devices.
Now, free download the software to try out.