Recover PC Data Now
Recover the lost/deleted data from computer, hard drive, flash drive, memory card, digital camera and more.
Windows 10 Fall Creators Update Problems Fix and Recovery
I am having a problem with the Fall Creator Update. I always get error messages during the installation process. How do I get it to complete the update? Even worse, some of my files are damaged or missing while I repeatedly attempt to install the fall creators update, can they come back after finishing the update?
If you are having problems with Windows 10 Fall Creators Update since downloading and installing the major update, you are not alone.
While Windows 10 fall Creators Update brings a variety of exciting new features to Microsoft's OS, some people have been experienced problems or bugs during and after installation.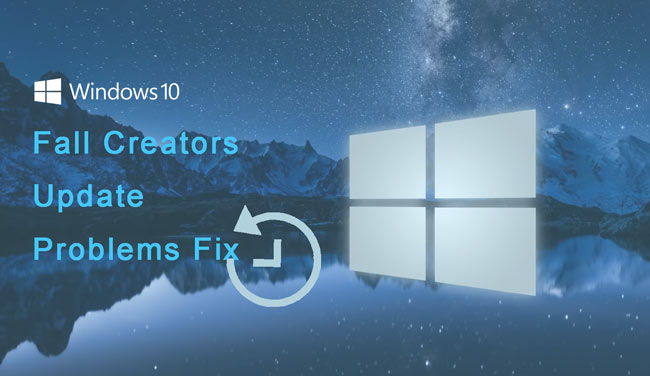 Thankfully, we've accumulated some coping experience. There's a handful of tricks that can help jolt your system back into consciousness.
If you're having problems, the following solutions are worth a try.
1. How to Fix Windows 10 Fall Creators Update Installation Problems
Some people who try to download and install Windows 10 Fall Creator Update are seeing an error message that mentions 0x800F0922, which prevents Windows Update from installing the latest version.
It may mean that there is an issue with the internet connection.
To solve this problem, you should make sure your computer is connected to the internet firstly. Then you may need to restart the modem or router. If you are using a VPN, disabling the VPN will help to update your system.
You can also use Windows 10 to troubleshoot any network problems.
Step 1 Right-click the network icon in the system tray at the right bottom corner of the computer screen.
Step 2 Select the Troubleshoot Problems option.

Error 0x800F0922 may also appear if there are not enough available disk space to install the Windows 10 Fall Creators Update.
Do the following to quickly free up disk space.
Step 1 Go to the Start menu.
Step 2 Type Disk Clean-Up in the Search box on the taskbar.
Step 3Click on Disk Clean-Up.
Step 4 In the Drive Selection window, choose the drive where Windows 10 is installed and click OK.
Step 5 Tick the boxes of the files you want to delete and click OK. If you want to create more space, click Clean Up System Files.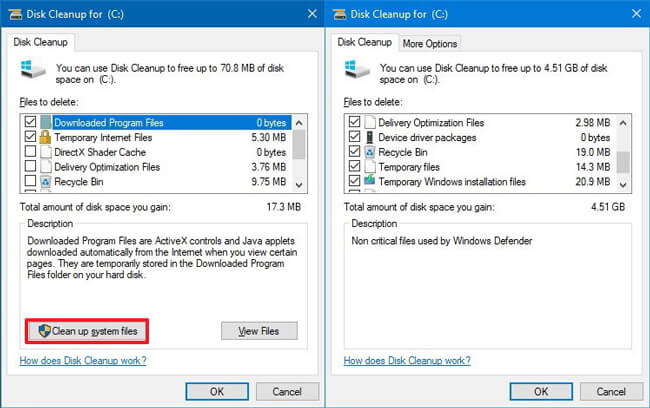 Using Disk Clean-up can also help to solve the installation error 0x80190001. As well as errors: 0x80070070 – 0x50011, 0x80070070 – 0x50012, 0x80070070 – 0x60000, 0x80070070 and 0x80070008.
If you don't want to remove your files, you can use third-party tools to resize the partition and make it larger.
There are a number of reasons that can cause the installation problem. Fortunately, Windows 10 has a troubleshooter that can help identify any problems and reset the service.
To do this, follow the steps.
Step 1 Go to the Start menu.
Step 2Click the cog icon on the left, which will open the Setting window.
Step 3Choose Update & Security and then Troubleshoot.
Step 4 Select Windows Update then Run The Troubleshooter.
Step 5 Click Apply This Fix if the troubleshooter finds a solution.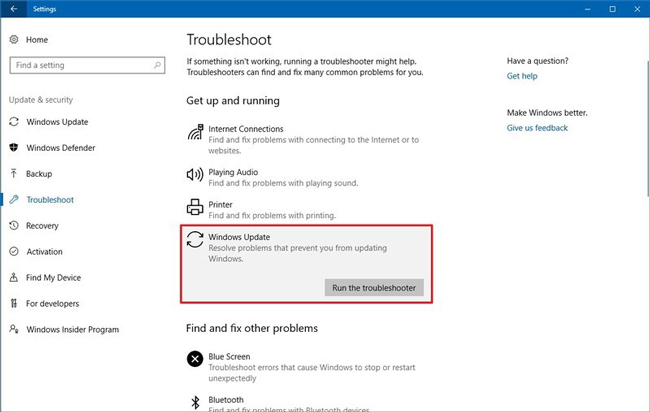 2. How to Fix Damaged or Missing File Problem
If your computer generates the 0x80073712 error message during the Windows 10 Fall Creators Update installation, that means some of the files required to install the new version are missing or damaged.
Firstly, you need to use the built-in Disk Clean-up tool (mentioned above) to delete the Windows Setup Temporary Files.
Next, use Windows Update to re-download the files.
Step 1 Open Settings.
Step 2 Click on Update & Security.
Step 3 Click on Windows Update.
Step 4 Click the Check for Updates button.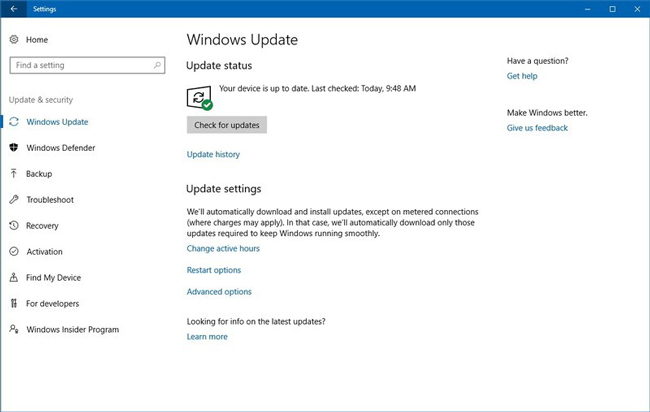 3. How to Restore Damaged or Lost Files
Oddly, the Windows Fall Creator update rendered some files lost. Besides, you may delete some data by mistake while trying to clean up disk in order to solve some installation errors.
The solution to this should be a straightforward process. Use a data recovery tool to scan and restore corrupt and missing files.
FoneLab Data Retriever has a capability of recovering almost all lost data such as photos, documents, emails, audio, videos and more by scanning your computer.
It is able to recover data lost for various reasons such as system update, system crash, non-responding, deletion, corruption, overwritten, etc.
Let's see how it works.
Step 1 Download and install this software on your computer. Once the installation is done, the software will get launched automatically.
Step 2 On the homepage, choose the data types you want to recover. Then select the location where you lost the files.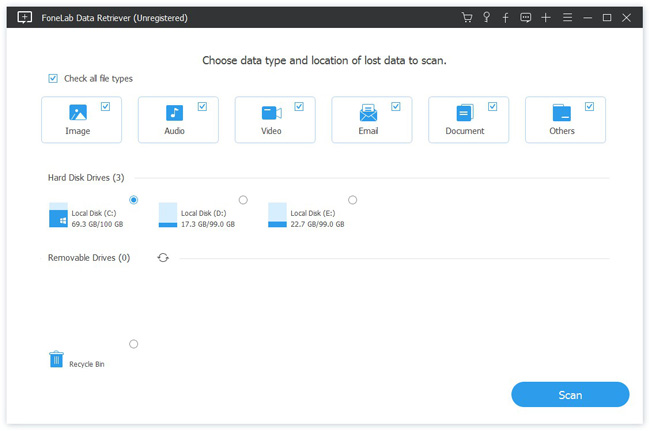 Step 3 Click Scan button to start the quick scan process. After finishing the scan process, all files will be displayed in the window. You can also choose Deep Scan in the top right corner to get more scan results.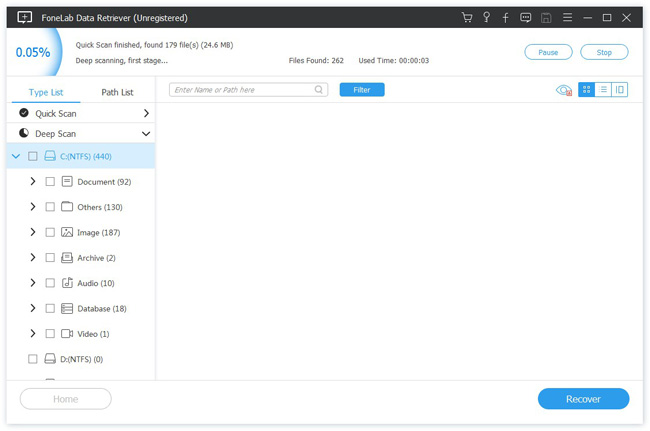 Step 4Look for your needed file. You can use Filter feature to quickly locate the files you want to recover.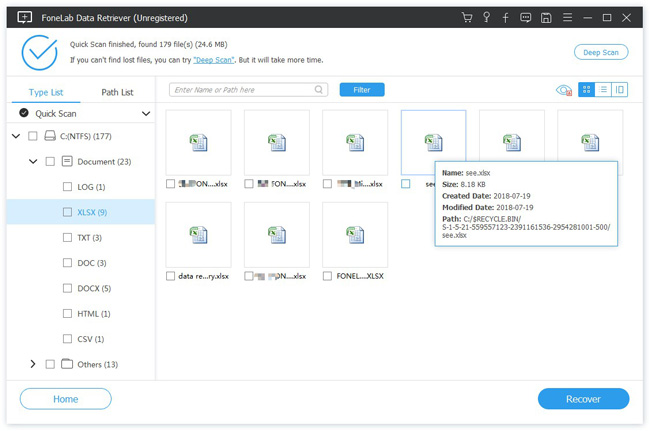 Step 5 Mark the items and click Recover. The selected data will be saved to your computer.
In addition to recovering files in Windows, this software can also recover data from memory card, hard drive, flash drive, digital camera camcorder, etc.
Click below links to free download it on your computer and get a 30-day trial.