Recover PC Data Now
Recover the lost/deleted data from computer, hard drive, flash drive, memory card, digital camera and more.
[4 Methods] How to Recover or Repair Corrupted/Invalid ZIP Files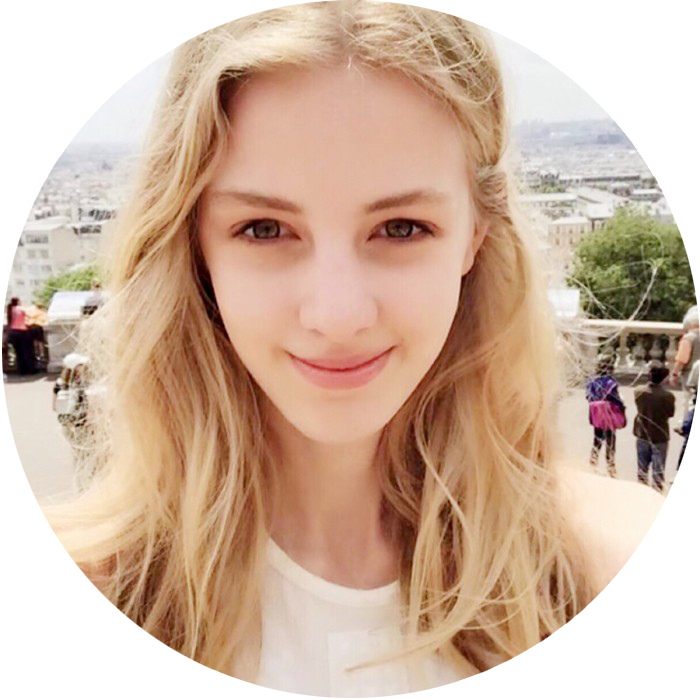 Updated by
Somei Liam
/ Dec 30, 2020 09:20
As what may be the most common and convenient way to store and send multiple files, the ZIP file format is used by essentially everyone online. That being the case, there's a good chance you'll eventually come across one that has been corrupted, not least because only a single corrupt bit in one file out of dozens inside the ZIP could prevent your file archiver from opening or extracting its contents.
Corrupt ZIP files can result from a variety of issues including bad drive sectors, malware, an incomplete download or transfer such as during a drop in your connection, or any other sudden interruption like a power failure or an improper shut down while working with the ZIP file.
Perhaps you have encountered the above problem about corrupted files but don't know how to solve them. Don't worry, in the following article, we will recommend four methods for dealing with corrupted files in different situations. If you want to know more about the contents of the ZIP file, you can refer to restore deleted/corrupted ZIP files.

1. Repair Corrupted RAR/ZIP File with Shortcut Menu
If your compressed file, RAR or ZIP archive is not large software, but an archive with several files, such as images, you can take following method into RAR or ZIP corrupt error repair.
Step 1Select your RAR archive and right-click it. Choose Extract files in the appearing shortcut menu.
Step 2In the Extraction path and options window, choose a folder to save decompressed archive. And check Keep broken files in Miscellaneous.
Step 3Click OK to begin extraction. When there are errors message prompting you, ignore them and go on to extract archive. Then we will get all the files that are not broken or corrupted.
2. Run CMD to Repair/Restore Corrupted ZIP Files
Step 1Go to Start and launch Command Prompt as Admin.
Step 2Change directories to the folder where the corrupted Zip file is located. Type: "C:\Program Files\WinZip\wzzip" -yf zipfile.zip
Files\WinZip: Location where you have installed WinZip application
zipfile.zip: Name of file showing invalid ZIP error
Step 3Press Enter.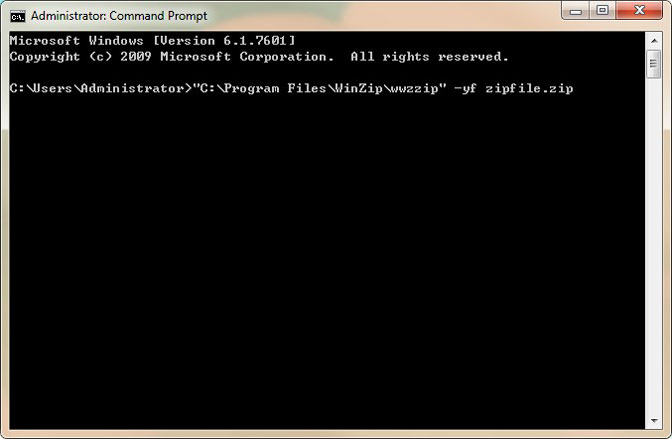 3. Repair Corrupted RAR/ZIP Archive with WinRAR
Compressed corrupted ZIP file repair function is integrated in WinRAR. So if you want to repair corrupted ZIP file, you can try to use WinRAR.
Step 1 Run WinRAR and in address bar, navigate to the location where the corrupted ZIP file is saved.
Step 2Select corrupted RAR or ZIP file. Click Repair button in tool bar, and choose Repair archive if there is a drop-down list.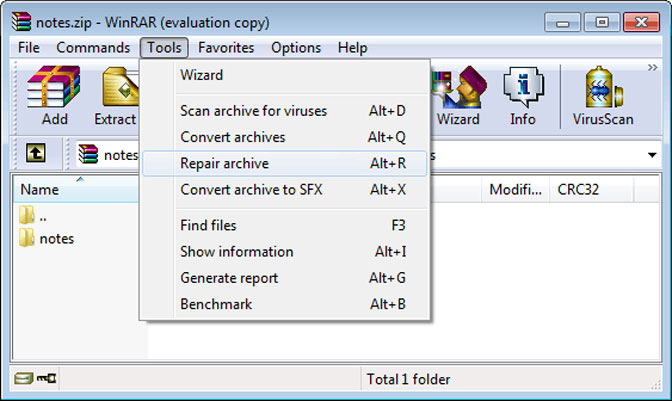 Step 3Then a new dialog would pop up. There you can choose the location where you want to save the corrupted ZIP file after repairment. Confirm settings and click OK.
Step 4After 100% repairing corrupted ZIP file, go to the folder you choose to save repaired corrupted ZIP file, and find the file named _rebuilt.rar or _rebuilt.zip. This file is the repaired corrupted ZIP file you want.
4. Recover Corrupted ZIP File by Using Fonelab Data Retriever
FoneLab Data Retriever is powerful and safe software, which is designed to recover almost all deleted or lost corrupted ZIP file by scanning the hard drive. Whatever the cause of corrupted ZIP file loss, you stand a chance of retrieving them with the help of FoneLab.
Wide support of recoverable files type including Word, Excel, PPT, Image, Audio, Video, etc.
Find your deleted or lost music files with Quick Scan and Deep Scan mode.
Recover deleted corrupted ZIP files from memory card, flash drive, hard drive, Windows, Mac, digital camera camcorder and other removable drives.
Support to recover deleted or lost corrupted ZIP file from SanDisk, Samsung, Sony, Kingston, Seagate and more

FoneLab Data Retriever
FoneLab Data Retriever - recover the lost/deleted data from computer, hard drive, flash drive, memory card, digital camera and more.
Recover photos, videos, contacts, WhatsApp, and more data with ease.
Preview data before recovery.
Step 1Download and install this data retrieve software on your computer. Then the software will launch automatically.
Step 2When entering the main interface, you should check the data types you want to recover. Then choose the location where you lost the corrupted ZIP files. If you are not sure the location, you can scan the Recycle Bin.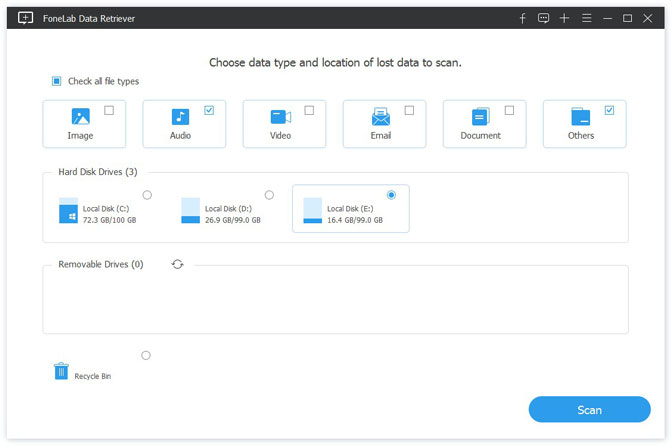 Step 3Click Scan to start the quick scan process.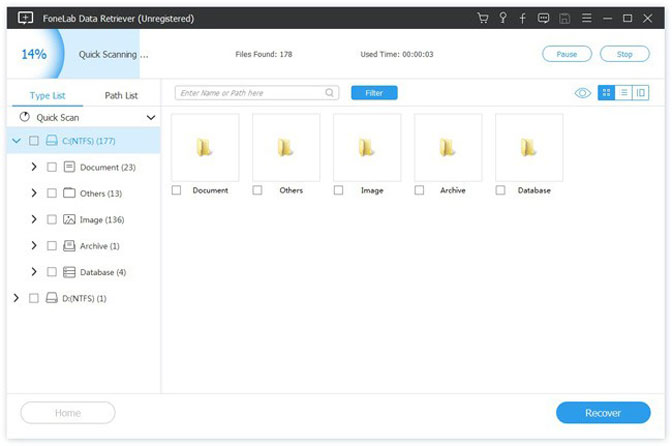 Step 4After scanning, all the deleted or lost corrupted ZIP files will be listed in the interface. You can use Filter feature to quickly locate the corrupted ZIP files you want to recover.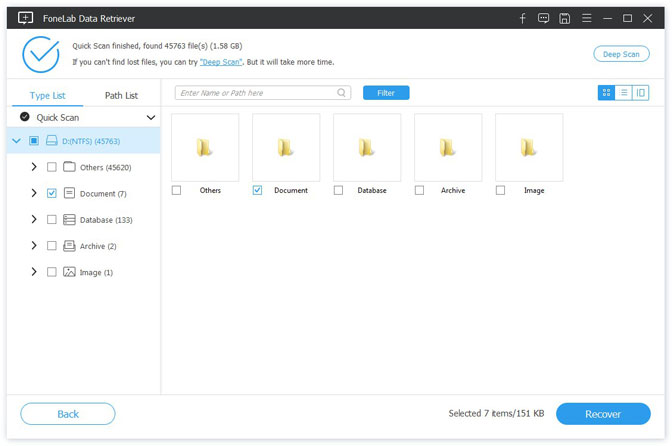 Note: If you can't find your missing corrupted ZIP files, you can click Deep Scan to try again. Deep Scan will take more time to complete the whole scanning process, but it will offer you all possible results which can be restored.
Step 5Click on Recover button, all the selected corrupted ZIP files will store back to your computer.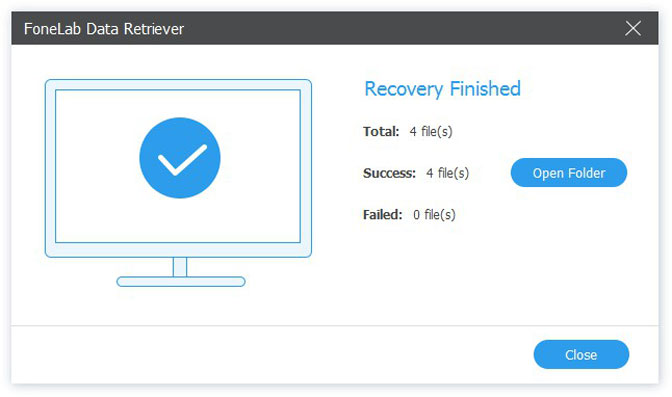 Conclusion
This software also can help you recover deleted Excel documents, restore Word documents, photos, emails, videos and more.
It is able to recover almost lost data from flash drive, memory card, digital camera and more with ease.
Anyway, it offers a 30-day trial. Before purchasing it, you can use it to see if your deleted corrupted ZIP files are restorable.