Recover PC Data Now
Recover the lost/deleted data from computer, hard drive, flash drive, memory card, digital camera and more.
[Ease] Recover Methods of Deleted Timeline Photos on Facebook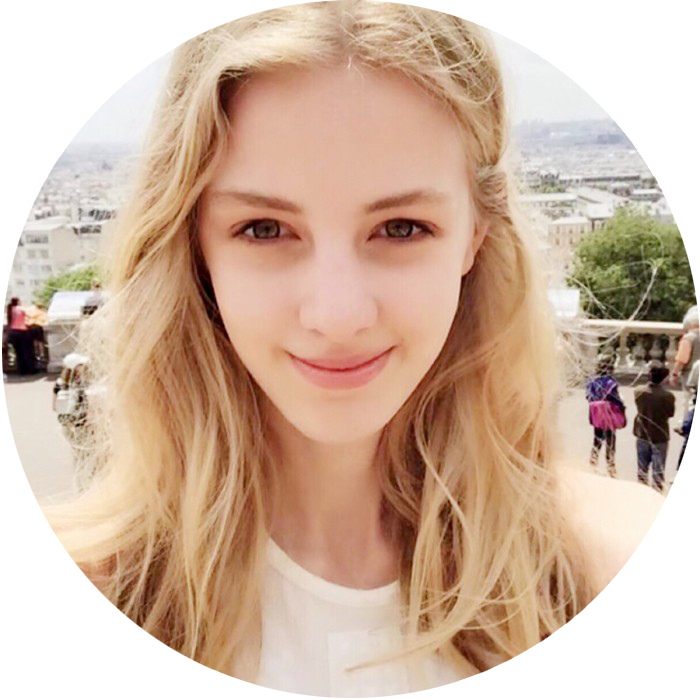 Updated by
Somei Liam
/ Dec 30, 2020 09:20
Facebook is an American social networking service and the world's leading photo-sharing site. Since September 2006, anyone who confirms themselves to be over the age of 13 with a valid e-mail address can become a Facebook user.
Facebook's target audience is more for youths than adults. Users can add friends and send them messages, and update their personal profiles to notify friends about themselves. Additionally, users can join networks organized by workplace, school, or college.
In the process of using Facebook, we occasionally delete posts or photos of from Timeline that we don't want, but you may regret it after many days, and you want to retrieve the photos you have deleted, then what do we do at this time. Don't worry, this article will tell you how to recover deleted Timeline photos on Facebook.

1. Recover Deleted Timeline Photos from the Copy of Your Data
Facebook's Settings feature can help users retrieve deleted Timeline photos, if you desperately need to recover deleted photos on Facebook, here's what you can do:
Step 1Login to your Facebook account. Go into your Facebook account Settings. To do that, click on the small downward button on the top right corner of the blue bar. From the dropdown list, select Settings.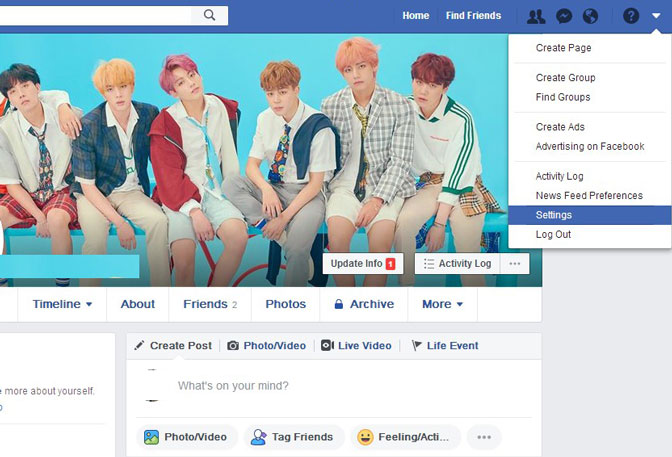 Step 2On the General Settings page, click Download a copy of your Facebook Data.
Step 3You will see a green Start My Archive button. Click on it, enter your Facebook password if requested and then click the Start My Archive on the pop-up that follows.
Step 4Facebook will inform you that it will send an email when the file is ready for download. Click Okay. Once it's ready, you will receive an email with a link to your download folder. Click on it.
2. Restore the Hidden Posts to Your Timeline
If you accidentally hide a post on your Facebook Timeline, or you reject a tagged in, you can restore it from your Activity Log. Hidden posts will not be deleted; they are saved in chronological order, and if necessary, you can restore any of these to your Timeline. This option is limited to posts on your own Timeline.
Step 1Click on your name in the Facebook menu bar to view your profile, then select the Activity Log in the lower right corner of the cover photo.

FoneLab Data Retriever
FoneLab Data Retriever - recover the lost/deleted data from computer, hard drive, flash drive, memory card, digital camera and more.
Recover photos, videos, contacts, WhatsApp, and more data with ease.
Preview data before recovery.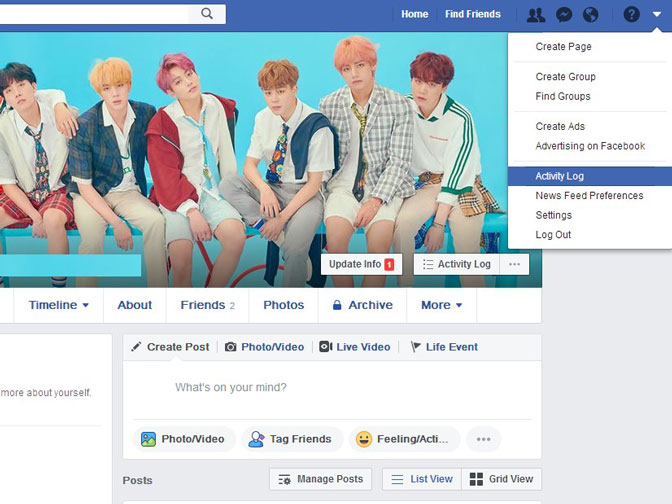 Step 2Click Posts You've Hidden in the left column to display all the hidden posts and the labels you rejected. Loading results take a few seconds or more, especially if you're looking for older posts that were posted a while ago.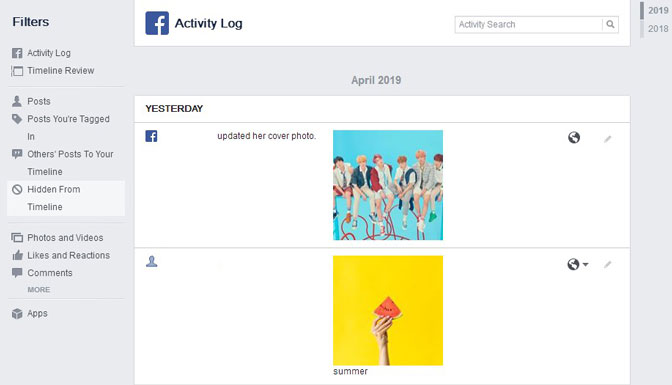 Step 3Click the icon of the circle and line beside the post you want to unhide and then select Allowed on Timeline. The post will be restore on your Timeline. It will be displayed on chronological order, not as a new update, so if you restore an old post, you'll need to scroll down through newer posts on your Timeline to find it.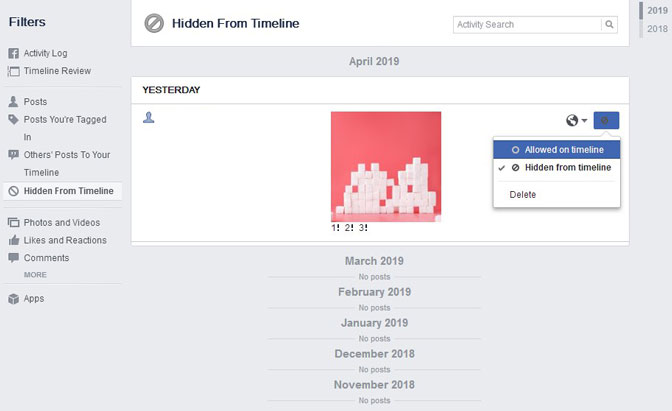 3. Recover Deleted Timeline Photos from Your Computer
If you want to restore not the photos in Timeline on Facebook, but the source files in the computer uploaded to Timeline, I will recommend the best data recovery software for you.
FoneLab Data Retriever is an effective data recovery tool. It can not only recover photos that have been deleted for a long time but also recover various other files, such as word documents, excel files, audio files, video files and so on.
Here are the steps to restore the file:
Step 1Download FoneLab Data Retriever and install it. Open the software, and choose the file type and location.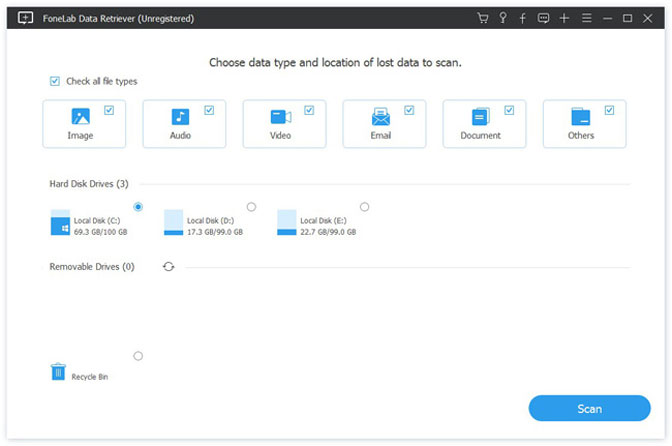 Step 2Click the Scan, the software will start to scan. Besides the Quick Scan, you can also choose the Deep Scan mode to retrieve deleted Timeline Photos.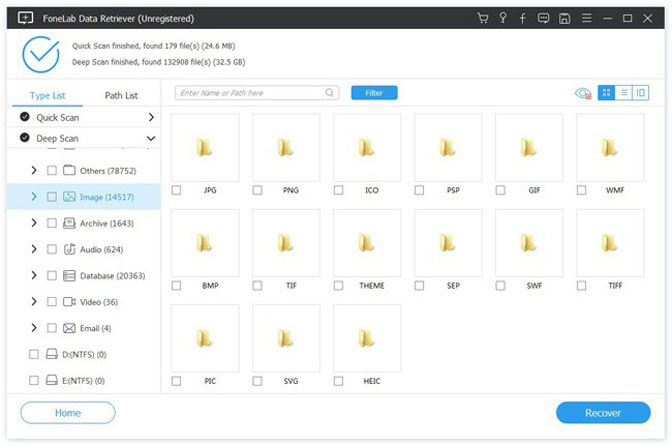 Step 3Complete Quick Scan, you will find some files that you want to recover. Select the file you want, then click Recover. You will get back the deleted files.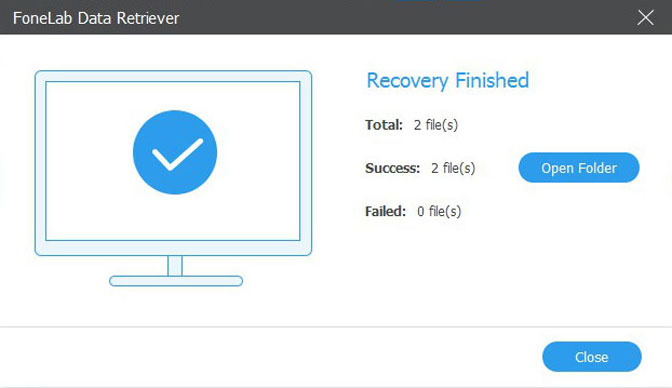 Conclusion
In addition to recovering deleted timeline photos, you can also use FoneLab Data Retriever to recover deleted files from damaged memory card, recover files from SD card, and recover files from hard drive and more. Why not download and try it?