Recover PC Data Now
Recover the lost/deleted data from computer, hard drive, flash drive, memory card, digital camera and more.
How to Recover Data from Corrupted Hard Disk – Detailed Guide
My daughter's hard drive recently stopped working. She didn't hear any noise -- it just stopped working. I put another hard drive in the machine and set it up with OS and applications, and then put her old drive in as a slave and tried to look at it, but a message came up that said it's unreadable. Other attempts said the hard drive is corrupt. She's a college student and can't afford a hefty professional recovery lab. Is there any good, reasonably priced software that will reliably recover documents and photos from the hard drive?
Hard disk failure can happen anytime due to virus attack, the bad power supply, damaged block, sectors and corrupted operating system files, etc.
While the hardware within the drive can be sought easily from a retailer, there are chances that you actually lose crucial data due to the corrupted hard drive.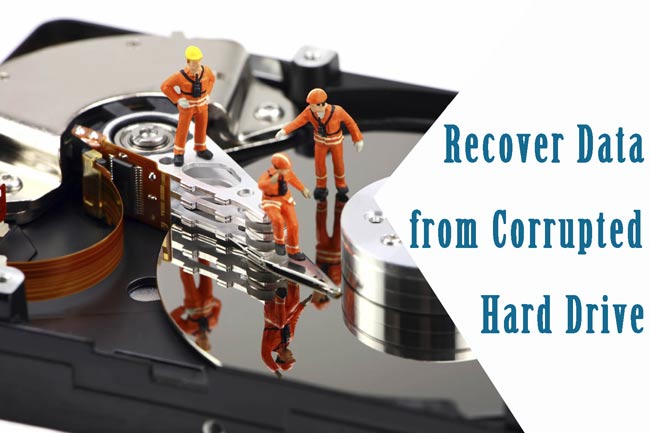 But many people are not aware of this risk and threat and only a few are careful enough to back up their important files.
When faced with hard disk corruption, people often look up for data recovery programs in order to rescue their data. Below, we give you all the knowledge to restore files from corrupted hard drive.
1. Try It on Another Computers
The first thing you need to do is determine whether it really is the hard drive failure, and not one of other equipment glitches that led to the boot failure.
Before you can do any work on the corrupted hard drive, you can remove the corrupted hard drive from the current machine and connect it to another computer as a secondary drive. The simplest way to do this is through a USB to IDE/SATA adapter.
After connecting the hard drive to another computer, check if you can browse the contents of the drive. If you can, try taking the data off the hard drive.
2. Recover Files from Corrupted Hard Drive
If you can't manually copy the data from the hard drive or the hard drive cannot be recognized by the computer, then the only solution is to use a data recovery software.
FoneLab Data Retriever is a powerful and safe software, which is designed to recover almost all lost data by scanning the hard drive. It supports recovering any data from damaged, formatted or corrupted hard drive.
You can retrieve data from corrupted hard drive with below simple steps.
Step 1Run This Software
Firstly, you should download, install and launch this software on your PC or Mac. And then connect the external or internal corrupted hard drive to the computer.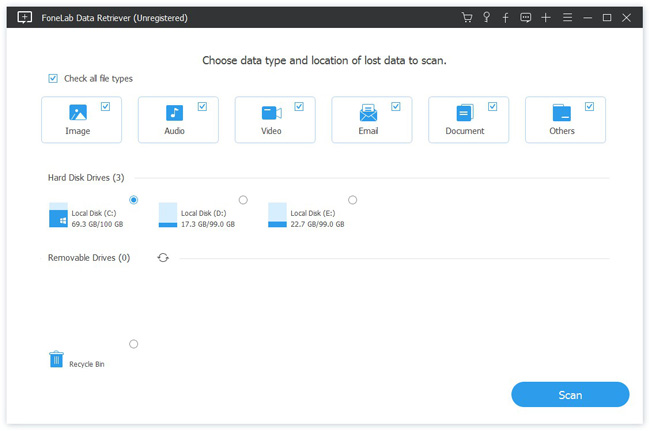 Step 2Scan Data
On the main interface, choose the data types you want to recover and location where you lost the data (If you want to recover data from an external hard drive, you should choose the disk under the Removable Drives). Then click Scan button to start a quick scan on the chose disk drive.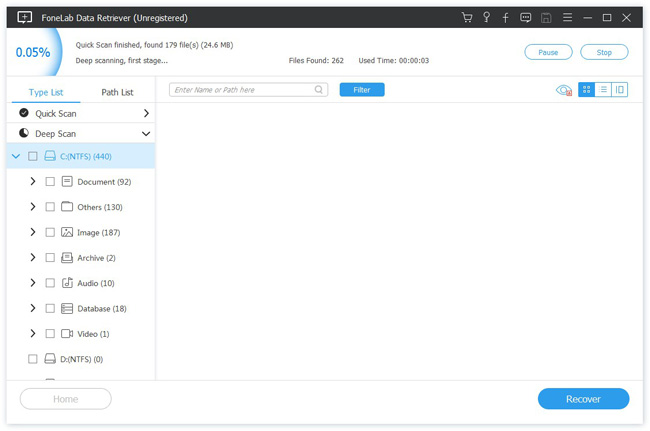 Step 3Choose Data
After finishing the quick scan process, all data types will be listed in the left sidebar. Browse these files and find your needed ones. You can also use Filter feature to quickly locate the files.
Clicking Deep Scan in the top right corner will take more time to complete the whole deep scanning process, but offer you more results.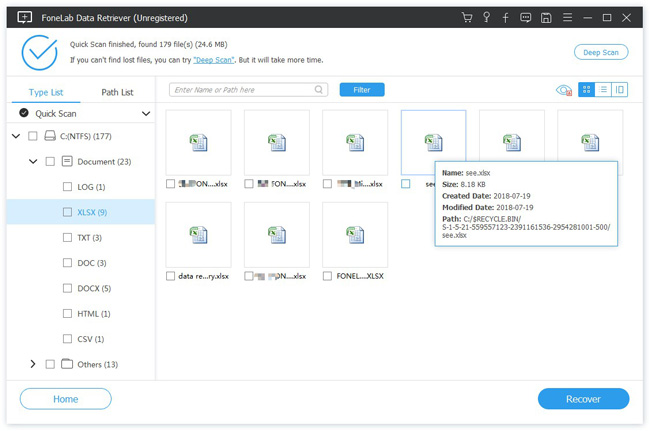 Step 4Recover Data
Mark the items you want to retrieve and click the Recover button to save the selected items to your computer.
Even if your hard disk is dead, you can also recover data from dead hard drive.
This software can recover email, documents, images, and more data type.
In addition to hard drive, it is able to recover data from computer, memory card, USB device, camera, etc.
3. Tips to Make the Hard Drive Recognized by Computer
The question that now arises is what you shall do when your corrupted hard drive is not recognized by the computer. There would be a need to diagnose the hard drive so that your system recognizes it. Here are some simple steps that can help your corrupted hard drive be recognized by the computer:
Step 1Insert the hard drive into your Windows System.
Step 2Clicking on My Computer should confirm if your hard drive is being recognized.
Step 3If not, you must select the Map Network Drive.
Step 4Selecting the drive letter which is not in use on the computer should help you browse the devices that are connected.
Step 5While browsing you may come across the hard drive that is connected to the system.
Step 6You are now required to restart the system, click on My Computer. This should help your hard drive being shown up.
4. When to Choose a Hard Drive Recovery Service
If the partition recovery software does not recover your partition, is there an alternative way to recover the partition? Unfortunately not.
Before you try to use partition recovery software and during the recovery process, you need to pay attention to the hard drive's condition and keep an ear out for unusual sounds.
When a hard drive shows severe hard drive failure symptoms, such as clicking or beeping, it needs work from hard drive repair specialists.
As far as the data within the hard drive, you can still recover them using FoneLab Data Retriever discussed above.