Recover PC Data Now
Recover the lost/deleted data from computer, hard drive, flash drive, memory card, digital camera and more.
Best Alternative to Kroll Ontrack Data Recovery for Win/Mac
I ran a cleanup utility that completely removed data from my computer. But now I want some files back. Is there a good, safe data recovery tool for recovering deleted files and directories? I know the Ontrack data recovery tool is advertised as doing that, but I don't know if it really helps. And the Ontrack Data Recovery is a little bit expensive, so are there some similar software?
It happens to the best of us, it happens to the worst of us.
Most of us have ever experienced the nerve-racking situation of losing data from computer, hard drive, pen drive, memory card, or other storage media. This occurrence is common and occurs when the hard drive overheats, manual deletion of files, improper shutdown of the computer, etc.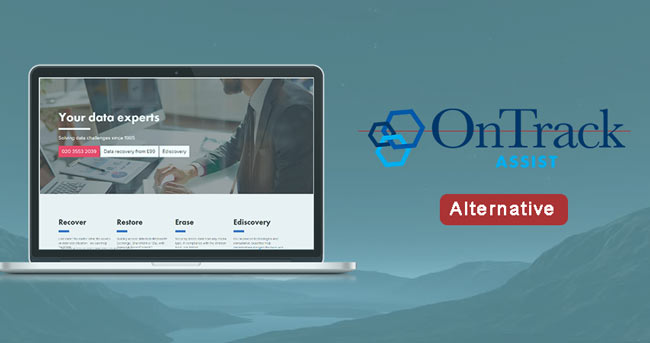 The best way to recover unexpected lost data is to properly prepared. With a data recovery tool on hand, you are always ready to save your data from the Reaper. And programs like the Ontrack data recovery tool are designed to help users in this situations.
While Ontrack Data Recovery is quite effective in getting back missing files from reformatted or damaged disk volumes, it is still not the ultimate data recovery tool. There are various aspects of data recovery that Ontrack Data Recovery does not include. It does not offer all of the features that are necessary for data recovery. This is why the alternative software to Ontrack Data Recovery is required.
Now, let's discuss Ontrack Data Recovery and the best alternative in detail.
1. Overview of Ontrack Data Recovery
Ontrack Data Recovery is a holistic program that helps recover and protect data. This tool is fairly technical in nature and people who have never used similar tools before may stumble during usage initially. That's why Ontrack offers a free trial of the software, to help users get familiar with the software and ascertain whether they would really need the application.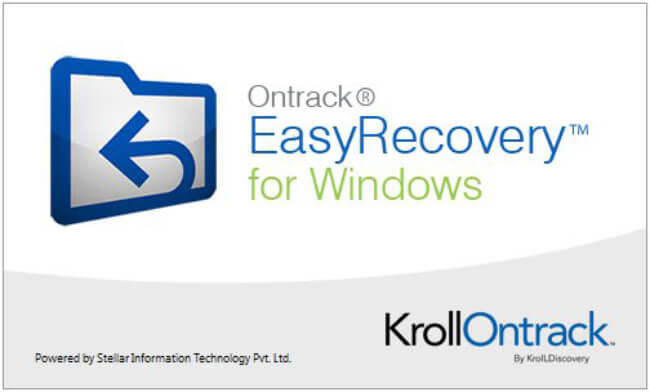 PROS
Advanced tools for experienced users
Availability of a free trial version
Fast and effective recovery of lost data
Recovers any types of data like images, audios, videos and documents
Compatibility with both Windows and Mac operating systems
Ability to retrieve data from internal and external storage devices
Stores data in an alternate location or on an external storage media
Multiple versions to cater for the needs of different users
CONS
Complicated setup and install procedures
No way to preview data before recovery
No search option available to quickly locate a particular file
Very costly
Not a free software tool
Some technical comprehension is required
2. The Best Alternative to Ontrack Data Recovery
FoneLab Data Retriever is a professional and safe software, which has a capacity of recovering almost all deleted or lost data by scanning your data storage devices. It is able to retrieve data lost for various reasons such as human error, corruption, system crash, non-responding, etc.
Main Features:
Recover Emails, image, document, audio, video, and more data.
Recover data from computer, memory card, flash drive, digital camera, hard drive, and other removable drives.
Simple data recovering for all situations: virus attack, unexpectedly crashes, formation, deletion and more.
Preview any data type with the detailed information.
This software will guarantee the data safe - when you retrieve lost data, it does not store any of these data to its server.
Highly compatible with Windows and Mac.
Wizard-like, easy-to-use interface.
A free trial period is initially available.
Intuitive and user-friendly interface
Easy-to-use features
Powerful search function to quickly find lost data
2 scanning modes: fast scan and deep scan
This software enables users to recover deleted files within a few clicks. even computer novices are very good at applying it.
Below is a step-by-step guide.
Step 1Run This Software=
Download, install and launch FoneLab data retriever on your computer. If you want to recover data from an electronic data storage device such as external hard drive, flash drive, memory card, etc., you need to connect the device to the computer.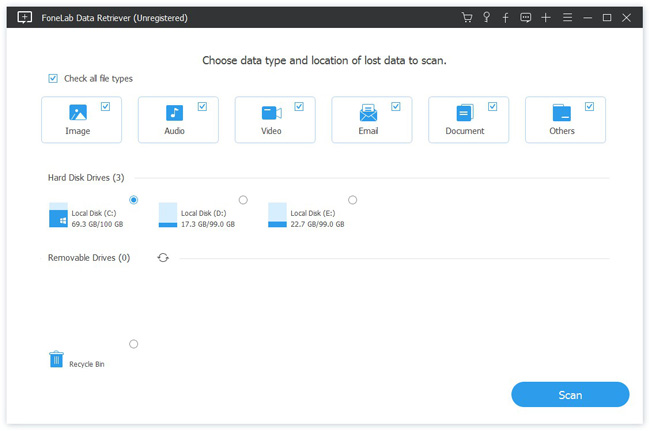 Step 2Scan Data=
On the main interface, choose file types of lost data and the location where you lost data. Then click Scan button to start the quick scan.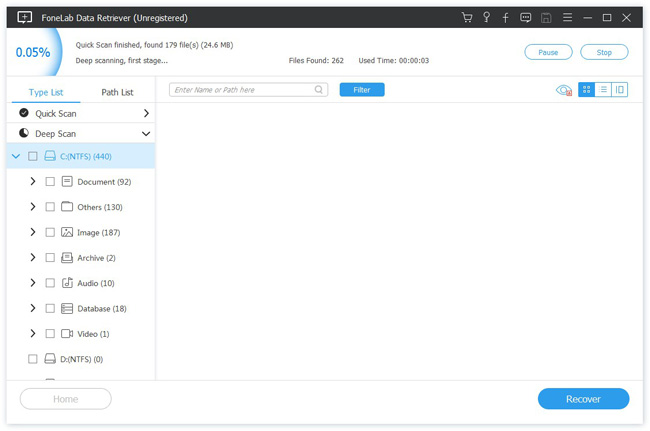 Step 3Choose Data=
Once the scan process is finished, all files will be displayed in the window. Look through these files and find your needed ones.
There is a Filter feature you can use to quickly locate the files that you are looking for by typing in the file name, extension, created data, or modified data.
If you don't find your missing data, choose Deep Scan to try again. It will take more time to deep scan on the device, but it will offer you more results.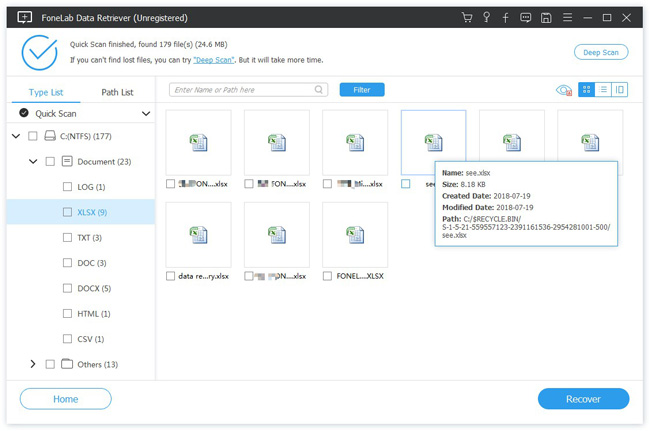 Step 4Recover Data=
Checkmark the items you want to recover and then click the Recover button to save the selected items on your computer.
Why not download the software on your computer to get a 30-day free trial?