Recover PC Data Now
Recover the lost/deleted data from computer, hard drive, flash drive, memory card, digital camera and more.
NTFS Partition Recovery – Recover NTFS Partition from RAW

Updated by
Valyn Hua
/ Dec 31, 2020 09:20
Recently my 500GB NTFS drive malfunctioned somehow and now I cannot access it at all, I tried it on different machines and discovered that the partition has been deleted and the drive is now RAW, how to get back my files from the partition?
NTFS is the filesystem for Windows operating system to store personal files, folders, documents and other data. If your partition or volume becomes RAW, you cannot access your files as normal. But, don't be panic, and it is not the end of the world. This article will show you how to recover NTFS partition from RAW without data loss.

1. Why NTFS Partition Becomes RAW Format
Unknown filesystem in Windows partitions is marked as RAW. In another word, RAW is not a filesystem but an error of a partition on a hard drive. There are plentiful reasons that a partition turns to RAW. The most common reasons include:
Bad sectors. If bad sectors happen in the key area of a hard drive, it will work abnormally, like becoming RAW format.
Filesystem is damaged. The structural of filesystem can be damaged due to various reasons. In result, the partition will become RAW.
Partition table is corrupted. It is likely that partition table of a hard drive may be corrupted. Then it will turn to RAW and inaccessible.
Operating system reinstallation. Sometimes, people discover that their partition becomes RAW after operating system reinstallation or upgrading. It is partly because the hard drive is reset. Before you re-divide the hard disk and set filesystem, the partitions are RAW.
Virus attack. When your computer infects with virus or malware, the partition or filesystem may be attacked. It is one of the most common causes that a partition becomes RAW.
Partition access permission is set improper. Users are allowed to set access permission for different partitions. If you set it improper, the conflict will bring the partition to RAW.
As you can see, the reasons that a partition becomes RAW are complicated. Average people are impossible to analyze the real reason. The good news is that you still can recover your NTFS partition from RAW.
2. How to Recover RAW Format to NTFS with Freeware
Freeware is attractive, partly because users can get what they want without paying a penny. However, it may contain some downsides.
In fact, we can use Command Prompt to recover NTFS partition from RAW. The cost is that the process spends much time. And you have to execute the command line carefully. Any mistake will lead to an unpredictable result.
Step 1Connect the NTFS partition to your computer, if it is on an external drive. Start the Run dialog by pressing Win + R buttons.
Step 2Type in diskpart in the box and hit OK to run a Command Prompt as administrator. Then input each command below and hit the Enter key:
list disk
select disk [drive letter]
attributes disk clear readonly
clean
convert mbr
create partition primary
select part 1
active (if the partition is on the boot drive)
format fs=ntfs label=new quick
list volume
Step 3Now, your RAW partition should become NTFS format and ready for assign drive letter in Device Manager.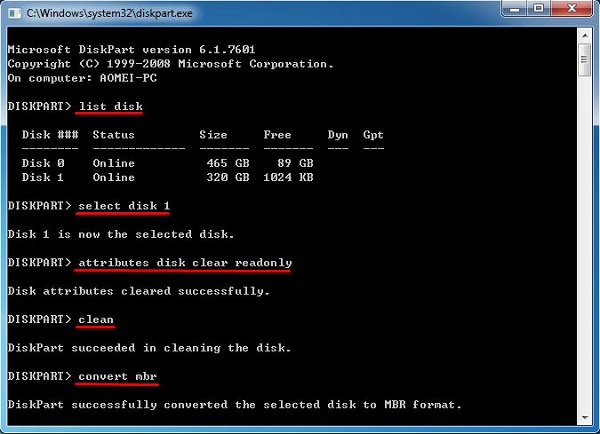 Note: The commands above are only available in certain situations. If your hard drive contains too many bad sectors or is damaged, you cannot get NTFS partition recovery with the freeware.
3. Professional Method to Recover Partition from RAW
In order to enhance the chances of NTFS partition recovery and get back all your data, you will need a professional NTFS partition recovery tool, such as FoneLab Data Retriever.
Recover NTFS partition from RAW along with your data with one click.
Support pictures, audio, videos, documents, emails and other data types.
Get back all lost data in both Quick Scan and Deep Scan modes.
Preview deleted files, in order to perform selective recovery.
Available to all NTFS partitions no matter on external or internal hard drives.
In short, Data Retriever is the simplest way to restore data and recover RAW partition.

FoneLab Data Retriever
FoneLab Data Retriever - recover the lost/deleted data from computer, hard drive, flash drive, memory card, digital camera and more.
Recover photos, videos, contacts, WhatsApp, and more data with ease.
Preview data before recovery.
How to Recover NTFS Partition from RAW Professionally
Step 1Install Data Retriever on your computer
Download hard drive data recovery to your computer and double click it to install Data Retriever. Keep the partition that turns to RAW connected to your computer and launch the professional tool.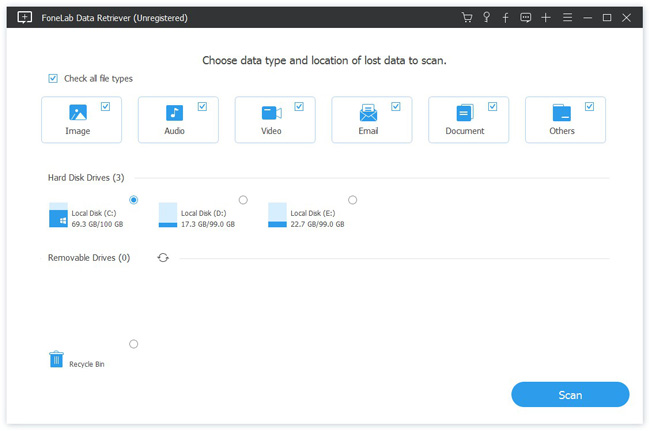 Step 2Preview lost data after scanning
Firstly, select what data types you want to get back, such as Image, Audio, Video, Document, etc. Then choose where the RAW partition locates in Hard Disk Drives or Removable Drives area. Click on the Scan button and wait for the process to complete. Next, you can look at the lost files on right pane. The Filter feature is used to search certain files according to file extension, size, and created date.
Tip: If you cannot find desired files, switch to the Deep Scan mode, which has the capacity to get back more lost files on your partition.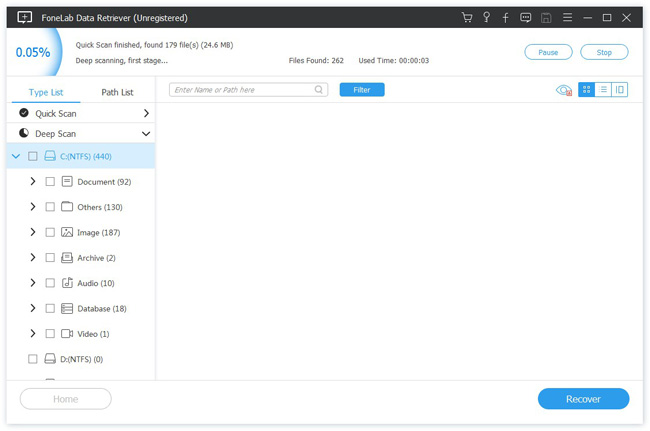 Step 3Recover NTFS partition from RAW
Check all files that you'd like to recover and hit the Recover button. A few minutes later, you can find the lost files back to your hard drive. Moreover, these files will be recovered in the original format and quality. The NTFS partition recovery will restore your files to another location rather than the original partition.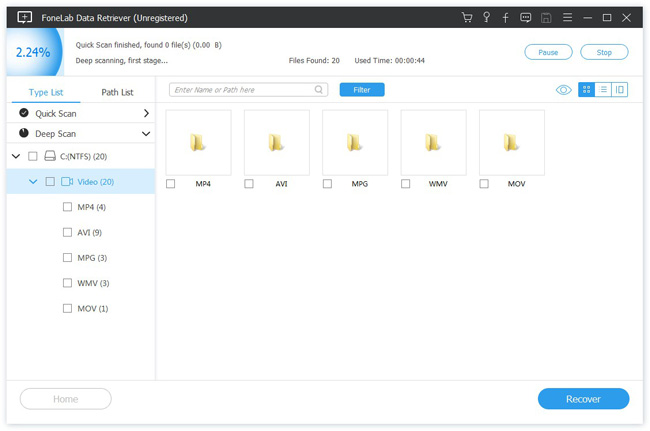 Conclusion
This post has talked about how to recover an NTFS partition from RAW. No matter what reasons make your partition becoming RAW, it is possible to get back your lost files and turn the partition to NTFS again. However, the chances depend on what method you pick up.
First of all, command lines have the capacity to change a RAW partition to NTFS. But if you want to recover all data from the RAW partition, FoneLab Data Retriever is the best option. It is not only easy to use, but also able to recover as much data from your partition as possible.