Transfer Phone Data Now
Transfer Data From iPhone, Android, iOS, Computer to Anywhere without Any Loss.
iPhone Battery Drain – Here are 8 Best Tips to Make the iPhone Battery Life Longer
If you only used your iPhone for a short period of time, but the battery runs out soon. It is extremely difficult to pinpoint the exact reason why your iPhone battery drains so fast. The cache files, the Wi-Fi, AirDrop, Hotspot or other applications and settings might be the major reasons. You can check the Battery usage and follow the tips below to fix the problems with ease.

Part 1: 8 Best Tips to Make the iPhone Battery Life Longer
Tip 1: Check Battery Usage And Quit App
Apple provides the capacity to monitor the battery usage of each app on your iPhone. When iPhone battery drains faster suddenly, you need to check it and quit or uninstall the apps use too much power.
Step 1Head over Settings > Battery. Check the battery usage in last 24 hours or the last 7 days. Keep a note for the apps that drains most of the battery of your iPhone.
Step 2Go back to the home screen of your iPhone, or tap Device > More > Multitasking on Assistive-Touch to open the multitasking screen to locate the apps accordingly.
Step 3Find and touch an app on the top of the usage list, and swipe up to quit it. Do the same process for the other app or unwanted ones that drain the battery of your iPhone.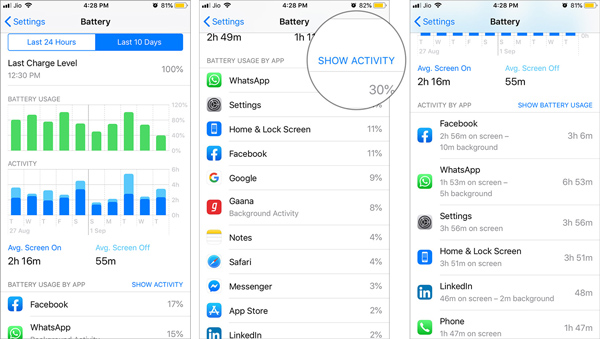 Tip 2: Enable Low Battery Mode
The built-in low power mode is another choice to solve iPhone battery drains issue, which also makes battery life lasting a longer time. It will disable email fetch, Siri, background app refresh, and some visual effects.
Step 1Go to Settings > Battery and toggle on the Low Power Mode option.
Step 2Tap Continue on the alter popup to confirm to enable the Low Power Mode on your iPhone.
Note: Alternatively, you can find the Battery icon in Control Center, and enable low battery mode by tapping the option.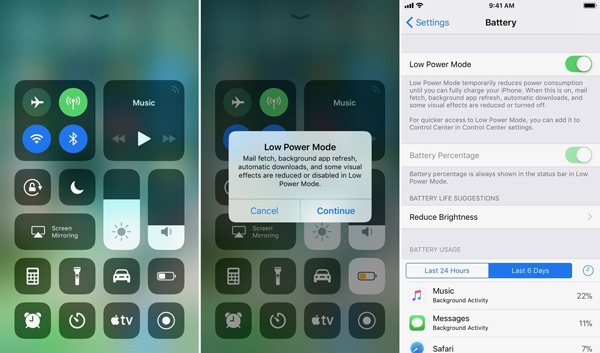 Tip 3: Reboot Your iPhone
Simply restarting your iPhone to close all apps in background, settings and other cache data. It is an efficient method to solve most of the problems, including iPhone battery drain.
Step 1Press and release Volume Up button and follow the same process for the Volume Down button.
Step 2Press and hold side Power button until the Apple logo appears to restart your iPhone.
Step 3A few seconds later, turn on your iPhone to find whether the iPhone battery works as usual or not.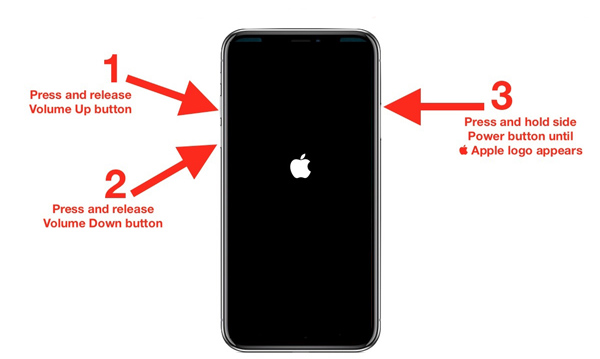 Tip 4: Reset iPhone in Settings
Of course, you can also turn the iPhone into the factory settings to erase all apps and data to fix the problem of iPhone battery drains. Just have a backup for the iPhone data beforehand.
Step 1Navigate to Settings > General > Reset on your iPhone.
Step 2Choose the Erase All Content and Settings option, enter your passcode, and tap Erase iPhone when prompted.
Step 3Wait for your iPhone to reboot and set up it as a new device.
Tip 5: Restore iPhone with iTunes Backup
When you have an iTunes backup that the iPhone battery still works without problem, you can also restore the iPhone back to the status to fix the iPhone battery drains issue.
Step 1Plug your iPhone into your computer with a USB cable. Then launch iTunes app.
Step 2Click the Device icon at the upper left side after your iPhone is recognized.
Step 3Hit the Restore iPhone button and choose Restore to bring your iPhone back to previous healthy status.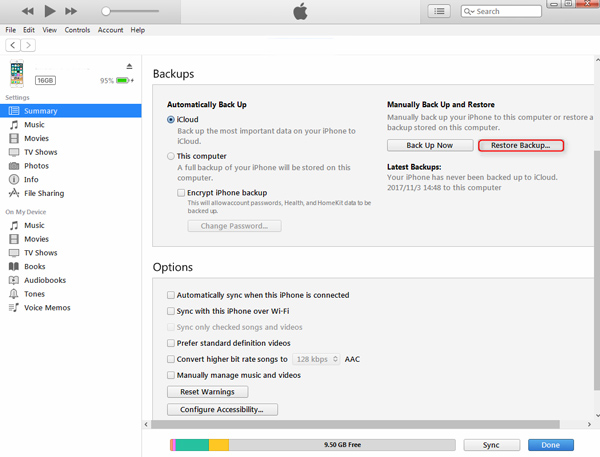 Tip 6: Disable Bluetooth Connection
When you turn on the Bluetooth option, it might wireless connections to transfer data, enjoy music with external devices and more continuously, which is responsible for iPhone battery drains fast.
Go to Settings > Bluetooth and toggle it off, or swipe up to open the Control Center and disable the Bluetooth option. You'd better disable the Wi-Fi and cellular data if you are not using the Internet connection.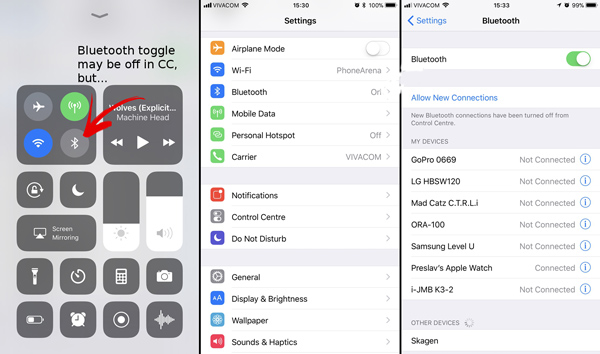 Tip 7: Turn off AirDrop
AirDrop is a wireless connection for file transfer between Apple devices. It requires you to enable Wi-Fi and Bluetooth. Just turn off the AirDrop option after data syncing to avoid iPhone battery drains.
Go to Settings > AirDrop and toggle the option off, or tap the AirDrop icon from the Control Center and choose the Receiving Off to disable it.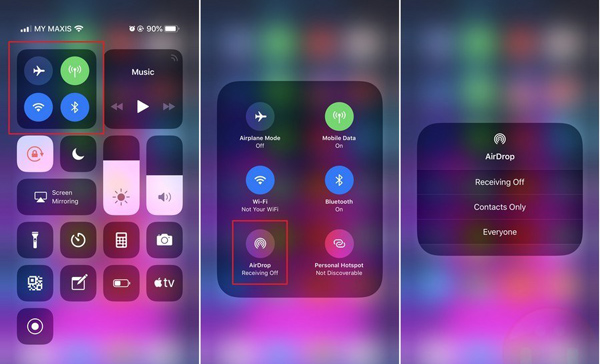 Tip 8: Battery Health
When you have already upgraded to iOS 13, you can set optimized battery charging in order to fix iPhone battery drains, especially your battery stops charging at 80 percent or so.
Step 1Open Settings app, scroll down and tap Battery and choose the Battery Health option.
Step 2After that, you can toggle on the Optimized Battery Charging option to optimize the battery of your iPhone.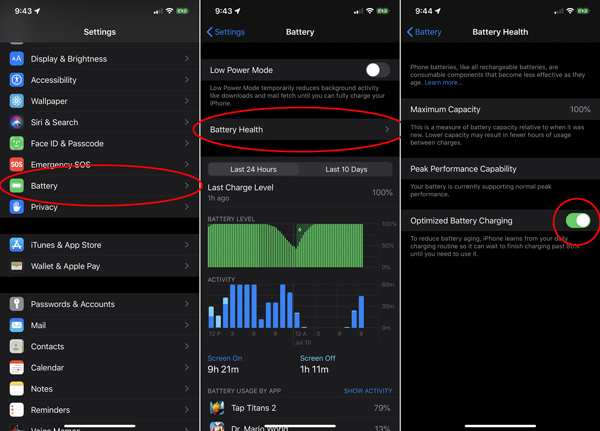 Part 2: Best Way to Free up iPhone Space and Save Battery
If you have accumulated a large amount of files on your iPhone, your iPhone battery will drain fast without any query. In order to solve the problem, you can transfer some of the files from your iPhone to a computer. As for the case, FoneLab HyperTrans is the desired program to transfer data from your iPhone, Android, iOS, computer to anywhere without any data loss.
Transfer photos, videos, music and other data from your iPhone to a PC.
Add, transfer, delete, manage and backup the files between devices.
Select the desired files from your iPhone to other devices within clicks.
Compatible with iPhone 11/11 Pro/XR/XS/X/8/7 and earlier.
Conclusion
What can you do if your iPhone battery drains fast? Just learn more about the solutions mentioned above. With the tips above, you can prolong the battery life of your iPhone and manage the battery with ease. Of course, you can also use the FoneLab HyperTrans to transfer files from your iPhone to a computer as an alternative solution.