Fix Abnormal iPhone Now
Recover your data from iPhone to computer easily.
[Solved] How to Fix iPhone Blue Screen of Death (BSOD)
I have an iPhone 7 and is running iOS 12. Just a few days ago my iPhone screen turned blue suddenly, then reboot and back to the blue screen again. The phone is stuck like this. What causes blue screen of death on iPhone 7? And how to fix the blue screen of death then?
Some of the most common problems that have been reported so far by iPhone users is the BSOD (Blue Screen of Death) problem. It is not an official name given by Apple, but given by the people who are experiencing this issue.
The problem of blue screen are often related to software bugs, faulty apps or multi-tasking/apps overload.
Sometimes,
This issue is tied to a faulty hardware instead, like long screw damage or hardware damage. When this happens, the iPhone will run into a dreaded blue screen of death and in severe cases it will be accompanied by endless reboots as well. It is really annoying when you face this screen problem, since you can't operate or use your phone completely.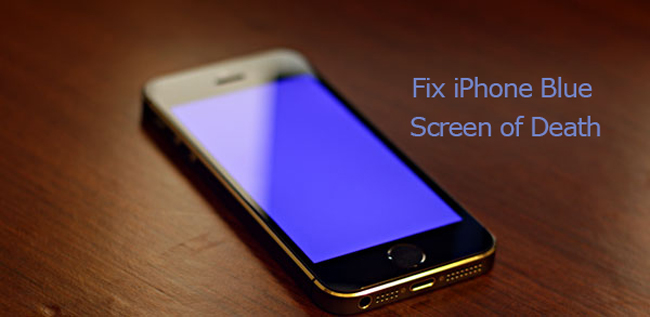 You need to calm down firstly, then try below methods to fix it.
Therefore, there are some solutions that you can try before you contact with Apple service.
If you can't slide to operate the iPhone, please check how to unlock disabled iPhone.
Let's see how you can fix it. And they are avaible for iPhone red screen, too.
1. Force your iPhone to Restart
First you can try to do a hard restart, press and hold the Sleep/Wake button and the Home button at the same time until you see the Apple logo. It is the easiest way to get rid of blue screen, sometimes it actually helps. Update the apps or OS version that may cause the problem after that. If this doesn't help, go to the next step.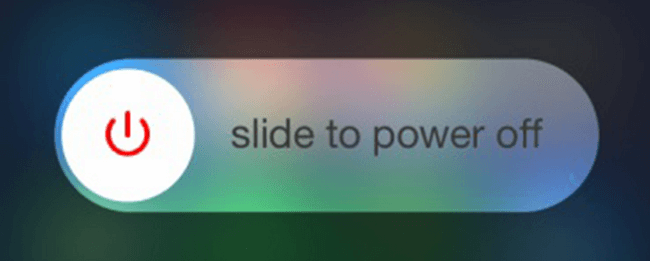 Please kindly note that,
This method also may fix iPhone or iPad white sceen or red screen of death.
2. Deactive iCloud Sync
Blue Screen issue usally starts when they use Pages, Numbers or Keynote according to the reports from iPhone users, so the Blue Screen is there when you press the home button.
So,
How can you fix this situation?
Step 1Choose Settings on home screen.
Step 2Tap iCloud. If you are using iOS 11 and later, please go to your name > iCloud. If you have updated to iOS 13 and later, you should tap [your name] > iCloud in this step.
Step 3Tap iCloud Backup and then turn it off.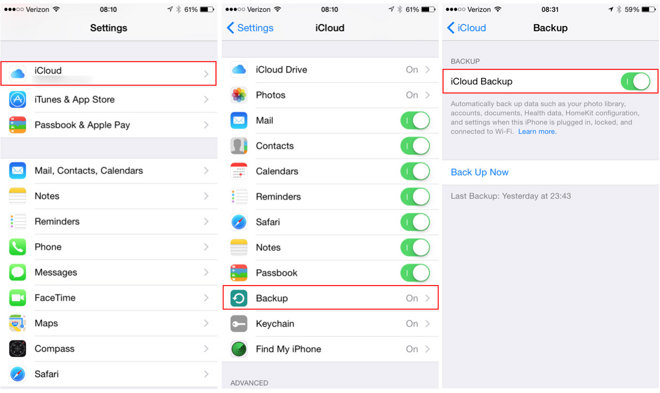 3. Restore Your iPhone in Recovery Mode/DFU Mode
Step 1Connect the USB cable to your computer but not to the iPhone at the beginning.
Step 2Turn off your iPhone by pressing and holding the Power button for about 3 seconds and swipe the slider to the right.
Step 3Hold down the Home button after it is turned off completely and then connect the USB cable to your iPhone while keep pressing the Home button if you are using iPhone 6s and ealier. For iPhone 7 and 7 Plus users, you should press Volume Down button intead. And iPhone 8 and later, you should press and release and Volume Up and then Down button.
Step 4Keep holding the Home button when you see the Apple logo, let it go until you see the Connect to iTunes screen on your iPhone. It is in recovery mode now. You should hold Power button for iPhone 8 and later as you don't have a physical Home button instead.
Here is a small tutorial of how to enter DFU mode for your reference.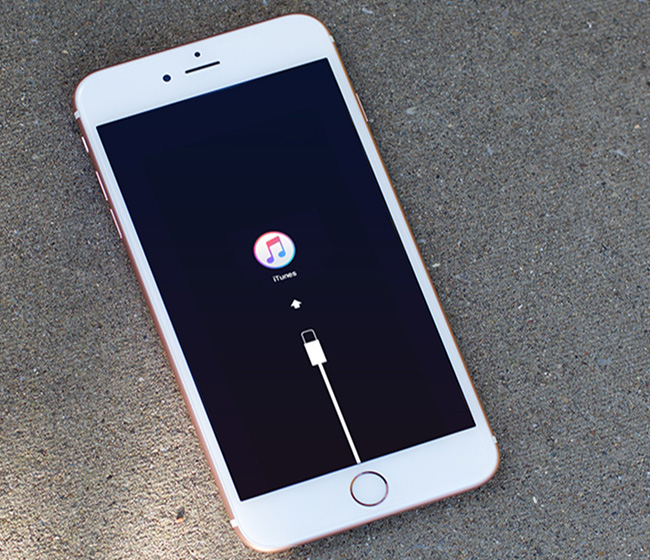 4. Use FoneLab iOS System Recovery to Repair
FoneLab iOS System Recovery, a reliable iOS system repair tool, can help you easily fix any kinds of iOS system issues and get your device back to normal without losing any data. It can fix iOS system issues like black screen/blue screen of death, cannot slide to unlock, recovery mode, iPad stucks on Apple logo, iPhone keeps restarting, etc. And it works for all models of iPhone, iPad and iPod Touch.
Check the step-by-step guide as below:
Step 1Download and install FoneLab to your Windows or Mac OS computer.
Step 2Connect your iPhone to the computer when the installation is complete. Choose iOS System Recovery after the software recognizes the device.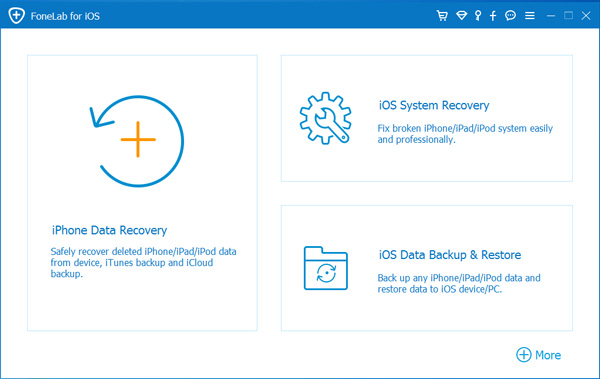 Step 3The software can detect the connected iPhone is in abnormal state like: Stuck at Apple logo, Recovery mode, DFU mode, iPhone black screen, etc. and it will ask you to click the Start button to get started.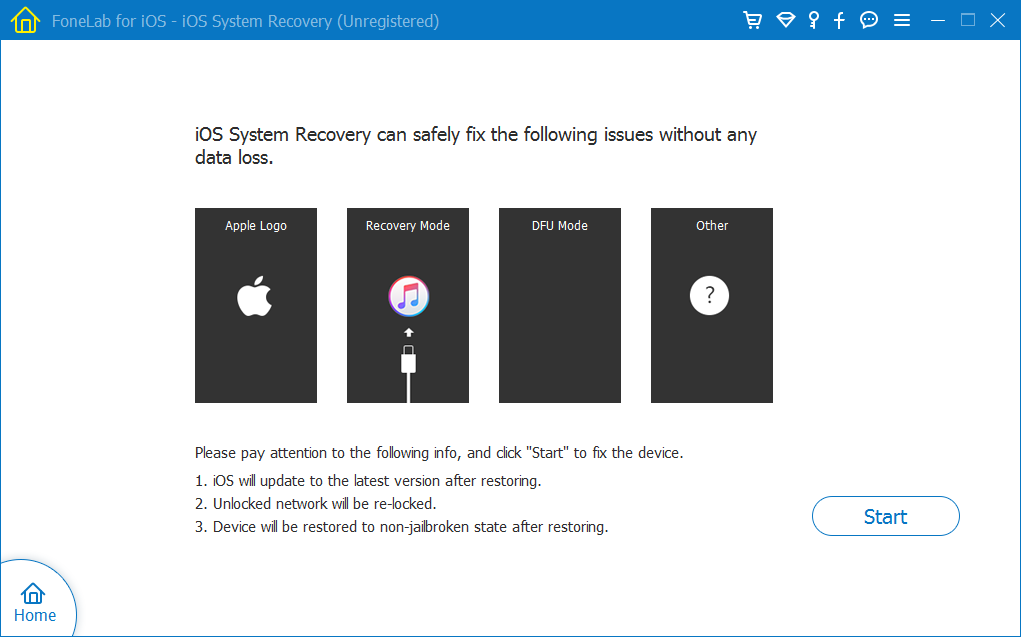 Step 4You will be asked you to confirm the information of your iPhone. Click Repair if it is correct, but if not, select the exact information manually before repair. To fix your iOS, the program will download the latest version of your firmware after detecting your current iOS version.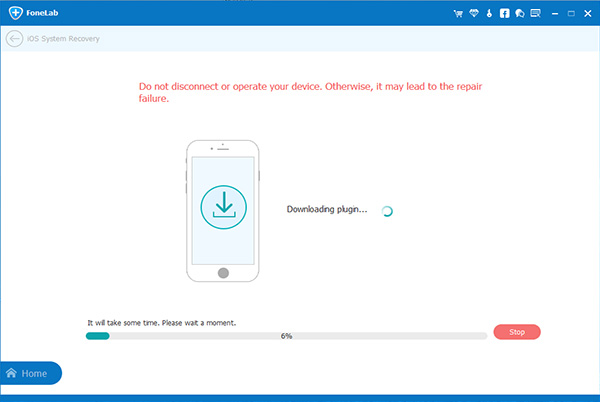 Compared to iTunes restore or other methods that can fix the blue screen of death, using FoneLab iOS System Recovery won't put you at risk of losing data on your iOS device. All you need to do is only a few clicks and everything will be all right within a few minutes.
Please remember that it also can be your iPhone safari history recovery to restore iPhone data easily.
5. Update or Delete iPhone App
A unsupported or faulty app also can cause iPhone blue screen issues. So you can delete or update iPhone app to fix it.
Update iPhone App
Open App Store, tap your profile image. Then you can simply tap the Update button next to a single app or Update All according to your needs.
Delete iPhone App
Tap and hold the app you want to delete till it vibrates, then tap delete icon to remove it.
That's all. If you want to know more information about iPhone, please leave comments below.