Fix iOS Issues Now
fix iPhone/iPad/iPod from DFU mode, recovery mode, Apple logo, headphone mode, etc. to normal state without data loss.
5 Useful Ways to Remove iPhone Black Screen [2022 Updated]
As usual, I grabbed my iPhone and pressed the Sleep/Wake button to activate it after I woke up this morning. But my iPhone won't turn on and I can't get out of the black screen of death no matter how I try. Why is my iPhone screen black? It works totally fine before I go to bed last night. Can anyone advise how to fix iPhone black screen? Thanks a lot!
iPhone dead black screen is usually caused by system problem, app crashed, or hardware fault with your iPhone. If your iPhone screen completely blacks out, don't worry.

Here in this article, I will tell you the reasons why your iPhone screen goes black and how to fix it accordingly.
Scenario 1. Run out of Battery
Don't forget the most obvious possibility – the iPhone battery can be dead. It is no harm to try to charge your phone first. If a dead battery is the cause of the iPhone problem, the phone screen will light up and display an empty battery icon right after you plug your iPhone into a wall socket.
If this doesn't happen immediately, don't panic, keep charging for a while, and then check whether it appears or not. If the phone still does not respond, please move on to next situation.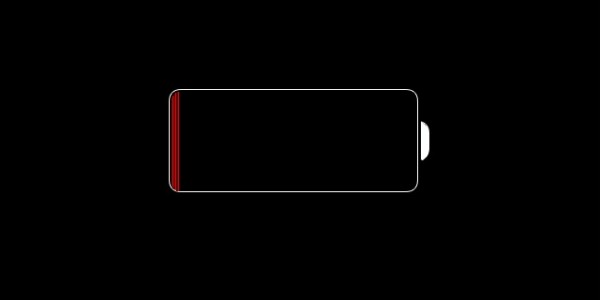 Scenario 2. App Crash
If you launched an app overnight before you went to bed, it might be the app has crashed. In this case, you can force your iPhone to restart.
To force restart an iPhone 6s and earlier:
iPad or iPod touch: Press and hold both the Sleep/Wake and Home buttons simultaneously for at least ten seconds, until you see the Apple logo.
To force restart an iPhone 7/7 Plus:
Press and hold the Sleep/Wake and Volume Down buttons at the same time for at least ten seconds, until the Apple logo appears.
To force restart iPhone X/8/8 Plus:
Press Volume Up, then release - Press Volume Down, then release - Press and hold Side button until the Apple logo appears on the screen (about 10 seconds).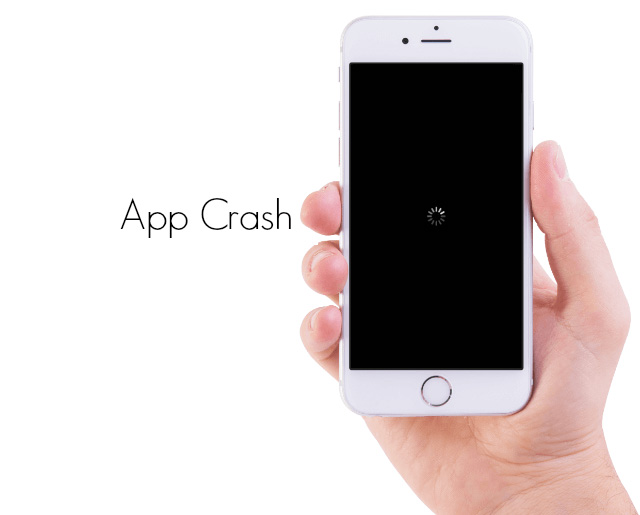 Scenario 3. iOS System Problem
If both attempts don't work, it is likely that your iPhone is having trouble with its operating system.
At this point, you may need to restore it back to its factory settings to fix the problem. You can accomplish this via iTunes.
Connect your iPhone to your computer and launch iTunes. If you are able to reach your iPhone on iTunes, please remember to back it up first. Otherwise, you will lose the current data on your device.
Actually, there is a way to bring your iPhone back to life without data loss. FoneLab iOS System Recovery, a good tool to fix almost all iOS problems like iPod stuck in recovery mode, cannot slide to unlock, DFU mode or Apple logo, iPhone screen is black, blue, or red, iPhone gets trouble in rebooting, etc.
More importantly, the recovery process will not modify or erase any data and proceed in a 100% safe and clean environment. Let's take a look at the below step by step guide to see how it performs.
Step 1Free download the software with below right link accordingly on your computer. Install it after that.
Step 2Choose iOS System Recovery on the interface. Connect your iPhone to the computer via a USB cable as it requires.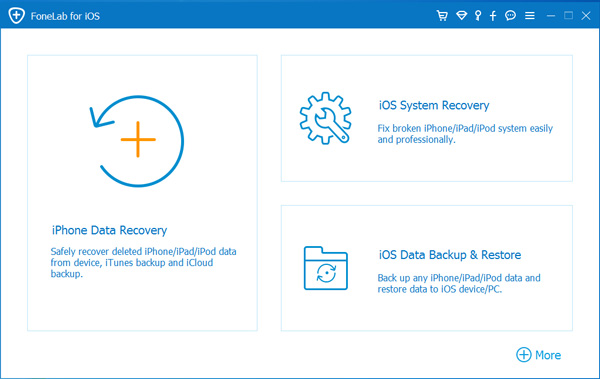 Step 3The software can detect the connected iPhone is in an abnormal state and it will ask you to click the Start button to get started.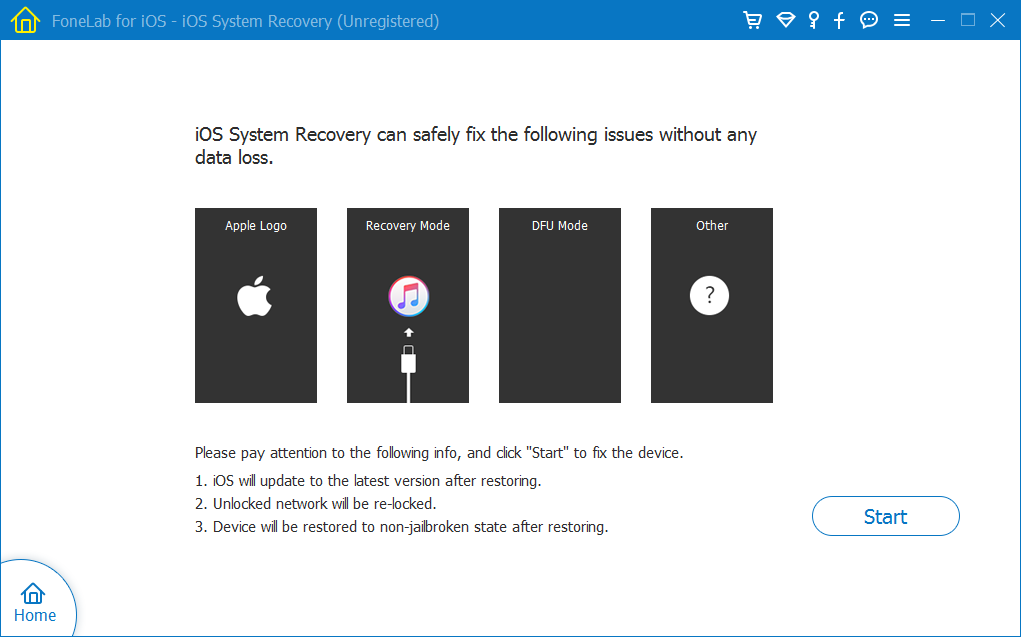 Step 4You will be asked you to confirm the information on your iPhone. Click Repair if it is correct, but if not, select the exact information manually before repair. It will take some time to download the plug-in, please do not disconnect or use your device during the process. Otherwise, it may lead to the repair failure.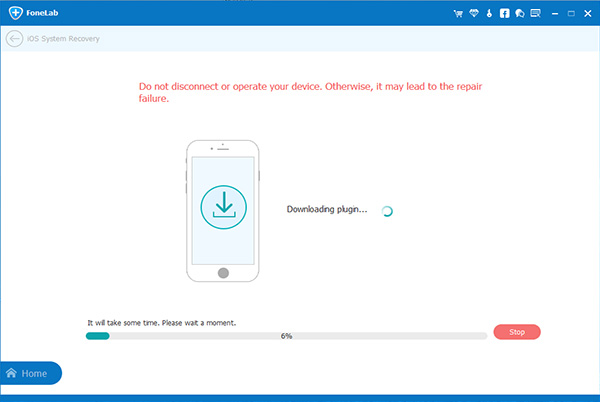 Once it is finished, you will find that your iPhone becomes alive and everything is sitting there safely too.
If you lose data during the procedure, you can use FoneLab iPhone Data Recovery to recover iMessages, photos and more on iPhone.
Scenario 4. Restore iPhone with iTunes
If you don't care data loss or have backed up data before, iTunes might be a choice to fix the black screen issue on iPhone.
Step 1Launch iTunes on computer, and connect with USB cable. Please note that it required that you have connected iPhone into this computer before as you can't confirm the authorization in this step again.
Step 2Click device icon > Summary > Restore iPhone.
Step 3Confirm you want to restore iPhone in the pop-up window again and follow the instruction to begin.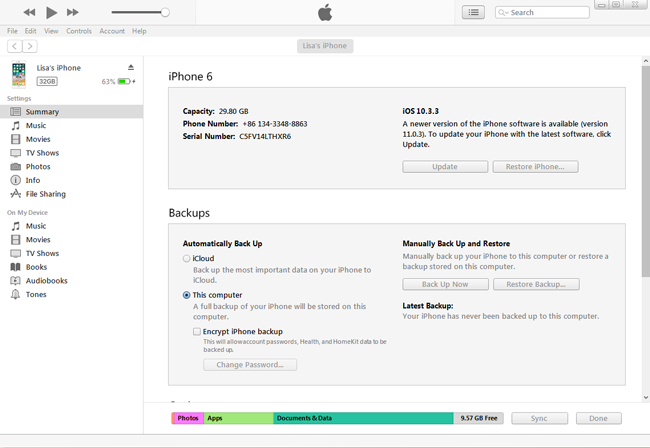 Scenario 5. Hardware Fault
If none of them works for you, then the issue probably can't be fixed by our own since it is likely caused by a hardware default. You have to contact Apple Service online or bring your iPhone to the nearest Apple Store for repair.