5 Methods to Fix iPad White Screen (iOS 13 Supported)
My iPad's screen is totally white and isn't showing any icons or apps. What happened to the iPad? How can I get out of the white screen of death? Please help, thanks a lot!
What's White Screen of Death?
White Screen of Death (WSOD) is similar with Blue Screen of Death on Windows systems or laptops which means there is serious hardware or software problem with our system.

But WSOD most often refers to Apple devices like iPhone, iPad and iPod touch.
Broken device, a hardware component failing, attempted operating system fail, or iOS upgrade fail can cause the issue. However, the WSOD issue is not the terminator of your iOS device.
Well,
Here are some tips can fix it in many cases.
1. Restart to Fix iPad Blank White Screen
The easiest way to restart your iPad is you turn the iPad off and then rurn it back on. It is the first thing you should try when having problems of White Screen.
Because it won't delete or modify your data and settings.
How easy is it?
Here is the demonstration.
Step 1Press and hold the Home and Sleep/Wake buttons together for at least 10 seconds or until you see a slider.
Step 2Let go of the buttons. And then move the slider from left to right to turn your iPad off.
Step 3When the iPad's screen goes dark, it is off. You can enter your passcode to restart it now.
2. Hard Reset to Get Out of iPad White Screen of Death
Things don't always turn out the way we want them to. The standard restart doesn't always work.
The slider might not appear on the screen and the iPad doesn't respond to taps, you can try a hard reset. This technique clears out the app and system memory and restart your iPad.
Blow are the simple steps.
Press and hold Home, Power, and Volume up buttons at the same time until you see the Apple logo showing up. Your iPad will restart automatically and function normally.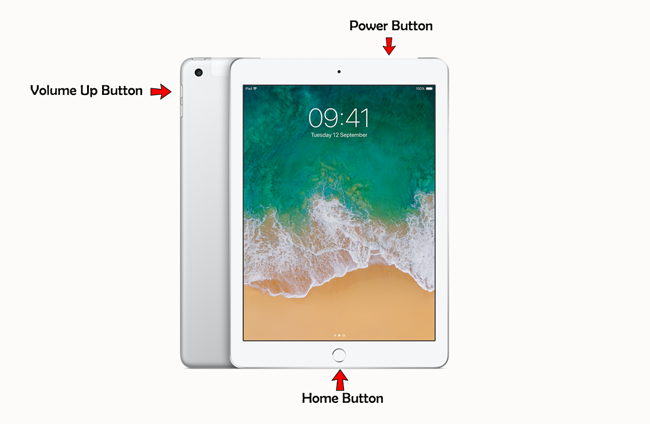 3. Enter DFU Mode to Kick off iPad White Screen
If you are troubled by iPad White Screen problem after the first two methods, DFU mode might be worth a try on your computer with iTunes.
Step 1Connect your iPad to your computer where iTunes is running.
Step 2Press the Power button for about 3 seconds to turn off the iPad.
Step 3Press both the Power button and the Home button together for about 10 seconds.
Step 4Let go of the Power button but keep holding the Home button for another 15 seconds. Don't let go when you see the Connect to iTunes screen. Your iPad screen should be black now which means it is in DFU mode. Then restore your iPad via iTunes.
4. Fix iPad White Screen of Death with FoneLab iOS System Recovery
If your iPad is locked up so much that above-mentioned ways are not working for your iPad with white screen, You might need to third-party tool to fix your disable iOS system prblems.
I strongly recommend a powerful tool called FoneLab iOS System Recovery to help you fix the white screen of death issue.
With the help of the software, you are able to get out of the stuck of white screen easily and without any data loss.
Now,
Let's follow the below steps to fix the issue.
Step 1 Free Download and install FoneLab iOS System Recovery to your Windows or Mac OS computer.
Step 2Plug your iPad into a computer when the installation is complete. Choose iOS System Recovery after the software detects your device.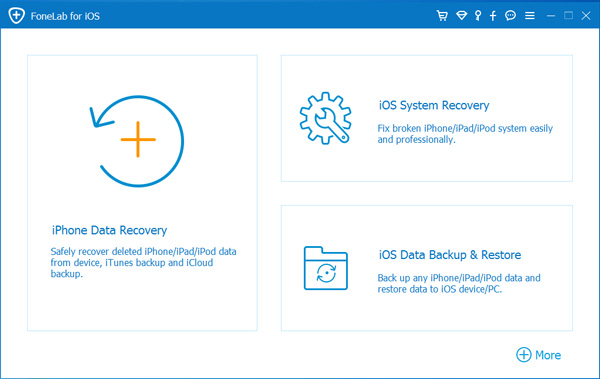 Step 3 The software will detect the connected iPad is in abnormal state like: Stuck at Apple logo, Recovery mode, Black screen, etc. and you will be asked to click on the Start button to get started.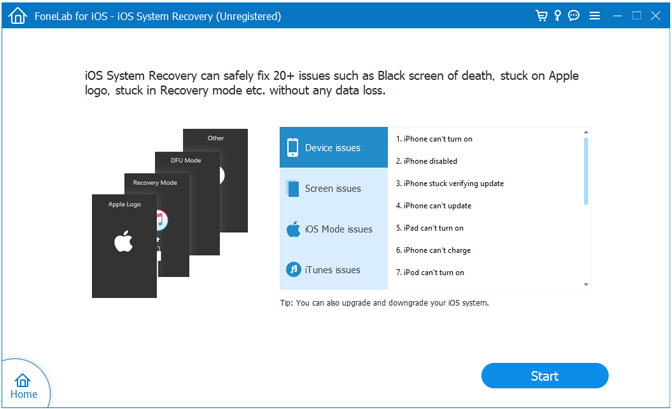 Step 4 You will be asked you to confirm the information of your iPad. Click Repair if it is correct, but if not, select the exact information manually before repair. To fix your iOS, the program will download the latest version of your firmware after detecting your current iOS version.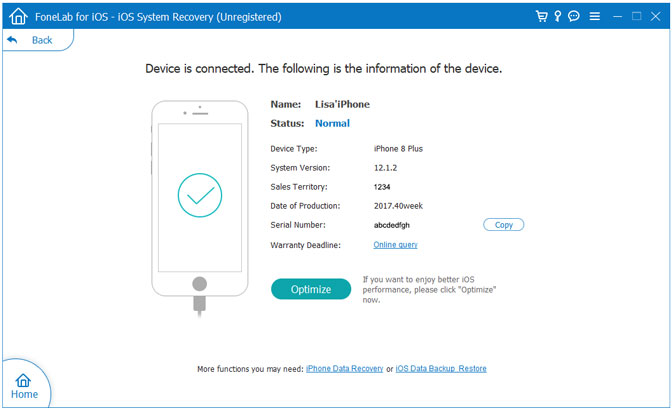 Other issues like iPad stuck in recovery mode, can't turn on, stuck at black screen, frozen, etc can be fixed by the program as well.
5. Update/Delete iPhone App
Some app issues will cause iPhone screen problems. You can easily check below demonstration to fix it.
Update iPhone App
Launch App Store > tap profile image on the upper-right corner. Then tap the Update button or Update All.
Delete iPhone App
Tap and hold the app you want to delete till it vibrates, then tap delete icon when it pops up.
That's all. If you want to know more information about iPhone, please leave comments below.