Fix iOS Issues Now
fix iPhone/iPad/iPod from DFU mode, recovery mode, Apple logo, headphone mode, etc. to normal state without data loss.
How to Fix a Frozen iPhone Screen

Updated by
Boey Wong
/ February 23, 2021 15:50
My iPhone screen is frozen and can't get out of it. Please anyone can help no matter what it costs. I don't mind using a third-party tool only can it solve my problem. Waiting online anxiously.
Have you ever met that the apps on your iPhone become faulty making the phone stuck on the blue screen of death or the iPhone frozen on home screen for no reason? Or other unexpected problems such as iPhone keeps restarting?
When you're suffering one of above situations, you may search on the internet for a solution with the keywords like my iPhone screen has frozen, my iPhone froze and won't turn off, etc. As a result, you are getting more confused about how to solve this problem.
As a matter of fact,
you are not the only one who has met iPhone frozen issue. It is not uncommon that some inconsistencies, viruses or incompatibilities may cause iPhone freezing. This article will address some possible scenarios which may occur to you and what to do when your iPhone screen is frozen.
Scenario 1: Apps Crashed or Become Faulty
If your app became frozen, it has probably crashed already without informing you. You can turn off the app by below steps:
Step 1Double tap the Home button on your device. Then, swipe left or right until you've found the offending app.
Step 2Once the target app is found, swipe the app upwards off the screen and it should be closed. After your iPhone is back to normal, you'd better update the faulty app or even delete it from your iPhone immediately.
Scenario 2: Your iPhone is Black and Unresponsive
A black screen iPhone is usually caused by running out of battery, system problem, app crashed, or hardware fault. When you face with the black screen of death issue, you can first try to charge your iPhone for a while. If not working then try to hard reboot iPhone by pressing and holding the Home and Power buttons together for at least 10 seconds, until the Apple logo appears.
Tips: You can find that these solutions also work for iPhone red screen problems.
For newer iPhone:
iPhone 7/ 7 Plus:
Press and hold the Power button.
At the same time, press and hold the Volume Down button.
Keep holding both buttons until the screen displays the Apple logo.
The device will boot in a couple of seconds.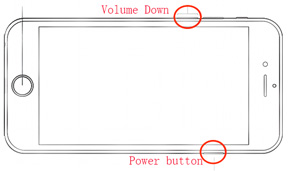 iPhone 8/8 Plus/X:
Quickly press and release the Volume Up button.
Quickly press and release the Volume Down button.
Press and hold the Side button until you see the Apple logo.
Wait for the device to boot.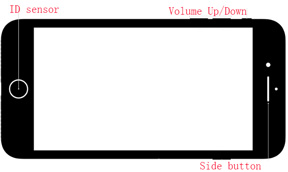 This step often helps, so don't skip it.
If you can't slide to operate the iPhone, please check how to unlock disabled iPhone.
After the iPhone is working again, please remember to update the software if necessary by following steps:
Step 1 On your iPhone, go to Settings > General > Software Update.
Step 2 From the Software Update screen, click the Download and Install option.
Step 3 Follow the on-screen instructions to complete the iOS upgrade process.
Read about how to fix a bricked iphone without restoring.
Scenario 3: iPhone Stucks on Apple Logo
Update failure and jailbreak failure are the two common reasons that cause iOS device stuck on Apple logo.
When this happens, you can try to reboot your iPhone in the first place. And then force your device to restart if it doesn't work. If all of these won't bring the iPhone back to life, let's take the last chance to restore your device.
However,
You will be at the risk of data loss after iTunes restore. So if you want to fix a frozen iPhone but keep the data safe, I highly suggest that you should use an iOS system repair software - FoneLab iOS System Recovery, which is able to fix all above described iPhone screen frozen problems like iPhone keeps restarting, exit DFU mode and more.
Let's give it a try and follow these steps:
Step 1Download and install FoneLab on your Windows or Mac OS computer with below link accordingly.

FoneLab iOS System Recovery
FoneLab enables you to fix iPhone/iPad/iPod from DFU mode, recovery mode, Apple logo, headphone mode, etc. to normal state without data loss.
Fix disabled iOS system problems.
Extract data from disabled iOS devices without data loss.
It is safe and easy to use.
Step 2Plug your iPhone into the computer after the installation is finished. Choose iOS System Recovery on the interface.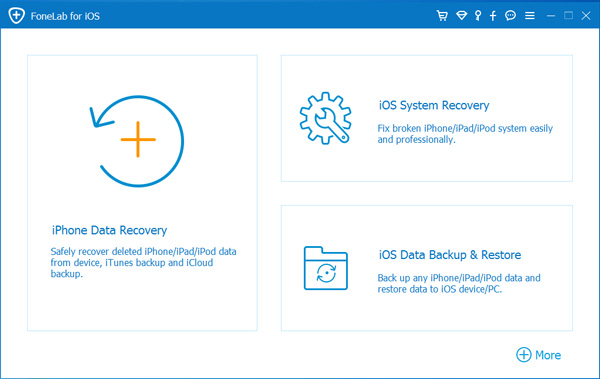 Step 3The software can detect the connected iPhone is in an abnormal state like Stuck at Apple logo, Recovery mode, DFU mode, iPhone black screen, etc. and it will ask you to click the Start button to get started.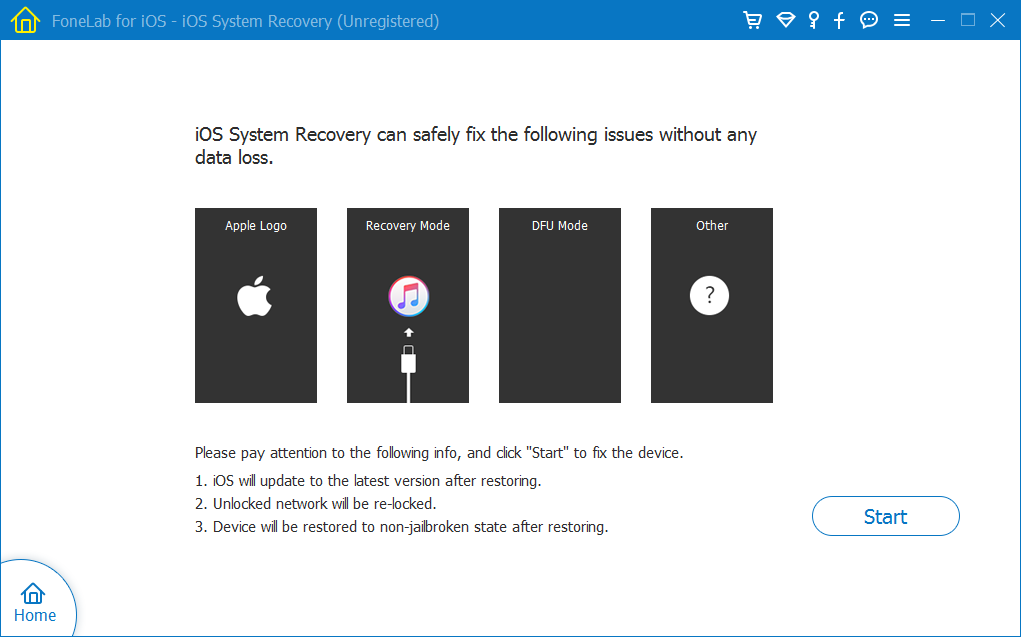 Step 4You will be asked you to confirm the information of your iPhone. Click Repair if it is correct, but if not, select the exact information manually before repair. To fix your iOS, the program will download the latest version of your firmware after detecting your current iOS version.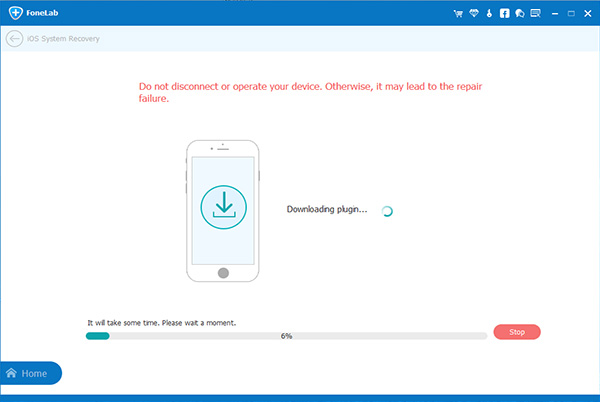 It is amazing, isn't it? With the help of FoneLab iOS System Recovery, you can kick out of all kinds of frozen screen on iOS device with just a few clicks.
Most importantly, you can use it to fix iPhone water damage and recover deleted messages on iPhone. And you definitely won't lose anything on your devices during the recovering or repairing process.