Recover PC Data Now
Recover the lost/deleted data from computer, hard drive, flash drive, memory card, digital camera and more.
HARD DRIVE DATA RECOVERY:
The Comprehensive Guide
A hard disk drive (HDD),also called hard disk or hard drive, is an electromechanical data storage device. HDD is the main element of electronic devices such as computer, laptops, etc. The operating system, software titles, and most other files are stored in the hard drive.
It is a disaster to lose these files from hard drive. However, unexpected file loss is a common problem that lots of people are facing or have ever met.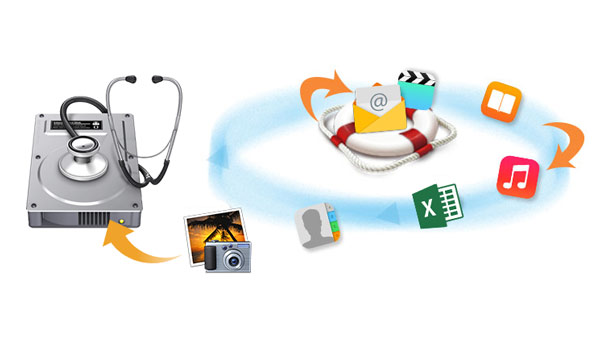 Many hard drive users have ever experienced data loss due to various reasons as given below.
Format Hard Drive: You might format a hard drive in order to update the operating system or create a single partition.
Human Error: You might mistakenly delete some files from the hard drive.
Viruses Attack: Corruption of hard drive due to malware /virus infections or drive errors.
Antivirus Utility: Using antivirus utility to scan hard drive for viruses may erase certain important files without your knowledge.
Sudden Shutdown: Abnormal system shutdown while transferring documents.
Logical Failure: Deletion of files essential to hard drive functions results in a logical hard drive failure and stops hard disk from booting and thus data gets unreadable
System Freeze: Continuous system freeze might tend to hard drive corruption, as a result you cannot access data stored in the drive.
OS Installation: Improper installation of OS might result hard drive corruption in future, as a result you may lose data which is stored in that hard disk drive.
If you have a backup of the hard drive, you can recover data from backup file easily.
While how can you do to recover hard drive data without backup?
As long as the drive is in good enough condition to actually use, it is possible to rescue lost files from hard drive with the help of a reliable tool.
If the drive is too physically damaged to attempt recovery and you really need the data off of it, then it's time to call in the professionals.
What we'll focus on in the following content is how to recover lost files from hard drive with or without backup.
1. Recover Lost Data from Hard Drive without Backup
Files you have deleted are often still present on your hard drive and can be recovered using a data recovery software.
FoneLab Data Retriever is a powerful and safe software that can recover almost all deleted or lost data by scanning the hard drive. It is able to retrieve data lost for various reasons such as hard drive failure, human error, and more.
Step 1Download Data
Download and install this data recovery software on your computer. Both PC and Mac versions are available. Then launch this program.
If you want to recover data from other electronic data storage devices such as hard drive, memory card, etc., you need to connect them to the computer.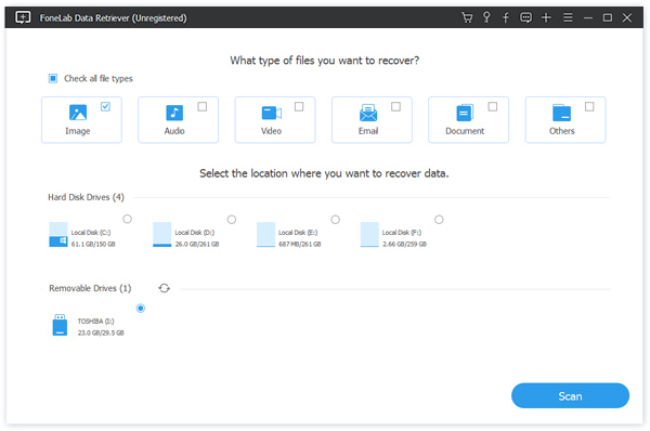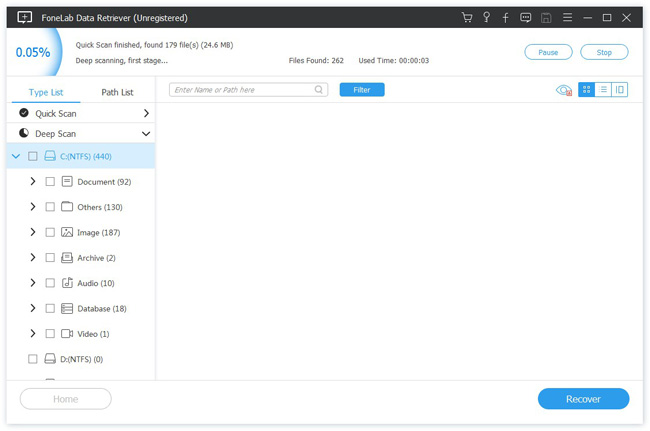 Step 2Scan Data
On the main interface, choose the data types you want to recover and hard disk in which you lost the data. Then click Scan button to start the quick scan on the selected disk drive.
If the quick scan can't bring your desired results, you can click Deep Scan to try again. Deep Scan takes more time to complete the whole process, but it brings more results.
Step 3Recover Data
Look through the files displayed in the window and look for the items you intend to recover. You can also use Filter feature to quickly locate your needed files.
Check the box alongside the items you want to retrieve, and then click the Recover button to save the selected files to your computer.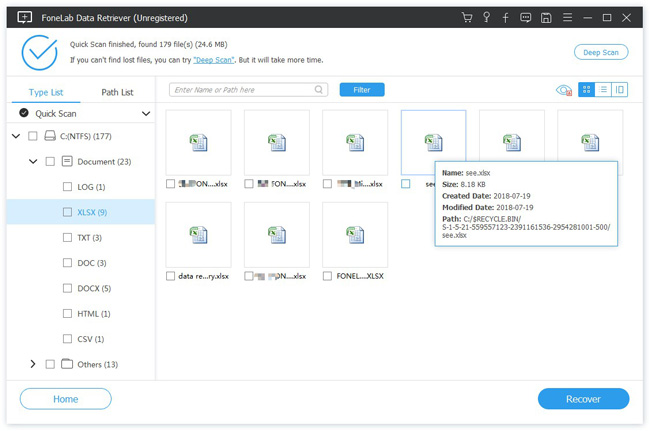 Why Choose FoneLab Data Retriever?
Because it:
Can recover Emails, image, document, audio, video, and more data.
Can recover data from memory card, computer, flash drive, digital camera, hard drive, and other removable drives.
Rescues data from various disasters, such as virus attack, unexpectedly crashes, non-responding, formation, deletion and more.
Allows users to preview any data type with the detailed information.
Highly compatible with Windows and Mac.
Guarantees the data safe -- when you retrieve lost database, it won't store any of these data to its server
Has Wizard-like, easy-to-use interface.
Offers a 30-day free trial period.

FoneLab Data Retriever
FoneLab Data Retriever - recover the lost/deleted data from computer, hard drive, flash drive, memory card, digital camera and more.
Recover photos, videos, documents and more data with ease.
Preview data before recovery.
Windows Backup is the starting point for all other backups and contains all the data in the folders and files that are selected to be backed up. Because the Windows backup stores all files and folders, frequent Windows backups result in faster and simpler restore operations.
To restore deleted files from Windows backup, do the following.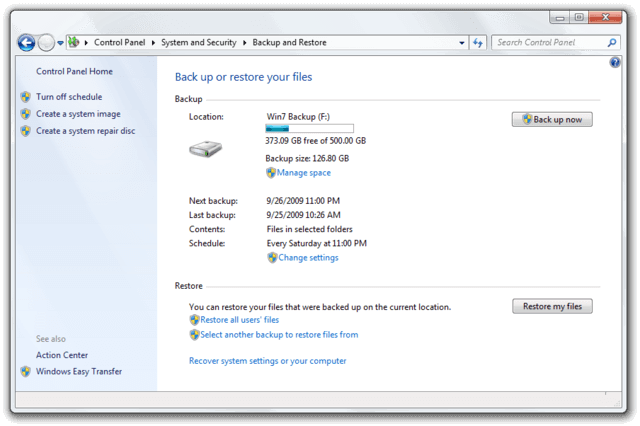 Step 1Go to Start menu on your computer.
Step 2In the Search for Files or Folders named box, type backup.
Step 3Choose Backup and Restore from the resulting list.
Step 4Click Restore My Files.
Step 5In the Restore Backup dialog box, look through the content of the backup and locate the files or folders you intend to restore. You can use Search, Browse for File, or Browse for Folders functions to look for your needed files.
Step 6Choose the location where you want the files restored and then follow the steps in the wizard.
3. Recover Hard Drive Data from System Image Backup
A system image is an exact copy of a drive. By default, a system image includes the drives required for Windows to run. It also includes your system settings, programs, and files. You can use a system image to restore the contents of your hard drive if your hard drive or computer ever stops working.
Unlike restoring from Windows Backup, when you restore your hard drive from a system image, it's a complete restoration -- you can't choose individual items to restore, and all of your current programs, system settings, and files are replaced with the contents of the system image.
Follow these steps to restore hard drive from a system image.
Step 1Insert the system image disc into the disc drive, or connect the external hard drive containing the system image to the computer.
Step 2To reboot your computer, hold down the Shift key on your keyboard and click the Restart option in the Start menu.
Step 3Click the Troubleshoot > Advanced Options > System Image Recovery.
Step 4Your computer will boot to the special recovery menu. Then choose the target OS.
Step 5On the Re-image Your Computer page, select the Use the latest Available System Image option and click Next.
Step 6If you're restoring a full backup to a new drive, you can also select the Format and Repartition Disks option. (Use this option carefully, as it will erase any existing partitions and disks on your computer). And click Next.
Step 7Click Finish.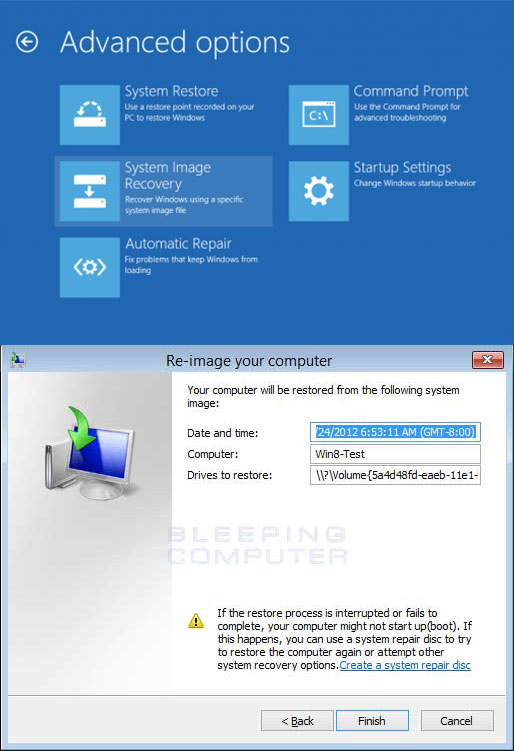 All in All,
While you store all the valuable data on your hard drive, The best bet to keep data safe is to back up all these data regularly. A hard drive will face tons of failure while it becomes old eventually. It will be more difficult to recover data while the failures become serious.
So the best way we recommend is backing up data rather than go through all these recovery steps every time while you encounter with hard drive failure.
Now, you should definitely try the hard drive recovery to find out whether your data can be recovered or not from your hard drive.

FoneLab Data Retriever
FoneLab Data Retriever - recover the lost/deleted data from computer, hard drive, flash drive, memory card, digital camera and more.
Recover photos, videos, documents and more data with ease.
Preview data before recovery.