Forensic Data Recovery – Easy Steps to Recover Data with Low Cost
"- Any professional forensic data recovery software freeware?
- Need help of computer forensics.
- Is there any forensic tool that can extract data from a broken Android phone?"
There are many similar questions about forensic mobile data recovery and laptop data recovery services. Compared with common data recovery tools, Forensic data recovery is more serious. Not all data recovery software is reliable enough. If you want to get excellent digital forensic data recovery services, you just come to the right place.
Let's read together to know more about forensic recovery.

1. About Forensic Data Recovery Techniques
Generally speaking, you need to collect evidence for legal purposes from deleted, corrupted, formatted, lost or damaged files. Some files are erased deliberately.
If you want to regain those inaccessible files, you need to reconstruct past events with the help from professional forensic data recovery tools or services.
You can see many legal data recovery services for obtaining files from data storage devices. However, it takes too much turnaround time or money for forensic data recovery.
Actually, some files can be recovered by yourself. If you do not save new files into the same hard drive, you can still recover deleted data from hard drive manually.
In another word, you can be a mobile or computer forensic investigator too. No tech background is required.
2. What Is the Best Data Recovery Software for Forensics
It is true that forensic data recovery is a hassle. But it is not an impossible task. FoneLab Data Retriever, a powerful and easy-to-use data recovery tool, is widely used in courts, governments and other high confidential places. You can recover any kind of files stored in your storage drive before under all data loss scenarios.
For instance, you can get deleted file recovery, hard drive recovery, partition recovery and crashed PC recovery with forensic technology.
Furthermore, you can perform forensic data recovery from deletion, formation, hard drive damages, virus attack, malware, system crashes, RAW partitions and other human errors effortlessly. Both beginners and experts can recover permanently deleted files with ease.
1. Main Features of the Best Forensic Data Recovery Software
Wide support of recoverable data and formats.
Support various recoverable devices and brands.
Recover data from any human or system errors with different methods.
Find and preview your file from various similar items.
Perform a Quick Scan or Deep Scan mode to access deleted and existing files freely.
Never store or modify data for forensic data recovery.
Work on Windows 10/8.1/8/7/Vista/XP (SP2 or later) and Mac OS X 10.7 and above (macOS Mojave is supported). 
Offer a safe, clean and intuitive interface.
2. How to Recover Data for Forensic Analysis and Investigations
Download and launch the Windows data recovery software
The data recovery software works for most popular computers, laptops, memory cards, flash drives, digital camera camcorders, hard drives and other removable drives. Thus, if you want to recover lost files from your iPhone, Android or portable device, you need to plug it into the computer.
Choose data type and location
Now you need to choose which file type and drive you want to recover. By using the forensic data recovery software, you can recover deleted files from video (AVI, MP4, MOV, M4V, WMV, FLV, SWF, etc.), audio (M4A, MP3, WAV, AAC, OGG, etc.), image (JPG, TIFF, PNG, GIF, BMP, RAW, etc.), document (DOCX, XLSX, PPTX, PDF, HTML, CWK, etc.), email (PST, DBX, EMLX, etc.) and others. Later, you need to set the location from the hard disk drive or removable drive.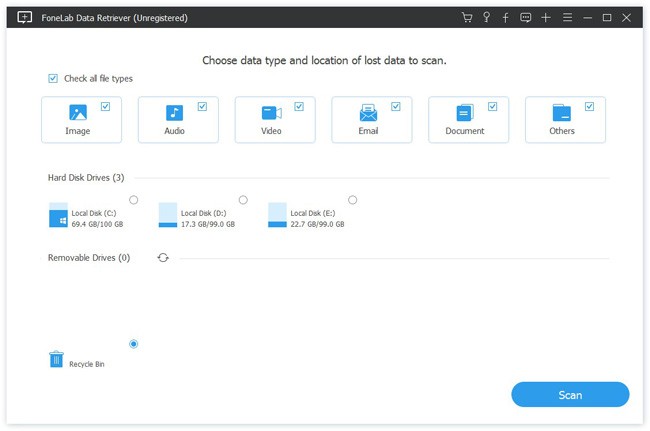 Scan your device
Click the Scan button on the lower right corner of the interface. Sooner, the data recovery software will perform a quick scan. You can see all files displaying in categories in the left panel. Open one folder to see both deleted and existing files with detailed information. If you cannot find the target file, you can choose Deep Scan to have a second try.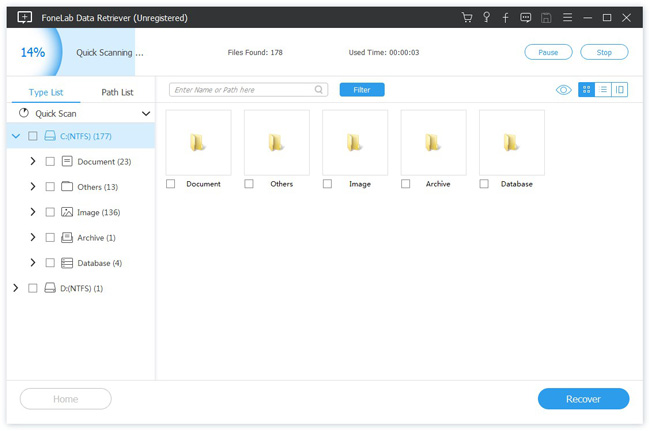 Complete Forensic data recovery
Mark before the file or folder you want to recover. You can change the display mode or set filter info based on your need. Finally, click Recover to recover data from damaged evidence sources.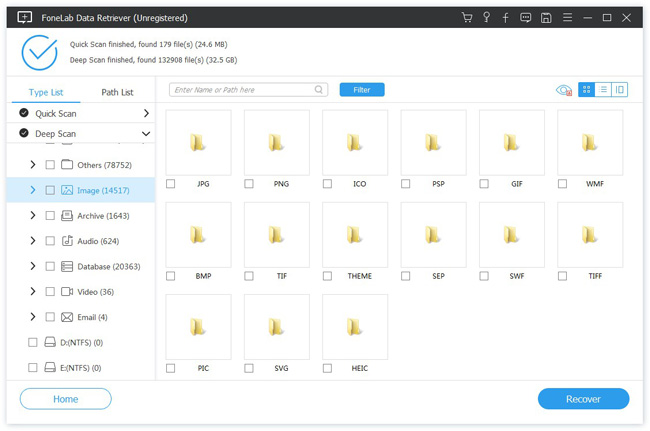 That's all for forensic data recovery on different digital devices. If you fail to recover deleted files with FoneLab Data Retriever, just feel free to contact us.
Moreover, you can also share other good data recovery ways for forensics in the comments.
Related Articles:

Leave your comment and join our discussion