Recover PC Data Now
Recover the lost/deleted data from computer, hard drive, flash drive, memory card, digital camera and more.
[Best Methods] Image Recovery of Flash Drive on Windows or Mac
Flash drives are storage devices that easy to use and convenient for us to transfer for data, primarily for portable devices. When we need to move our working files from home to other places, flash drives are great partner for smart storage devices.
Losing data from a flash drive can be a nightmare for everyone. What should we do if we accidentally format the flash drive? Don't worry, just use FoneLab Data Retriever to solve this problem perfectly.

1. How to Recover Deleted Pictures on Flash Drive by FoneLab
FoneLab Data Retriever is a safe and convenient tool to recover deleted or lost data (like Photos, Documents, Emails, Videos, etc.) on Windows/Mac, Hard Drive, Flash Drive, memory card, digital camera and more.
To recover image from Flash Drive, the safest and easiest way is using FoneLab Data Retriever software. Even novices can recover deleted or lost files from Flash Drive, SD card, hard drive and more effortlessly.
With just a few steps, the user can recover image from Flash Drive. In addition, the software's user interface is very simple, technicians and non-technical staff can easily solve the problem of how to easily recover image from Flash Drive.
Step 1Download and install
Free download and install FoneLab Data Retriever, after the installation is complete, the program will launch automatically.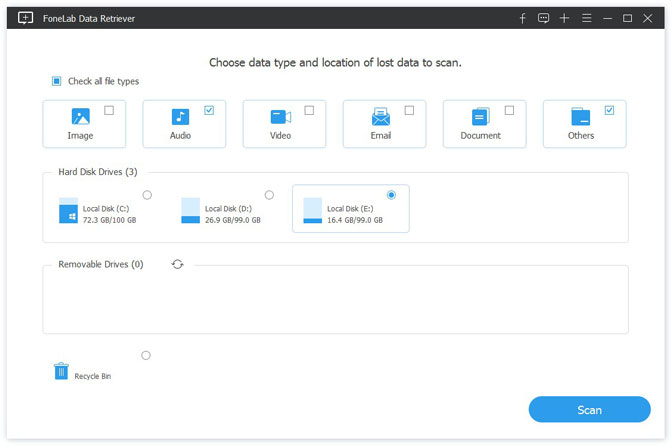 Step 2Connect your Flash Drive to computer
Before start to Scan the lost image, you should connect your Flash Drive to computer.
Step 3Select the storage location and the type of lost file
On the main page of the program, check the type of the file you want to restore. Here we want to recover image from Flash Drive, check the Image option. Then check the Flash Drive option, click Scan.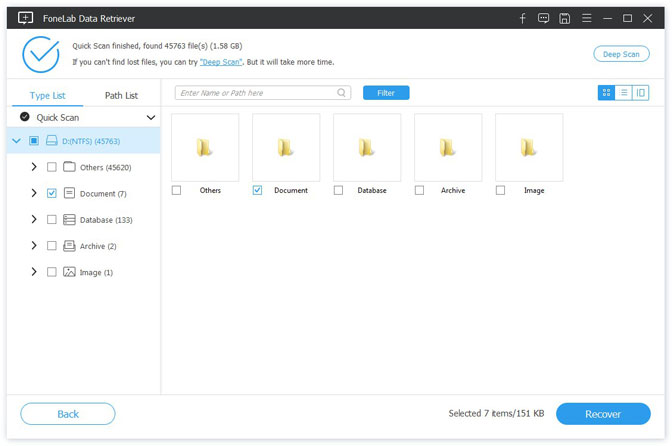 Step 4Select file
When the Quick Scan ends, you will see the scan results displayed. If you can't find the file you want in the scan results, you can use Deep Scan mode. Deep Scan mode allows for a deeper scan of the entire hard drive and allows for more files to be scanned.
If you scan too many files and you can't find the file you want, you can also use the Filter function. This function can filter the lost files by selecting the type of lost file, the size of lost file, the date the file was created, and the modification time of lost file. After the information is set, click Apply to filter the scan results.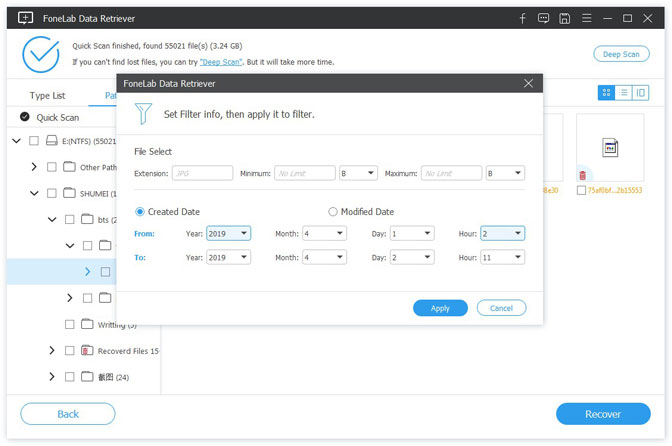 Step 5Recover files
After checking the files you want to restore, click Recover. Then you can get your lost files back.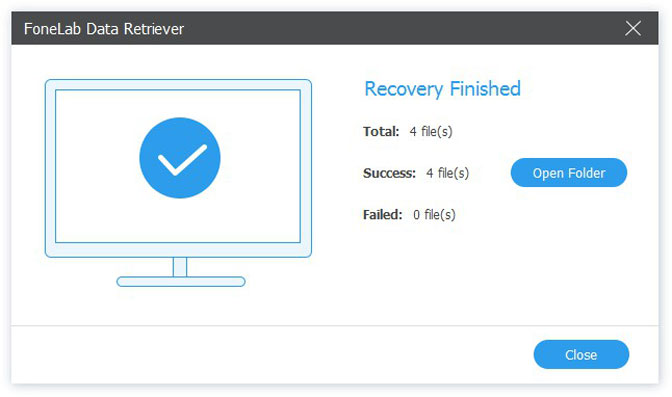 2. What Caused Your Flash Drive Broken and Image Lost
Data and files stored on a USB flash drive, there is many reason to casue data lost from USB drive or the disk got broken.
Accidentally deletion or lost from USB device.
The device got damaged or broken, corrupted.
Virus attack and infected the USB drive caused data lost.
Accidentally formatting USB when it occurs a format error.
Can't access to your data files on USB flash drive.
Improperly ejecting or removing the USB flash drive.
Note: You should stop using the drive to save any new data, while your data files got lost from USB drive, or it will cause data to overwrite.
3. Tips on Protecting Your Flash Drive
However, you should know that if you don't want to pass through any USB drive recovering files experience, there are some preventive measures you could take to keep your devices safe.
1. Set write permissions
Want to prevent unauthorized users from messing up with data on your USB drive? You can do that by setting user permissions for your USB drive. Right-click on your drive, navigate to the Security tab and tap Edit. Not set the suitable permissions.
2. Control virus running
Preventive actions always beat counter measures. Make sure you are plugging your USB drive only in a safe computer. Is your friend's computer running an updated antivirus software? Likewise, make sure your own system is secured and up to date.
3. Be Careful while using Public Cafes
If I were you, I wouldn't use my flash drive with any random computer just because I really need a computer now. Public cafes computers are often dangerous systems. Anyone can use them without paying attention to what is downloading and from shady source. The result, is these systems are carrying multiple viruses that could end up braking your USB drive you have just plugged in a hurry.
4. Maintain a Routine Scanning of Devices
Maintenance is quite important if you want to keep your USB healthy. Format your USB drive from time to time, if you need to delete everything on it, and don't forget to scan it for errors. Also, it is important to keep an up to date antivirus software, so you'll get noticed immediately when your USB drive gets infected.
5. Go offline while Transferring Data
Chances for getting your USB infected while connected to internet are quite low. However, if you really need extra-security measures, make sure to disconnect from internet while transferring files on your USB drive.
6. Using Encrypted Drives
Why not encrypt your flash drive, so whenever it gets plugged in, your password pops up? I can't think of a better way for keeping data from unauthorized people that may want to use your USB drive without permission. Should you need enhanced security measures, google USB encryption software.
Conclusion
Whether the files are deleted, corrupted or overwritten within computer, FoneLab Data Retriever should be the first choice you have to take into consideration.
If you want to restore other kinds of Image files, you can refer to this article: Recover deleted Image in Windows.
Many things can be done by the software, why not download it and use it?
If you have any other query about flash drive image recovery and alternatives, you can share more detailed information in the comments.