Recover PC Data Now
Recover the lost/deleted data from computer, hard drive, flash drive, memory card, digital camera and more.
Deleted Images Recovery – How to Recover Deleted Pictures from PC/Mac
I transferred some photos from my camera to computer and then I deleted these photos on my camera. But now I lose these photos because of formatting the computer in order to update system. How can I recover deleted photos from my computer or camera?
Have you ever accidentally formatted a partition or a folder with important images in it? Or perhaps your computer system crashed, you had no backups and you already deleted images from your camera? You never think about it until it happens and when it does happen, it hits you hard.
I once lost all the photos of my parents that were very dear to me and I even managed to format and overwrite images from a trip. Unfortunately, disasters happen to everyone and if you happen to be in a similar situation, it is better to be prepared and know what to do.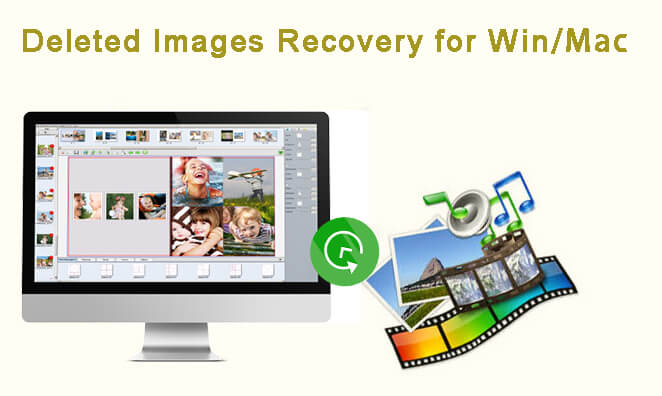 In this article, I will show you how you can retrieve lost images from computer.
1. How to Recover Deleted Pictures from Computer Recycle Bin
Once you accidentally lose important photos, the first thing you should do is to check the Recycle Bin.
As we know, when you delete a file, this file may be thrown into the Recycle Bin. In this situation, you can restore deleted photos easily by the following steps.
Step 1Open Recycle Bin.
Step 2Look for your deleted photos and right-click on it.
Step 3Choose Restore.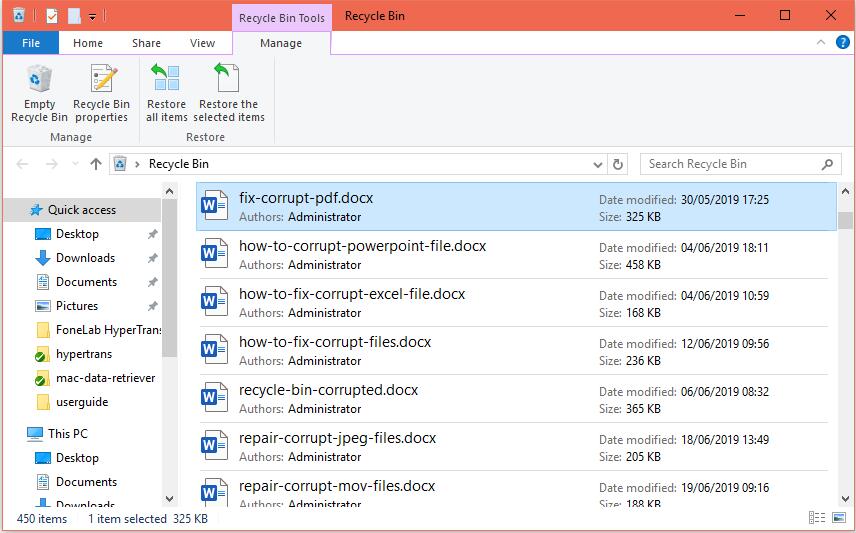 See! It is very easy to recover mistakenly deleted images. However, this solution cannot restore permanently deleted (shift deleted) files.
If you do not find your deleted photos in the Recycle Bin or if you want to recover deleted photos after emptying Recycle Bin, please keep reading to know how to retrieve permanently deleted pictures from your computer.
2. How to Recover Permanently Deleted Photos from PC
Some of the commonly used methods are as follows:
Method 1. File History
This freeware Backup and Restore is a built-in Windows 10 system feature, which allows you to restore the older version of lost or deleted files.
Step 1Open the folder that includes deleted files.
Step 2Choose History > Previous.
Step 3Select the image you want to keep.
Step 4Click Restore.
Method 2. Restore Previous Version
Another efficient manual approach to recover deleted images. It is also simple to use.
Step 1Select the desired folder.
Step 2Right-click on it.
Step 3Click on Restore Previous Version option.
Step 4Windows will enlist Previous Versions Permanently Deleted Files Or Folders with Time and Date.
Step 5Select the copy you want (perhaps the latest one).
Step 6Click Restore.
3. How to Recover Permanently Deleted Photos from Mac
Whether you're new to the Mac platform or have been using it for years, there's a feature built into Mac that you should not only know about, but use. This feature is Time Machine, a built-in backup application used to keep an up-to-date copy of all the files on your Mac.
If you have backed up your Mac with Time Machine, you can easily restore a photo library to its state when the last backup was performed.
Step 1If the Photos program on your Mac is open, choose Photos > Quit Photos.
Step 2Click the Time Machine icon in the menu bar and then choose Enter Time Machine. Time Machine will open and show your available backups.
Step 3Select the date of your last backup, navigate to the backup of your photo library, then click to select it.
Step 4Click Restore.
4. How to Recover Permanently Deleted Photos from Computer (PC and Mac) with FoneLab
If, however, the built-in methods fail to recover the permanently deleted images, then what should be the next step?
What now? Resorting to a third-party recovery tool is your only way.
FoneLab Data Retriever is a powerful and technologically advanced image recovery tool, which has a capability to recover almost all lost images in various formats such as JPG, PNG, GIF, SWF, BMP, etc.
It is able to recover images lost for all kind of reasons such as system crash, non-responding, deletion, formatting, etc.
Let's see how it works.
Step 1Run This Software
Download and install this software on your PC or Mac. Then the software will get launched automatically.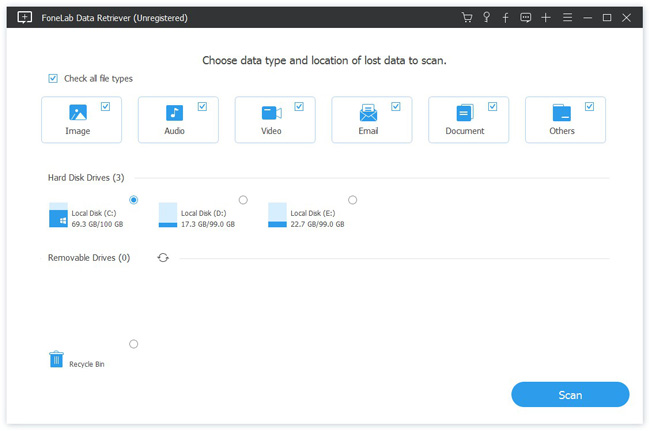 Step 2Scan data
Choose Image option at the data types section and select the location where you lost the images. Then click Scan to start the quick scan process.
Step 3Choose data
After finishing the scan process, all files will be listed in the interface. You can use Filter feature to quickly locate the image you want to recover.
If quick scan can't bring the desired result, you can click Deep Scan in the top right corner to try again.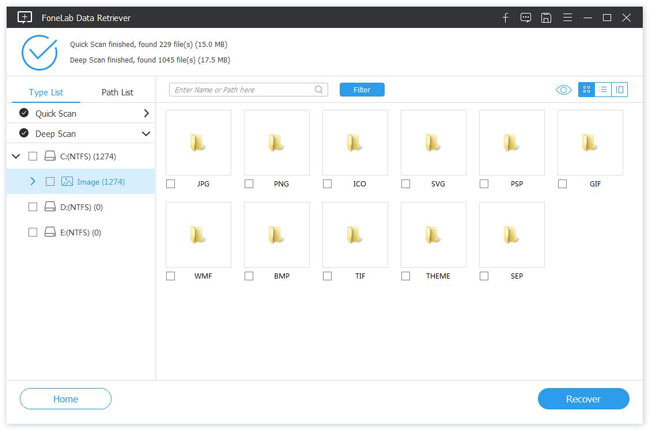 Step 4Recover data
Preview the relevant information of each image and select the image you want to restore. Then click the Recover button to save the selected images to your computer.
In addition to recovering images from computer, it can recover deleted images from memory card, hard drive, camera, etc.
Download to get a 30-day free trial now!