Recover PC Data Now
Recover the lost/deleted data from computer, hard drive, flash drive, memory card, digital camera and more.
[Full Guide] Diagnose and Recover Data from Dead Hard Drive

Updated by
Valyn Hua
/ Feb 24, 2021 10:00
My hard disk is dead and I tried to connect it with different computers but could not get it to work. My important data are on the hard disk. So, how do I recover data from a dead hard drive?
Hard drive failures are inevitable. Chances are that sooner or later it will happen to you or have happened to you. But I doubt many people are aware of the risks and threats involved with using hard drives to store crucial data.
And when I say hard drives, I don't mean just external hard drives; this includes the internal hard drives installed on laptops and PCs too.

A hard disk that is technically dead, unusable or inaccessible means that all data on this hard disk could be lost. One day, you plugged the hard drive in or switch on your computer and discovered nothing, no bootup, no file access, absolutely nothing. It can be baffling and panic triggering at the same time.
Stop your panic. This step by step guide will show you how to recover data from a dead hard drive.
1. Before Performing Dead Hard Disk Data Recovery
The first thing you should do is to determine whether it really is the hard drive failure, and not one of countless other equipment glitches that lead to a boot failure.
Before you can do any work on the dead drive, you need to remove the dead hard drive from the current machine and connect it to another computer as a secondary drive. The easiest way to do this is through a USB to IDE/SATA adapter.
After connecting the drive to another computer, check if you can browse the contents of the drive. If you can, try to take the data off the hard drive.
If your files are not shown on the secondary computer, then you need to understand what kind of damage has struck your hard drive in order to know how to deal with it.
A hard drive can be considered dead due to two primary reasons:
Logical/software problem such as a damaged file system or firmware
Physical/hardware problem such as a faulty drive controller board or IC malfunction
If your hard drive suffers from physical problem, you can hear a distinguishable clicking sound when trying to access data on it. On being struck with a logical problem, the hard drive won't make any noises, but it won't boot up or let you access the data.
Typically, dead drives with logical errors such as bad file systems can be viewed on a Linux system as long as the file system is Windows based. Moreover, some data recovery software can bypass file systems and directly access the data.
Dead hard drives with hardware problems can be recovered by repairing or replacing faulty components. As far as the data security is concerned, take assurance in the fact that the through a hard drive data recovery software, the data can well be recovered once the hard drive has been repaired and made to work again.
2. How to Recover Data from Dead Hard Drive
If you can't manually copy the data from the hard drive, then the only solution is to use a data recovery software.
FoneLab Data Retriever is a powerful and safe software, which is designed to recover almost all deleted or lost data by scanning the hard drive. Whatever the cause of data loss, you stand a chance of retrieving them with the help of FoneLab.

FoneLab Data Retriever
FoneLab Data Retriever - recover the lost/deleted data from computer, hard drive, flash drive, memory card, digital camera and more.
Recover photos, videos, documents and more data with ease.
Preview data before recovery.
You can retrieve data from dead hard drive with below simple steps.
Step 1 Run This Software
Firstly, you should download, install and launch this data recovery software on your PC or Mac. And then connect the external or internal hard drive to the computer.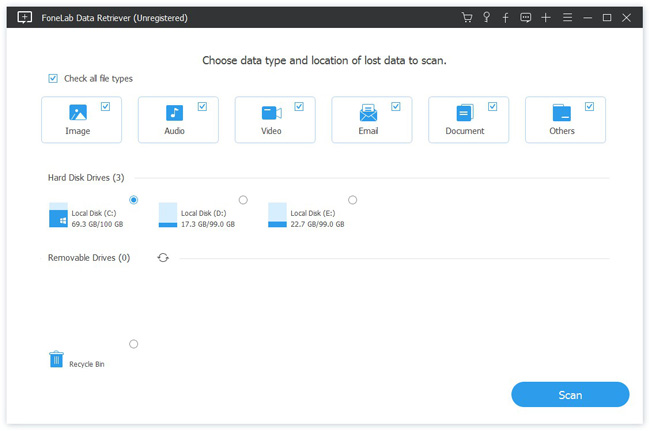 Step 2 Scan Data
On the main interface, choose the data types you want to recover and location where you lost the data (If you want to recover data from an external hard drive, you should choose the hard drive under the Removable Drives). Then click Scan button to start a quick scan on the chose disk drive.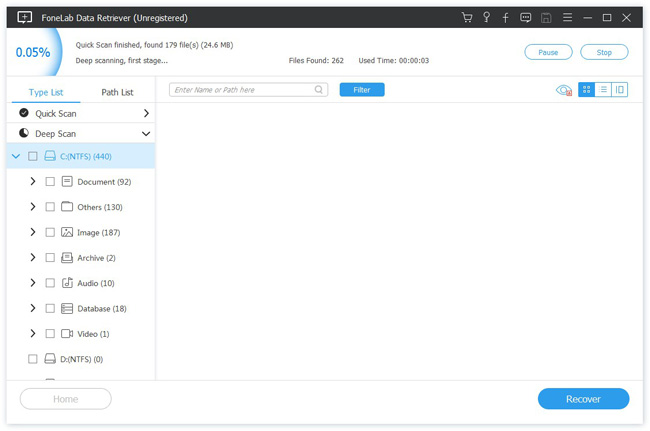 Step 3Choose Data
After finishing the scan process, all data types will be listed in the left sidebar. Click the file type from the left panel to find your deeded file. You can also use Filter feature to quickly locate the files.
Tip: You can click Deep Scan in the top right corner to try again. It will take more time to complete the whole deep scanning process, but it will offer you more results.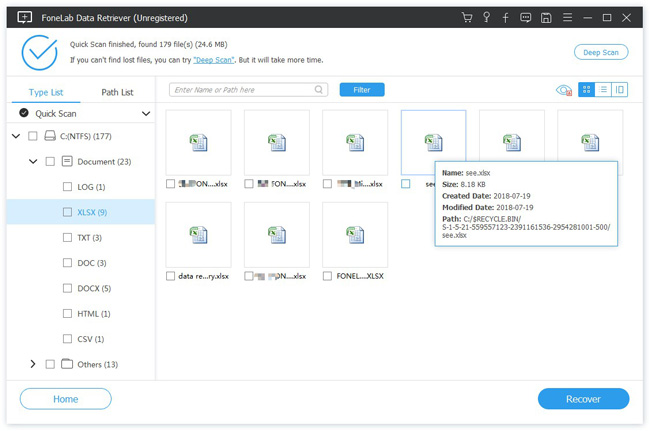 Step 4Recover Data
Mark the items you want to retrieve and click the Recover button to save the selected items to your computer.
This software can recover deleted emails, documents, images, and more from the hard drive.
In addition to hard drive, it is able to recover data from computer, memory card, USB device, camera, etc.
Don't hesitate to download it to your computer and have a try.