Recover PC Data Now
Recover the lost/deleted data from computer, hard drive, flash drive, memory card, digital camera and more.
Top 3 Convenient Methods to Fix Photoshop Corrupted File
Almost all people have already installed and tried Photoshop, for we cannot just deny that this program is excellent when it comes to graphic design, editing of photos, and image creation. With Photoshop, you can enjoy lots of editing features, especially for photos and images. Such as logos, realistic designs, website designs, 3D artwork, and many more. In fact, for a photographer, graphic, advertising, meme designer, and video game artist, this program has been a part of their life as an editor.
But, of course, there will always be unexpected circumstances that we will experience. One of the major issues is there will be a corrupted photoshop file. The questions will definitely go like this, why is this happening? And how will you fix this? Do you want to know how? Keep reading this post until the very end.

1. Why Photoshop File Corrupted
Photoshop files are vulnerable as well, just like any others. It doesn't mean that this is a popular tool, and it cannot be corrupted. This tool's files can encounter problems like corruption as well. And, one of the utmost needs is to determine the causes or reasons why the photoshop file is corrupted. Identify the reasons why your files are corrupted to the list below.
Reason #1.Sudden Power cut or failure while working or saving your PSD file.
Typically, operating systems are complex. They need a proper shutdown process, ensuring that all running tasks are appropriately turned off before the computer completely shuts down. So whenever there is a sudden power cut or failure, it most likely causes severe damage to the computer and its data.
Reason #2. File Saving Errors
Saving a Photoshop file incorrectly, one thing's for sure, something will go wrong. Most probably, the file will be corrupted. When you save a file improperly, it will always be corrupted.
Reason #3. Incompatibility
When you try to open a PSD file that has been edited or saved from the latest version of PhotoShop with the older one, the file may become corrupted.
Reason #3. Problem with Hard disk
Data loss can occur when a hard disk fails due to logical or physical failure. The hard disk drive's entire contents may become corrupted or unavailable.
Reason #4. Virus attack
The most common source of file corruption issues is computer viruses. Adobe Photoshop files, such as PSD, PSB, and PDD, are susceptible to virus infection. You may quickly infect applications and files by adding your code to computer viruses. Furthermore, it may overwrite or destroy portions of the file.
Reason #5. Software malfunction
Mostly all computer programs, such as Adobe Photoshop, have internal bugs that lead them to stop working or behave unexpectedly. When software fails, the files may become corrupted.
These are just some or 5 reasons a Photoshop file may be corrupted. As a matter of fact, there are still a lot of them, but the reasons above are simply the common causes for this type of problem. But, in the next part of this post, we will give 3 solutions that you may use and could help you.
2. How to Fix Corrupted Photoshop File
If there is a problem, for sure, there is a solution. When your photoshop file is corrupted, there will always be a way to fix this. As a matter of fact, there are a lot of methods. You may see the ways to repair a corrupted photoshop file.
Method 1. Check the Open Recent Tab
You're pretty familiar with the Open Recent feature if you're a Photoshop user. If the Photoshop file was only a few minutes old when it became corrupted, you should verify it in the Open Recent option. If the corrupted Photoshop file is visible in the Recent tab, you should open it. If the file opens appropriately, you can save it. This option is valuable if the Photoshop files have become corrupted due to incorrect file usage.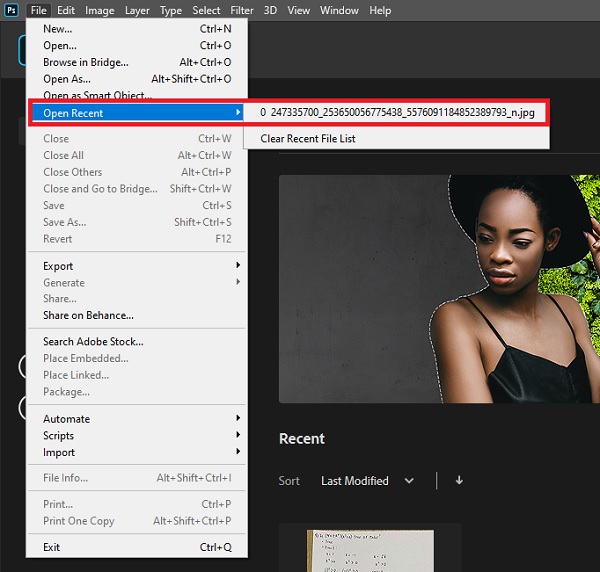 Method 2. Fix Photoshop Files from Previous Versions that Have Been Corrupted
By restoring the previous versions of the corrupted file, it is possible to fix or repair the issue. See the steps below on how to do it.
Steps on How to Repair Corrupted Photoshop File from the Previous Version:
Step 1Go to the File Explorer and find the corrupted file, then right-click.
Step 2Then, choose the Restore Previous Versions option. Next, click Restore after finding an older version of the damaged or corrupted PSD file.
Step 3After that, to confirm, click Restore.
Step 4When a message pops up that particular text layers contain missing fonts, open Photoshop and open the restored PSD file again, click OK when a message pops up that some text layers contain missing fonts.
Step 5Next, check all layers, remark the missing parts with layers. Finally, save the PSD file as a new one.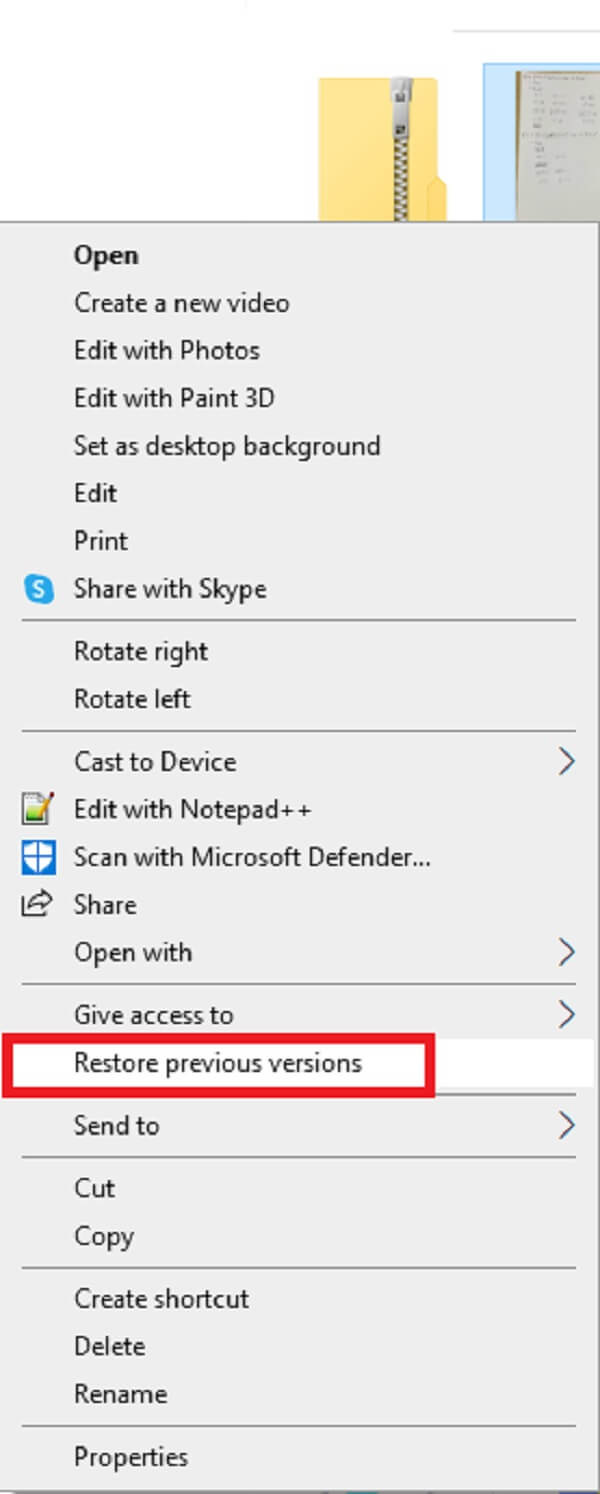 Method 3. Repair Corrupted PSD Files from Temp Files
Suppose your Photoshop files have gotten corrupted due to an unexpected crash of Adobe Photoshop or your Windows system. In that case, you can try to recover the corrupted PSD files using temporary files. See and follow the steps below to repair your photoshop corrupted file.
Step 1First of all, open the Photoshop program on your computer. Then, select File from the File menu.
Step 2Next, click Open and replace the .temp file extension with .psd.
Step 3After that, you will be able to access your unsaved work once more if you click Open.
Step 4Lastly, save the restored corrupted PSD files from the .temp file as.psd files on your PC.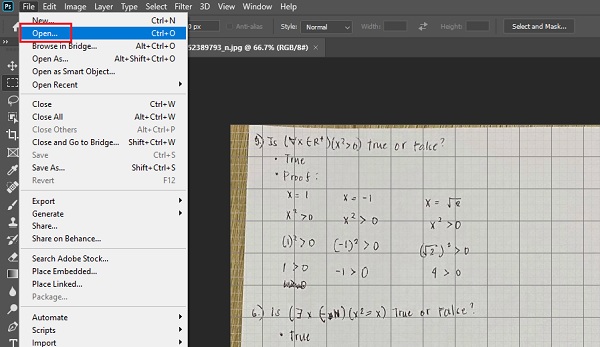 These are now the 3 methods in fixing a corrupted photoshop file. If you need to recover a corrupted PSD file lost or erased, FoneLab Data Retriever is the perfect way to get things done.