Recover PC Data Now
Recover the lost/deleted data from computer, hard drive, flash drive, memory card, digital camera and more.
[Simple] How to Deal with the Problem of Corrupted Hard Drive
The hard drive is the source for storing and managing important files, therefore, the data stored on the hard drive is maximized day in and day out. However, like all storage devices, hard drives are not protected from corruption and other issues. Today, the possibility of hard drive corruption and huge data loss is very common.
The hard drive might get corrupt due to several factors like harmful virus infections; file system corruption, hardware failure, MBR or partition table corruption, errors during the re-partitioning hard drive, exposing hard drive to high temperature or moisture, bad sectors on the hard drive and so on.
There are a lot of reasons may lead to this error and fortunately, there are fixes available.

1. Check If Hard Drive is Corrupted
Perhaps a lot of people don't know the condition of their hard drive, don't know if the hard drive is intact or corrupted, here are six situations about hard drive problems for your reference. Your hard drive may have corrupted when you encounter the following conditions.
When you access the hard drive in My Computer, receive a warning: You need to format the disk in the drive before you can use it.
A message of H:\ is not accessible. The file or directory is corrupted and unreadable. prompts up when you intend to open your hard drive.
You will hear strange sounds when using your hard drive.
Your external hard drive is unreadable.
A prompt shows up to ask you to format your hard drive.
The property of your hard drive displays 0 bytes.
2. How to Fix Corrupted Hard Drive by Using Cmd
CMD Line is a built-in mechanism for deeper operations on a PC. We can fix the corrupted hard drive using CMD.
Step 1Press Window and R key and then type cmd in the search box for the dialog.
Step 2Then type chkdsk F: /f and tap Enter. The first letter F represents the name of your hard drive and the latter indicates the fixing errors progress on your hard drive.
Step 3Press Enter and Windows will begin fixing the corrupted hard drive.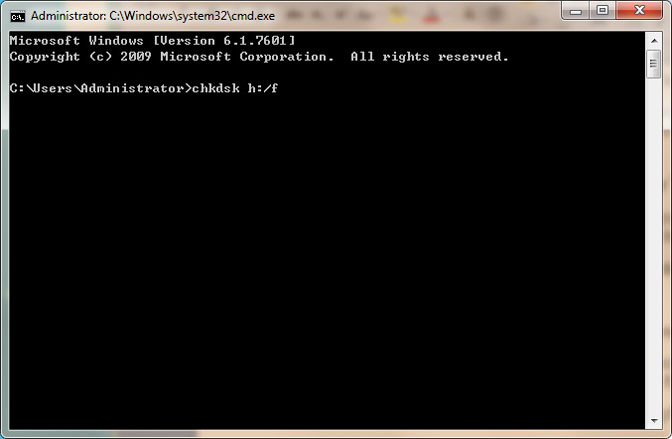 Notes: You can try more orders to make additional check, for example, type chkdsk F: /F /X /R.
Tips: In this case, the former two letters F represent the same meaning as described above, while the letter X means volume dismount before scanning and letter R will lead to locate the bad sectors and then to recover the readable information.
3. Recover Files from Corrupted Hard Drive by FoneLab Data Retriever
One important thing is that you should stop using your hard drive immediately. Once the location is overwritten with new data, your file will disappear forever.
Equally important, if you really want to get data, you should choose a powerful recovery tool. FoneLab Data Retriever is a good choice with a wide range of useful features:
Recover data from your hard drive with a single click.
Support various data types such as photos, videos, audio, documents, etc.
Use the Quick Scan and Deep Scan modes to search for lost data.
Suitable for hard drives, flash drives, SD cards, memory cards, etc.
Step 1Install FoneLab Data Retriever on your machine
FoneLab Data Retriever is compatible with Windows and Mac OS X. So, download and install it on your computer. Then launch it from your desktop.
There are three sections in the main interface. Go to the data type area and check the data types you want to get back, such as Documents. Move to the Hard Disk Drive section and select where you stored the lost files.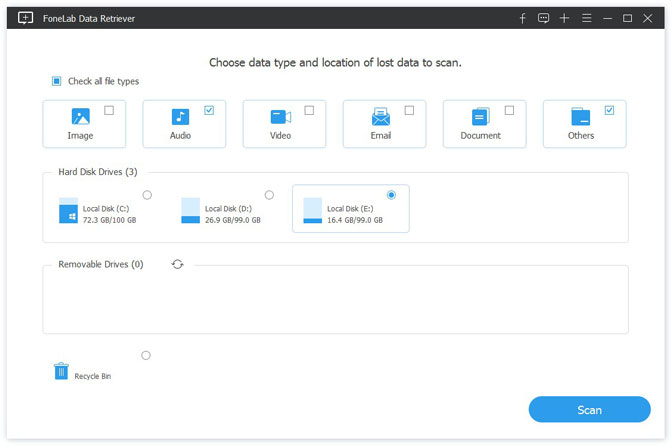 Step 2Scan your hard drive to look for lost files
Click on the Scan button and wait for the scanning process to complete. Then you will be taken to the result window. Go to Quick Scan > Documents on the left sidebar.
Next, click the Filter button to activate the File Select dialog. Here you can search for certain documents based on file extension, size, and modified date. Moreover, the Deep Scan feature will help you to find more data.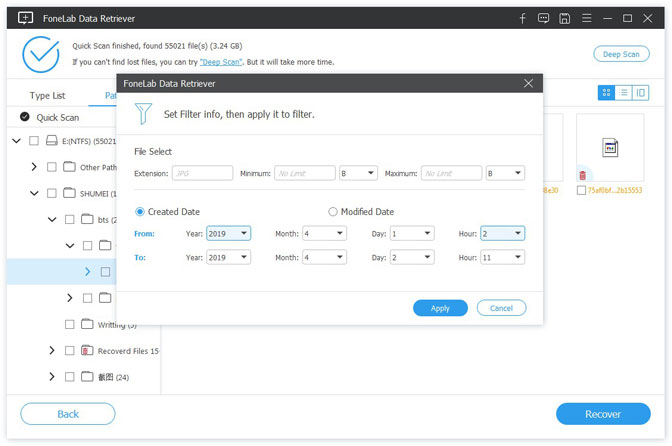 Step 3Recover deleted files from hard drive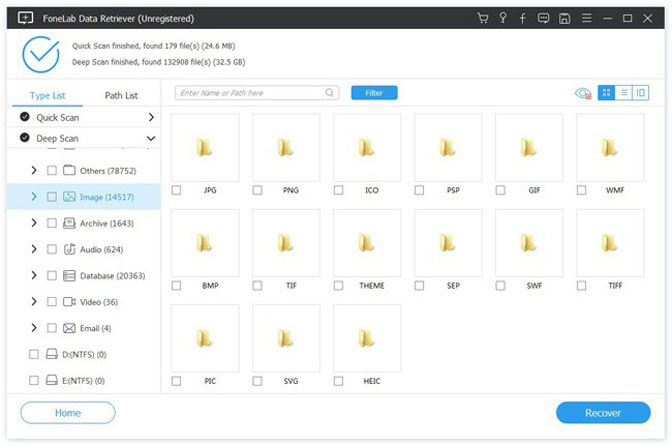 Finally, select your desired documents and click the Recover button. A few minutes later, you can find the recovered document and access it normally.
Conclusion
Even if your hard drive is corrupted, damaged or lost, you still have the opportunity to access or recover your data from hard drive.
If you are looking for a better way, we recommend using the easy-to-use FoneLab Data Retriever. In addition, you can enjoy selective data recovery and other features.