Recover PC Data Now
Recover the lost/deleted data from computer, hard drive, flash drive, memory card, digital camera and more.
[Solved] Recover Lost or Deleted CCTV and DVR Videos with Ease
Many of you choose to install CCTV (short for Closed Circuit Television) or DVR (short for Digital Video Recorder) to monitor home, office, and surroundings for the purpose of guaranteeing home and office security.
Have you ever lost or accidentally erased video footage which recorded by CCTV or DVR camera on hard drive or SD card? Video footage by CCTV or DVR camera is the key to investigation and evidence collection when theft and burglary occur. But if these important videos are lost or deleted incorrectly, can we recover CCTV/DVR?
When important CCTV or DVR videos are accidentally deleted or erased, you can restore video from the backup on windows. All you need to do is open the video backup folder, find the deleted/erased video, and then copy and save the recovered video back to your camera drive/SD memory card.
But what if you don't have a backup? Don't worry, we can restore deleted CCTV or DVR videos with FoneLab Data Retriever, also we can restore deleted CCTV or DVR videos from System Backup or Recycle Bin.

1. Recover Lost or Deleted CCTV and DVR Videos from Recycle Bin
As we all know, when we delete a file, the file is only transferred to the Recycle Bin, not really deleted, unless you have emptied the Recycle Bin. So when we want to recover deleted CCTV or DVR videos, we can recover our files in the Recycle Bin.
Open Recycle Bin, find the files you want to restore, right-click it, click Restore. And then you can get the deleted files back.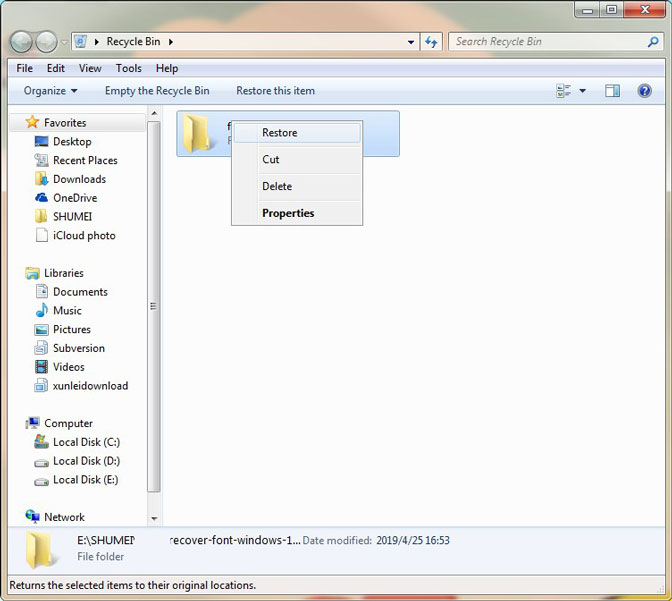 2. Use FoneLab Data Retriever to Recover Lost or Deleted CCTV and DVR Videos
Not everyone has the habit of regular backup. If you are one of them and don't have any backup of the deleted CCTV or DVR videos, I am afraid there is no other way but to use a third-party video recovery tool.
FoneLab Data Retriever is one of the best video recovery software. It is designed to recover almost all deleted or lost videos in various formats, including MP4, AVI, MPG, WMV, and MOV, by scanning the hard drive without modify the original data.
Step 1Firstly, you should download, install and launch this data recovery software on your PC or Mac. And then insert the memory card of CCTV or DVR into the computer with a card reader.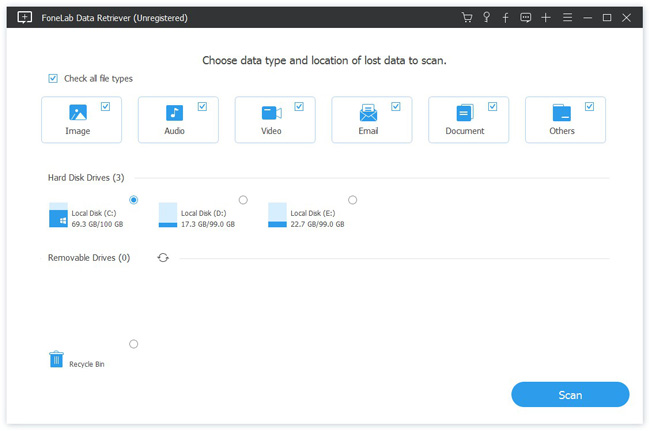 Step 2On the main interface, choose Video at the file types section and select your memory card under the Removable Drives. Then click Scan button to start the Quick Scan on the memory card.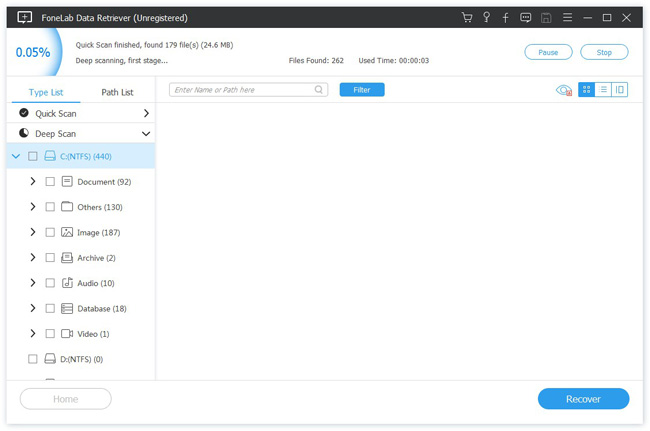 Step 3After finishing the Scan process, all videos in any kind of formats will be displayed in the window. Look through these videos and find the one your need. You can also use Filter feature to quickly locate your video.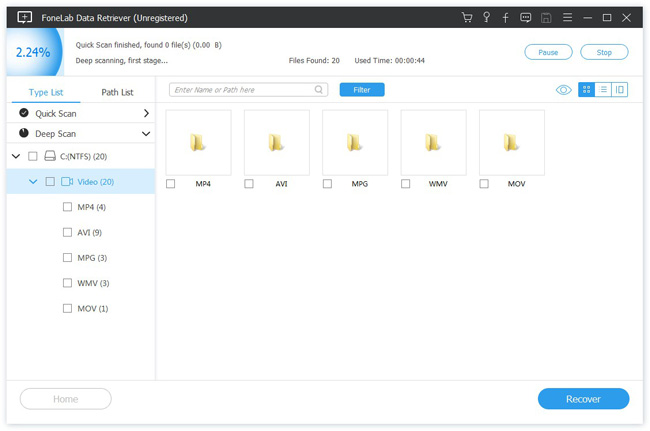 Step 4Checkmark the items you want to recover and then click the Recover button. The selected items will be saved to your computer.
Tip: If you don't find your missing videos, you can choose Deep Scan to scan again. It will take more time to complete the scanning process, but it will offer you more results.
3. Recover Lost or Deleted CCTV and DVR Videos from System Backup
If your system has set up automatic backups regularly, then we can restore the deleted CCTV or DVR videos from the system backup.
Step 1Click Start button, and then click Control Panel.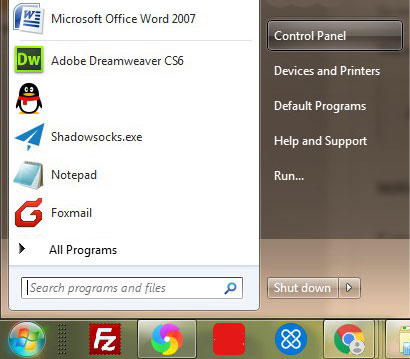 Step 2Select Backup and Restore. If you set View by Category, select System and Security, then you will see the Backup and Restore option.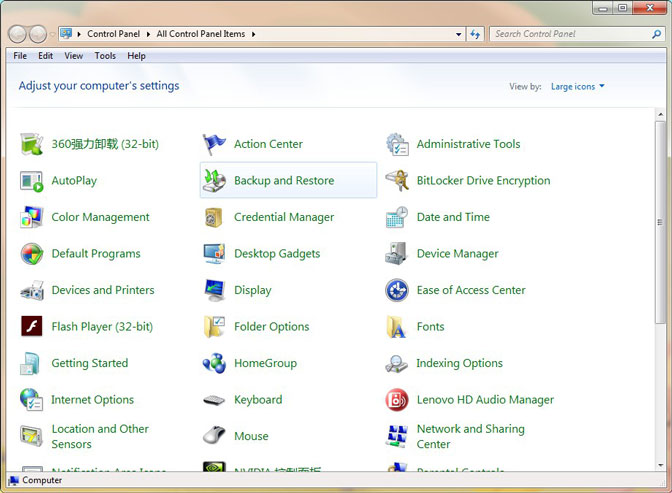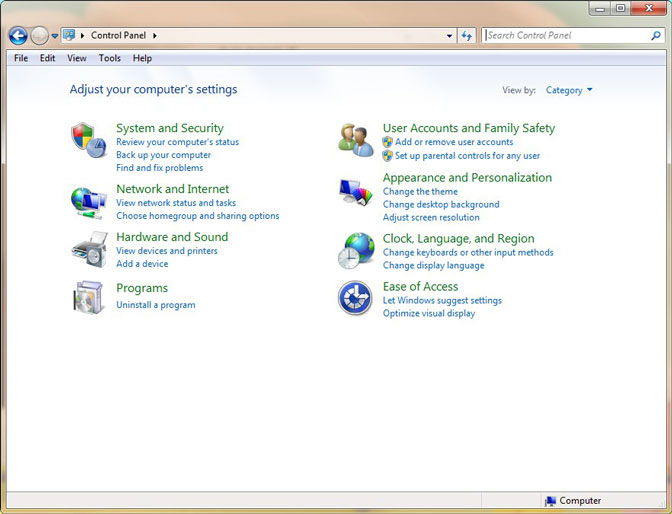 Tips: To Avoid Losing CCTV Footages
1. Apply Multiple Storage Options
It is wise to back up CCTV and DVR videos to a variety of storage devices other than your computer. That way we can recover the CCTV and DVR videos we want from other devices when something goes wrong with the computer.
2. Back-Up CCTV Footage & Other Files Regularly
If you're a regular backup CCTV and DVR videos, in the case of video to be deleted or lost, you won't be so nervous and caught off guard, we could once every month or every quarter a copy DVR or CCTV inside of video upload saved to the computer or other storage tools.
3. Be Aware of Recording Time of Your Security Cameras/Systems
Many CCTV or DVR memory cards have data storage caps. When the space in the memory card is exhausted, CCTV and DVR will automatically cover the new video to the original video, which will cause the loss of video data. So we need to back up the video before the memory card space is exhausted. We can estimate the general recording days of CCTV and DVR by resolution, bit rate and so on, to back up the video in time.
Conclusion
More than that, FoneLab Data Retriever can help you recover deleted video from computer, hard drive, pen drive, etc. In addition to video, it can retrieve deleted images from memory card, emails, documents, audios, and more data.
If you have more suggestion to restore deleted CCTV and DVR videos, please share with us.