Get Data Recovery Now
Recover the lost/deleted data from computer, hard drive, flash drive, memory card, digital camera and more.
USB Drive Partition Recovery – How to Recover Data from USB Drive Partition

Updated by
Valyn Hua
/ Jan 29, 2021 09:00
As the most common removable device, the USB flash drive is widely used to transfer and store data. Many people use USB to transfer photos, videos, music and documents from computer to computer. Some people install operating systems using bootable USB.
However, USB flash drive is more vulnerable than other hardware. Partition corruption is one of the most common issues that USB drive users may face. Similar to hard disks, we store files and data on partitions of USB drive. Some people even create more than one partition on their USB drives to store different data.

Once the USB partition is corrupted, damaged or broken, users cannot access their data. The good news is that the data is still saved on USB drive. In such situations, we cannot see or read our files without third-party software. This post will show you how to repair USB partition and recover lost data from a USB flash drive.
1. Why the USB Drive Partition Gets Corrupt or Go Missing
When you connect a USB drive to your computer but cannot find your files, it means the partition is lost. Sometimes, users will be presented the error messages or find the partition turns to RAW.
But what causes the USB drive partition corrupted? Knowing the reasons is important to recover lost data from USB flash drive.
Accidental deletion. Even professionals have troubles on managing their removable drive on occasion, not mention average people. Sometimes, users delete a partition by mistake. Accidentally formatting will clean an entire USB drive.
Virus and malware attack. As a removable device, we usually insert USB drive into various computers. That makes it easy to be infected and attracted by viruses. In result, the partition may be deleted or damaged.
Improper operations. Experts suggested that we should always use the Safely Remove Hardware icon to remove a USB. However, many people prefer to unplug their USB drives directly. That may lead to USB partition corruption too.
Bad sectors. USB flash drive is hardware too. As time goes by, there will be bad sectors. They may prevent your partition from being recognized by your operating system.
Power outages. A sudden power-off or power surge can cause various problems, including partition loss and hardware damage.
Frequently changing file system. It is well known that Windows and Mac OS X use different file systems. If you change file system too frequently, the partition may be corrupted as well.
No matter why a USB drive partition gets corrupted, you may be able to recover a lost partition if you act quickly after finding it is missing.

2. How to Recover Data from USB Drive Partition
When a partition is lost, the system will remove its assignment and wait for being overwritten by new data. As long as the location of the drive remains untouched, you still have the opportunity to recover the lost partition USB drive. Besides timing, recovery utility is another important element. It should have the capacity to effectively retrieve desired files.
Moreover, the procedure should be as easy as possible. That is significant for ordinary people. From this point, we recommend FoneLab Data Retriever.
Recover data from a USB drive partition in a single click.
Support a wide range of data types, like photos, videos, documents, etc.
Search for lost data in both Quick Scan and Deep Scan modes.
Preview lost files ordering by data types and formats.
Available to various situations, including bootable USB recovery.
In short, Data Retriever is the simplest way to repair a USB partition and get back lost data from USB drive.

FoneLab Data Retriever
FoneLab Data Retriever - recover the lost/deleted data from computer, hard drive, flash drive, memory card, digital camera and more.
Recover photos, videos, documents and more data with ease.
Preview data before recovery.
How to Recover Data from USB Drive Partition
Step 1Install Data Retriever on your computer
Download and install the simplest USB drive partition recovery tool on your PC. There is another version for Mac OS X. Make sure to plug the USB drive into your computer too. Then start the application.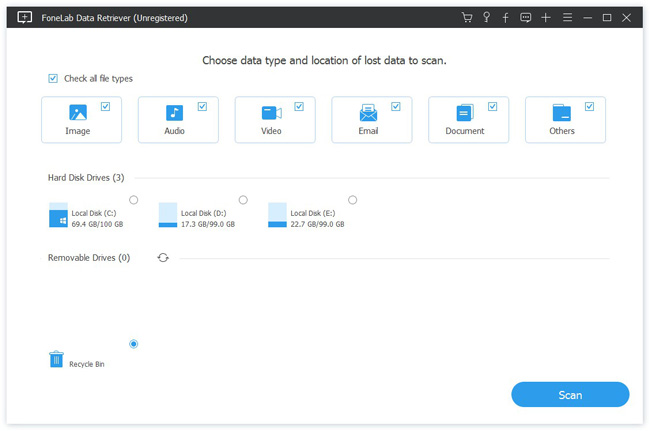 Step 2Search for lost files from USB drive partition
Locate the first section in the main interface and check the data types that you want to get back, such as Image. If you are not sure, tick the box next to Check all the types. Then navigate to the Removable Drive section and select your USB drive. Click on the Scan button to search for lost files on your USB drive.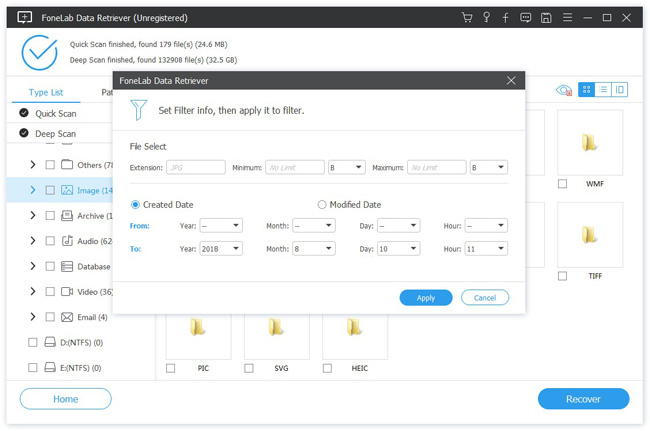 Step 3Recover corrupted USB drive partition
When the scanning result window shows up, you can preview lost files. To look at lost photos, for example, click the Image tab under the Quick Scan option on left side. Then you can see several folders appear on the right panel naming JPEG, PNG, etc.
The Deep Scan mode will find more lost data. After selecting all files you'd like to recover, click on the Recover button. Data Retriever will do rest work.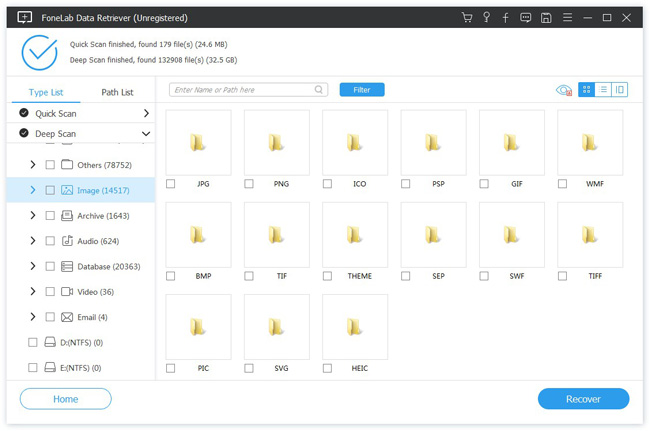 Note: If there are too many files on your USB drive, hit the Filter button next to the search bar. Then you can find the desired files according to Extension, size, Created Date and Modified Date.
Conclusion
Recover data from USB drive partition is not a simple task. Fortunately, some developers have launched easy-to-use tools, such as FoneLab Data Retriever.
It is not only available to corrupted USB drive partition, but also able to recover data in the original format and quality. On the other hand, you should follow some tricks to increase the possibility of data recovery.
First of all, stop using the USB drive immediately. That could prevent the partition from being overwritten by new data. Bear in mind not to format your USB drive, even though the warning message tells you to do so.
Formatting may erase your files on the corrupted USB permanently. More importantly, you should use a powerful tool to recover the drive partition, like FoneLab Data Retriever. We hope that our guide is helpful to you. And if you encounter other troubles when recovering data, please leave your message below this post.