Efficient Methods to Transfer Data from Pixel to Pixel Easily
I got a new Pixel phone, as my old one is getting laggy after a few years of usage. Now, I need to transfer all my data, but I don't have an idea how to do so successfully. Is there anyone who can help me on how to transfer data from Pixel to Pixel?
When getting a new phone, one of the first troubles you encounter is transferring the files from the old one. Some people may not find this a problem because they would rather not move their files. But even if you'd rather not, you still need the contacts, messages, and other necessary data to be moved to your new phone. Hence, you need an effective transfer method, especially if you want to transfer everything efficiently. Now, you must know there are different ways to transfer data on different devices. So in this article, we will focus on the ones that work on Google Pixel devices.

After analyzing the matter, we looked at several transfer methods from different platforms on the internet. As a result, the most effective ones are now listed in the parts of the article below. Don't worry if you prefer using a third-party tool, your Google account, or a USB cable. This article has prepared everything to help you move your data from one Pixel to another. In addition, step-by-step guides will assist you in performing the process. Carry on reading below to start.
Part 1. Transfer Data from Pixel to Pixel with FoneLab HyperTrans
If you need a tool capable of transferring all your Pixel data easily and quickly, FoneLab HyperTrans is the solution you've been looking for. The data this program can transfer various data includes your videos, documents, ringtones, photos, audio, messages, contacts, and more. And aside from moving data from Pixel to Pixel, it can also transfer files across other iPhone and Android devices, like Samsung, Sony, LG, Nokia, HUAWEI, Xiao Mi, etc.
Pay attention to the straightforward steps below for Google Pixel file transfer with FoneLab HyperTrans:
Step 1Download the FoneLab HyperTrans software file for free by accessing its official site. And on the left area of the page, select the Free Download tab. Open the file, and when the program window appears, you can begin the installation and run the transfer program on your computer.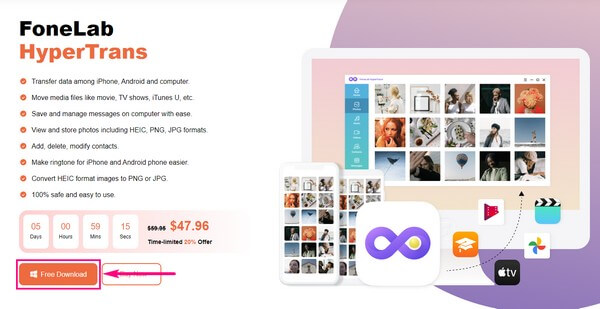 Step 2The program's home interface will be displayed and require you to connect your devices. You can use two USB cables to attach the Pixel devices to the computer or a Wi-Fi connection.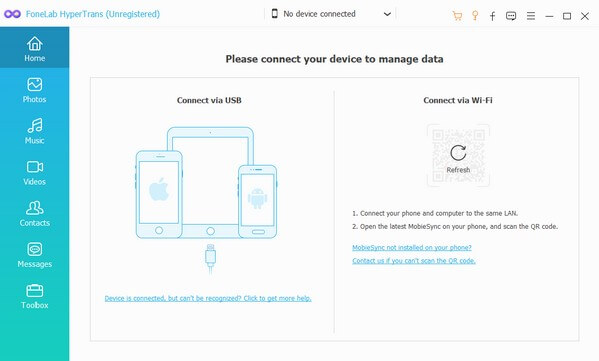 Step 3Once connected, click the pulldown bar at the top and select your old Pixel to serve as the source device. Its files will then show up when you click the data types on the left part of the interface. If you wish to transfer everything, just visit each data type and click the Check All option to select all your files and other data.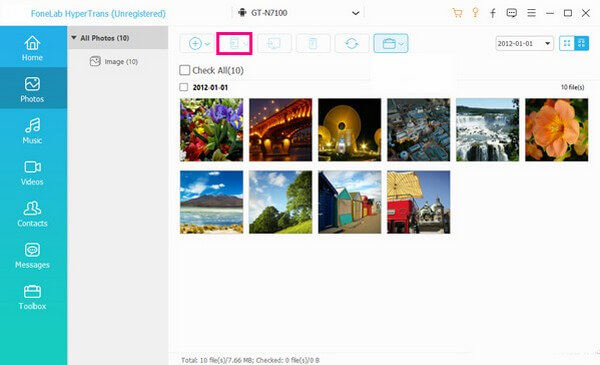 Step 4After choosing your data, click the tab with the mobile phone icon from the list of options on the upper interface. Once it reveals the connected devices, click your new Pixel device. All the files you selected will then start transferring to it. Be careful not to disconnect your devices from the computer to avoid interrupting the process.
Part 2. Transfer Data from Pixel to Pixel with USB Cable
In this method, you can use the USB cable and Quick Switch Adapter that comes with your new Pixel. You don't need to download other apps, as Pixel phones already have a data transfer app installed on the system by default. Just note that you can only perform this method right after setting up your new phone. So if it's not new and you only need to transfer some files to your old Pixel, try the other methods in this article.
Pay attention to the straightforward steps below to transfer data from old Pixel to new Pixel with a USB cable:
Step 1Turn on your new Pixel phone and set it up. Don't forget to connect it to the internet. Once you reach the "Copy apps & data" screen, tap Next.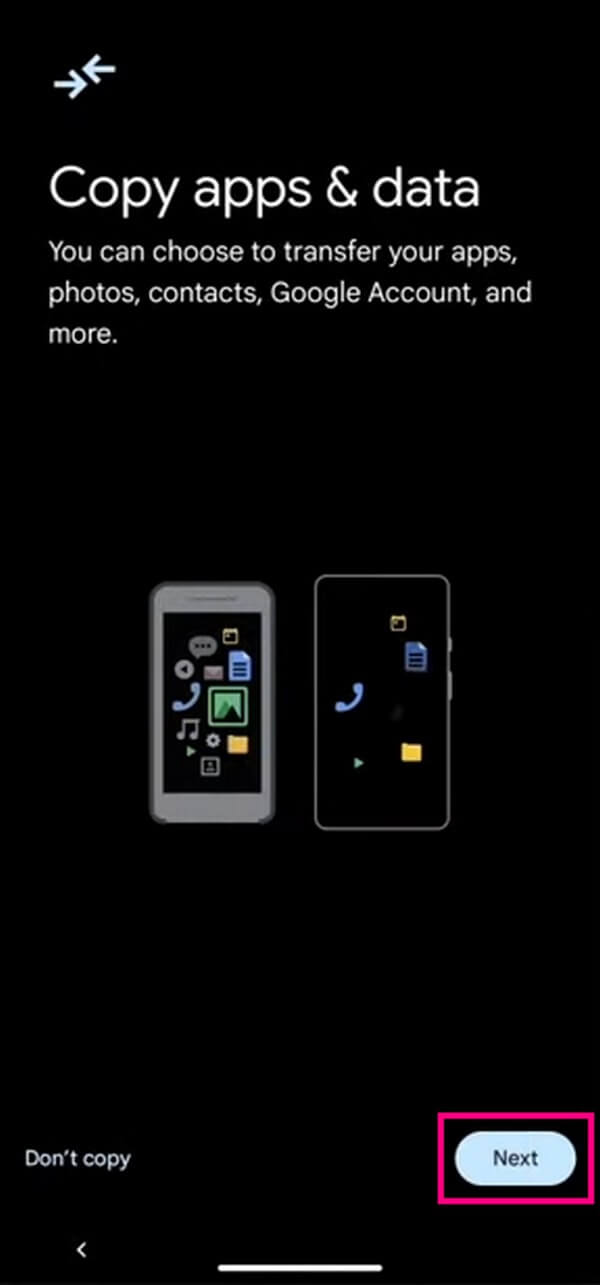 Step 2After that, unlock your old Pixel phone and connect it using the USB cable and Quick Switch adapter to the new phone. Allow the permissions for connection on your old phone's screen.
Step 3Returning to the new phone, sign in to your Google account, and choose the data types you want to copy. Lastly, tap Copy to begin transferring your data to the new Pixel.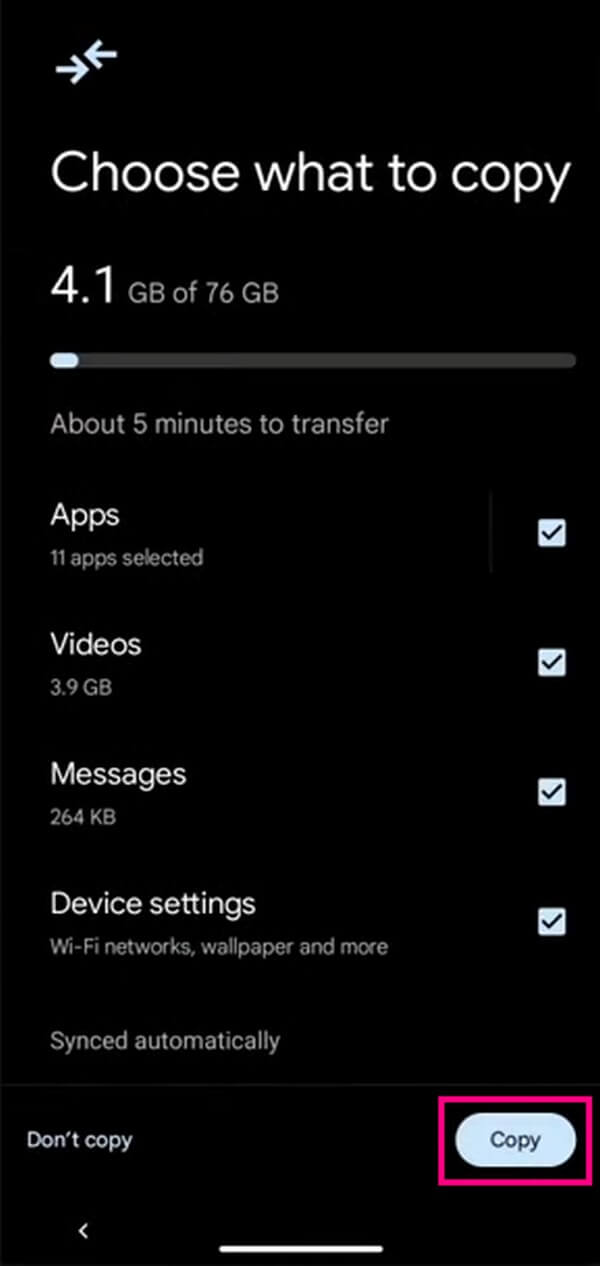 Part 3. Transfer Data from Pixel to Pixel with Google Account
Using a Google account is another way to transfer your files from Pixel to Pixel. Google offers a storage service where you can store your files using the Google Drive app. However, this method doesn't support some types of data in the transfer. Thus, all you can upload in Google Drive are photos, videos, audio, documents, etc.
Pay attention to the straightforward steps below to transfer data from Pixel to Pixel with a Google account:
Step 1Open the Google Drive app on your Pixel device and log in to your Google account.
Step 2Upload the files you need to transfer by tapping the plus icon on the lower right part of the screen.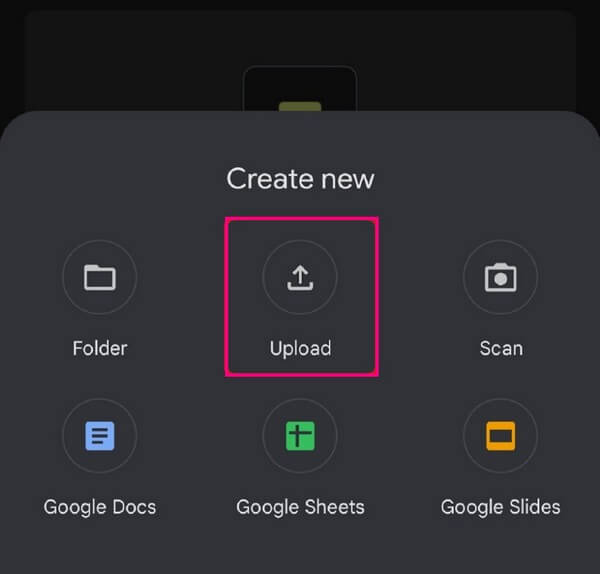 Step 3Open the Drive on the receiver Pixel device, then log in to the account you used to upload the files. This will let you access the files on the receiver Pixel.
Part 4. FAQs about Transferring Data from Pixel to Pixel
You can find several transfer tools and methods online, but only a few can do the job efficiently. Luckily, you have discovered FoneLab HyperTrans, which can help you transfer data professionally.