Recover iOS Data Now
Recover your data from iPhone to computer easily.
iPhone Data Recovery - Restore Safari Bookmarks from iCloud
What happened to my safari bookmarks? Somehow all my safari bookmarks disappeared from my iPhone. These lost bookmarks in safari are materials that I prepared for my new books. How do I get my bookmarks back on safari?
Safari is no doubt a useful iPhone built-in app, which allows you to easily surf the internet. Many people like to bookmark the helpful webpage in order to facilitate reading later.
But it is really frustrating for users to accidentally lose important bookmarks. What to do when you encounter the same question as above case?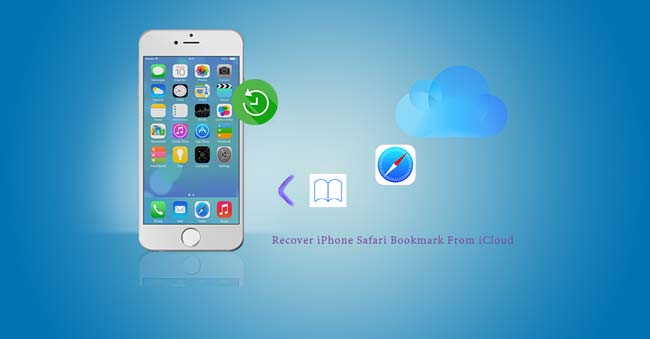 You may have similar question: how to restore safari history from iCloud.
Beyond all question,
It is quite significant to back up your iPhone regularly because it gives you a chance to recover old data.
Here, I'd like to share 4 ways to recover safari bookmarks with iCloud.
Before you get started, you can try below little tricks first.
After each step, check to see if the problem still exists.
Make sure the date and time settings on your device are correct. You can easily fix issues by entering the right information.
Restart Safari: close and restart the Safari app on your iPhone.
Restart your iPhone.
1. Merge Safari Data with iCloud
iCloud can store data and let them sync between your Mac, iPad or iPhone. If you have set the Safari with iCloud, your bookmarks will appear across all of your devices.
But in the offline state, data deletion will not change the data on iCloud. This means that if you have lost your Safari bookmarks for some unknown reasons, you may be able to get them back.
Turn off iCloud Bookmarks and turn it back on to merge data:
Step 1Go to Settings on your iPhone and tap [your name] > iCloud.
Step 2Turn off Safari and choose Keep on My iPhone.
Step 3Tap Add Person, then enter their email address.
Step 4Wait a few minutes, then turn on Safari again and tap Merge.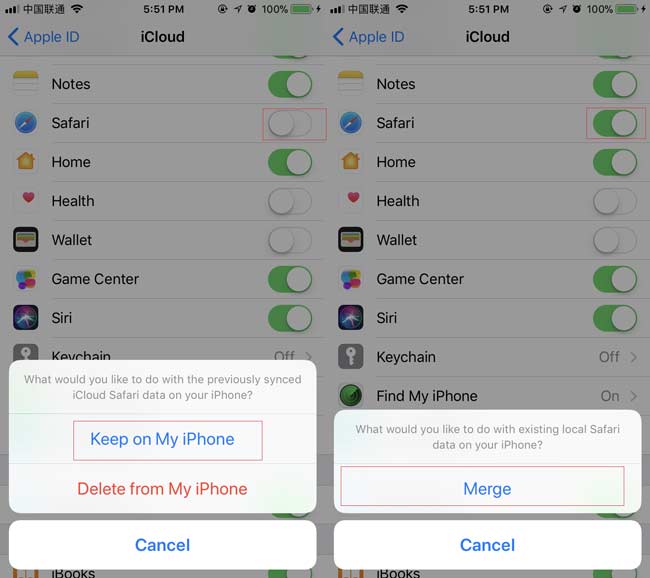 Tip: If you are not sure the safari data has been stored in iCloud, you should not merge the data. This operation will overwrite the missing data, making it impossible to recover bookmarks from iPhone directly without backup.
Alternatively, you can find the synced data from other iOS devices that use the same iCloud ID.
2. Get Data from iCloud on iPhone Device
Those users, who have sure backed up the deleted safari bookmarks to iCloud, can read following steps to learn how to restore deleted safari bookmarks from an iCloud backup.
Please note that this way will cause your iOS device turning back to factory default. Therefore, you'd better backup the current data first.
Step 1On your iPhone, go to Settings > General > Reset> Erase All Content and Settings.
Step 2Wait for the erasing process to complete. Once it is done, your iPhone will restart.
Step 3Follow the onscreen steps to set it up as when you just buy it.
Step 4Choose an iCloud backup on the Apps & Data interface to restore your iPhone.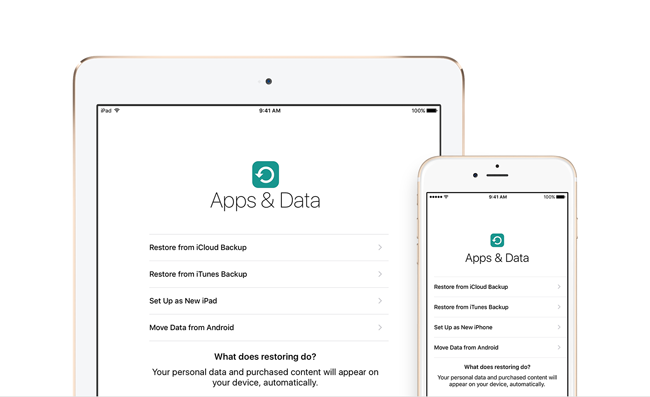 3. Recover Safari Bookmarks from iCloud on Browser
The deleted bookmarks will be archived within 30 days. That is to say: You can access bookmarks that you deleted in the last 30 days.
It requires that the automatic backup on your iPhone is open.
Step 1Go to iCloud.com on the computer.
Step 2Sign in your iCloud account with Apple ID.
Step 3Navigate to Settings > Advanced > Restore Bookmarks.
Step 4Click Restore next to the date of backup.
Step 5Click Restore again to confirm. Please note that all your current safari bookmarks will be replaced by your chose backup once the restoration is complete.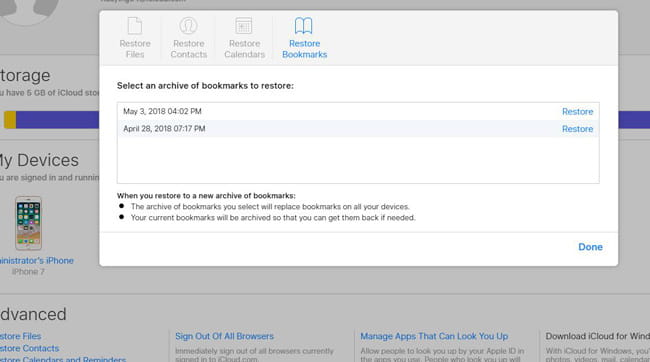 4. Extract Safari Bookmarks from iCloud with FoneLab
Has your problem solved? Maybe you need a data recovery helper. FoneLab – iPhone Data Recovery is a professional iPhone backup extractor, which you can rely on.
The reasons why it is highly recommended.
It can retrieve your lost files including photos, contacts, videos, and more from iOS device while keeping the current ones intact.
It Allows you to preview contents before the recovery and pick what you want to recover.
It helps you extract data from iCloud backup or iTunes backup.
It enables you to recover deleted safari bookmarks on iPhone.
It supports you to recover safari bookmarks on iPad.
How does it perform?
Step 1First of all, you need to download and install the software on your computer.
Step 2Wait for the software to launch automatically.
Step 3Select iPhone Data Recovery > Recover from iCloud Backup File on the interface.
Step 4Log in your iCloud account. In addition, you need to turn off Two Factor Authentication, if it is open.
Step 5Look at the list of the backup. According to the date of each backup, pick one to download and click Start Scan.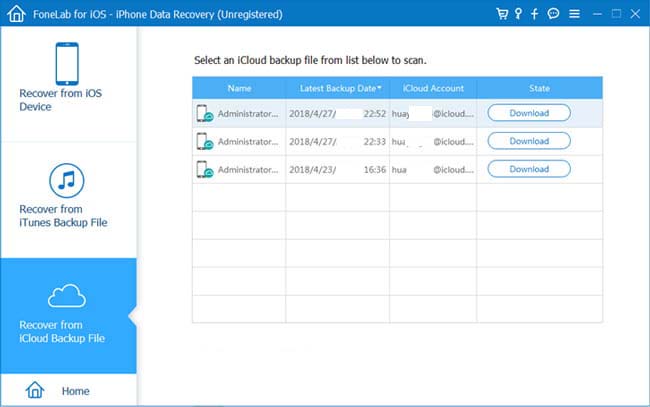 Step 6Click Safari Bookmarks to preview contents.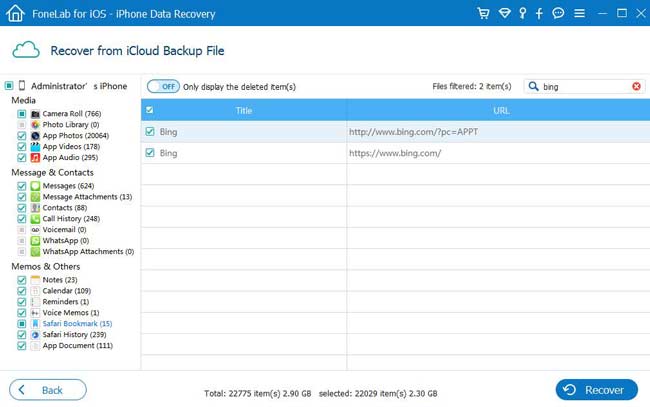 Step 7Select the items that you need to recover. The retrieved safari bookmarks will be saved to your computer.
How easy it is to use! It also enables you to get deleted data without backup. Learn more about how to check deleted history on iPhone with FoneLab and how to restore notes from iCloud.
Why not free download the software and get a 30-day trial before paying for it?