Recover iOS Data Now
Recover your data from iPhone to computer easily.
[Newest] 3 Simple Ways to Restore Notes from iCloud on iPhone
I have always had the habit of keeping a diary, sometimes the Note app on my iPhone serves as my diary. Somehow, my notes disappeared from my iPhone for unknown reasons. Can anyone help me get iPhone note back?
Many iPhone users tend to use Notes app to record some scattered information like daily schedule, to-do list, shopping list or just a simple thought. This app also allows you to add a photo, map, URL, handwriting to a note, and even create a table. Moreover, It also has a humanized function that allows you to lock notes on iPhone to protect personal musings.
However,
There are various reasons for data loss on iPhone, such as accidental deletion, a failed jailbreak, iOS upgrade, iTunes or iCloud synchronization, etc.
Whatever caused notes loss, such a desperate situation could drive you crazy. When you are stuck on this problem, the only thing you want to know is how to retrieve notes on iPhone.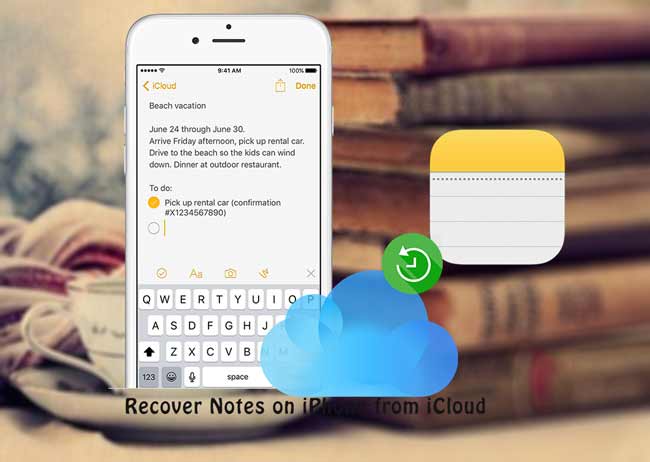 Luckily,
Apple introduces a tool known as iCloud to store and back up your data on iPhone, giving users a way to recover notes on iPhone.
Let's see how to recover the deleted notes with iCloud.
If you enabled Notes Using iCloud, you might get back them through method 1.
If you backed up your phone just before the notes were deleted, you can choose method 2.
If you are not sure that your backup file contains the deleted note, the method 3 can help you to access the content of your backup file and recover your desired notes.
In addition,
Even though you don't have any backup, it is achievable to recover notes from iPhone device directly. FoneLab – iPhone Data Recovery is able to find the deleted data by scanning the device. The premise is that your iPhone can work properly.
1. Retrieve Deleted Notes on iPhone from iCloud Website
If your deleted notes were stored in iCloud Folder of Notes app before, this method may be useful for you.
Over Wi-Fi and cellular network, the notes saved in the iCloud Folder will be synced automatically to iCloud. But in the offline state, changes of the notes on your iPhone will not be updated to the iCloud. That means It's possible that get back lost notes from a synchronized file.
When your notes lose suddenly, no matter for what reason, You can try this way first.
Be warned: please don't re-sync on iPhone device. This might result in that FoneLab cannot find the deleted data by scanning the device. The safest way is to find them on iCloud website.
Step 1 Visit the iCloud.com.
Step 2Sign in your iCloud account.
Step 3 On the main iCloud menu, click on the Notes icon.
Step 4 See if your required items are still kept here.

Have you seen the Recently Deleted folder in the Notes app or on iCloud website? You can retrieve notes that you deleted within the last 30 days here.
2. Recover Notes from iCloud on iPhone
It is a good habit to make a backup often. That will save you a lot of trouble when you are in urgent need of a deleted file.
Step 1 Erase all data on your iPhone. Before taking this step, you can back up the current data in case of additional loss. Tap Settings > General > Reset > Erase All Content and Settings on your phone.
Step 2 Wait for the iPhone to restarts automatically.
Step 3 Set the date, location, language, etc, until reaching the Apps & Data interface.
Step 4 Choose Restore from iCloud backup.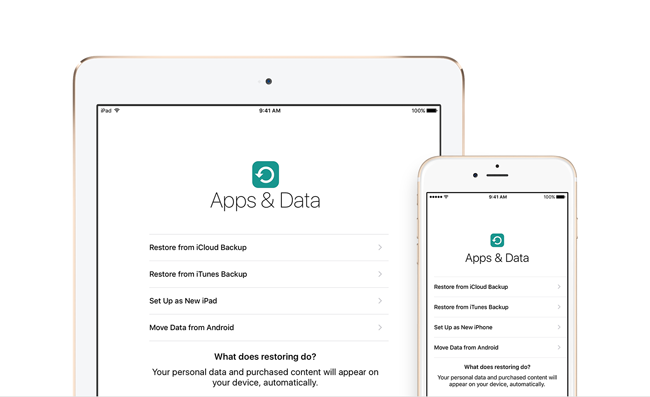 Step 5 Enter your iCloud account and password. Then pick the most relevant one from the backup list to restore.
Step 6 Wait for recovery time to complete. It will take you a few minutes to an hour.
3. Retrieve Notes from iCloud with FoneLab
The most ideal way is to let you preview the content of backup files and select only your required notes to recover.
It seems like an impossible task, unless with the help of a third-party tool.
FoneLab – iPhone Data Recovery is a professional iPhone backup extractor, which can do all this.
Below is a user guide.
Step 1 First of all, you need to free download and install the software on your computer with the above links.
Step 2 Once the installation is done, the program will launch automatically.
Step 3Select iPhone Data Recovery > Recover from iCloud Backup File on the interface.
Step 4 Log in your iCloud account.
Step 5 All the backup files will be listed in the table. Download one and click Scan.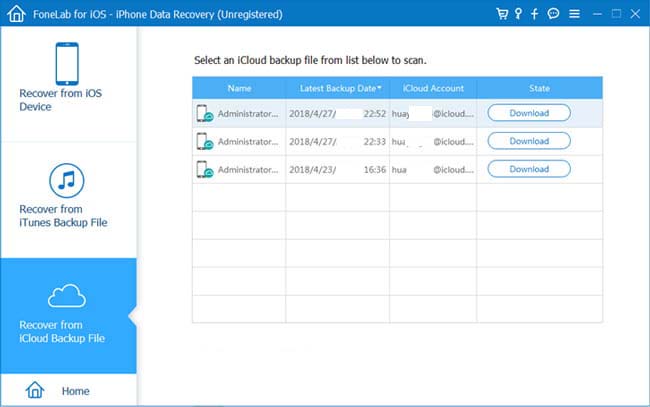 Step 6 Click Notes on the left sidebar to preview the details.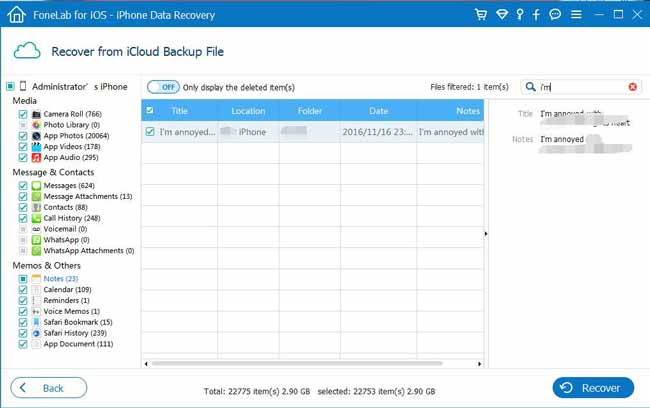 Step 7 Check the items and click Recover. The retrieved notes will be saved to your computer in the format of HTML.
It is also an available way to retrieve documents from iCloud. Moreover, you are allowed to recover deleted notes on iPhone directly if you want.
The software allows users to free try it for 30 days, so you can use it to recover iPad notes, restore app data to iPad, too. Before you pay for it, you can use this software to see if you have a chance to get your deleted data back.