Recover iOS Data Now
Recover your data from iPhone to computer easily.
iPhone Backup Extractor: How to Extract Data from iPhone Backup
Just imagine a situation:
One day, you delete the phone number of the hot girl you met yesterday by mistake. What you want is to recover the number quickly. But you finally find that you cannot just restore and even preview the number from your backup. Are you wondering: how do I access iCloud backup?

Besides,
You are not going to backup and restore iPhone.
As we know...
The iTunes backup file is not a common file, but a SQlitedb file. It means that it is not readable. So even you find the backup file, you can't extract photos from iPhone backup, and restore to your iPhone.
Unfortunately,
To restore from backup requires you to reset the whole device, which might bring a large level of inconvenience. This is why the iPhone backup extractor comes out.
Well,
There is another thing you need to pay attention. At the first place, don't sync your iPhone with iTunes after you find data loss on your device. Once you plug your iOS device into your computer, iTunes will automatically launch and sync. It will just update the backup file instead of building a new one. You can also extract music from iPhone.
Extract iPhone Backup File and Recover iPhone (iOS 11) Data in Steps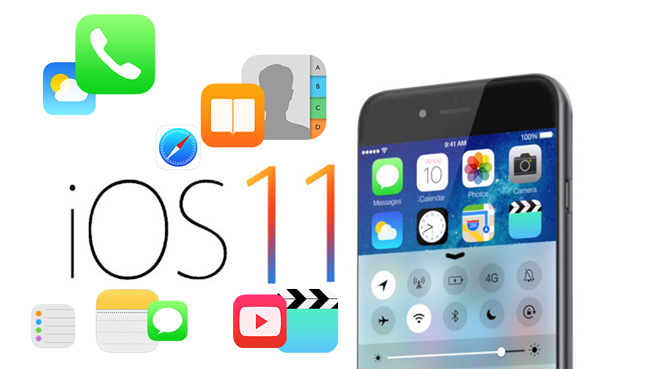 Now,
We highly recommend a reliable iOS backup extractor, Aiseesoft FoneLab. It has two versions both for Mac and Windows users. This software enables you to extract the iTunes backup file and preview contacts, SMS, photos, videos, calendar, notes and call history in details. And you can use the iCloud backup file instead of restoring backup from iTunes.
Moreover, this program also permits data recovery data for iPhone according to your needs.
1. Extract Files from iTunes Backup
iTunes is a media management software created by Apple Inc., for both windows and mac operating systems. It is used to play, download and organize digital downloads of music and video on your computer or sync them to a portable device. And it is fully supports iPhone, iPad and iPod touch, so it is conveninet to backup data with iTunes to prevent data loss.
How to Backup iPhone with iTunes?
Three steps:
Step 1Launch the iTunes on your computer which you have backups, then connect your device with USB cable.
Step 2Click the device icon, then Summary on the left panel.
Step 3Click Backup Now from the Backups section.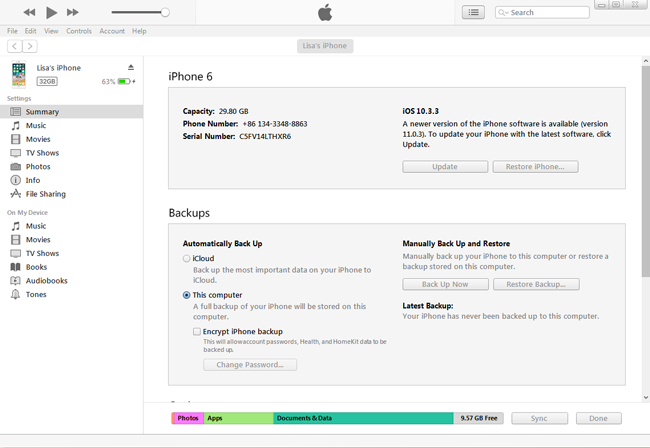 This part requires that you turn off Find My iPhone firstly. Please go to Setting > iCloud > Find My iPhone to turn it off. The the backup procedure will be finished soon.
You might agreed with:
Most iPhone users have no idea about how to restore data from iTunes when they lost their data. Actually, it is easy to get the data back if you have backup your iPhone with iTunes before. Follow below simple demonstration and have a try.
Step 1Find Summary with above-mentioned way.
Step 2Click Restore Backup from the right section.
Step 3Choose which backup you want to restore and Apply.
Do you think that it is too inconvenient to manage your data with iTunes on computer? You will like the following way if you did.
2. Extract Files from iCloud Backup
The answer is iCloud.
Apple encourages everyone to have regular backup for an iPhone, iPad and iPod. iCloud must be your favorite tool to backup your iPhone data if you think that using iTunes is too complicated because it requires computer. This will show you how to backup iPhone with iCloud.
Step 1Connect your iPhone with Wi-Fi.
Step 2Turn on iCloud backup.
iOS 11 and later: Settings > [your name] > iCloud > iCloud Backup iOS 10.2 or earlie: Settings > iCloud > Backup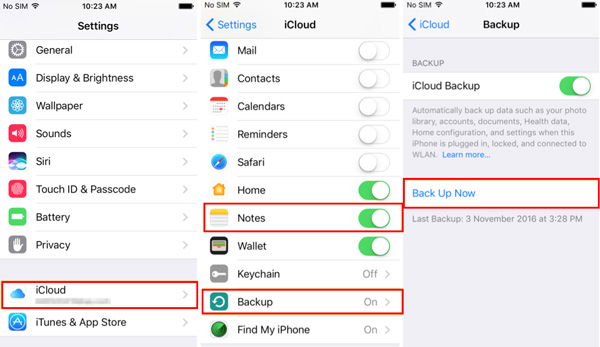 Step 3Tap Back Up Now on the Backup section.
So your data on device have been synced to iCloud now. Whenever you back up your data to iCloud server, iCloud keeps nearly all of your device's data and settings, such as photos, messages, notes, bookmarks, etc. It is helpful when you want to restore your data to a device or set up a new device.
Step 1Go to Settings > General > Reset > Erase all content and settings to reset iPhone data.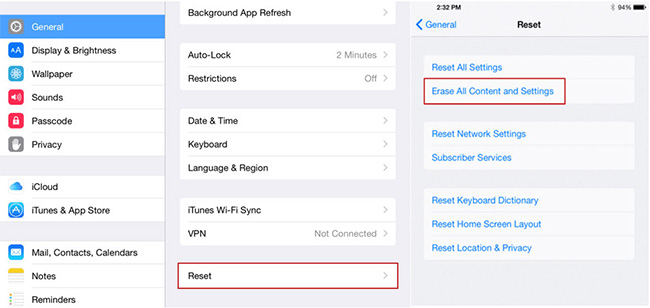 Step 2Tap Restore from iCloud backup on the Apps & Data screen.
Step 3Choose the backup you expected to be restored from.
Please keep in mind:
Because you have to recover all backup data, the new data store on your device will be overwritten by backup file. If you don't like what I say, FoneLab iPhone Data Recovery is strongly recommended to you. The data which loss with unknown reason or deleted accidentally are still stored on your device but unvisiable for you. So the data can be recovered if you use a professional and powerful data recovery tool to deal with it.
3. Extract Files with FoneLab
Way 1. Extract Files from iTunes Backup
Step 1Download the program on your computer.
First of all, free download Aiseesoft FoneLab for iOS, an iTunes backup extractor. And then, install and launch it on your computer.
Please don't connect and sync your iPhone with iTunes after you lost data on the device, to prevent lost data from being overwritten.
Step 2Scan your iTunes backup.
Once you connect your iPhone to the computer, this software will scan out the backup files. It will not take a long time. Click iPhone Data Recovery > Recover from iTunes Backup Files. Then you need is to choose the right device backup file and move to Start Scan.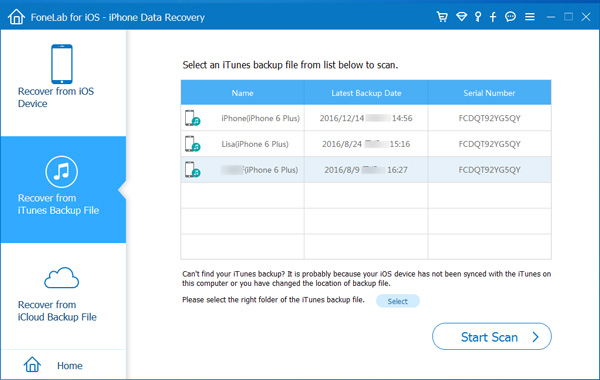 Step 3Extract backup of iPhone and recover data.
After scanning, all the content in the iTunes backup has been displayed. All of them can be previewed and checked by this iPhone backup viewer. After preview, check those you want to extract and hit to Recover and save them.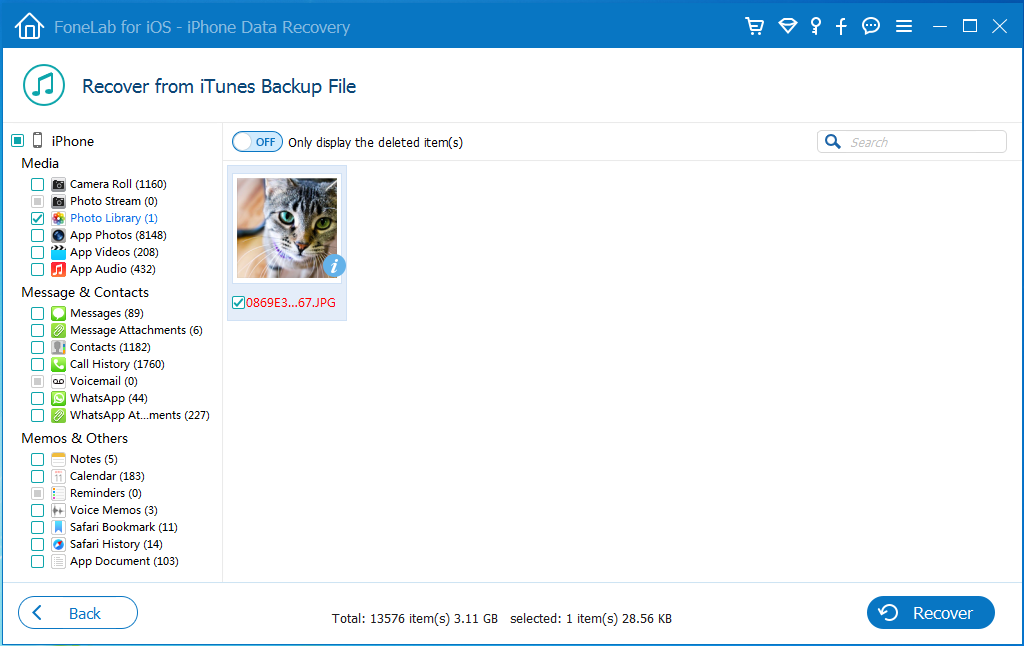 Step 4Do remember to backup iPhone.
To avoid losing data from your iPhone (including iOS 11 devices), do remember to backup iPhone on your computer or Mac to get the data back while losing data from your iOS equipment.
What's more,
You can use Aiseesoft FoneLab for iOS to perform the backup extracting in similar steps.
Additionally,
This software enables you to directly scan what you need and restore from iTunes Backup. It is so helpful for iTunes backup and restore.
Way 2. Extract Files from iCloud Backup
Step 1Log into your iCloud account.
After running Aiseesoft FoneLab for iOS, select Recover from iCloud Backup Files. Then, enter your iCloud ID to log in.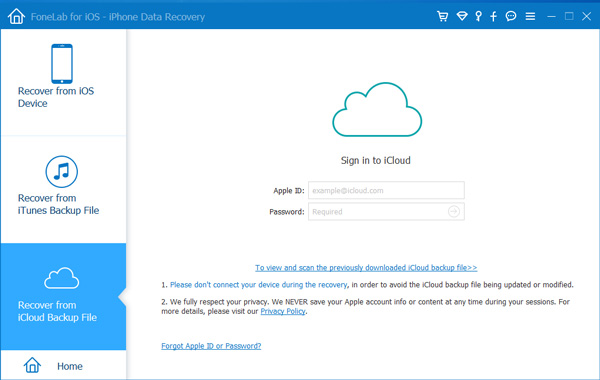 Step 2Download and extract the required iCloud backup.
Once you've logged in, a list of backup files will be under your iCloud account. Select the iCloud backup file that you decide to extract. Then click on the Download button to get it off.
When it's complete, click the Scan Downloaded button to run this iCloud backup extractor.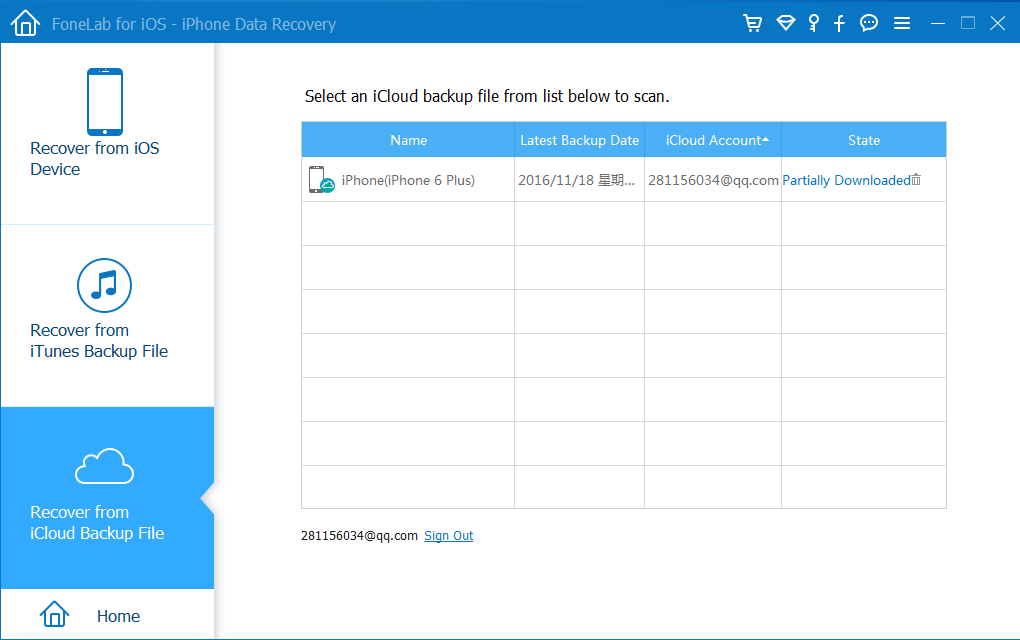 Step 3Scan the iCloud backup and recover the files.
After that, you can preview by this backup extractor, to see if the file integrity is kept intact. Once the process is completed, you just choose to Recover the files and complete the recovery process.
For example, you can recover notes from iPhone or retrieve photos from iCloud backup. Then, you will be fully satisfied with the outcome.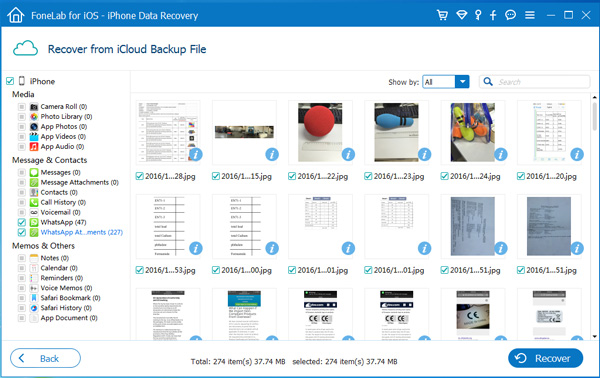 Way 3. Extract Files from iPhone Device
What's next?
Instead of recover data from iPhone backups, get data back from iPhone directly.
Step 1Connect your iPhone to the device with USB cable, choose the first mode Recover from Device.
Step 2Click Start Scan.
Step 3Choose the items you want to recover and click Recover button on the right-bottom corner.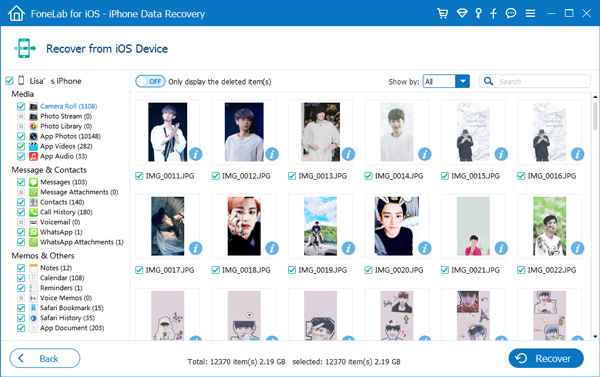 Conclusion:
As you can see, there are multiple ways you can use to extract your favorite items from your backup.
But,
With iPhone backup extractor,you can restore what you want and even the deleted files from the iTunes backup or iCloud backup easily.
We promise you that our iPhone data extractor will be safe and efficient.
We recommend you that you choose Aiseesoft FoneLab for iOS as this is the only professional way that will help you recover your files quickly without having to restore the whole phone.
Aiseesoft FoneLab for iOS will be useful for iPhone backup and restore.
You can also use the software to restore iPad from iCloud backup or extract iTunes backup for iOS device. The most advantage is that you have an option to recover only what you want, comparing with common recovery way via iTunes or iCloud. And you will not lose your existing data. Certainly, it is achievable to restore bookmarks in safari or other iOS data.