5 Best Free Online Screen Recorders to Capture Screen Videos with Audio Files
To capture some simple video tutorials, a Skype call or even a gameplay file, you can learn more about the 5 best online screen recorders to capture the desired videos with ease. Whether you need to record the videos without extra software, or just have a limited budget, you can learn more about the features about the free online screen capture tools and choose a suitable one according to your requirement.
1. Top 5 Online Free Screen Recorders
Which should be a suitable online screen recorder? If you need to capture screen videos for your desktop without extra program, you can learn more about the features, such as poor output quality, limited features, watermark, ads and more.
Top 1: Screencast-O-Matic
Screencast-O-Matic is a popular online screen recorder, which you can get all basic features as other screen recorders, such as webcam capture. Though it has some limitation for the recording time.
Pros
Record screen video, webcam footage, microphone audio and more.
Capture any region of screen and multiple audio sources for free.
Produce high-quality screen video recording up to 720P with ease.
Upload screen recordings to social media, such as YouTube and more.
Cons
The maximum recording length is 15 minutes.
It lacks of some essential video editing features.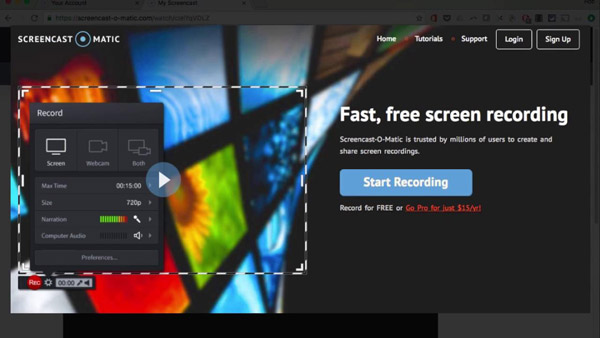 Top 2: FlexClip Screen Recorder
FlexClip is another free online screen recorder that allows you to capture screen and audio simultaneously. It does not require any extra plug, or add watermark to your screen recording.
Pros
Record screen videos and edit the recorded files instantly with ease.
There is no need to download extra plugin or file for screen recording.
No watermark for the output video, or have the sign up requirement.
Cons
It can only record screen in 480P with limited editing features.
Though it does not limit recording length, it will become laggy.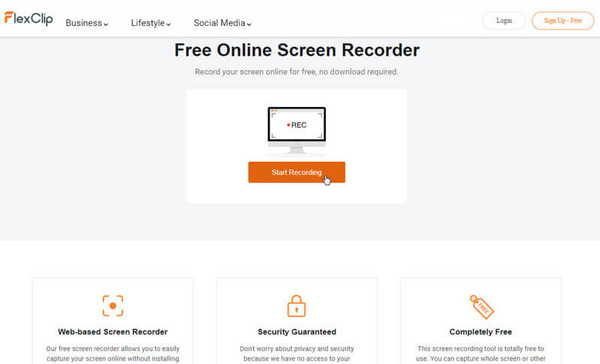 Top 3: Bewisse Screen Recorder
Bewisse Screen Recorder is another online screen recorder without any limitation, such as installation, watermark or time limit. It is a good option for beginners, since you can find all features on the toolbar.
Pros
There is no need an installation or login for recording screen video files.
Record screen as long as you want without any watermark on the output.
Enables you to record screen videos through webcam and microphone.
Take screenshots while recording the screen videos.
Cons
You have to sign in account if you want to share recordings.
It only provides some limited editing features.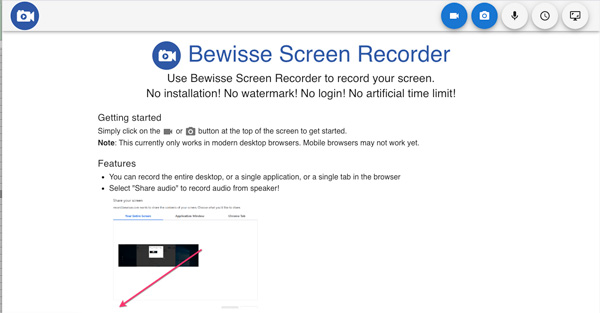 Top 4: Hubcap
Hubcap is an easy way to record screen with audio online. As for the screen recording, you can simply create a video link, so that you can share it to social media. The web app stores your recordings for two weeks for free.
Pros
Free screen recorder without installation with easy to use user interface.
Support microphone capture and produce video line for screen recording.
Works magically within Chrome or Firefox within clicks.
Cons
It only allows you to record screen 5 minutes without a full version.
There is no video editor to polish the recording videos.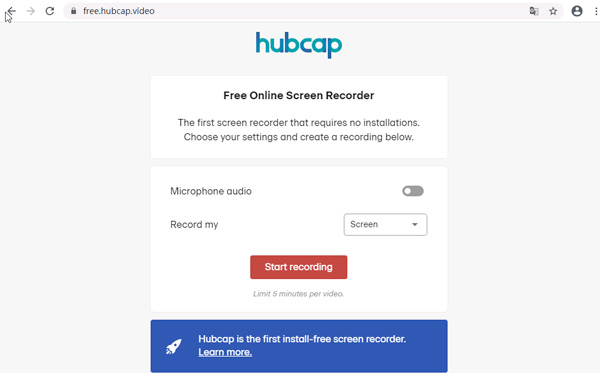 Top 5: ClipChamp
ClipChamp is more than an online screen recorder, but also a video recorder. It is able to record your screen or videos in browser easily. The built-in video editor is also available to polish the recorded video.
Pros
Record screen video with audio files from multiple sources with ease.
Record, edit and export in a few simple steps without downloading.
Provide the basic video editing features to touch up the screen recordings.
Cons
You have to sign up an account with your information.
It is more difficult to use than other online screen recorders.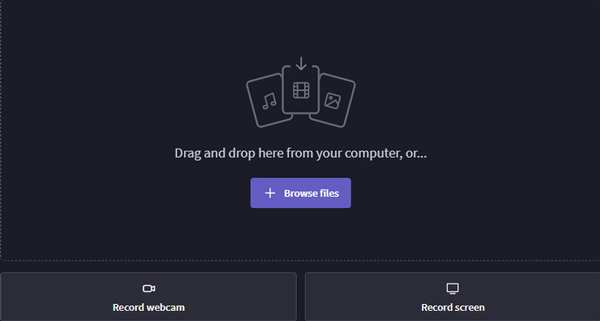 2. The Best Online Screen Recorder Alternative
There are some downsides for the online screen recorder programs, such as the limited features, recording length and more. What is the best alternative to online screen recorder? FoneLab Screen Recorder is a versatile and powerful screen recorder to capture all onscreen activities, such as screen videos, microphone voice, system sound and more others. Moreover, you can also tweak the video/audio settings, add annotation/shapes/mouse cursor, or even edit the recording files with ease.
Record screen videos, gameplay, online videos, system audio and more.
Add your reactions and webcam footage to screen recording in real time.
Tweak the frame rate, FPS, video quality, video codec, audio settings, etc.
Edit and manage the recorded videos, such as play, delete and share.
How to Record Screen on PC or Mac
Download and install online screen recorder alternative, you can launch the program on your computer. Then choose the Video Recorder menu to record onscreen activities. If you want to set up the custom options, you can click the Settings button to open Preferences dialog.

Turn on the DISPLAY option and set the recording region based on your need, such as full screen or custom region. If you want to add your face cam to the screen recording, you can enable the Webcam option. Of course, you can also choose the audio source as desired.

Click the REC button to begin recording screen. During the screen recording, you can take screenshots or add paintings and text with the features on the toolbar. When screen recording is done, click the Stop button to open it in the preview window.
Here you can check the screen recording and click the Save button if you are satisfied with the recording. Then follow the onscreen instructions to export it to your hard drive. If the screen recording contains unwanted frames, cut the desired video with the Clip feature.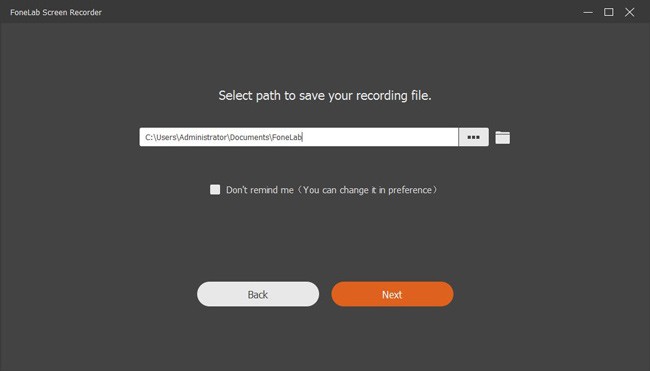 3. FAQs about Online Screen Recorders
1. Is There An Online Screen Recorder for Mobile?
No. Most of the online screen recorders are available for your computer. When you want to capture the screen video of your smartphone, you can simply mirror the screen of your smartphone to a computer to capture the desired videos without extra software.
2. Why Cannot Capture Screen Videos Online?
If you need to record the videos online, you might need to install some plugin or even the Flash Player to install the software. Of course, make sure there is enough storage and RAM files, a stable Wi-Fi connection and more other settings for system sound.
3. Is There A Work Around for the Limitations of Online Screen Recorder?
When you have to record an online meeting, or a large-screen video, you can simply divide the task into different parts. Then you can use the online screen recorder to capture the videos with the original video quality and combine them with a professional video editor later.
Conclusion
The article shares 5 best free online screen recorders to capture the desired videos. Most of them do not require installation or signup. Moreover, some of them provide a basic video editor. When you want to use an all-in-one screen recorder, you can use FoneLab Screen Recorder as the best online screen recorder alternative.
Related Articles:

Leave your comment and join our discussion