How to Make a Tutorial Video by Recording Your Screen and Face
What to do if you can't use Photoshop, iMovie or other software? Search how-to videos on YouTube, right? You can see many tutorials and how-to videos on YouTube, Vimeo and other video-sharing platforms. Some YouTubers even create technical channels to teach you how to use certain software or product. Moreover, you can see many videos of educational, solutions and instructions online. If you have some creative ideas or knowledge, you can also make tutorial videos and post to YouTube.

Then here comes the question, is it necessary to buy cameras, microphones, tripods, backdrops and other professional equipment? Well, it depends. If it is the first time you make your own video tutorial, there is no need to spend extra money. All you need is a computer. You can make a good tutorial video via screen recording software on your computer directly. You can show audiences how to use programs and teach online courses by screen recording. Here're the ultimate steps and tips to quickly make an instructional video.
1. How to Make a Tutorial video by Recording Your Screen
If you want to record your desktop screen, or your facecam video, you can use FoneLab Screen Recorde. It is supported to record your screen while you can speak in front of camera. The picture-in-picture effect allows users to record both computer screen and webcam at the same time. Moreover, you can add annotations, mouse effects and commentary in your tutorial video recording. Because you can draw the audience's attention effectively.
Furthermore, there is no maximum time limit. You can pause and resume screen recording unlimitedly. The screen recorder will resume recording from the last pause point. Later, you can save tutorial videos as MP4, WMV, AVI, M4V, F4V and more without quality. Moreover, you can share your tutorial or instructional video to YouTube, Facebook and more platforms directly.
Here is the brief introduction of the tutorial video maker and recorder.
Record screen video with full screen, fixed window or custom region.
Screen record a tutorial video with system sound and your voice at the same time.
Add webcam overlay in your tutorial recording.
Add annotations to your tutorial video, such as text, lines, arrows and shapes.
Use hotkeys to control and entire recording process.
Share tutorial videos to YouTube, Facebook, Twitter and more social media.
Export the recording videos for training as MP4, AVI, MOV, TS and more formats with original quality.
Step 1Free download, install and launch FoneLab Screen Recorder. To make an instructional video with screen recording, choose Video Recorder in the main interface.

Step 2Set the screen capture area by dragging with your mouse. You can record a specific window or full screen to make a video guide as well. Then enable System Sound and Microphone. Both internal and external audio sources can be captured. Moreover, you can enable Webcam to make a tutorial video with your face.

Step 3Click More settings to adjust screen recording preferences. Here you can change the location of recording files, video format, video codec, video quality, frame rate and more. You can also enable mouse effects and specify other recording details to make your tutorial video eye-catching.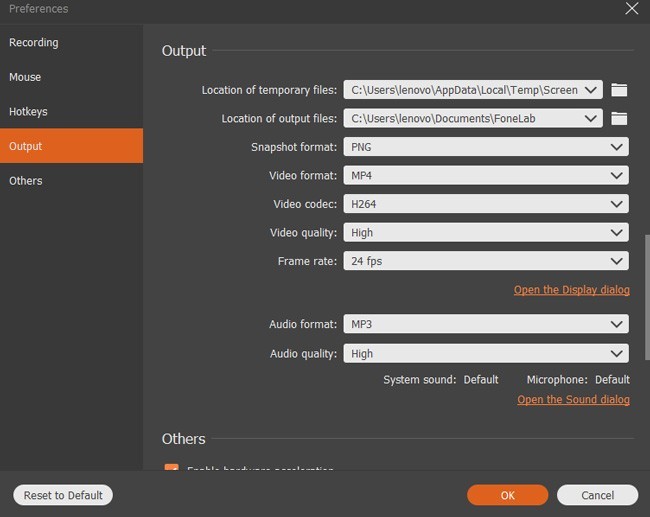 Step 4Click REC to start recording tutorial videos. When you stop recording, you can click Play to preview it. Later, click Save followed by Next to save your video recording.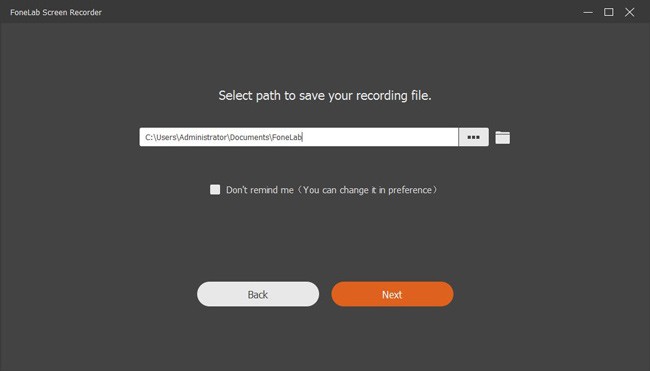 2. 7 Tips to Make a Success Tutorial Video by Yourself
In spite of a good screen capture software, there are also many other tips and skills that can make your tutorial video excellent. You can avoid those mistakes and get more clicks. As a result, you can make a YouTube video tutorial with low cost and effort.
Use an external microphone
Though there is a built-in microphone in your computer, it cannot record your voice clearly. If you don't want to get a muffled sound, you can use a USB microphone or other types of external microphone. Connect it to your computer. Then you can speak close to this microphone.
Record a tutorial video in a quiet place
You need to choose a good recording location. Because background noise will make your guide video unprofessional. It is unpleasant to hear echoes and background noises while watching a tutorial video online. Thus, a right working environment also matters.
Write down notes before recording
The human brain is not a machine. Sometimes you just forgot what you want to say. Or you skip some key points without notice. Thus, it is a good way to prevent mental blocks while making tutorial videos. 
Use a spoken human voice
People like to hear voices from a real person instead of a computer. Don't speak too quickly or slowly. Your tone should be in an active pace. If you hear tired, your audiences will feel the same. So an active voice is important in tutorial videos. To make a video tutorial with persuasive commentary, you had better practice what to speak first.
Use short and easy-to-understand sentences
No matter you tell a story or make an online training video, you should have a clear beginning, middle and end. If you are preparing a how-to guide video, you need to make the steps logical. Furthermore, divide a difficult task into subtasks. You can skip some information that everybody knows. Make sure the topic you talk about is clear and simple.
Provide a preview of your instruction ahead
A quick preview can show audiences an overview of your tutorial video. People can know the important information in your video. The pre-training principle can minimize the cognitive load and surprise.
Know your audience
You need to know why audiences watch your instructional video. If you make a training video, ask yourself what you want to get as an audience. As for how-to guide of a product or service, you need to figure out the difficulties that audiences encounter. In a word, you should know what your audiences really care about.
That's all to make a tutorial video at home with a computer only. You can share your creative ideas, cleaning tips, makeup skills and anything in your daily life. No matter which industry you are, you can make a video for training, engaging, growing business, building online courses and more. What's more, you can use the above tips to make your tutorial video look better. As time goes by, you can even make money and build your brand with your online tutorial videos. It is easy to do so. You can start by making a short video with FoneLab Screen Recorder first.