Recover PC Data Now
Recover the lost/deleted data from computer, hard drive, flash drive, memory card, digital camera and more.
[Solved] How to Recover and Fix Corrupt MP4 File on Windows
MP4 is a very compatible video format, and almost all media devices support the MP4 format. MP4 has the advantages that MP3 can't match, such as perfect reproduction of stereo, multimedia control, noise reduction, and other new features.
In addition, as a very popular video format, many movies circulating on the Internet today are MP4 format, which can be played smoothly on any media player with its good versatility.
If the MP4 file is corrupted and can't be opened, what we do? Don't worry about this, in this article we'll show you how to recover and fix corrupt MP4 files. If you want to know more about the recovery and repair of other format videos, you can refer to how to repair corrupt videos.

1. Recommendations and Usage of Online Repairing Corrupt MP4 File Website
Restore.Media: A powerful online media recovery tool that repairs corrupt mp4 files and audio files where others fail.
Support for most popular file formats, including MP4, MOV, 3GP, MXF & more. No need to download/install anything - repair video and audio files online.
Follow these steps to fix the corrupt MP4 files:
Step 1Register a free account. Registration is free and you can repair and preview the resulting video for free too. However, please note that to download the fixed MP4 file, you will need to pay a small fee.
Step 2Once you're in, click Get started. Type in a short description of the MP4 video you're about to fix. Then, choose the camera or device model used to record the corrupted MP4 files.
Step 3Upload a reference MP4 file. This should be a valid video recorded with the same camera and settings (video resolution, frame rate, bit rate, etc.) as the damaged one.
The best option here is to use any video you shot on the camera with the same settings just before the corrupted video. Alternatively, you can upload such a video from your archive, or record a new one.
Step 4Review details about the uploaded reference video and proceed to the next step. Create a recovery task. Feel free to name the task whatever would make sense for you.
Step 5Upload your corrupted MP4 files and wait until Restore.Media completes the recovery. The time it takes to fix a corrupted mp4 file depends on the file size and varies from a few seconds up to 30 minutes.
Step 6Once finished, you will be presented with a few screenshots taken from the fixed mp4 file along with a video preview. The screenshots will be in the original resolution, while the preview video will be in low resolution just so you could check if it's actually repaired.
If you're satisfied with the results, proceed to download your fixed MP4 file in the original resolution. If the video wasn't repaired properly, just follow the instructions to try to recover it with other settings.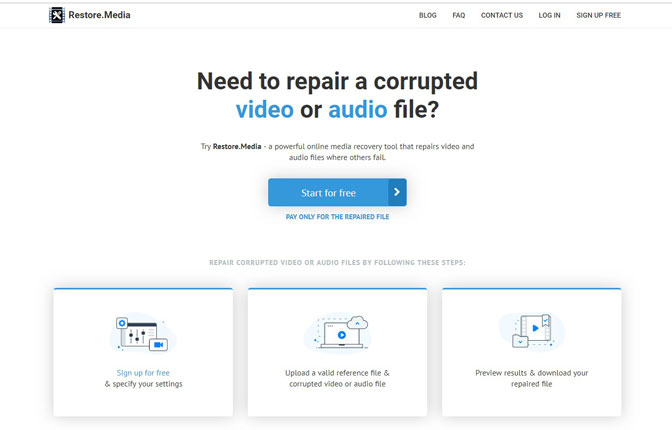 2. Recover Corrupt MP4 File by Using FoneLab Data Retriever
Many people feel that recovering lost or deleted corrupt MP4 files is a complicated matter that takes a lot of time, effort, and even money. However, if you use FoneLab Data Retriever to recover corrupt MP4 files, you can get back the corrupt MP4 files you want or lose in a short amount of time.
FoneLab Data Retriever is not hard-to-operate software. On the contrary, it has a simple interface and simple steps. It is an excellent tool for restoring corrupt MP4 files.
Step 1Download and install FoneLab Data Retriever, after installation, the software will launch automatically.
Step 2On main interface, choose Video at the file types section, and select the location where you lost corrupt MP4 files. Then click Scan button to start a quick scan process.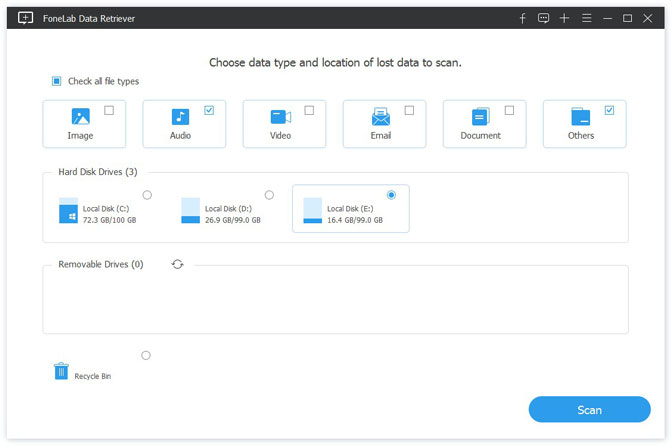 Step 3After finishing the scan process, all corrupt MP4 files will be displayed on the interface. Click the file type from the left panel to find the data you want to recover. You can also use Filter feature to quickly locate the files.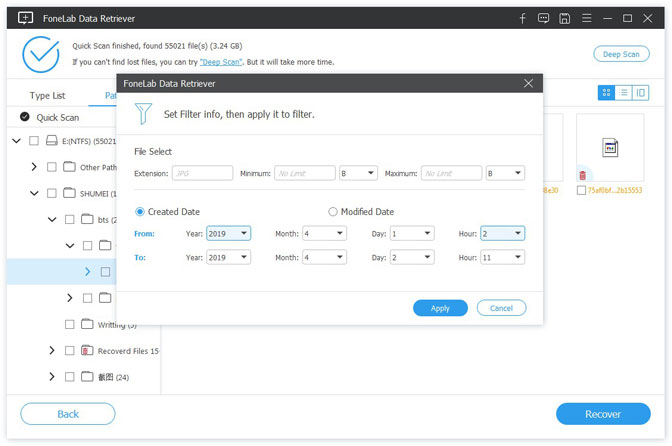 Note: If you don't find your missing data, you can click Deep Scan in the top right corner to try again. Deep Scan will take more time to complete the whole scanning process, but it will offer you more results.
Step 4Mark the items and click the Recover button. The selected corrupt MP4 files will be saved to your computer.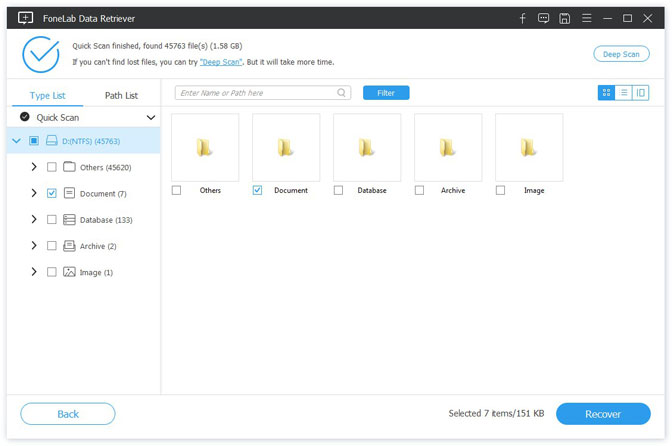 Conclusion
In addition to restoring video files, FoneLab Data Retriever can also recover documents, audio, images, and other types of files from computer.
At the same time, not only can you recover lost or deleted data files from your computer, but you can also recover data from SD card and recover lost data from hard drive.
This software also has a 30-day free trial period, download it now and try it out!