Transfer iOS Data Now
Transfer your data from iPhone to computer easily.
Two Ways to Sync Contacts from iPhone to Mac
Originated from 1984, Mac has been expanding rapidly over the world. And Apple has been concerned with improvement on Mac for facilitating iDevices users. Especially, Mac OX Yosemite, has been designed with more powerful features. For example, Mac users can use it to receive and make iPhone calls only if Mac and iPhone shares the same internet connection. Also transferring iPhone contacts, calendars and bookmarks to Mac becomes easy. However, for those Mac users who did not get OX Yosemite system, they are still bothered by the problem, How to sync files (contacts, photos, media, etc.) from iPhone to Mac? No matter contacts, photos, or media, the method of copying files from iPhone to Mac work are the same. So we will take contacts for an example, to show you two ways to sync iPhone contacts to Mac. Read it and find the better method to transfer your iPhone contacts with Mac.
1. Syncing iPhone contacts to Mac via iTunes
Step 1Run iTunes on your Mac, meanwhile, connect your iPhone to Mac.
Step 2Find your iPhone on the left column of "Devices" on iTunes. Click the name of your iPhone and see general information about your device.
Step 3Click "Info" at the top of iTunes, "Sync Contacts" appears at the top.
Step 4Press the "Sync" button at the bottom of iTunes to sync your iPhone to Mac.
Step 5Open to check if contacts have been transferred to Mac.
In this way, you are allowed to export contacts from iPhone to Mac via iTunes easily. However, you can get to know its disadvantages of syncing in this way. For example, your contacts on the Mac will be overwriten the iPhone contacts. Moreover, after importing contacts from iPhone to Mac, you will have no access to view your iPhone contacts and no any option to move contacts selectively but compulsorily sync with calendars.
In view of such disadvantages of copying contacts from iPhone to Mac via iTunes, we suggest another way to get contacts from iPhone to Mac with the contacts transfer software, Mac FoneTrans for iOS. You can easily sync contacts from iPhone to your Mac with three simple steps.
2. Transferring iPhone contacts to Mac with Mac FoneTrans for iOS
Step 1Download Mac FoneTrans for iOS, install and launch it on your Mac.

FoneTrans for iOS
With FoneTrans for iOS, you will enjoy freedom to transfer your data from iPhone to computer. You can not only transfer iPhone text messages to computer, but also photos, videos and contacts can be moved to PC easily.
Transfer photos, videos, contacts, WhatsApp, and more data with ease.
Preview data before transferring.
iPhone, iPad and iPod touch are available.
Step 2Connect your iPhone to Mac, and Mac will detect it automatically. (Note: If you use FoneTrans for the first time, then you need to enter your iPhone unlock password and press "Trust" button on your iPhone.)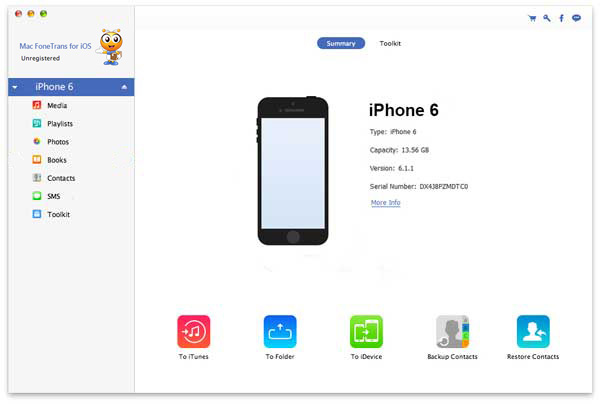 Step 3On the left column of Mac FoneTrans, Click "Contacts", and you can view the basic information on the right windows. (Here you can also edit your iPhone contacts, add or delete information and build iPhone contact groups.)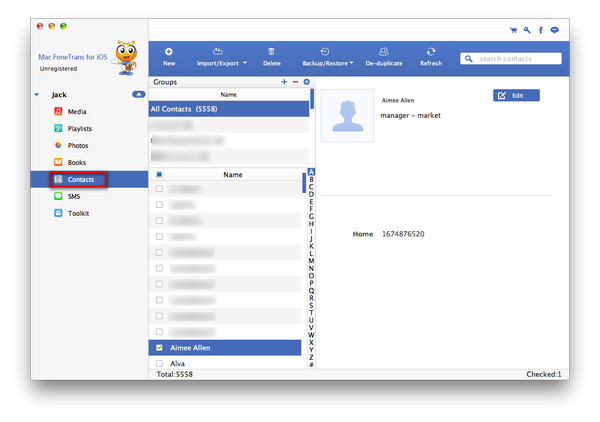 Step 4Click "Export/Import to" – "Export Selected Contacts" – "to vCard File". (Here you can export all or selected contacts into iPhone, and choose what formats you want.)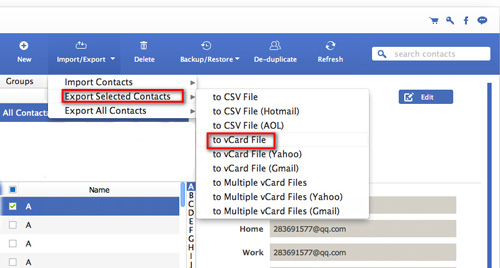 Step 5: Find target folder and click "Choose" to save it on your Mac.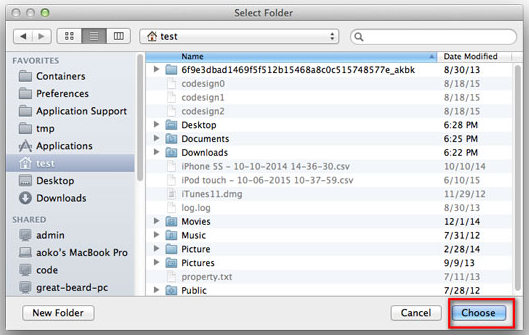 In this method, you can export iPhone contacts to Mac selectively. Also you will find various formats for keeping syncing contacts, to Outlook, to Windows Address Book, to CSV File (hotmail/AOL), (Multiple) vCard (Gmail, Yahoo). No matter which formats you choose to save, you can import contacts from Outlook/Gmail/CSV file to iPhone accordingly in future. Except for transferring contacts to Mac, you can also move other files, like photos, videos, text messages, etc. to other iDevices. What's more, even after migrating iPhone contacts to Mac, your contacts can be kept on iPhone safely without any deletion.
By now these two ways have been showed to you already. Get the better one to have a try.