Find Out the Best Ways to Restore From iCloud Backup Without Reset

Updated by
Boey Wong
/ Nov 26, 2021 09:40
Apple device users are lucky enough to have many readily available and accessible backup services. However, not all backups can be accessed and restored in the same manner. Some backup restoring methods require resetting your iPhone first, and some don't. With that, don't miss out and stop stressing about resetting your iPhone. Given below are 3 methods on how to restore iPhone from iCloud without resetting.

Part 1. Can You Restore from iCloud Without Resetting?
You can restore from iCloud backup without resetting your iPhone. Recovering from iCloud may or may not be easy, depending on the tool and method you use. You can restore from iCloud without reset through iCloud's website which allows you to manage and restore your iCloud backups. Next, you can also restore iCloud backups using Apple products' official data managing tool, iTunes and Finder. Lastly, you can use third-party backup & restore tools that are available for much more efficient and safe backup and restore procedures. Nevertheless, you can definitely restore from iCloud without a reset, you just have to find the best tool to do so.

FoneLab for iOS
With FoneLab for iOS, you will recover the lost/deleted iPhone data including photos, contacts, videos, files, WhatsApp, Kik, Snapchat, WeChat and more data from your iCloud or iTunes backup or device.
Recover photos, videos, contacts, WhatsApp, and more data with ease.
Preview data before recovery.
iPhone, iPad and iPod touch are available.
Part 2. How to Restore iPhone from iCloud Without Resetting From Browser
You can restore and download backup files directly from the official iCloud website. Because you can log in through a web browser, this approach is a practical way of viewing, maintaining, and restoring your iCloud backup files.
Steps to Restore iCloud Backup Without Reset on Browser:
Step 1First, search for and open the iCloud official website on your computer's web browser. Then log in to your iCloud account using the Apple ID that you used to back up your data.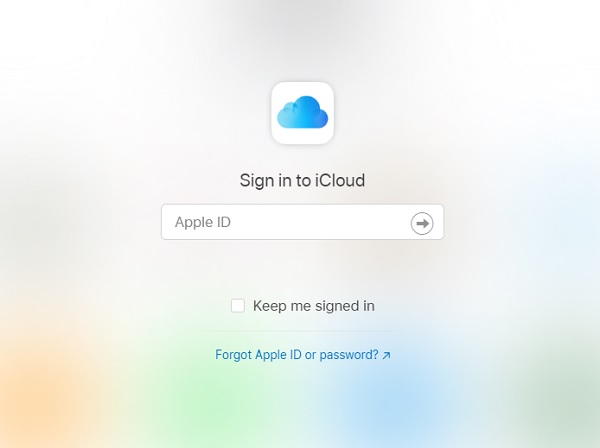 Step 2Second, pick the type of data you wish to restore from iCloud from the main interface of the iCloud website.
Step 3Finally, go through the backup files on your iPhone and select the ones you want to restore. Then, from the menu, click Recover.
This method is among the simplest ways for restoring an iCloud backup without resetting your iPhone through your computer. You can download any accessible backup file to your PC using this manner. However, the most significant disadvantage of this method is that you cannot access some sorts of files from your WhatsApp, SMS, and MMS, iMessages, notes, and Photostream.
Part 3. How to Restore iPhone from iCloud Without Resetting From iCloud on PC
If you wish to restore all of your iPhone backup data from iCloud, you may do it using iTunes and Mac Finder on your PC. Both iTunes and Mac are iOS data file managers. Both iTunes and iCloud are helpful because you can use either of them to do various activities, including restoring iCloud backups.
Steps to Restore iCloud Backup Without Reset on Mac:
Step 1To begin, open the Finder on a Mac running macOS Catalina or later. Open iTunes on a Mac running macOS Mojave or earlier, or on a Windows computer. Connect your iPhone to your computer with a USB cord after that.
Step 2Second, choose from the left panel when your iPhone appears in the Finder window or iTunes.
Step 3Finally, select Restore Backup from the menu below. Then, look at the dates of each backup file and choose the most recent one, or as needed. To confirm, click Restore once more and wait for the procedure to complete. Enter your password if you want to restore an encrypted backup file.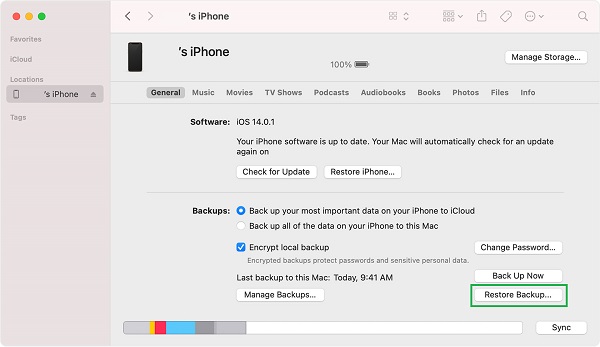 It's important to remember that after your device restarts, you must keep it connected and wait for it to sync with your computer. You can disconnect once the sync is complete; otherwise, the restoring process would be interrupted, potentially failing. How annoying could that situation be?
On that note, you can utilize a restoring tool that ensures a safe, efficient, and uninterrupted restoration process. Furthermore, it is preferable if the tool you use is compatible with your computer's operating system.
Part 4. How to Restore iPhone from iCloud Without Resetting on Through FoneLab for iOS
FoneLab for iOS - iPhone Data Recovery is a brilliant Mac and Windows solution that allows you to restore backup data from iCloud backups selectively or entirely. This method will enable you to restore from an iCloud backup without resetting your iPhone, making it the ideal choice to consider.
Steps to Restore iCloud Backup Without Reset via FoneLab for iOS:
Step 1You should first download and install FoneLab for iOS on your computer or Mac. The program will open when successfully installed.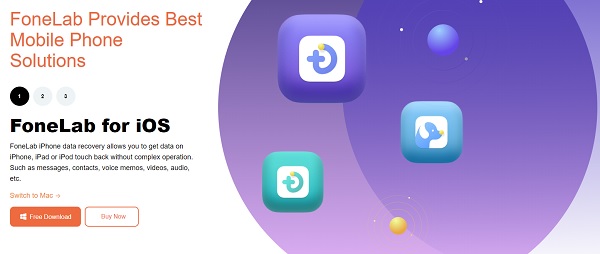 Step 2Second, choose iPhone Data Recovery from the program's main menu.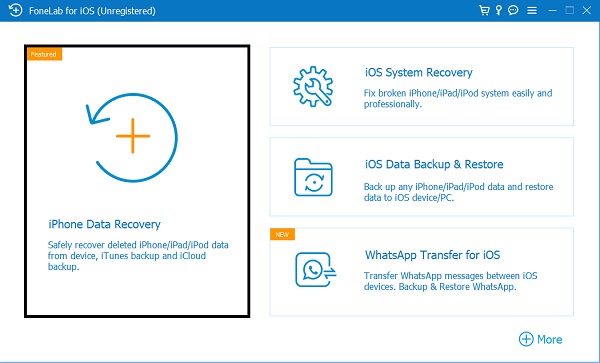 Step 3Third, among the three recovery options on the left side of the window, select Recover from the iCloud Backup File. From there, sign in to your iCloud account with your Apple ID and password.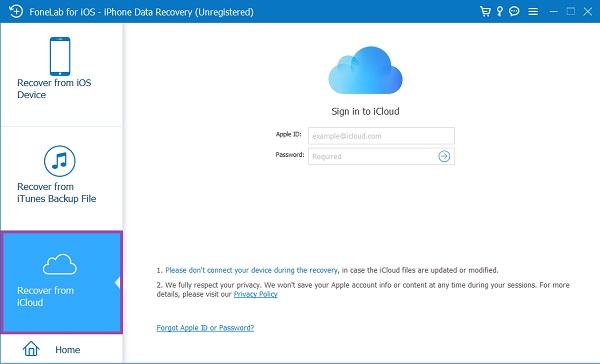 Step 4Finally, FoneLab for iOS will organize and display all of your iCloud backup files into categories. Click Download after selecting the backup folder that includes the file you wish to restore. The program will display the contents of the downloaded backup folders after that. Select all of the items you'd like to restore and then click Restore.
Part 5. Why Choose FoneLab for iOS When You Restore From iCloud Backup Without Reset
The essential factor in looking for the best data backup restoring tool and method is versatility and convenience. You probably don't want to restore all backup data on your iPhone, which is impractical and a total waste of time if you need specific backup files. However, if you need to restore everything, you must find a tool to do so with convenience and efficiency. Most significantly, one that will not require you to reset your iPhone.
All the requirements mentioned above are present and available with FoneLab for iOS, which is why you must go for it when you want to restore from iCloud without resetting.
Additionally, below are the main features of FoneLab for iOS - FoneLab iPhone Data Recovery:
You can recover files that are lost or deleted while the present files are preserved. Even if you don't have any backups, you can recover erased data.
All iOS devices are supported.
Before restoring the backup files, it displays a glimpse of the data from an iCloud or iTunes backup that you can restore.
Part 6. FAQs About How to Restore iPhone from iCloud Without Resetting
What happens if I delete iCloud backup?
If you delete your iCloud backup, each of your backed-up data, including images, texts messages, app data, and others, will be permanently lost. If you do this, you will be unable to use the primary function of an iCloud backup, which is to restore iPhone data such as Settings and local data without restriction.
Does iCloud save text messages?
Yes. Automatic or manual backing up depends on your preferences and configurations for text messages saved to iCloud. Photos, mail, contacts, notes, passwords, and much more are among the data that iCloud may keep from your iPhone.
How to ensure that an iPhone is backing up on iCloud?
Before you begin restoring data from your iCloud backups, make sure your iPhone is genuinely backing up on the service. To begin, make sure iCloud Backup is enabled. You can also verify if specific data on your iPhone is backed up by opening the Settings app and then going to your Profile. Then, from the menu, tap iCloud and check to see if the toggle buttons for the items you wish to back up are on. It's backing up on iCloud if the toggle button is green.
That wraps up the best and most recommended methods on how to restore iPhone from iCloud without resetting. Rest assured, all solutions above are guaranteed effective and efficient in terms of restoring iPhone backups from iCloud. Above all, FoneLab for iOS is the most recommended way to go because of its unique features and functionality. Now that you've discovered how to restore from iCloud backup without resetting, you can stop stressing about it.