FoneLab Screen Recorder
Capture video, audio and more with ease.
AirPlay Troubleshooting in 2022 - Fix AirPlay Not Working [Solved]
AirPlay, which was called AirTunes and used for audio only before.
However, people have various problems during the procedure of using AirPlay. And this post will show you detailed solutions to fix these AirPlay issues.

1. Why Apple AirPlay Not Working
Before we dive in, you can learn more about why AirPlay not working.
Poor Wi-Fi Connection
Outdated Software on iPhone, iPad, Mac or Apple TV
AirPlay Feature Has Not Been Enabled
Devices Settings
Not Compatible Devices
2. AirPlay Troubleshooting
You might encounter different situations when using AirPlay on Mac, iPhone or iPad, like AirPlay not working on Mac, AirPlay no sound, AirPlay icon not showing, and many others. You can use the following common ways to fix these different issues.
Part 1. General Methods
Before you go, you should check your devices. As it is only for Apple devices and AirPlay-certified devices, you will be required to use this feature on the devices are on its supported list.
Then enable AirPaly on Apple TV through Settings > AirPlay or other devices, you can go ahead.
Solution 1. Turn AirPlay Off and On Again
If you have enabled AirPlay, but there is something wrong with it, you can just disable it and then re-enable it after minutes. It is one of the simplest methods to overcome obstacles.
Solution 2. Reboot All Devices
As devices can keep being charged nowadays, most of them have not been turned off for a long time. That's why caused some unknown issues on Mac, iPhone or iPad without certain sources. Therefore, you might doubt it, but it is sure that rebooting your devices can solve more than 90% percent of problems for technology products.
Solution 3. Re-enable Wi-Fi
AirPlay streams video and audio via Wi-Fi connection, so devices must be networked. The following way is checking your active Wi-Fi connection. Then you can try to toggle it off and then enable it again. It will work again if the Wi-Fi is the matter.
Solution 4. Re-enable Bluetooth
Most AirPlay devices also support Bluetooth, you can try to re-enable it on your devices to fix issues of AirPlay.
Solution 5. Check for Updates
Upgrading can always fix the belonging problems for the process of using something. It is recommended to update everything on devices to fix bugs while using AirPlay.
Solution 6. Check Mac Firewall
Sometimes, the incoming connections have been blocked by Mac. You can go to System Preferences > Security & Privacy > Firewall, disable the box next to Block all incoming connections and enable Automatically allow signed software to receive incoming connections.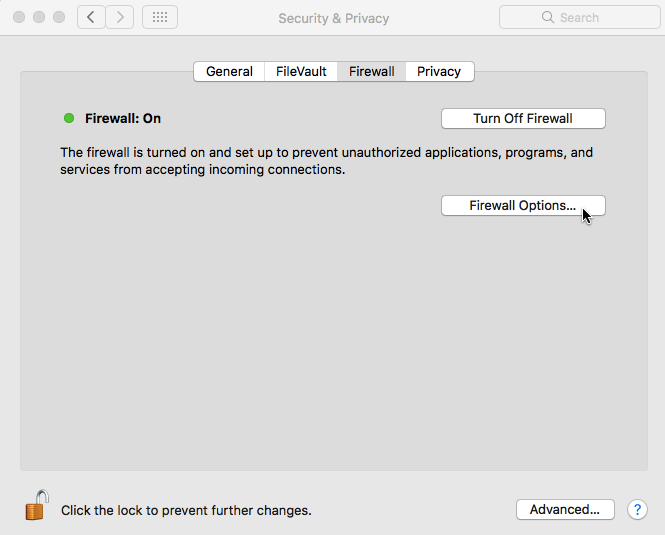 Part 2. Specific Methods
You may be experiencing different situations while using AirPlay. In the following part, we will show you specific methods to fix these problems.
Situation 1. AirPlay Not Showing Up
AirPlay icon not showing up includes different situations, such as AirPlay icon missing on mac, AirPlay icon missing Macbook, AirPlay not showing up on iPad and more.
One of the most common reasons why you cannot find the AirPlay icon on your devices is the network problem.
No AirPlay Icon on Mac
Except for the network issue, you can also check your AirPlay settings on Mac to confirm if you have enabled the icon in menu bar through System Preferences > Displays > Display and enable Show mirroring options in the menu bar when available.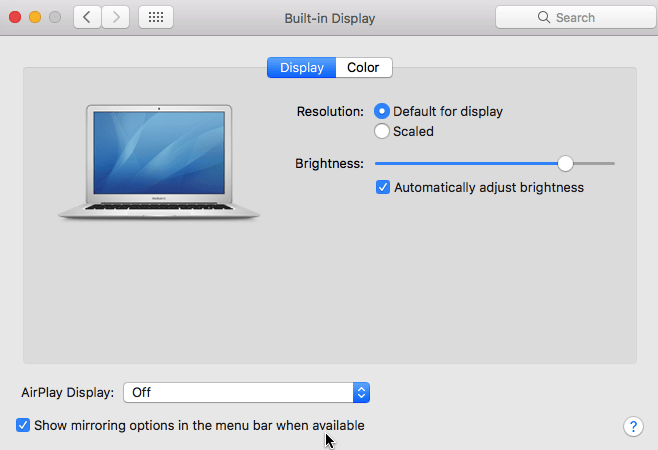 AirPlay Not Showing Up on iPad
If restarting iPad is unable to solve this problem, you should try to reset iPad through Settings > General > Reset. But you should keep in mind that it will remove all data on your device. You need to back up iPad data if you want to keep them.
Situation 2. AirPlay Unable to Connect
After making sure that your devices are on and nearby, you should consider other probably problems like compatibility, network connection, settings, etc.
In addition to the above-mentioned ways, you can reboot the router. Just simply press the reboot button on it.
If there is nothing wrong with your internet, you can also try an ethernet cable, which gives you a better result than wireless connection.
Situation 3. AirPlay No Sound
First of all, you should make sure that the volume of both devices is turned on. If you are mirroring from iPhone or iPad, you should not set your devices to Silence mode. If you stream to an Apple TV, check that its HDMI cable is securely attached.
Conclusion
After that, you can use AirPlay to mirror iPhone, iPad or Mac with ease. You can record iPad gameplay, capture iPhone music, record iPhone screen with audio and more with AirPlay Recorder - FoneLab Screen Recorder if you have to.
That's all about AirPlay troubleshooting. If you want to know more about it, please leave comments below.