Erase iOS Data Now
Easily erase all contents and settings on iPhone, iPad or iPod completely and permanently.
Simple Ways to Clear iPhone Storage - 6 Options
Are you feeling it is a pain in the neck when storage space running out on your iPhone, iPad or iPod touch? What's worse, Apple doesn't allow any external card inserted in its handset for gaining extra storage space. The ultimate solution on how to get more storage seems to be getting an iPhone with larger storage, like the 64GB, 128GB, 256GB or even the 512GB models.

But apparently many of us aren't willing to purchase for the extra storage considering the higher prices. Don't worry, help is at hand. In this post we are going to share several simple ways to clean iPhone storage.
Now let's begin.
Part 1. Disable Photo Stream Feature
If you have enable Photo Stream feature on your iPhone, chances are your photos and videos taking up the most space of your iCloud storage. You will soon find out that iCloud storage is full. So disable the Photo stream feature is a good way to save iCloud storage.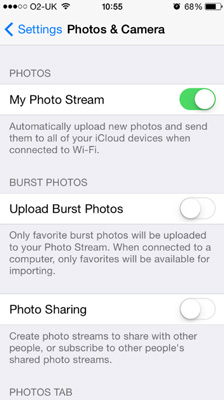 Part 2. Regularly Remove Media Files
Each picture taken with your iPhone can be 2MB easily, and videos almost approach hundreds of MB, with several hundreds or even thousand of photos, you will quickly eat up your iPhone storage space. The wise thing to do is to regularly transfer media files to a computer for backup data and then remove them from your iOS device.
Part 3. Delete Games and Unused Apps
Apps occupy much space of your iPhone as well, especially Games. If you have already beat the game and no longer play it, why not delete the app to release space? Besides, storing unused apps that you don't need anymore is totally meaningless. Just delete them without any hesitation and remember that every application is free to reinstall whenever you want.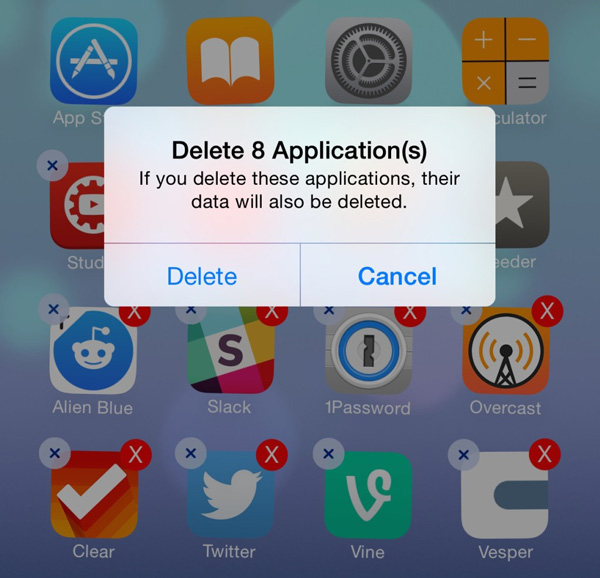 Part 4. Offload App
Aside from deleting apps from iPhone directly, you still have another option to deal with your apps. Go to Settings > General > iPhone Storage. Choose one app from the list, tap Offload App to remove app and its cache. It won't remove documents and data of this app, moreover, these data will be placed back to iPhone when you reinstall it on iPhone.
Want more information to clear other storage on iphone, move on.
Part 5. Set Message App to Delete Messages After 30 Days
Your iOS device saves your messages and message attachments forever by default. That's the reason why your messages can use up so much storage. However, you can change the setting to delete themselves after 30 days.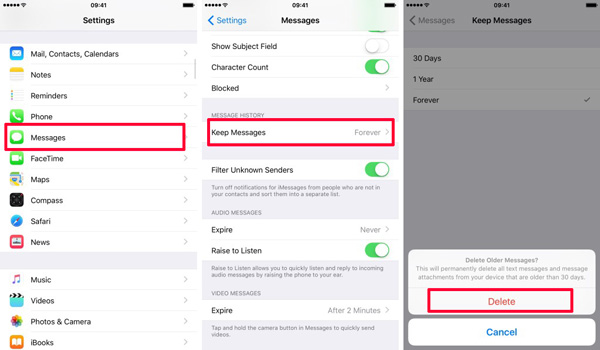 Part 6. How to Clear Storage on iPhone Safari
How to delete other storage on iPhone like Safari? You can check below detailed tutorial.
Click Settings > Safari > Clear History and Website Data.
The following part, we will introduce how to clear other storage on iPhone with professional tool.
Part 7. Best Way to Clear Up iPhone Full Storage
The best way to erase all iPhone data and settings at a time is to use FoneEraser for iOS, an iPhone cleaner. With this software, you can easily clear up all storage with just a few clicks.
Main Features:
Wipe out all contents and settings on iPhone, iPad or iPod touch.
Clean up iPhone photos, large files, junk files and more.
Delete apps from iPhone.
Erase text files including text messages, iMessages, contacts, call logs, calendar, notes, reminders, Safari bookmark and history completely.
Clean up Media files like photos, videos, audio, music, iBooks, iTunes U, Podcast, TV shows, ringtones, audio books, voice memos thoroughly.
Support erasing multiple iOS devices at the same time which can save you a lot time.
Offer three erasing levels to meet your needs.
Fully Support Windows 10 and iOS 5 to 15.
How to Clear up Storage on iPhone
Step 1 Free download and install the program onto your computer and then it will launch automatically once it finished.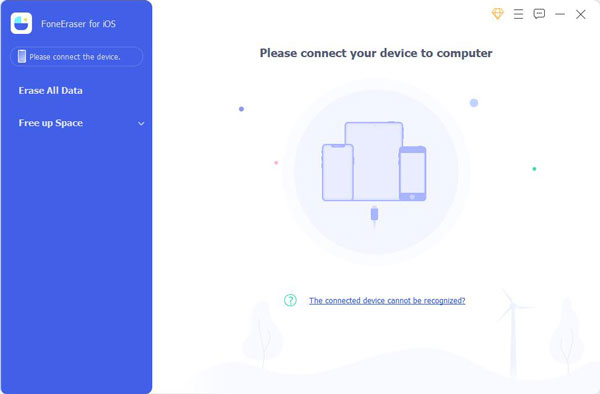 Step 2 Plug your iPhone to the computer via USB cable, and enter passcode on your phone if it is locked. Tab Trust on device for iOS 7 or higher version.
Step 3 The software will soon detect your iPhone.
Step 4 SelectErase All Data then an erasing level (Low, Medium or High). High Level is recommended here.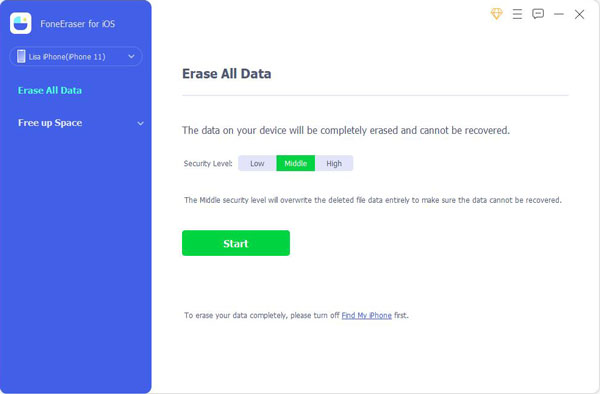 Step 5 After your device is connected, click the Start button to begin erasing and then click Yes to confirm the procedure.
Step 6 Wait for the erasing process to complete.
What if you don't want to remove all data but want to know how to remove other storage on iPhone with it? You can run the program and choose Free up Space on the interface. Then you can choose Erase Junk Files, Uninstall Applications, Delete Large Files or Clean up Photos from the 4 options.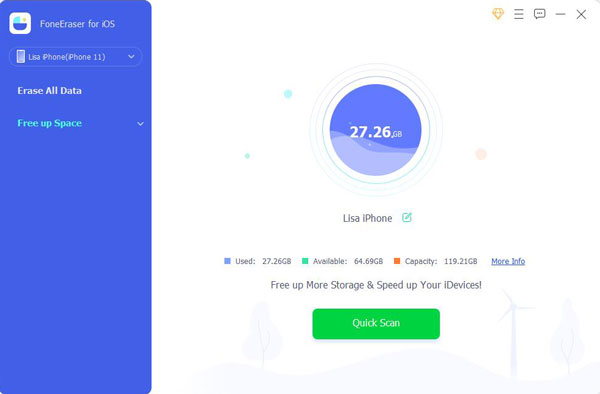 That's it! Once the process is done, your iPhone will be totally new as you just buy it. Don't freak out if you find your iPhone out of storage since this software is able to help you solve it with no hassle. Please contact us if you want to know more about clearing other storage on iPhone.