Recover iOS Data Now
Recover your data from iPhone to computer easily.
Restore iPhone Without Backup Password Using Renowned Ways
I backed up my iPhone data a few months ago on iTunes. To include my account passwords and other data in the backup, I chose the Encrypt iPhone backup option. It asked me to enter a new backup password to protect my data, but I don't remember what password I have set anymore. Can I still restore my iPhone without backup password?
Backing up your iPhone data on iTunes gives you the option for backup encryption. This function will include your account passwords, Health, and HomeKit data in the backup. And for further protection, it asks iPhone users to enter a backup password. However, many people who choose this option often have difficulty remembering the password they set, preventing them from restoring their backups.
Thankfully, several methods are offered online to regain the previous data on your iPhone. And these methods will be presented in the article below to help you return your data. Meanwhile, if you still wish to restore your backup on iTunes, instructions will be provided. But even without the backup password, our prepared methods will enable you to recover your files. See their effectiveness for yourself and start the recovery below.

Part 1. Restore iPhone Backup on iTunes
We understand you can't remember the password you have set for your encrypted iPhone backup. But if you still wish to try and guess the password, we included the method in case. Hence, you can take your chance and see if you will be lucky enough to enter the password correctly on iTunes.
Pay attention to the trouble-free directions below to restore your device backup with iTunes:
Step 1Download and run iTunes on your computer, and ensure it is the latest version. To connect your devices, use a lightning cable and attach its ends to the iPhone's charging and the computer's USB ports.
Step 2Once the program recognizes your device, hit the iPhone symbol on the iTunes interface. From there, you will see the Summary section that displays your iPhone's information and backup options.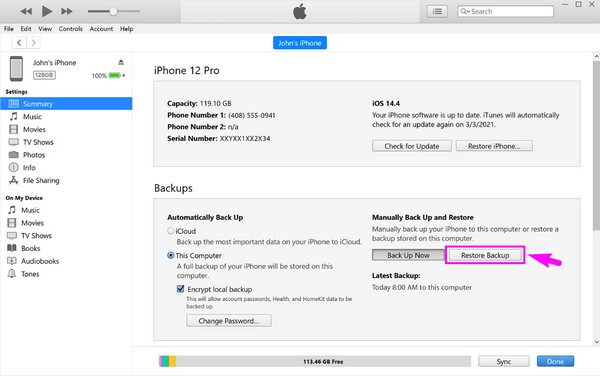 Step 3See the Backups section on the interface's lower part. On the right portion, you will see two buttons under Manually Backup & Restore. Choose the Restore Backup tab, then try to enter the backup password when prompted. After that, your backup file will start restoring on your device.
What if you are failed to enter the correct password for iTunes backup files? Move on.
Part 2. Restore iPhone Without Backup Password with FoneLab iPhone Data Recovery
Regarding data recovery, the program we highly recommend is the FoneLab iPhone Data Recovery. With this program, you no longer need a backup to restore your files. It only requires simple installation; then, you can enjoy its ability to return lost or deleted files on your iPhone. The data types it supports include photos, audio files, videos, contacts, notes, reminders, and more. And it doesn't matter whether you lost them due to accidental deletion, forgotten password, etc. FoneLab iPhone Data Recovery can return them to your device regardless.
Refer to the user-friendly process below to restore iPhone without backup password with FoneLab iPhone Data Recovery:
Step 1Go into the FoneLab iPhone Data Recovery page, then hit Free Download on the website's left portion to secure its installer file. Afterward, proceed to your computer's Downloads folder to open the file and grant it access to make changes to your device. Once the program window's Install button displays, click it to set up and process the installation. Later, it's time to launch the data recovery tool on your computer.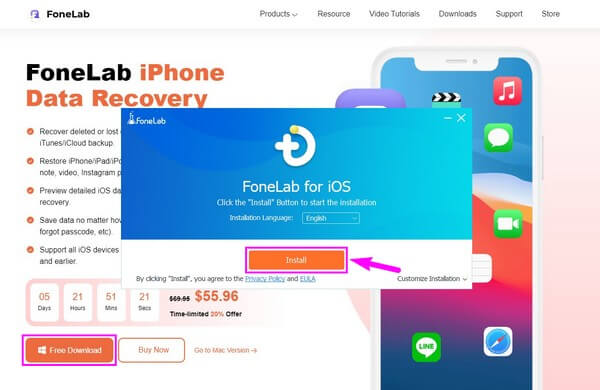 Step 2The primary interface will exhibit the program's key features. Select the left side box containing the iPhone Data Recovery feature. You may try the other features, but aside from that, you can also click the More button with a plus symbol. It will show you the different tools you can enjoy when needed.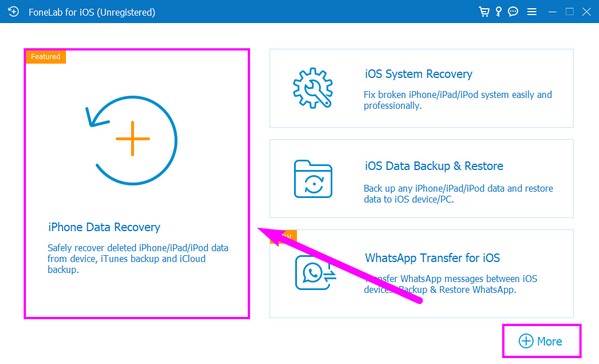 Step 3Next, link your device using a cable to the computer. You must allow the required permissions for the connection to work, like the Trust prompt on your iPhone's screen. Once linked, the Start Scan tab will show on the lower portion. Click it for the data recovery program to browse the files on your device, such as videos, music files, photos, etc.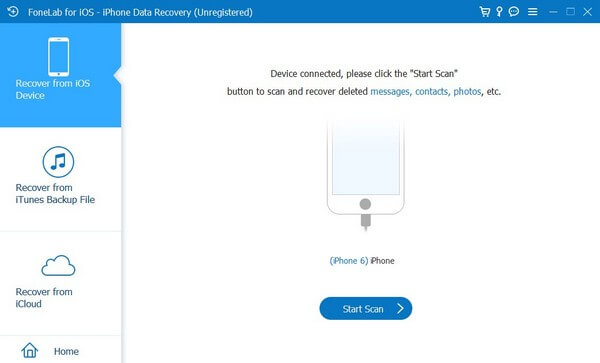 Step 4After the scanning process, different data types will be shown on the interface's left side. Click the data types of your iPhone's previous files you wish to restore. Your device content will then show up on the right. Check the items you want individually, or select everything with the Check All option. Lastly, click the computer symbol between the buttons on the upper part to recover your iPhone data.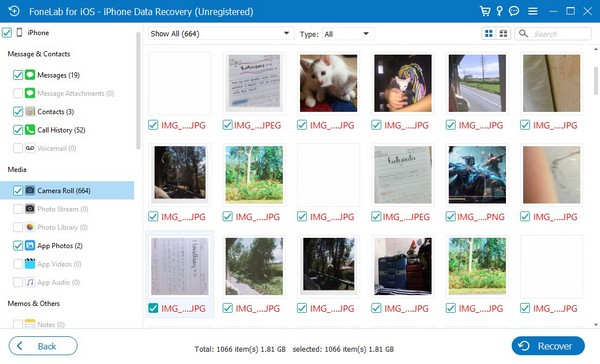 Part 3. Restore iPhone Without Backup Password with iCloud
iCloud is one of Apple's official methods to back up and restore data. If you have backed up your device data using iCloud, you probably know it doesn't require entering another new password to back up your files. Thus, you can also restore your iPhone content without the additional backup password with iCloud.
Take to heart the uncomplicated steps underneath to restore your device content even after you forgot the iPhone backup password with iCloud:
Step 1Turn on your new/newly reset iPhone and start setting it up by following the startup instructions on the screen. Ensure to connect your iPhone to a stable internet when prompted to have a smooth restoration process later.
Step 2When you are on the Apps & Data screen, choose which method you would like to transfer or restore your backup data on your iPhone. From there, select the Restore from iCloud Backup option.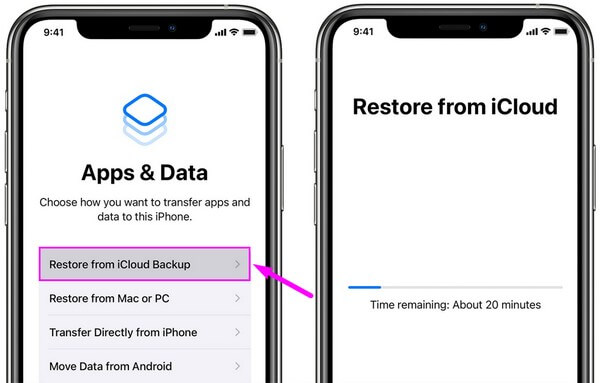 Step 3After that, sign in to your iCloud with your Apple ID for your iPhone to show the available backup files saved on your iCloud. Choose your latest backup, and its content will begin restoring on your iPhone afterward.
Before using this method, be aware that you need to erase your iPhone to restore data from iCloud. If not, you won't have access to set up your device with the iCloud backup during its startup.
Part 4. FAQs about Restoring iPhone Without A Backup Password
After thorough research, we can guarantee the data restoration methods above work more efficiently than the other ones you can find online. Try them now to prove their effectiveness.