Unlock iPhone Now
Unlock Apple ID, remove screen password, bypass screem time.
Top 5 Easiest Ways to Reset iPad to Factory Settings
How do i reset my ipad to factory settings?
Are you preparing your iPad up for a new owner? Or do you want to settle a problem with the iPad that simply restart won't solve? Or even you are anxious to erase all content and settings in propose of protecting your privacy when you unfortunately lost your iPad and cannot find it?
If so,
Then you will need to restore iPad to factory settings to work out all these issues. Besides, when you forget unlock passcode, you are eager to know how to reset iPad password. Don't be worried, iPad factory reset can help you fix this problem as well, but make sure that you back up iPhone/iPad to iCloud to avoid losing data in the first place. You may also want to factory reset iPhone.

1. How Do I Reset My iPad in Home Screen
If you don't have a computer around, you can factory reset iPad in home screen of your iPad. But please back up iPad data first to iCloud or computer so that you can restore iPad from back up afterwards.
Step 1Tap Settings on iPad
Step 2Get to General menu. Tap it.
Step 3Scroll all the way to the bottom and tap Reset menu.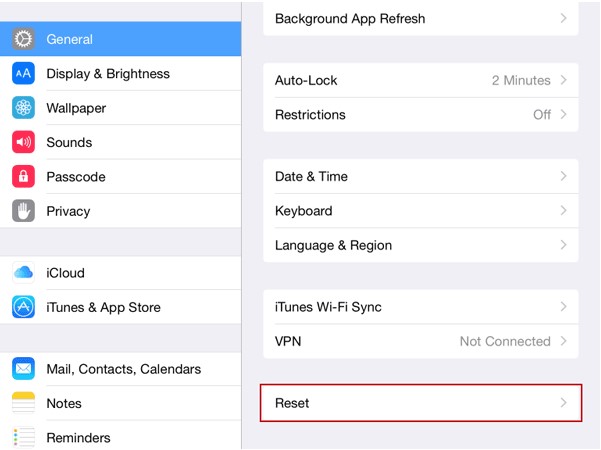 Step 4On this screen, you'll find these options:
Reset All Settings:
If you are giving your iPad to a family member who is going to use the same Apple ID account, you might need to reset all settings. This reset mode does not erase anything but it completely wipes out all changes in the settings, stored passwords for Wi-Fi and unlock iPad etc.
Erase All Content & Settings:
This reset iPad option will make a brand-new iPad exact same status as when you just open the box. All apps, app data, photos and everything else will be disappeared. It means that your iPad has been reset to factory settings. It perfectly suitable for you to choose if you want to sell your iPad.
Reset Network Settings:
When you are having trouble connecting to your Wi-Fi or having other issues with internet connection, first try this option. This will clear out any data stored with your specific network and clear up the issue without to do a full restore.
You can also learn restore iPhone without updating.
Reset Keyboard Dictionary:
iOS's dictionary will learn and remember the words that you typed. It will rapidly fills up with words you typed and suggestions are offered. You can clear this list with this Keyboard dictionary reset if this bothers you.
Reset Home Screen Layout:
If you takes a lot of time to locate a target app, maybe you should consider to reset the home screen layout so you can get to the app faster. This reset option will make your iPad to reset the deck icons to the default ones.
Reset Location & Privacy:
If you have ever changed privacy setting or location services values, you can reset them back to factory setting if you want. This helps in recalibration of weather, traffic information and of course your privacy changes are also back to factory settings in the same time.
Step 5Click Erase All Content and Settings to reset iPad to factory settings.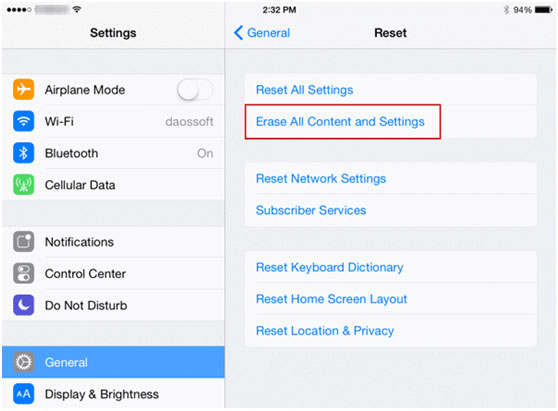 Something you need to know...
Once you have chosen to erase the content and settings from your iPad, you will be asked to enter passcode if you have a passcode lock on the iPad and double confirmed your choice whether you are sure to erase all the music, photos, media or other contents in your iPad.
After confirming your selection, the process of erasing the data from your iPad begins. It will take a couple of minutes. Once it is done, the iPad will display a screen that reads Hello in multiple languages. At this point, you are done if you want to sell it to a new person but if you reset iPad in order to solve an issue you have encountered with, you can restore iPad from iTunes back up.
Some of iTunes users might want to know how to factory reset iPad with iTunes on computer.
Let's move on...
2. How Do You Reset An iPad with iTunes
As a usual tool to manage iPhone, iPad or iPod data, iTunes allows you to backup, restore and reset your device. Using this Apple tool to reset iPad to factory settings might be a good choice if you are familiar with it.
You just need a USB cable, a computer and your device.
Step 1Connect your iPad to your computer, then the iPad icon appears instantly on the upper left corner of iTunes screen.
Step 2Click the iPad icon, the screen would display several options. Click Summary, choose Restore iPad on the right.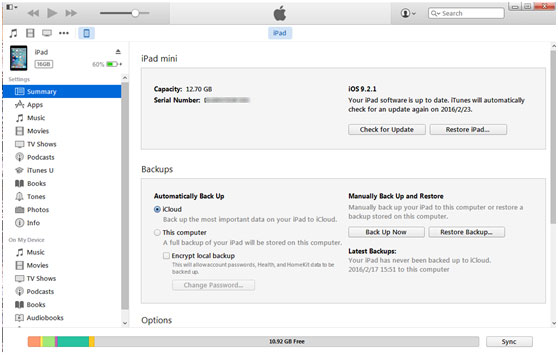 Please remember that,
Once you have selected to restore iPad, a pop-up window will remind you to back up settings for your iPad before restoring. It's your decision whether to back up or not. A dialog pops up and check if you are sure to reset iPad to factory settings. Click Restore to get the process started.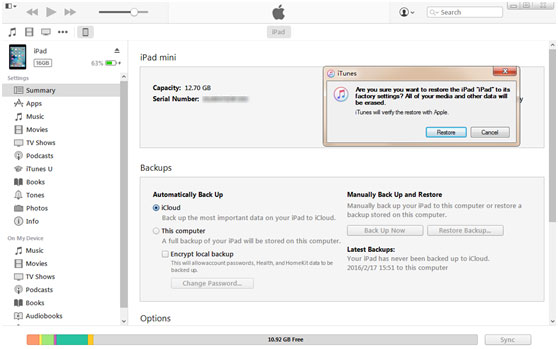 Step 3Choose Set up as new iPad.
There are two choices for you after the restore process is finished, if you choose the first one, Set up as new iPad, all the original data on iPad would lose entirely. And iPad will turn to the status as when you just got it.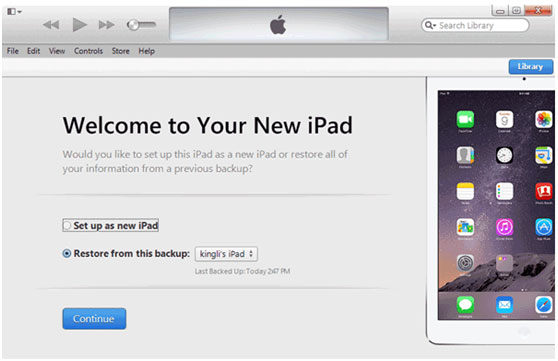 However,
Above mentioned methods are how to reset your iPad when you with it in hand. Someone will has questions about what can they do to restore iPad if they don't carry the device about with them?
That's how...
3. Factory Reset iPad with iCloud
If you unfortunately lost your iPad and give up to find it back for some reasons, but you still want to give a shot to protect your privacy. Restoring iPad to factory setting via iCloud is your best choice.
Step 1Sign in your iCloud account on the computer.
Log onto icloud.com and sign in your iCloud account you will get:
Step 2Head over to Find iPhone
Go to Find iPhone, enter ID password. Then the website turns to a map showing your iPad location. Find your iPad and click over it, then click the information button on the right side, you will get some options on the right of the screen. After you Choose Erase iPad, iCloud will inform you that the erased iPad cannot be located or tracked anymore. Select Erase, Apple ID password will be requested and you will receive some messages asking you to input your phone number in order to remind the person who has picked up your iPad to contact you through a message that will show on the iPad screen.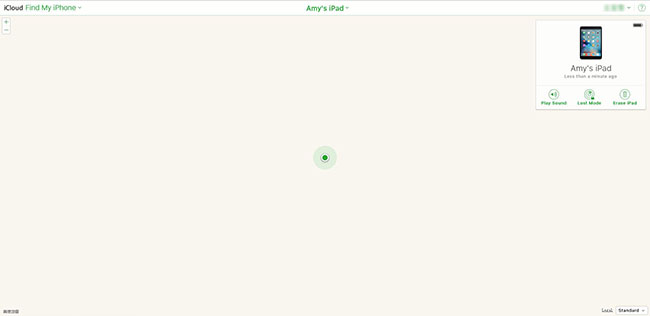 Step 3Click OK to start the erase.
Click OK, a warning window pops up to notice you if you find back this iPad, some services may be temporarily unavailable after it is restored. This might cause loss of some important data backed up to iCloud.

4. Factory Reset iPad with FoneEraser for iOS (With Password)
Do you think your data on device are removed permanently and completely after your deletion? Do you think your data will not be disclosed if you have wiped them before?
Not exactly.
The data you deleted are still stored on your device but unvisiable for users. They can be recovered by some professional iPhone data recovery software easily. So if you want to delete your data throughly, FoneEraser for iOS is hightly recommended to you.
FoneEraser is a safe and convenient iOS data cleaner to remove all contents and settings on device. Then you can sell or donate your old device to others without consideration.
Why?
It supports iPhone, iPad, or iPod touch.
It ensures your deleted data are unrecoverable.
There are 3 erasing levels for options.
Text content, media, app, documents and settings can be removed completely.
Follow below steps to wipe data on iPad within a few clicks.
Step 1Download the software and then install it on the computer. Double click to launch the program if it doesn't run automatically.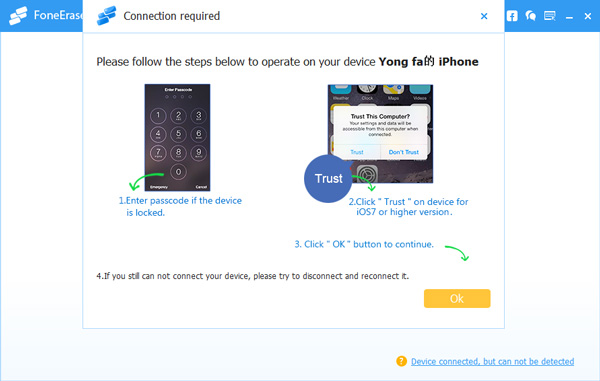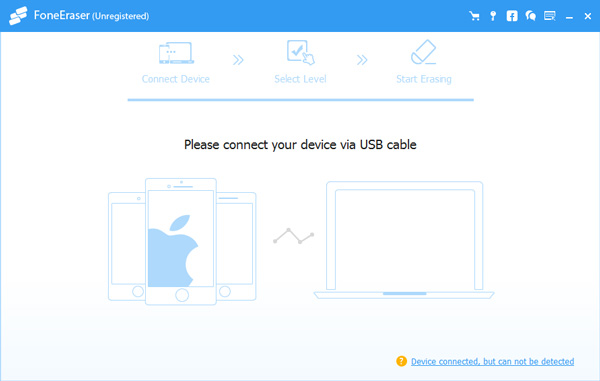 Step 2Connect your iPhone or iPad to computer with USB cable. Tap Trust on your device screen. It will show you the status of connection, click Retry icon if it is failed.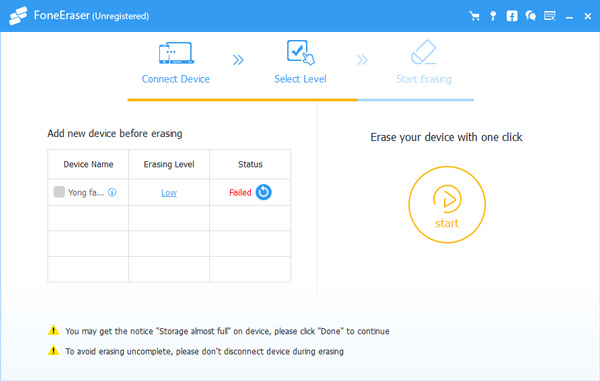 Step 3Choose one from the three erasing levels. High Level is recommended to you here. It destroies data thoroughly with three-times overwritting, which is the safest and most radical way to get your device started with a clean slate.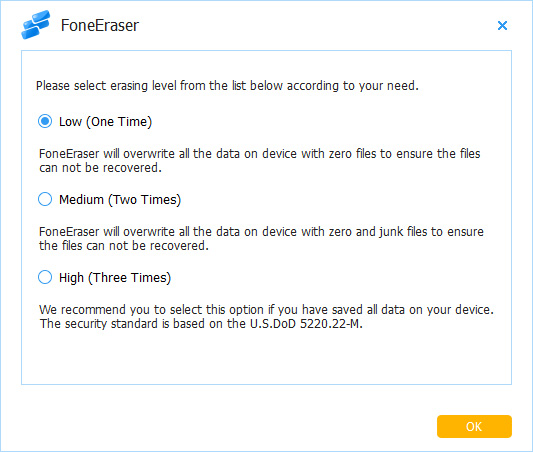 Step 4Click Start on the right.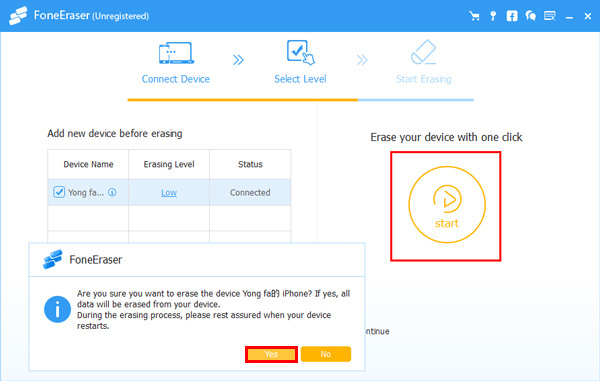 Step 5Confirming again by clicking Yes.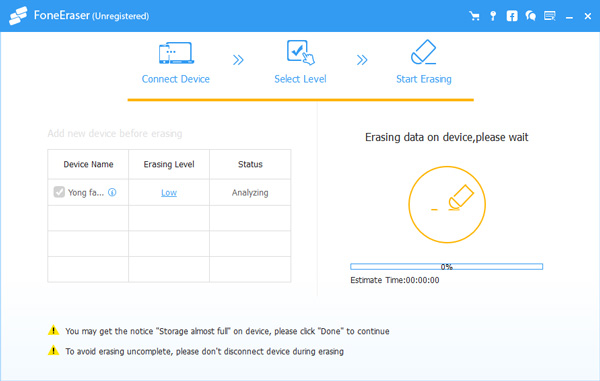 FoneEraser for iOS is simple for user ever new fish. You don't need a lot of professional knowledge or nology for it. Why not have a try now?
5. How to Reset iPad to Factory Settings with iOS Unlocker
Above-mentioned ways are about how do you reset an ipad to factory settings with iPhone password. If you don't know iPhone screen password, you can still restore ipad to factory settings via iOS Unlocker.
It is a proven tool to help you reset iPad to factory settings without password. What's more, it is also userful to remove Apple ID, turn off iPhone restrictions passcode and more if you want.
Below is how to restore iPad to Factory Settings.
Step 1Just download and install iOS Unlocker from the official site. Then choose Wipe passcode from the interface.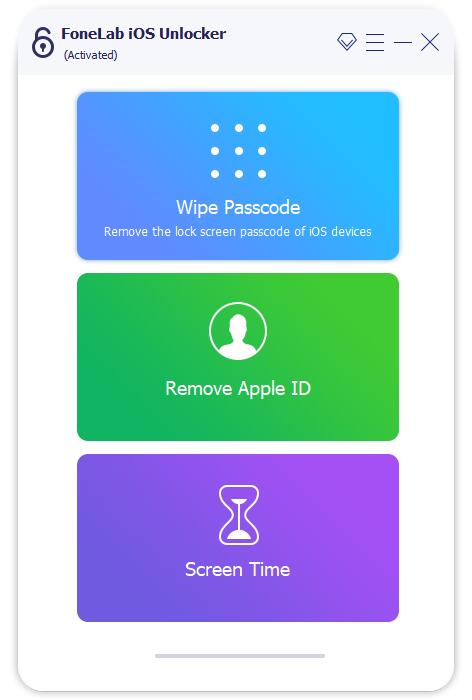 Step 2Connect your device to computer and click Start button on the program.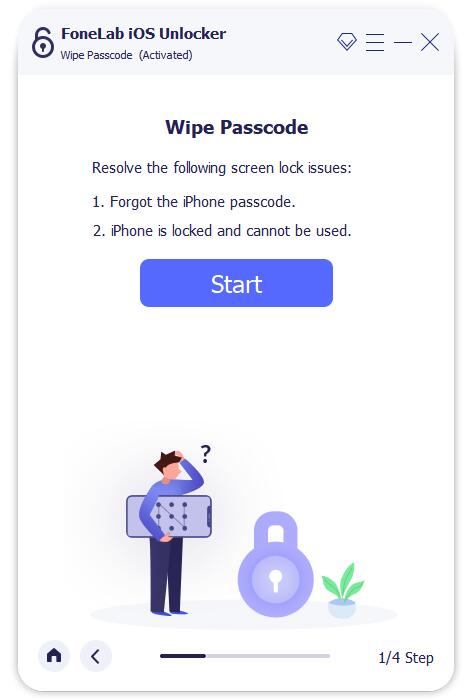 Step 3Confirm device information from the list and click Start button again.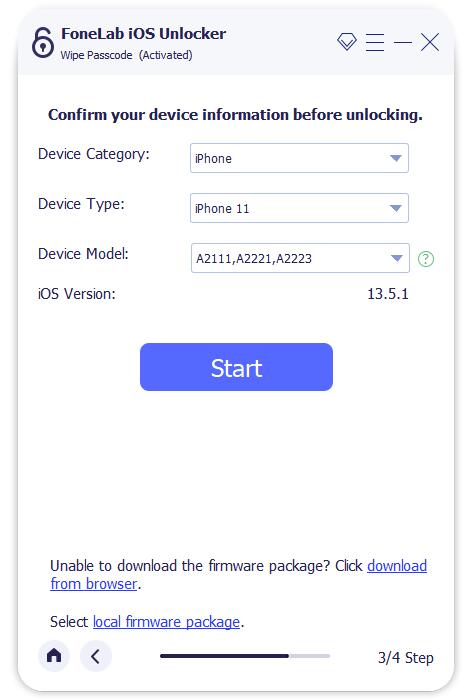 Step 4It will download device firmware. After it is done, click Unlock button restore iPad to factory resettings.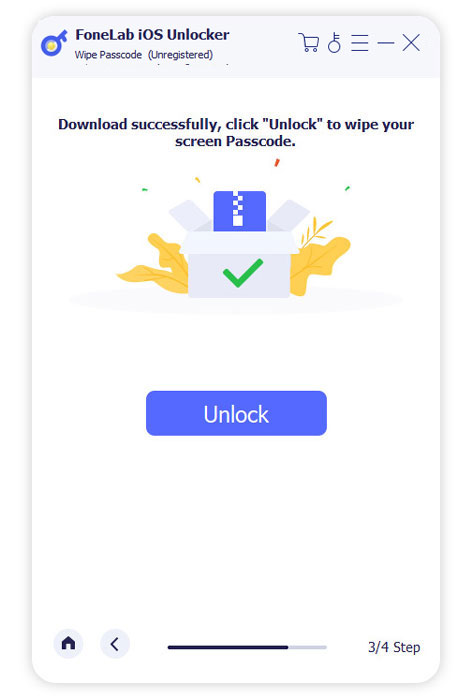 Step 5To fix the iPad is disabled and won't connect to iTunes, you will be required to type 0000 under the Unlock confirmation blank. At last, click Unlock to enable a disabled iPad.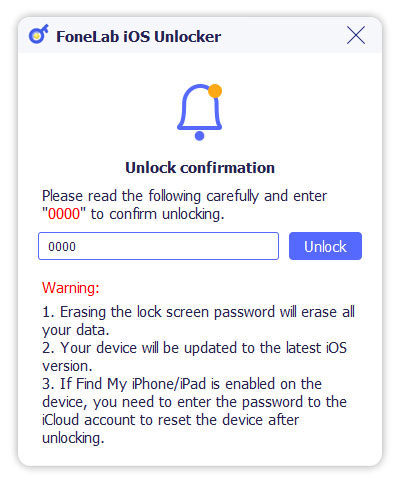 That's all about how to reset iPad to factory settings. If you have more comments, please leave messages below.