Recover iOS Data Now
Recover your data from iPhone to computer easily.
[Updated 2021] How to Retrieve Videos from iCloud on iPad
I cleaned up the useless data on my iPad to free up space. Then I found some precious videos were disappeared from my iPad as well. I have a backup in the iCloud. Is it possible to recover data from iCloud without factory reset.
With the high-resolution Retina display, iPad has always been an ideal video player. Most iPad users like to use the built-in Camera app to capture some precious moment such as a good time on a trip, the growth of the children, and fun times with friends. This feature is quite convenient, especially when you want to record something but the physical Camera isn't around.
Furthermore, iPad provides a tool called iCloud Service to back up and store the videos, which makes it possible to get deleted videos back.
Many people cleaned up their iPad purposefully in an attempt to free up space and later regretted deleting their important videos. When encountering such a situation, you may look around for a way to restore deleted videos on the iPad.
At this point, the iCloud can play a great role in data restoration. I will share 3 ways to recover deleted videos from iPad.
Let's get started here.
1. How to Recover Deleted Videos from Recently Deleted Album
Since iOS 8, Apple has added a Recently Deleted Folder in Photos app, which is used to recycle the deleted items before they are permanently removed.
It's a piece of cake to get back the recently deleted videos and it won't bring up any additional loss. So this is the first trick worth a try.
Follow the steps below.
Step 1 Navigate to the Photos and Albums on your iPad.
Step 2 Swipe the screen to find the Recently Deleted Folder and tap on it.
Step 3 Select the videos you want to keep and tap Recover.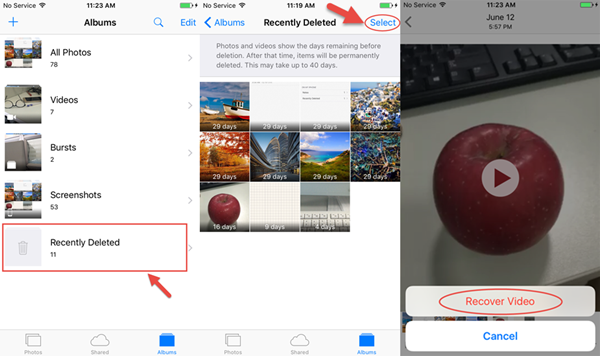 It is worth noted that videos in this folder will only be kept for 30 days. After the period, they will be removed permanently.
Maybe your needed videos have been removed from here by the system.
No worries, the videos can be stored in iCloud until you delete them manually.
Please read on to get into more details.
2. How to Recover Deleted Videos from iPad with iCloud
iCloud is a wonderful data backup tool. It helps protect all your data including videos on the iPad from loss by making a carbon copy to iCloud storage.
It is a good habit to back up your iPad regularly for safety sake. If you do so, you can easily retrieve the deleted videos from iCloud.
While iCloud backup is great, it's not so obvious how to retrieve the data out of it.
Here are detailed steps.
Step 1 At the first, you must reset your iPad to factory default, go to Settings > General > Reset > Erase All Content and Settings.
Step 2 Tap Erase again to confirm, then the iPad will get restarted.
Step 3 Follow the setup steps until reaching the Apps & Data interface.
Step 4 Choose Restore from iCloud backup from the three options on the interface.
Step 5 When prompted, type in your Apple ID and password.
Step 6 Select the date of the backup you want to restore.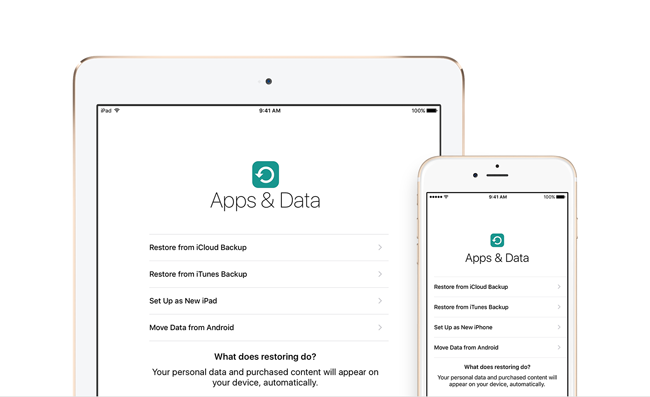 That's it, the iCloud will finish the rest. And your iPad will reboot once during the process.
Some people asked whether they can recover an individual video. Actually, the traditional method cannot do this – It is all or nothing, unless you get the help of a recovery tool.
You can also learn how to check iCloud backup online.
The next method will introduce how to recover an individual video from iCloud.
3. How to Retrieve Deleted Videos on iPad with FoneLab
FoneLab - iPhone Data Recovery enables you to preview the content of each backup file, which makes data recovery more selective. In other words, you can choose only your desired data to recover without changing any existing data on your iPad.
Let's see how it works.
Step 1 Download and install the software on your computer with the above links.
Step 2 Once the installation is done, the program will launch automatically.
Step 3 On the interface, select iPhone Data Recovery > Recover from iCloud Backup File.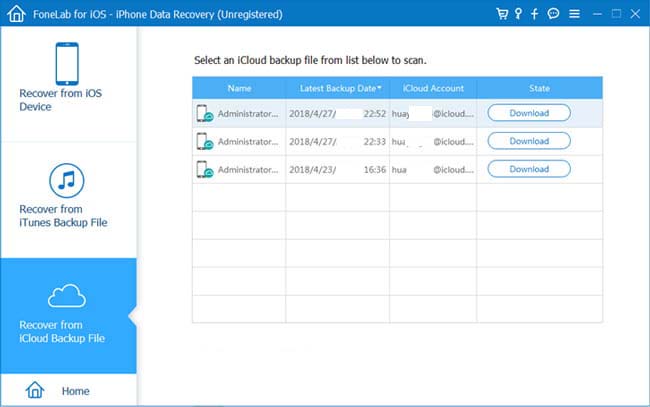 Step 4 Type in your iCloud account and password. Maybe you need to turn off Two Factor Authentication.
Step 5 The backup history will be listed in the table. Choose a backup file to download and click Scan.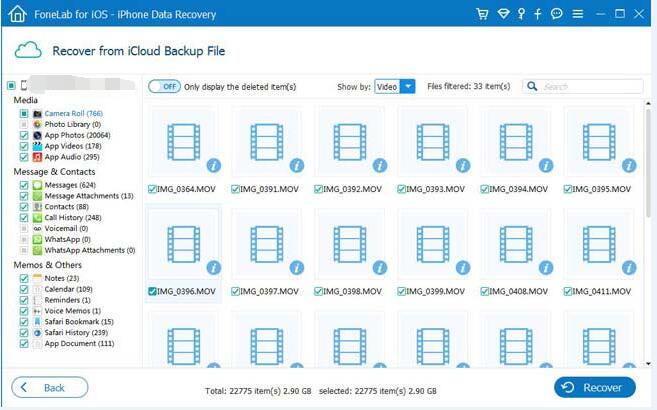 Step 6 The different types of data will be cataloged on the left sidebar. Click Camera Roll or App Videos to preview the details. You can choose Only Display The Deleted Items and Show By Video.
Step 7 Mark your needed items and click Recover. What you chose will be saved to your computer.
Besides,
It is achievable to recover videos from iPad by scanning your device as long as your iPad can work properly.
In addition to iPad, this software can recover videos from iPhone , iPod and other iOS devices. And it can also recover safari history from iCloud.
This software offers a 30-days trial, you can free download it and have a try.