Record Screen Now
Capture video, audio, online tutorial, etc on Windows/Mac, and you can easily customize size, edit the video or audio, and more.
The Best MP4 Recorder in 2023 - Top 4 Video Recorders You Can Not Miss
Because of various reasons, people expect to record screen video, audio or others to create an online course, record game screen, capture desktop activities for different purposes. Finally, they need to save the recorded videos in the most popular format so that the videos can be wide-spread without hassle.
You can find many different screen recorders on the market, most of them are full of versatile features to help you do what you want. It is always frustrating that you are not allowed to save the video or audio in the preferred format.
Some people find that they can convert video to MP4 after that with some video converter tools. It might work but looks like a time-wasting task as you can absolutely record screen and then save it as MP4 directly with the right recorders.
In this post, we will show you the most convenient and effective tools for you. Unveil them right below.

Part 1: Can iPhone Record Video in MP4
As a popular mobile phone, iPhone has upgraded its camera specifications and recording features to satisfy users' requests. Nowadays, iPhone becomes one of the best MP4 recorders.
However, its default format for recording video is HEVC, you need to change its settings to save recorded video in MP4.
Firstly, go to Settings > Camera > Format. Then you can see High Efficiency is selected by default. This option lets iPhone capture video in high-efficiency HEVC format to reduce size. You should choose Most Compatible to save videos in MP4 format.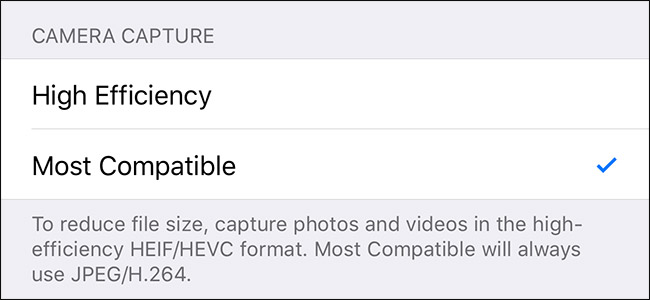 After that, you can easily swipe down the screen and enable screen recording to capture iPhone screen video in MP4.
Part 2: How to Make OBS Record in MP4
The second in our list is OBS Studio, which is also named Open Source Broadcaster Software. Can OBS Record MP4? As one of the most compatible formats, make OBS record in MP4 becomes an asked-frequently question from many users. The answer to this question is Of course yes!
How to Get OBS to Record in MP4
Fortunately, MP4 is one of the recording output formats from the options. You can easily make OBS Record in MP4 instead of default MKV format through File > Settings > Output > Advanced next to Output Mode > Recording > Recording Format > MP4.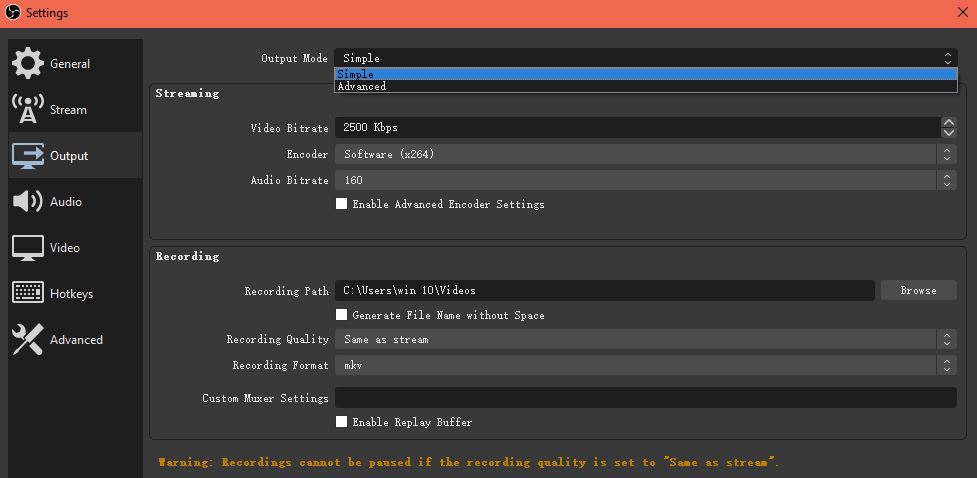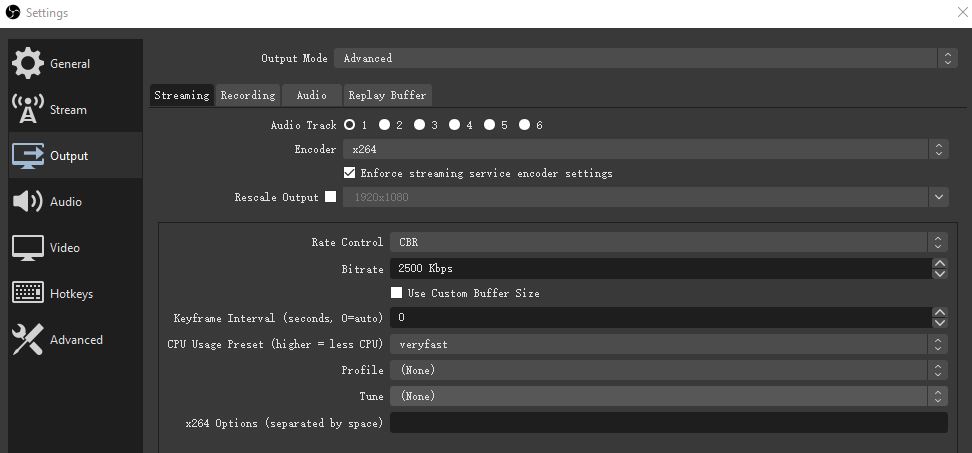 So easy, right? You will be reminded that the MP4 files will be unrecoverable if the file cannot be finalized. So, it is better that you can remux the recording to MP4 after it is finished.
If you want more options, please move on.
Part 3: The Best MP4 Recorder - FoneLab Screen Recorder
FoneLab Screen Recorder is one of the best screen recorder available in the market today. It is incredibly easy-to-use and efficient so you can record screen with audio and webcam simultaneously with ease. What's more, it has a wide range of features to make a professional-looking video with various tools, so you can add annotations, trim videos, record with mouse indications, record screen excludes unwanted windows, etc.
Below is the tutorial of how to use this wonderful MP4 voice recorder or MP4 screen recorder.
Step 1First of all, you need to download the best MP4 recorder from its official site. Then, follow the on-screen instructions to finish the installation. The program will be opened automatically if the button of Launch it was checked.
Step 2Choose Video Recorder here. If you want to record audio only, you can select Audio Recorder instead.

Step 3You will be required to select the recording area before recording. Click Full to capture entire screen, or hit Custom to record screen with fixed region or a window. You can also enable webcam, system sound or microphone accordingly.

You can see Set record length on the bottom center of the window, click on it and then you can set record length to stop recording automatically.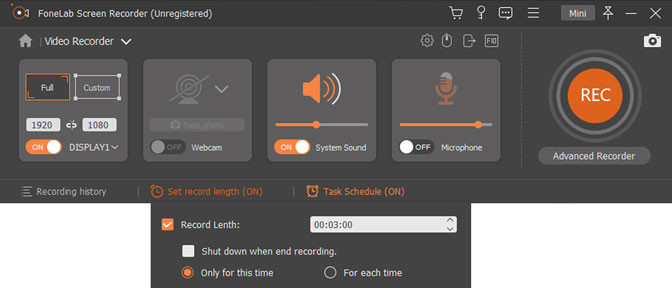 Moreover, you are enabled to add various annotations during recordings, such as text, line, shape and many others.

Step 4Click the orange REC button to capture screen as you want.
Step 5Click stop button if you want to stop recording. Then click save icon and select a location to save the recorded video.
As you can see, FoneLab Screen Recorder is the greatest choice as you can make a video tutorial because your can put narrations in it.
Part 4: MP4 Video Recorder on Mac - QuickTime 7 Pro
QuickTime is the last video recorder of the list. As a built-in feature, which is famous as an ultimate media player on Mac, QuickTime recorder also helps users record screen, trim video, compress video files, etc.
On September 24, 2018, Apple dropped support for the macOS version of QuickTime 7 Pro, which is available to record video on Mac and save it into MP4 format if you still have one. Below is how to record MP4 with QuickTime 7 Pro on Mac.
Step 1Open QuickTime on Mac, click File > New Screen Recording. Then begin to record what you want on screen.
Step 2Click File > Export > Movie to MPEG-4 when it is done. You are allowed to input the name in the box, then click Save button.
Bottom Line
Compare to others, FoneLab Screen Recorder suits best for people who want an MP4 recording tool which is user-friendly and efficient. In order to prevent people from missing something they want, it even can be utilized to enable a scheduled screen recording for offline watching.
That's all about the top MP4 recorders for your references. In some cases, if you want to record screen with vivid annotations for videos, FoneLab Screen Recorder is a wise choice for you. Why not download and have a try now!