Convert Video Now
convert MPG/MPEG to MP4 with fast speed and high output image/sound quality.
HEVC V.S. MP4/H.264 – How to Convert HEVC to MP4/H.264 Easily
When you need to save the videos in high quality, which is a better choice, HEVC or MP4/H.264? What are the differences between the two file formats? You might need to decide to send data using the HEVC or MP4/H.264 for the services. Just learn more about the two file formats and how to convert HEVC to MP4/H.264 with ease from the article.

1. What is HEVC
HEVC stands for High Efficiency Video Coding, which is also known as H.265. It processes information in what's called Coding Tree Units (CTUs) that will compress video files to half the size possible using the most-efficient current encoding format. HEVC is used to compress video with 4K-resolution, and possibly even 8K-resolution in the future.
As a successor of MP4/H.264, HEVC is compatible with the newer televisions support 4K and some sites. But it is recommended to use H.264 as the best video codec for uploading videos to YouTube or other online sites.
HEVC codec is patented by a good number of parties and charged in higher licensing fee. It is the reason that only limited online sites use the HEVC uploading method.
HEVC just produces better video quality at lower space and bandwidth consumption, but instead it requires a higher demand in computing power than H.264 and other codecs.
HEVC requires far higher requirements on hardware configurations (CPU, GPU and RAM), software (HEVC x265 player) and operating system to decode and play HEVC video.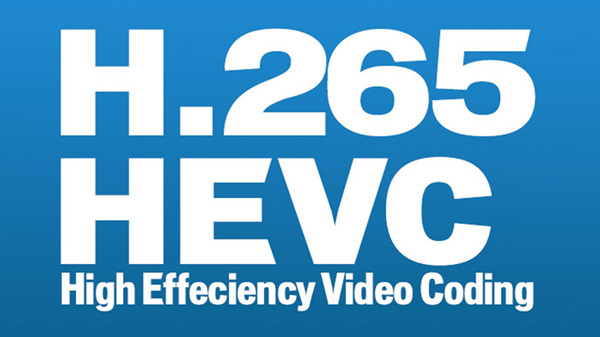 2. HEVC V.S. MP4/H.264
What are the major differences between HEVC and MP4/H.264? The key improvement is that HEVC is 40-50% the bitrate reduction in the same visual quality compared to MP4/H.264. Because of the advanced and enhanced compress model of HEVC, which has 35 directional modes for intra prediction compared to 9 directional modes of MP4/H.264.
HEVC V.S. MP4/H.264 Partition:
MP4/H.2 64 files are 16x16 (Macroblock) in partition size and sub block down to 4x4. HEVC files are 8x8 to 64x64 (Coding Unit) and intra: down to 4x4 (symmetric) inter 4x8 or 8x4 unl-directional, larger symmetric.
HEVC V.S. MP4/H.264 Motion:
HEVC uses Advanced Motion Vector Prediction spatial with temporal as motion prediction, merge mode and 1/4 pixel 7 or 8 tap Luma, 1/8 pixel 4-tap chroma. MP4/H.264 uses spatial median (3 blocks), direct mode and 1/2 pixel 6-tap and 1/4 pixel bi-linear.
HEVC V.S. MP4/H.264 Tools:
HEVC has wavefront parallel processing, tiles, and slices as multi-core tool. It also includes the temporal scalability included (others under discussion) as the scalability tools. MP4/H.264 has slices as the multi-core tool and through extensions as the scalability tools.
3. How to Convert HEVC to MP4/H.264
Just as mentioned above, you have to convert HEVC to MP4/H.264 if you need to upload the videos online with high video quality. FoneLab Video Converter Ultimate is the desired HEVC to MP4/H.264 converter, which enables you to transcode the video, edit video files or even enhance the quality within clicks.
Convert HEVC to MP4/H.264 with the desired codec, sample rate and more.
Provide 4 different methods to enhance the video quality and reduce noise.
Multiple video editing features to crop, trim, merge and apply video effects.
Advanced hardware acceleration to convert the MP4/H.264 with fast speed.
Step 1Download and install the HEVC to MP4/H.264 converter, you can launch the program on your computer. Click the Load File button to add the HEVC video into the program. It takes a few seconds to load the HEVC file for converting.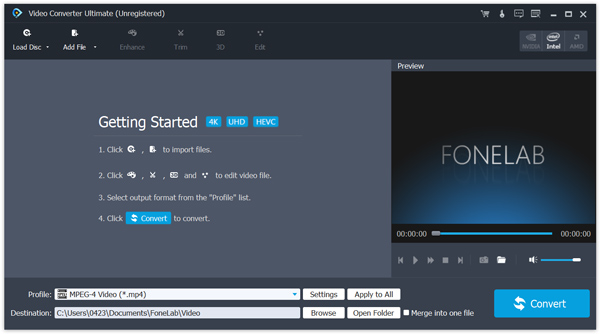 Step 2Go to the Profile menu to choose the HD H.264/MPEG-4 AVC Video (*.mp4) as the output format. Click the Settings option to further adjust the video settings and audio settings, such as encoder, frame rate, resolution, aspect ratio and more.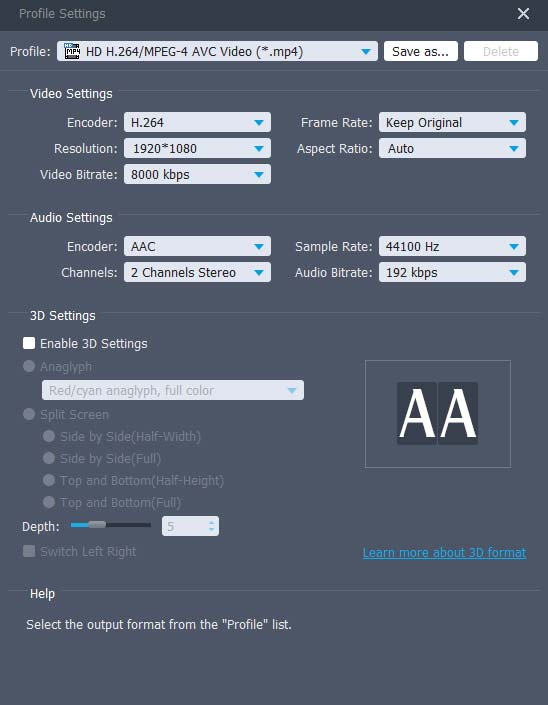 Step 3In order to further edit the videos, you can click the Enhance option, which you are able to upscale resolution, optimize brightness and contrast, remove video noise and reduce video shaking. Choose the desired option and click the Apply button.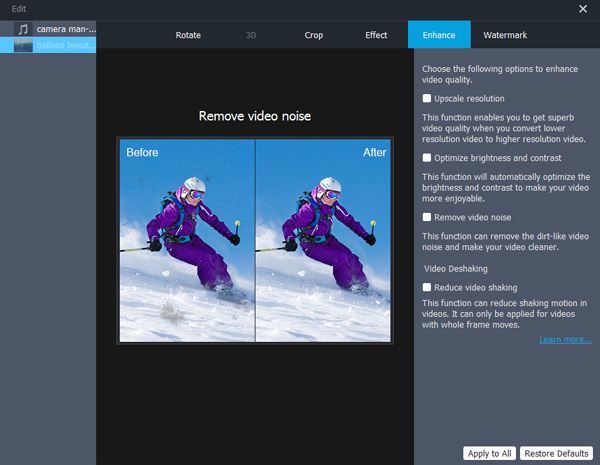 Step 4Choose the destination folder for the output H.264 video file and click the Convert button to transcode the HEVC file into MP4/H.264. After that, you can upload the converted videos to YouTube, Vimeo and other online social media websites accordingly.
Conclusion
When you need to upload some videos to online sites, you can learn more about the difference between the two video options, HEVC and MP4/H.264. Of course, HEVC file has many advanced features than the MP4/H.264 one. But in order to playback the video smoothly, MP4/H.264 is still a nice option. Just find the best method to convert the files from the article now.