Convert Video Now
convert MPG/MPEG to MP4 with fast speed and high output image/sound quality.
How to Trim MP3 Audio Clip in Audacity and Its 3 Alternatives
Audacity is a free and open source audio editor and recorder for both Windows, Mac and Linux users. You can record, convert and edit audio files in MP3, WAV, AIFF and many other formats. It is also supported to trim audio tracks in Audacity. No matter you want to cut and move audio in Audacity for easy playback or further editing, you can get the detailed steps here.

1. Why Need to Trim MP3 File
If you want to add a section of MP3 audio to an audio or video file, you can use an audio trimmer to cut out the audio clip. There is no need to process the entire audio file. You can trim an MP3 audio file in Audacity with any length. Furthermore, you can get smaller file size by trimming MP3 audio in Audacity.
2. How to Trim MP3 on Computer with Audacity
Audacity allows users to edit multiple audio tracks within the same interface. You can get the basic editing tools to cut, copy, delete, paste, delete and trim audio tracks. During this time, you can check the Audacity audio trimming tutorial below.
Step 1Free download Audacity. Launch Audacity after the installation.
Step 2Unfold the File list. Choose Import and then select Audio to import your MP3 audio.
Step 3Check the stereo waveform in the workplace. Click the Play button to play the MP3 audio in Audacity.
Step 4Choose View followed by Enlarge. You can make the audio region clearer than before. Later, select audio in Audacity with your mouse.
Step 5Stop playing the audio. Then click the Cut icon on the top to split audio in Audacity. It looks like a scissor.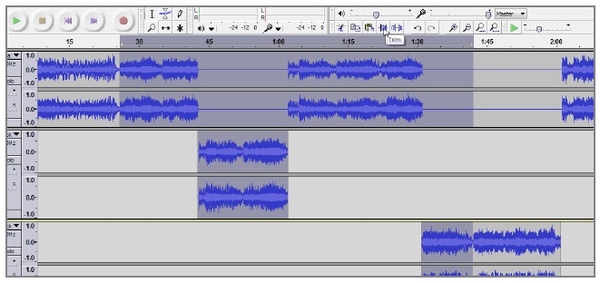 3. How to Trim MP3 with Audacity Alternative - Video Converter Ultimate/Windows Media Player/VLC
You can cut and move audio in Audacity with the above steps. If Audacity can't trim audio, Audacity trims audio greyed out, or you find Audacity is too difficult to use, you can cut and split MP3 audio with the following methods too.
How to Trim MP3 Audio with Video Converter Ultimate
Compared with Audacity, FoneLab Video Converter Ultimate offers a user-friendly interface. You can trim and merge any audio clip within clicks. It is also supported to extract MP3 audio from video with custom audio length. Furthermore, you can adjust output audio settings and convert MP3 audio clip to any format freely. Here're the main features of the music editing software.
Trim MP3 audio with start/end points and specific options.
Play the MP3 audio segment from any start time.
Merge the selected audio clips into a new audio file.
Convert audio from MP3 to WAV, AAC, FLAC, OGG, etc.
Adjust audio encoder, sample rate, channels and bitrate.
Step 1Launch FoneLab Video Converter Ultimate. Drag and drop MP3 audio files into the main interface.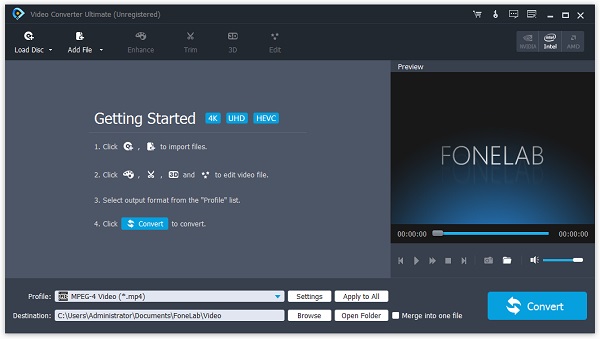 Step 2Click Trim on the top toolbar. Here you can pre-listen and split audio clips to trim audio.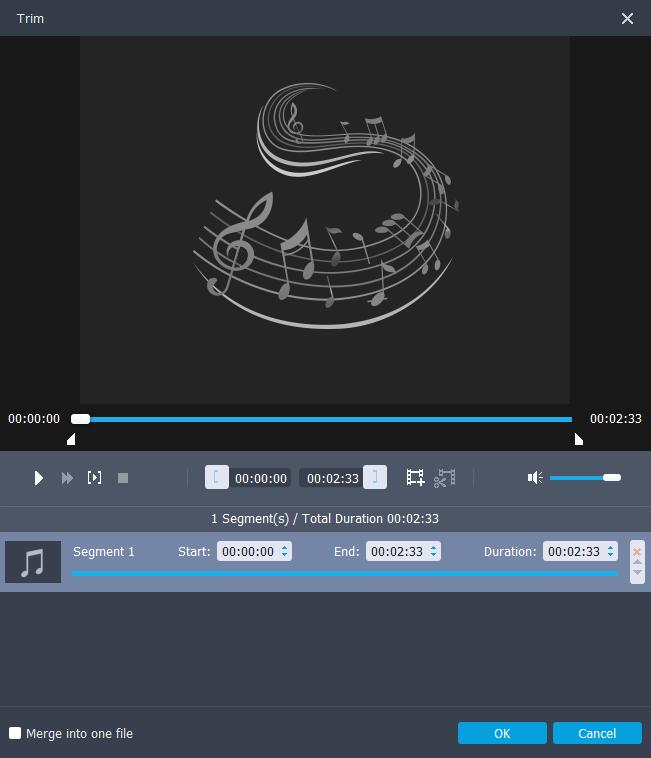 Step 3Just move the start and end points of the audio segment you need. Later, click the Trim button below to split audio. Click OK to save changes and confirm.
Step 4Click Settings next to Profile to adjust audio quality and file size. At last, you can click Convert to export the trimmed MP3 audio clip.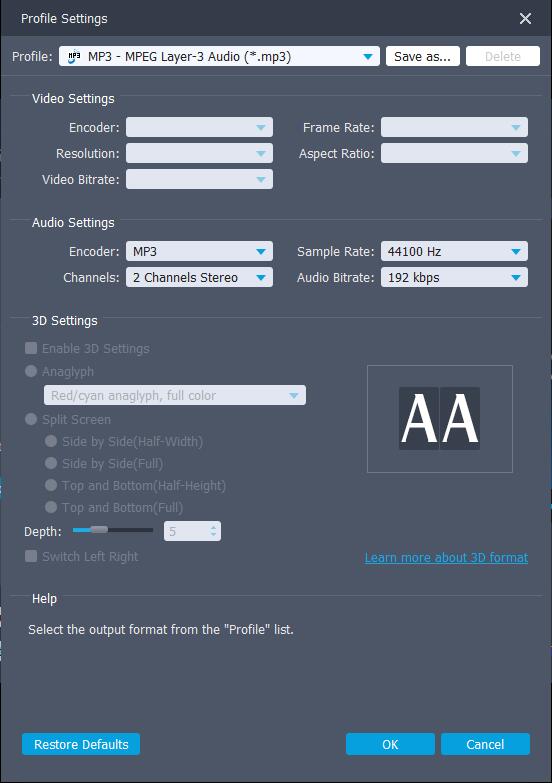 How to Trim MP3 Audio with Windows Media Player
There is no direct audio editing tool in Windows Media Player. If you want to trim audio and remove unwanted part, you need to install WMP plugins to use Windows Media Player as your Audacity alternative software.
Step 1Run Windows Media Player.
Step 2Choose SolveigMM WMP Trimmer Plugin Home Edition from the Plugins submenu from the Tools list.
Step 3Activate the WMP Trimmer plugin. Choose Open Media File to import MP3 files.
Step 4Click Edit File to access the audio trimmer. Then click on the desired start position. Choose Add Marker to confirm. You can set the end position with the same way.
Step 5Export the MP3 audio clip to trim audio with Windows Media player.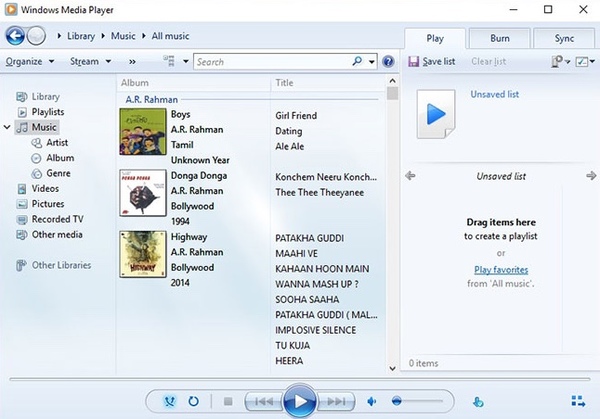 How to Trim MP3 Audio with VLC Media Player
VLC is a free and open source media player and editor. You can also trim audio in MP3 format with VLC on Android, iPhone, Windows, Mac and Linux.
Step 1Open VLC Media Player. Drag and drop MP3 file into VLC directly.
Step 2Pause the audio playback. Unfold the Tools list and choose Advanced Controls.
Step 3Set the start and point of your MP3 audio. Then click on the Red button to start playing audio.
Step 4Click on the Red button again when it reaches the end position of your desired audio.
Step 5Export and save MP3 audio clip to complete the audio trimming process.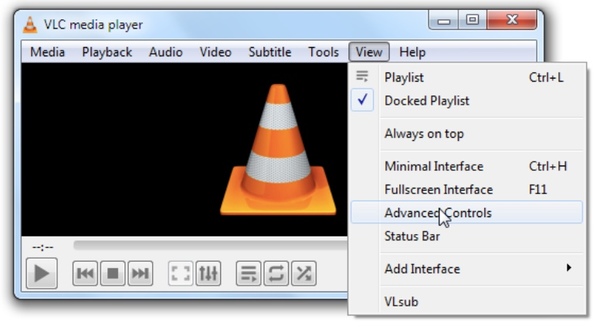 That's all to trim audio in Audacity and its alternatives. Here're 4 different audio editing software for beginners and experts. You can select any section from your MP3 audio with easy steps. If you have questions about audio trimming, you can feel free to contact us.