Convert Video Now
convert MPG/MPEG to MP4 with fast speed and high output image/sound quality.
Best Audio Enhancer Software - How to Enhance Audio on a Video Correctly
I tried to record some video, which will be uploaded to my YouTube channel. But the audio in the video has a bad annoying noise. I heard about Audacity before, but I don't know how to use it? Is it complicated to use? Any easier tool?

Along with the development of internet, people would like to share various videos on social media platforms, and others can reach the videos easily with connection. But most of them can not guarantee a video without a bad audio track.
Therefore, effective audio enhancers will be strongly recommended to you in this post.
1. Enhance Audio in Video with FoneLab Video Converter Ultimate
Request decides demands. Tons of options will be listed on the page when you search about audio enhancer, improve audio quality or something else. So why should you choose FoneLab Video Converter Ultimate from them?
As its name said, FoneLab Video Converter Ultimate is a video converter software to help you convert video and audio format easily. In addition, it also enables you to edit video files, such as merge videos, crop video file, split video and more.
It supports both Windows and Mac versions.
It is safe and easy to use.
You can use it to edit video and audio files.
Supports various video and audio files.
You are enabled to enhance video and audio quality if you want.
Below are the demonstration with clear instructions.
Step 1If you have no hand, you can't make a fist. You should download and install FoneLab Video Converter Ultimate on computer firstly, then it will be launched automatically.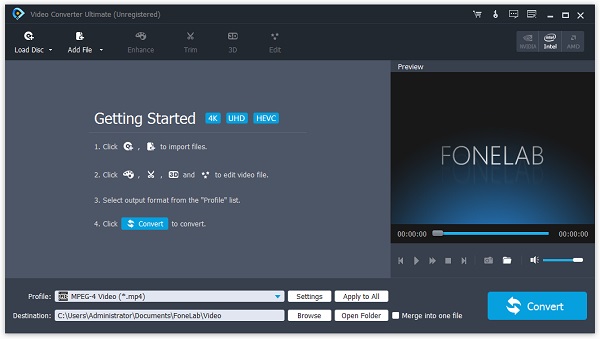 Step 2You should import the files to the program in this step. Click Add File button or directly drag and drop them to the software. Then you can see the files placed in the interface.
Step 3Choose Edit or Enhance button on the top of the window, then you can see a pop-up window.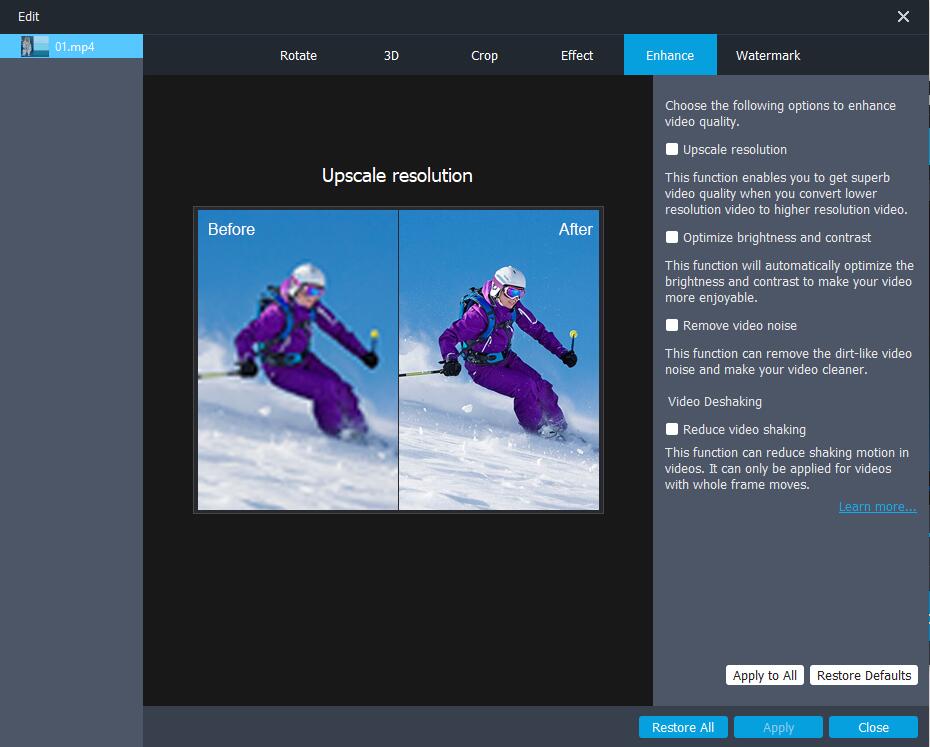 Step 4Check the box next to Remove video noise to remove the dirt-like video noise and make your video cleaner, then click Apply on the bottom.
Step 5Click the blue Convert button on the bottom-right corner.
If you won't prefer to pay for software, you can use some free audio enhancers instead. They also can be found on the internet.
2. Improve Audio Quality with Audacity
Let's take Audacity to illustrate this.
Best Free Audio Enhancer for Windows 10 - Audacity is one of the best free audio enhancers you can find on the internet. As a free audio editing and recording software, you can use it to edit audio and remove background noise through this Audacity audio enhancer.
Step 1Import the audio file to Audacity, then highlight the blank audio.
Step 2Click Effect > Noise Reduction > Get Noise Profile. Once you have done that, repeat the rest part of the file.
Step 3Click Effects > Compressor. Adjust the settings.
Step 4Click Effects > Equalisation > Bass Boost > OK. Repeat this step and choose Treble Boost finally.
Step 5Click Effects > Limiter > Hard Limiter > 3.00db.
Step 6Click Effects > Normalise.
Therefore, in my opinion, it's advisable to use FoneLab Video Converter Ultimate as it is much easier to use for a fresh.
However, we have to look at the other side of the coin, that is some people even don't want to download or install any program on computer.
All roads lead to Rome, you can still have some online audio enhancers.
3. Enhance Audio in Video Online
Online tools are popular because of its convenience, so you can just open the web page and upload your file to improve its quality.
We will introduce TwistedWave to you. You can find it has a collection of Mac, iPhone, iPad tools, you can choose one according to your needs.
Step 1Search TwistedWave in the Google search box, and open it. You will be asked to create an account before using it.
Step 2Open the local folder which has your audio file, then drag and drop it to the web page. You are allowed to import from Google Drive or SoundCloud if you want. Then it will be uploaded to the page in seconds.

Step 3Then begin to remove the noise with it.
I will conclude by saying FoneLab Video Converter Ultimate should be the best choice for you. Why not download and have a try now!