Convert Video Now
convert MPG/MPEG to MP4 with fast speed and high output image/sound quality.
How to Improve Sound Quality of A Recorded Video Easily
We recorded a video yesterday for a school project. The camera quality is okay, but the sound quality is the problem. The place we recorded was a bit crowded, so there were many unnecessary noises. Can someone help me how to fix bad audio quality from video?
When recording videos, annoying background noises are always a problem. No matter how good the camera is, it can never filter the annoying sounds from the surroundings. Because of this, the main audio you want on the video gets mixed up with unnecessary sounds. Regardless if the video is for school, work, or personal, it naturally affects the viewing experience of the people who watch it. That's why as a video creator, you could really use the help of some tools to resolve this issue. Improving the audio quality of your video can easily be done if you find the perfect video editor compatible with your device.

Lucky for you, you have just stumbled upon the right article to help you with that. This article will let you discover the top programs and methods to fix your video's audio quality. You will be able to get through the problem with ease. And that has something to do with the fact that this post won't require very advanced knowledge. You only need to keep up with the undemanding steps that the parts below will provide to successfully improve the audio quality of your video files. You can also enjoy their bonus features along the way.
Part 1. How to Improve Audio Quality in Video with FoneLab Video Converter Ultimate
FoneLab Video Converter Ultimate, as its name indicates, is mainly a converting tool. But inside this program is an incredible enhancer for your video's audio. You won't quickly discover it, but the people who did have never regret trying it out. That's because this tool is excellent in all its features, such as editing, enhancing or fixing audio, and more. It even provides functions for creating MV and collage. In addition, FoneLab Video Converter Ultimate is a powerful, easy-to-navigate program. Its interface is so user-friendly that you'll be able to understand how it works even at your first use. And best of all, it lets you change your video file format to make it compatible with several devices.
Go along with the effortless instructions below to gain an understanding of how to fix bad audio quality from video with FoneLab Video Converter Ultimate:
Step 1Install FoneLab Video Converter Ultimate on your computer. To do that, you must click the Free Download tab on its official site. Then authorize the tool to make changes to your device for the installation to begin. Stand by for a few moments while some program features are being previewed during the process. And when the Start Now tab appears, hit it to run the tool on your computer.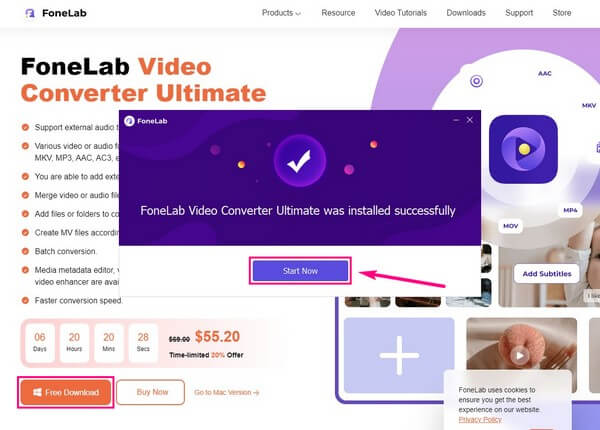 Step 2After the program starts, it's time to import the video file. You have two options to do so. You can click the box at the center of the interface and select the video file when the folder pops up. Or open the folder where the video is, then drag it into the box.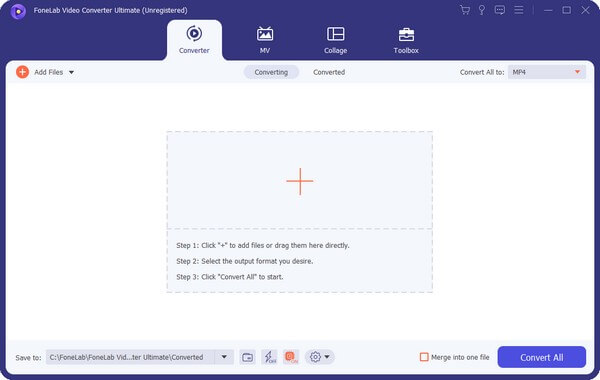 Step 3After that, click the Convert All to: option. When you see the supported formats, choose a similar video format to avoid accidentally altering the original one. But if you want to change it on purpose, you are free to do so.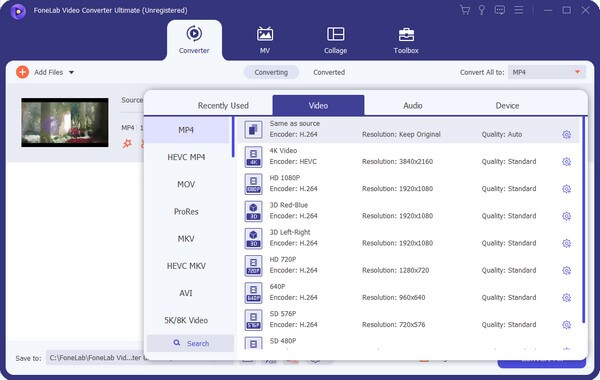 Step 4There will be various options and icons on the file information. This includes the subtitle, audio track, palette, scissors, and edit icons. You can also rename the file by clicking the pencil symbol. But for now, click the palette icon.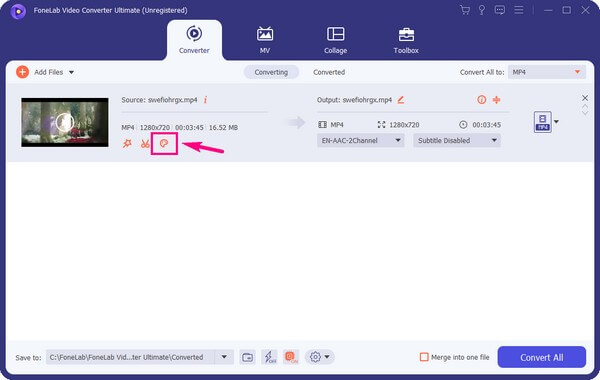 Step 5The video enhancer interface will be displayed, and it contains four options. The Upscale Resolution, Optimize Brightness and Contrast, Remove Video Noise, and Reduce Video Shaking. Tick the checkbox for Remove Video Noise to eliminate the dirt-like sounds on your video. A preview will be available for the first 10 seconds of the video. Later, click Save, then Convert All to save the enhanced video's audio on your computer.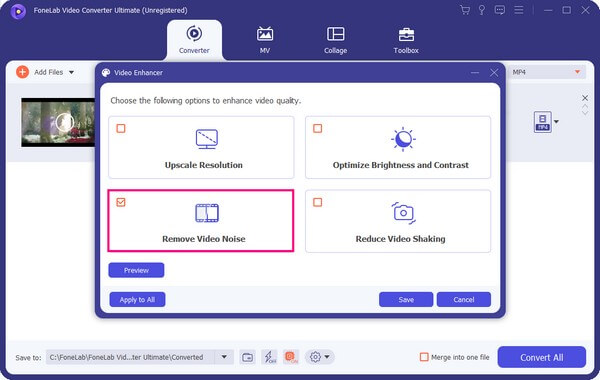 Part 2. How to Improve Audio Quality in Video via QuickTime
Meanwhile, you can also try QuickTime if you are using Mac. This tool is a pre-installed program on Mac that lets you play and view media files. In addition, QuickTime Player can improve your video's audio quality. However, this method has a couple of drawbacks you must take note of. First, the success rate is not as high as the method above. Second, you must upgrade your program to QuickTime Pro in order to do the process. Also, this tool is limited to Mac users, so if you use a different operating system, this method won't work for you.
Go along with the instructions below to gain an understanding of how to improve sound quality of a recorded video with QuickTime:
Step 1Open QuickTime Pro on your Mac computer. Select Window, then choose Movie Properties from the options.
Step 2Hit the Audio Settings tab. Once you access it, set up the db setting to +6, and balance the sound to one speaker. For some people, this improves the audio quality of the video they're watching. Check if it works for your Mac as well.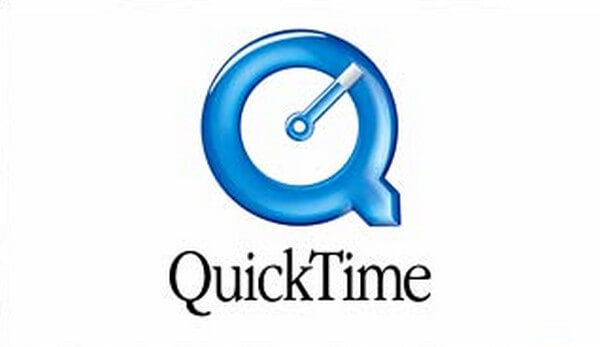 Part 3. FAQs about How to Improve Audio Quality in Video
Thank you so much for reading this post until the end. You can trust that the tools introduced above are proven effective by several users. If you need more solutions like this, visit the FoneLab Video Converter Ultimate website anytime.