2020 Updated Methods - How to Make a Dark Video Brighter Effectively
"I watched the video, which is taken last night on computer, and found that it is too dark to view clearly. How can I make it brighter easily? I don't know how to use the complicated tools on the internet. Anyone can help?"

People always get a unclear or dark video due to various reasons, the most of them have no idea about how to fix it. As a fact, there are some proven easy solutions for people who encountered the above-mentioned similar situations.
There are several reasons for the video dark, but in general, they come down to 3 major ones.
The settings of camera or other devices have not been adjusted well before taking videos.
The video may be too dark to watch due to the dim environment.
Something wrong on your screen.
If everything is going well on your computer, you should try below methods to lighten the dark videos easily.
1. How to Make Dark Videos Brighter with FoneLab Video Converter Ultimate
Many ways can contribute to solving this problem, but the following ones may be the most professional one.
FoneLab Video Converter Ultimate, which is more than a video converter to help you brighten a dark video with ease. You are enabled to crop video files, merge video files, convert video or audio formats, add video subtitles, etc.
You should know that this program are available for both Windows and Mac and it supports almost all video and audio formats. Therefore, it is a powerful software to do what you want for a video or audio file.
Below is a demonstration with clear instructions.
Download and install FoneLab Video Converter Ultimate on computer, then it will be launched automatically.
Drag and drop the video to the program or click Add File button to import a video.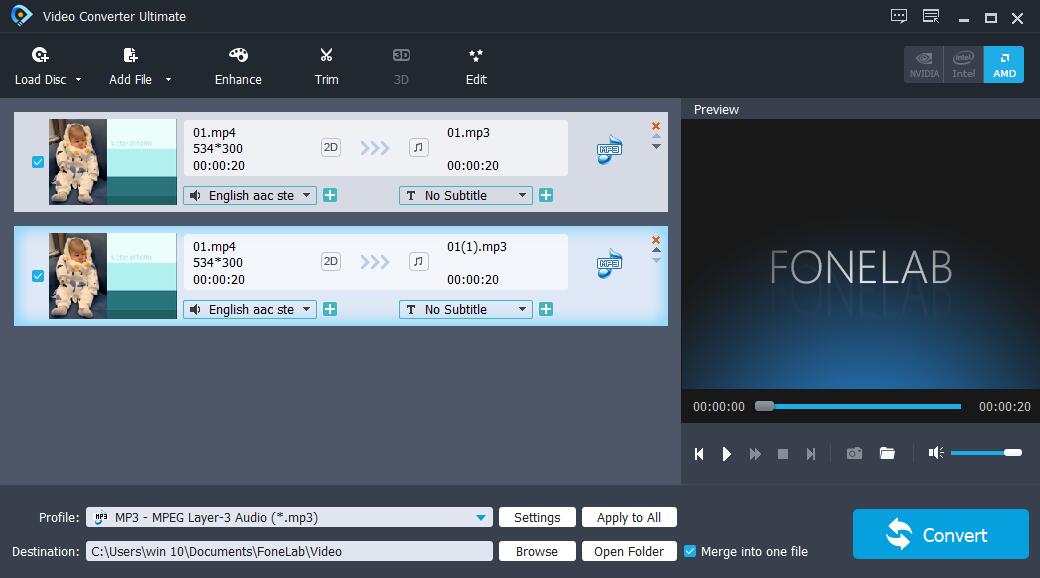 Click Edit button > Enhance.
You can see 4 options, check Optimize brightness and contrast in this step. You can also select Remove video noise to improve audio quality or others. Then click Apply.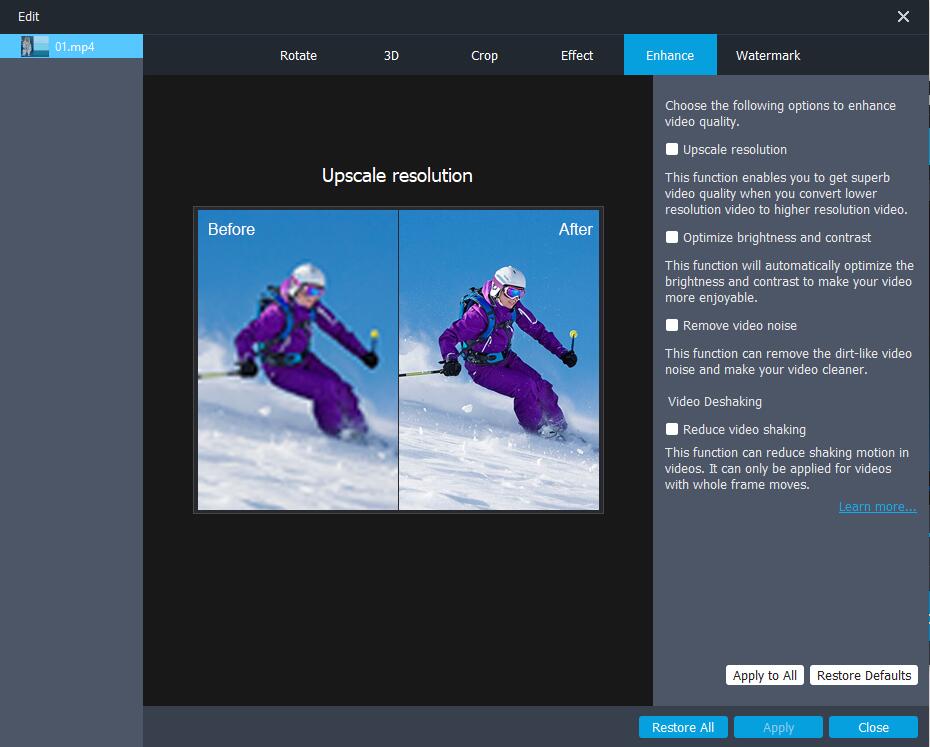 Click Convert button.
Talking about professional video editor, Adobe Premiere Pro might be reminded into your mind. It famous for its professional features and powerful editing efficiency.
2. How to Brighten Video in Premiere
If you are an Adobe Premiere Pro user and familiar with it, you can use it to brighten a video. Or the operations will be a bit complicated.
Import the video to Premiere.
Click Effects, input lighting effects and drag it to the video.
Select Effect Controls on the top menu.
Click the box next to Light Type and choose Directions.
Adjust Projected Radius and check the result.
Save the video.
As a Mac user, iMovie is one of the video editors you should not miss.
3. Brighten a Video with iMovie on Mac
iMovie can help you compress video files, trim audio, convert video format and more. Below is the tutorial to make a dark video brighter with it.
Import a video to iMovie, click Color Correction.
Select Adjust Brightness to make the clip lighter or darker and drag it to the video.
Save the video file.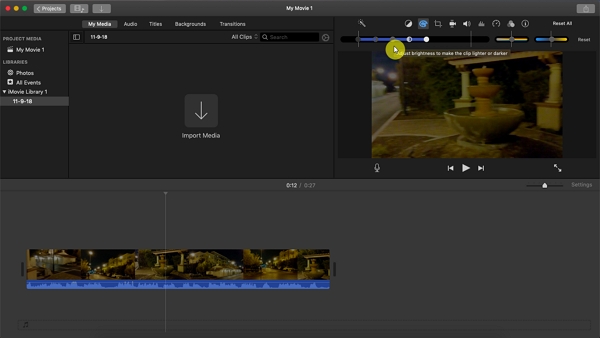 All roads lead to Rome. If you won't like to use a computer, your mobile phones also can help you solve the problem.
4. How to Brighten a Video on iPhone
Updating and upgrading make iPhone users use their devices easier and easier. Now you can adjust the brightness before and after taking a video with iPhone.
Brighten a Video Before Taking Videos
Open the Camera on iPhone, choose Video mode and tap on the screen.
Move the sun-shaped icon to adjust the brightness.
Brighten a Video After Taking Videos
Open Camera, find the video you want and tap Edit.
Choose the Brightness and adjust it.
Tap Done on the bottom-right corner.
While what about an Android user? Keep moving...
5. How to Brighten a Video on Android
You should pay attention that some Android phone has an Edit feature to adjust the brightness, contrast and more.
Open Gallery app, and locate the video.
Click Edit button and adjust the brightness.
Save the video.
6. Brighten Video App
Requests decide demands. Therefore, you can find tons of brighten dark video apps on the mobile phone application market. Now we will introduce one of them to you.
Instagram App to Brighten Videos
As a popular social media app on both iPhone and Android, you should it allows you to edit photos before sharing. Of course, it can be a wonderful video Brighten app if you want.
Search Instagram on App Store and install it.
Launch it and log in with your correct account and password.
Select the video and tap Brightness.
Adjust the brightness and save the video.
However, just like everything has both its good and bad sides, the above-mentioned methods also have their disadvantages, such as you will be required to download something on computer or mobile phone.
If you prefer to use an online tool, you should move to the next part about online video brighteners.
7. Brighten Video Online
In this paragraph, we will show you how to make dark videos brighter and clearer online.
Top 1. Clideo
This is a fast video brightener with simple interface. You can use its online editor to make your video brighter within a few clicks. And it supports all formats.

Top 2. Kapwing
It helps you add filter to video, adjust brightness, contrast and more. And you are allowed to upload a video or paste URL according to your needs.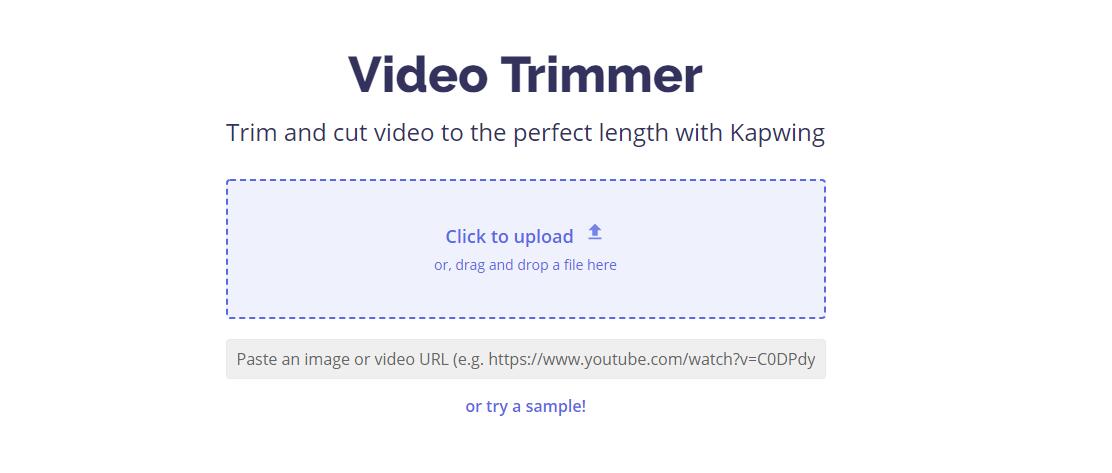 Top 3. Uniconverter
It has both online and desktop versions. And you can adjust a video brightness with 3 easy steps. You can also trim video, rotate video and crop video if you want.
That's all about how to make a dark video brighter. FoneLab Video Converter Ultimate might be one of the best choices because of its efficiency and easy operations. Why not download and have a try now!
Related Articles:

Leave your comment and join our discussion