How to Delete Saved Passcode on iPhone
"Safari is a convenient app for me to check different questions and visit some favorite websites with iPhone. I have saved some passwords on the browser which I go a lot so that I can log in quickly without entering the passwords again and again. But I have saved an incorrect passcode for one site, how can I remove it now? Thanks!"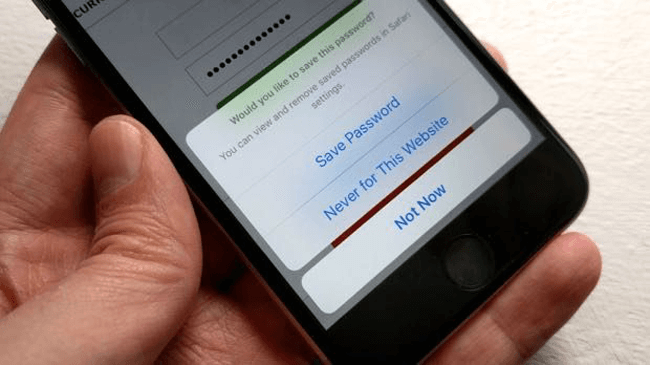 The browser is a vital app on your iPhone, because iPhone users use it to check what they need to know or visit the website according to their needs. Browsers have become more and more powerful to meet the needs from users. One of their outstanding features is the ability to remember the passwords for the sites you visit a lot, which allows you to log in your account by automatically filling the user name and passcode so that you can visit it quickly.
So how can you do if the browser has remembered the wrong passcode or you want to remove the saved passwords from it to prevent other people viewing your account and personal information? Below are two example for you to introduce how to delete password for iPhone browser.
1. Remove Safari Saved Passwords on iPhone
Safari is a web default browser developed by Apple based on the WebKit engine. So each iPhone user may use it frequently in daily life. There are different personal information in it, so you might want to remove the saved passwords on Safari to protect your privacy. Below are the detailed steps.
Open the Settings on your iPhone Home screen.
Scroll down to find the Safari.
Tap the Passwords option, then it will ask the passcode or Touch ID for Settings to view passwords.
Tap Edit in the top right corner.
Tick the box next to the passwords which you want to delete from the list.
Tap Delete in the top left corner.
Choose Delete again to confirm.

2. Clear Chrome Saved Passwords from iPhone
Chrome is a good alternative to Safari for the people who don't like the default browser on iPhone or iPad. And they will meet the same circumstance and want to remove the saved passwords on Chrome. Please follow below steps to clean these saved passwords on Chrome.
Launch Chrome on your iPhone.
Tap the three-dots in the top right corner, then you can see the drop-down menu.
Find Settings and choose Save Passwords.
Tap Edit in the top right corner.
Choose the passwords you want to wipe from your Chrome saved passwords list.
Tap Delete on the bottom.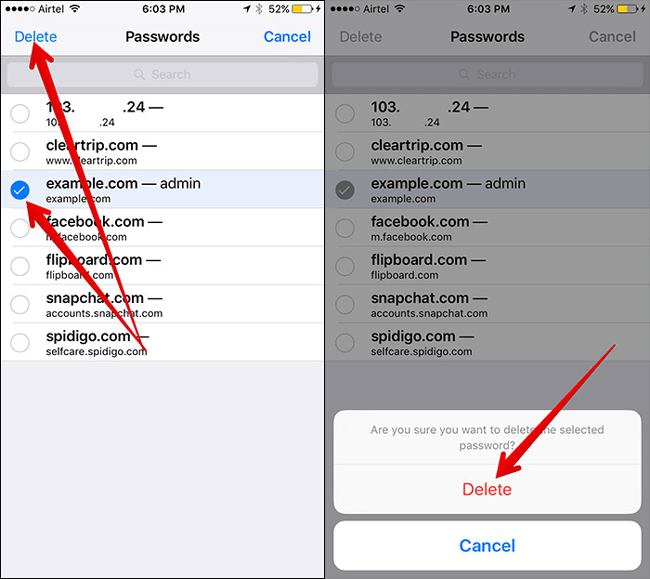 3. Delete All Stored Passwords on iPhone
Sometimes you have used different browsers for searching and visiting, then there are so many passwords in them. You might need to learn how to remove these saved passwords on browsers at once if you want to delete all of them to protect your personal privacy. FoneEraser for iOS is recommended to you here because of its efficiency and safety. It helps you to wipe all data and settings from iOS device completely, and its high-security standard ensures your deleted data can not be recovered. So, please back up all your important files before you erasing data on your iPhone. There are three erasing levels for options, so you can choose one from these options according to your needs. And it fully supports iPhone, iPad and iPod touch, so you can use it to wipe cache data, junk files, and any other unwanted files easily and thoroughly.
Download and software on the computer, and then install it. After that it will be automatically launched, if not, you can double click the program icon to open it.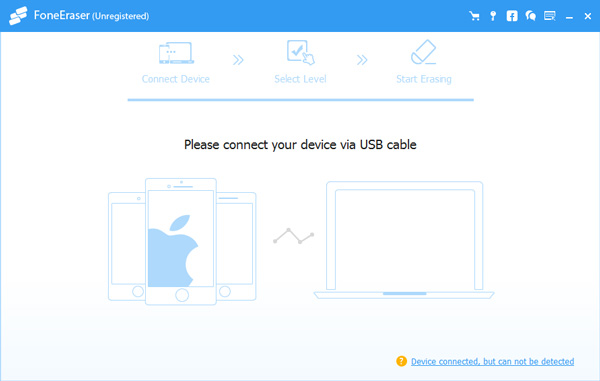 Connect your iPhone, iPad or iPod touch to your computer and choose Trust on your iOS device for connection.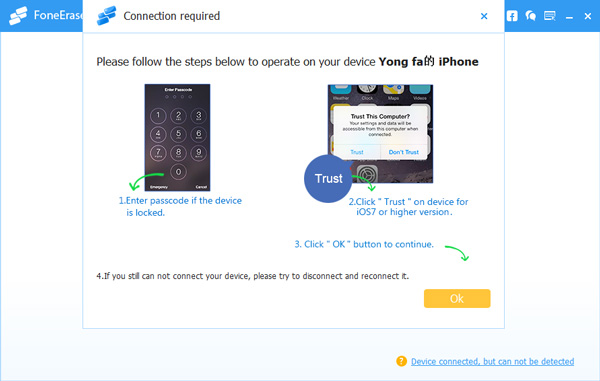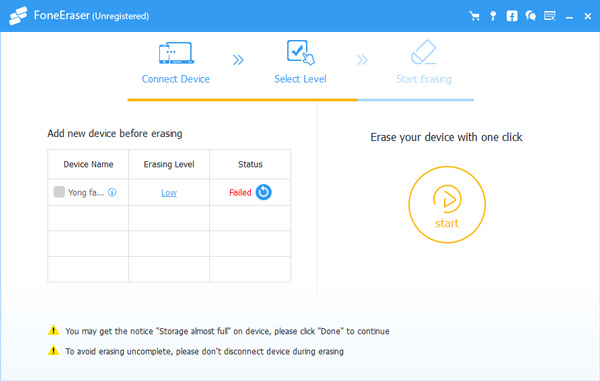 Choose the erasing level according to your needs. The High Level is recommended to you here.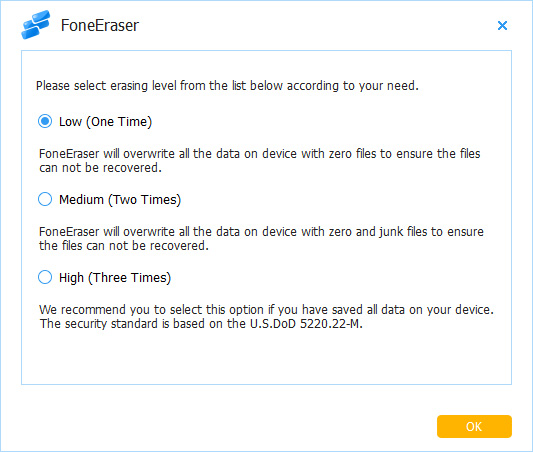 Click Start if everything is ready.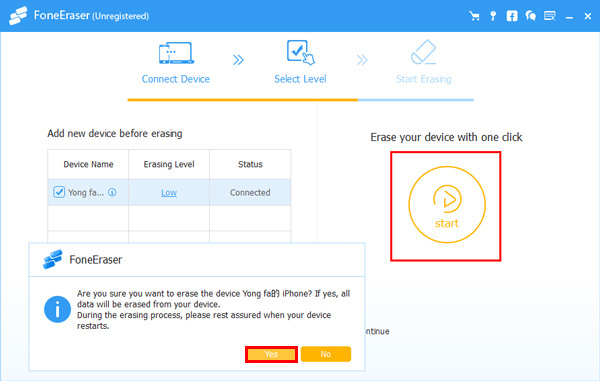 Click Yes to confirm you want to delete everything on your iPhone.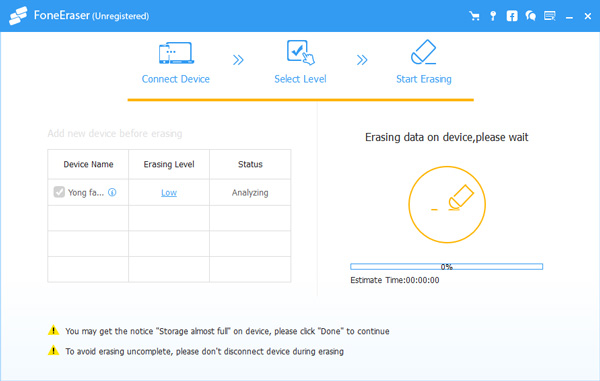 Deleting Safari saved passwords is not a difficult case but it is better that you can choose an easier way to wipe all saved passwords on iPhone. To prevent someone else to view the private information on your account, you have to delete these passwords whose accounts with this personal information thoroughly with FoneEraser for iOS, which removes iPhone or iPad photos, messages, tweets and more from your iPhone easily.
Related Articles: