Backup iOS Data Now
Backup and restore iPhone/iPad/iPod without data loss.
Best Solution on How to Backup iPhone to External Hard Drive

Posted by
Boey Wong
/ April 14, 2021 09:00
I have got a tiny hard drive on my Mac and a large-capacity iPhone. I am worrying that I am about to run out of space due to all the stuff I want to back up from my iPhone to my Mac. Is there a way to backup iPhone without using iTunes? Or is it possible to change the iPhone backup location? Please help, thanks in advance!
It is so important to have your iPhone data backed up at least to one other location. Better yet, back up your iPhone to external hard drive where disk space is often more abundant since it might be a big burden when backing up the device locally on limited disk space.

This can be especially noticeable on a laptop, where disk space is often limited. In addition, you may not actually need these backups except in emergencies.
So it is not a bad idea to have them stored in a portable external drive instead of the local disk. Another option is to change iTunes backup location.
But the entire iTunes backup files includes much more than this which can still be taking up space on your hard drive. These backup files are hidden inside your home directory Library folder when you sync an iOS device with Mac.
Thus,
you have to figure out the exact iTunes backup location and then you are able to move them to another place. But most of us may not know where are iTunes backups stored on Mac or Windows. In this post, I will show you how to backup your iPhone to an external hard drive without noticing the location of the backup files.
Tips: Not only iPhone data would encounter those problems, your Windows operating system may go wrong yet. Nobody knows when the system crash comes. Windows 10 system crash is a disaster from any PC or laptop users and nobody wants to meet this problem.
To avoid the disaster, we recommend you to backup Windows 10 to external hard drive in case of data loss. AOMEI Backupper is such reliable backup software to both home and office users.
Backup iPhone to External Hard Drive with FoneLab
FoneLab iOS Data Backup & Restore is specially designed to backup iPhone, iPad and iPod to computers or external hard drive. It is also able to restore contacts and notes to the device from the backup.
What's more, the software supports all modes of Apple devices including iPhoneX, 8, 8 Plus, 7, 7 Plus, 6, 6 Plus, 6s, 6s Plus, iPad Pro, mini, iPod touch and so on. Let's take a look at how this software performs.

Backup and restore iOS data to your PC/Mac easily..
Preview data in detail before you restore data from backups.
Backup and restore iPhone, iPad and iPod touch data Selectively.
Step 1Download and install the software onto your computer with the above link accordingly. The software will launch automatically once the process completes. Choose iOS Data Backup & Restore from the interface.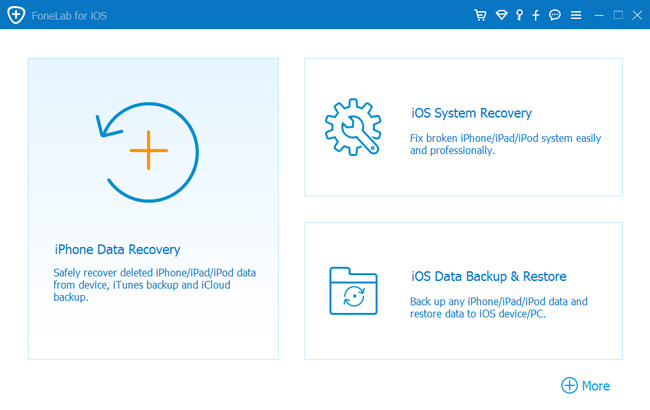 Step 2Connect your iPhone to the computer. Then tap Trust on your device home screen if it pops up.
Step 3Choose iOS Data Backup in this section.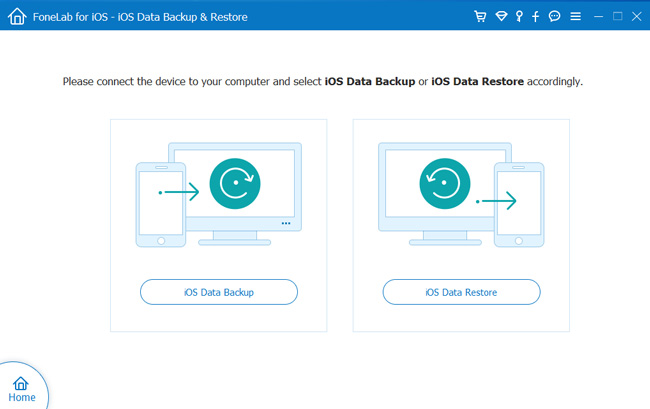 Step 4You can choose Encrypted backup if you want to protect your backup files with password. Or just select Standard backup to move on.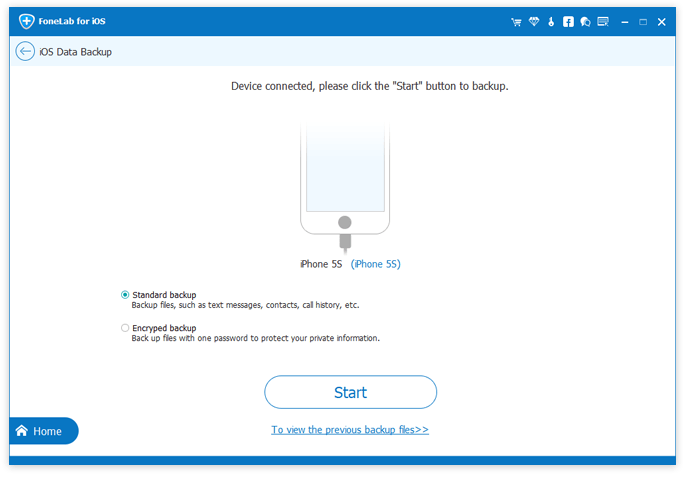 Step 5It allows you to select the type of data you want to backup. If you want to backup all data, just tick the box next to the Select All option on the bottom-left.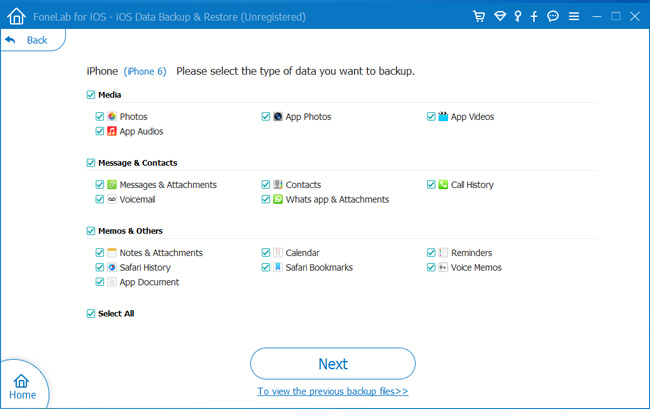 Step 6Click the Next button and wait for it.
With this iOS data backup and restore software, you can selectively and flexibly backup and restore your iOS data. It allows you to choose wherever you want to save the backup file, and won't modify or overwrite your old backups.